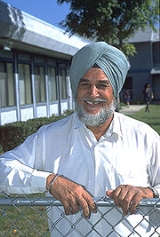 Turban
In English,
Turban
refers to several types of headwear popularly worn in the
Middle East
Middle East
The Middle East is a region that encompasses Western Asia and Northern Africa. It is often used as a synonym for Near East, in opposition to Far East...
,
North Africa
North Africa
North Africa or Northern Africa is the northernmost region of the African continent, linked by the Sahara to Sub-Saharan Africa. Geopolitically, the United Nations definition of Northern Africa includes eight countries or territories; Algeria, Egypt, Libya, Morocco, South Sudan, Sudan, Tunisia, and...
,
Punjab
Punjab region
The Punjab , also spelled Panjab |water]]s"), is a geographical region straddling the border between Pakistan and India which includes Punjab province in Pakistan and the states of the Punjab, Haryana, Himachal Pradesh, Chandigarh and some northern parts of the National Capital Territory of Delhi...
,
Jamaica
Jamaica
Jamaica is an island nation of the Greater Antilles, in length, up to in width and 10,990 square kilometres in area. It is situated in the Caribbean Sea, about south of Cuba, and west of Hispaniola, the island harbouring the nation-states Haiti and the Dominican Republic...
and
Southwest Asia
Southwest Asia
Western Asia, West Asia, Southwest Asia or Southwestern Asia are terms that describe the westernmost portion of Asia. The terms are partly coterminous with the Middle East, which describes a geographical position in relation to Western Europe rather than its location within Asia...
. A commonly used synonym is
Pagri
Pagri (turban)
Pagri or Pagadi is the term for a turban within India and Pakistan. It specifically refers to a headdress that is worn by men and needs to be manually tied. In several regional dialects it is often shortened to Pag .-The cloth:...
, the Indian word for turban.
Contemporary turbans come in many shapes, sizes, and colours.
Middle Eastern, Central Asian, South Asian, and Sikh

Sikh

A Sikh is a follower of Sikhism. It primarily originated in the 15th century in the Punjab region of South Asia. The term "Sikh" has its origin in Sanskrit term शिष्य , meaning "disciple, student" or शिक्ष , meaning "instruction"...


turban wearers usually wind it anew for each wearing, using long strips of cloth. The cloth is usually five meters or less.