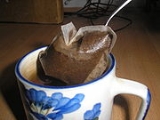 Tea bag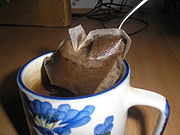 A
tea bag
is a small, porous sealed bag containing tea leaves and used for brewing
tea
Tea
Tea is an aromatic beverage prepared by adding cured leaves of the Camellia sinensis plant to hot water. The term also refers to the plant itself. After water, tea is the most widely consumed beverage in the world...
. Tea bags are commonly made of
paper
Paper
Paper is a thin material mainly used for writing upon, printing upon, drawing or for packaging. It is produced by pressing together moist fibers, typically cellulose pulp derived from wood, rags or grasses, and drying them into flexible sheets....
,
silk
Silk
Silk is a natural protein fiber, some forms of which can be woven into textiles. The best-known type of silk is obtained from the cocoons of the larvae of the mulberry silkworm Bombyx mori reared in captivity...
or
plastic
Plastic
A plastic material is any of a wide range of synthetic or semi-synthetic organic solids used in the manufacture of industrial products. Plastics are typically polymers of high molecular mass, and may contain other substances to improve performance and/or reduce production costs...
. The bag contains the tea leaves while the tea is brewed, making it easier to dispose of the leaves, and performs the same function as a
tea infuser
Tea infuser
A tea infuser is a device in which loose tea leaves are placed for steeping, usually in a cup; it is often called a teaball or tea maker, and sometimes a tea egg. The tea infuser gained popularity in the first half of the 19th century...
. Some tea bags have an attached piece of
string
Twine
Twine is a light string or strong thread composed of two or more smaller strands or yarns twisted together. More generally, the term can be applied to any thin cord....
with a paper label at the top that assists in removing the bag while also identifying the variety of tea.
In countries where the use of loose tea leaves is more prevalent, the term tea bag is commonly used to describe
paper
Paper
Paper is a thin material mainly used for writing upon, printing upon, drawing or for packaging. It is produced by pressing together moist fibers, typically cellulose pulp derived from wood, rags or grasses, and drying them into flexible sheets....
or
foil
Foil (chemistry)
A foil is a very thin sheet of metal, usually made by hammering or rolling a piece of metal. Foils are most easily made with malleable metals, such as aluminium, copper, tin, and gold. Foils usually bend under their own weight and can be torn easily. The more malleable a metal, the thinner foil can...
packaging for loose leaves. They are usually square or rectangular envelopes with the brand name, flavour and decorative patterns printed on them.
History
The first tea bags were hand-sewn
silk
Silk
Silk is a natural protein fiber, some forms of which can be woven into textiles. The best-known type of silk is obtained from the cocoons of the larvae of the mulberry silkworm Bombyx mori reared in captivity...
bags and tea bag patents date as early as 1903. First appearing commercially around 1904, tea bags were successfully marketed by the tea and coffee shop merchant Thomas Sullivan from
New York
New York
New York is a state in the Northeastern region of the United States. It is the nation's third most populous state. New York is bordered by New Jersey and Pennsylvania to the south, and by Connecticut, Massachusetts and Vermont to the east...
, who shipped his tea bags around the world. The loose tea was intended to be removed from the bags by customers, but they found it easier to prepare tea with the tea enclosed in the bags. Modern tea bags are usually made of paper fibre.
The
heat-sealed
Heat sealer
A heat sealer is a machine used to seal products, packaging, and other thermoplastic materials using heat. This can be with uniform thermoplastic monolayers or with materials having several layers, at least one being thermoplastic...
paper fiber tea bag was invented by William Hermanson, one of the founders of Technical Papers Corporation of Boston. Hermanson sold his patent to the
Salada Tea Company
Salada tea
Salada tea is a product sold by Salada Foods, a division of Redco Foods, Inc., a United States company.- History :Salada tea was founded in 1892 by Montreal businessman Peter C. Larkin...
in 1930.
The rectangular tea bag was not invented until 1944. Prior to this tea bags resembled small sacks.
Teas
A broad variety of teas, including herbal teas, are available in tea bags. Typically, tea bags use
fannings
Fannings
Fannings are small pieces of tea that are left over after higher grades of tea are gathered to be sold. Fannings with extremely small particles are sometimes called dusts. Fannings and dusts are considered the lowest grades of tea, separated from broken-leaf teas which have larger pieces of the...
, the left-overs after larger leaf pieces are gathered for sale as loose tea, but some companies such as
Honest Tea
Honest Tea
Honest Tea is a bottled organic tea company based in Bethesda, Maryland. It was founded in 1998 by Seth Goldman and Barry Nalebuff. On February 5, 2008, the Coca-Cola Company announced its purchase of a 40% stake of the company at $43 million....
sell teabags containing whole-leaf tea.
Paper

Tea bag paper is related to paper found in
milk
Milk
Milk is a white liquid produced by the mammary glands of mammals. It is the primary source of nutrition for young mammals before they are able to digest other types of food. Early-lactation milk contains colostrum, which carries the mother's antibodies to the baby and can reduce the risk of many...
and
coffee filter
Coffee filter
A coffee filter is a coffee-brewing utensil, usually made of disposable paper. A stainless steel filter is used to prepare Indian filter coffee, the form of coffee common in India....
s and is a blend of
wood
Wood
Wood is a hard, fibrous tissue found in many trees. It has been used for hundreds of thousands of years for both fuel and as a construction material. It is an organic material, a natural composite of cellulose fibers embedded in a matrix of lignin which resists compression...
and vegetable fibers. The vegetable fiber is
bleach
Bleach
Bleach refers to a number of chemicals that remove color, whiten, or disinfect, often via oxidation. Common chemical bleaches include household chlorine bleach , lye, oxygen bleach , and bleaching powder...
ed pulp abaca hemp, a small
plantation
Plantation
A plantation is a long artificially established forest, farm or estate, where crops are grown for sale, often in distant markets rather than for local on-site consumption...
tree grown for its fiber, mostly in the
Philippines
Philippines
The Philippines , officially known as the Republic of the Philippines , is a country in Southeast Asia in the western Pacific Ocean. To its north across the Luzon Strait lies Taiwan. West across the South China Sea sits Vietnam...
and
Colombia
Colombia
Colombia, officially the Republic of Colombia , is a unitary constitutional republic comprising thirty-two departments. The country is located in northwestern South America, bordered to the east by Venezuela and Brazil; to the south by Ecuador and Peru; to the north by the Caribbean Sea; to the...
. Heat-sealed tea bag paper usually has a heat-sealable
thermoplastic
Thermoplastic
Thermoplastic, also known as a thermosoftening plastic, is a polymer that turns to a liquid when heated and freezes to a very glassy state when cooled sufficiently...
such as
PVC
PVC
Polyvinyl chloride is a plastic.PVC may also refer to:*Param Vir Chakra, India's highest military honor*Peripheral venous catheter, a small, flexible tube placed into a peripheral vein in order to administer medication or fluids...
or
polypropylene
Polypropylene
Polypropylene , also known as polypropene, is a thermoplastic polymer used in a wide variety of applications including packaging, textiles , stationery, plastic parts and reusable containers of various types, laboratory equipment, loudspeakers, automotive components, and polymer banknotes...
as a component fiber on the inner tea bag surface.
Bagging
The top tea-bagging machine companies in the world are MAI from
Mar del Plata
Mar del Plata
Mar del Plata is an Argentine city located on the coast of the Atlantic Ocean, south of Buenos Aires. Mar del Plata is the second largest city of Buenos Aires Province. The name "Mar del Plata" had apparently the sense of "sea of the Río de la Plata region" or "adjoining sea to the Río de la Plata"...
,
Argentina
Argentina
Argentina , officially the Argentine Republic , is the second largest country in South America by land area, after Brazil. It is constituted as a federation of 23 provinces and an autonomous city, Buenos Aires...
with customers in 78 countries and innovating designs, Teepack from
Meerbusch
Meerbusch
Meerbusch, a town in Rhein-Kreis Neuss, North Rhine-Westphalia, Germany, has been an incorporated city since 1970. Meerbusch is the municipality with the second most income millionaires in North Rhine-Westphalia.- Geography :...
,
Germany
Germany
Germany , officially the Federal Republic of Germany , is a federal parliamentary republic in Europe. The country consists of 16 states while the capital and largest city is Berlin. Germany covers an area of 357,021 km2 and has a largely temperate seasonal climate...
, and IMA, from
Bologna
Bologna
Bologna is the capital city of Emilia-Romagna, in the Po Valley of Northern Italy. The city lies between the Po River and the Apennine Mountains, more specifically, between the Reno River and the Savena River. Bologna is a lively and cosmopolitan Italian college city, with spectacular history,...
,
Italy
Italy
Italy , officially the Italian Republic languages]] under the European Charter for Regional or Minority Languages. In each of these, Italy's official name is as follows:;;;;;;;;), is a unitary parliamentary republic in South-Central Europe. To the north it borders France, Switzerland, Austria and...
. A standard machine produced by the MAI company can fill 120 rectangular bags per minute containing up to 3.3 grams per bag, which allows the packaging of herbal teas. Another company, the Italian Tecnomeccanica, has a faster design capable of filling 250
pyramid
Pyramid
A pyramid is a structure whose outer surfaces are triangular and converge at a single point. The base of a pyramid can be trilateral, quadrilateral, or any polygon shape, meaning that a pyramid has at least three triangular surfaces...
al bags per minute.
Tea bag shapes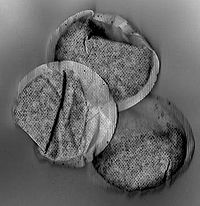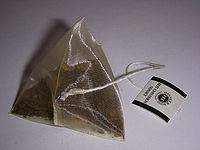 Traditionally, tea bags have been square or rectangular in shape. More recently circular and pyramidal bags have come on the market and are often claimed by their manufacturers to improve the quality of the brew. This claim, however, only holds true with proper handling.
Empty tea bags are also available for consumers to fill with tea leaves themselves. These are typically open-ended pouches with long flaps. The pouch is filled with an appropriate quantity of leaf tea and the flap is closed into the pouch to retain the tea. Such tea bags combine the ease of use of a commercially-produced tea bag with the wider tea choice and better quality control of loose leaf tea.
Because of the convenience of tea bags, a wide variety of herbs can be purchased as "tea bag cut", a grade which is specified in terms of particle size, typically with the bulk of the leaves around 1 - 1.5 mm.
The
nylon
Nylon
Nylon is a generic designation for a family of synthetic polymers known generically as polyamides, first produced on February 28, 1935, by Wallace Carothers at DuPont's research facility at the DuPont Experimental Station...
pyramidal tea bag containing larger tea leaf fragments made an appearance in the marketplace for aficionados. The pyramidal shape allows more room for the leaf to steep. Environmentalists prefer
silk
Silk
Silk is a natural protein fiber, some forms of which can be woven into textiles. The best-known type of silk is obtained from the cocoons of the larvae of the mulberry silkworm Bombyx mori reared in captivity...
to nylon because of health and biodegradability issues.
Another material for tea bags is
Soilon
Soilon
Soilon is a fine mesh made from corn starch. It was designed for teabags. It was chosen to replace the materials in teabags, since it can be biodegraded and broken down readily by microorganisms in the soil. It is a safe and non-toxic alternative to the paper bags usually employed....
, made from corn starch.
Coffee
The concept of pre-measured portions to be infused in disposable bags has also been applied to
coffee
Coffee
Coffee is a brewed beverage with a dark,init brooo acidic flavor prepared from the roasted seeds of the coffee plant, colloquially called coffee beans. The beans are found in coffee cherries, which grow on trees cultivated in over 70 countries, primarily in equatorial Latin America, Southeast Asia,...
, although this has not achieved such wide market penetration (similar to the market penetration of instant tea as compared to
instant coffee
Instant coffee
Instant coffee, also called soluble coffee and coffee powder, is a beverage derived from brewed coffee beans. Instant coffee is commercially prepared by either freeze-drying or spray drying, after which it can be rehydrated...
).
Tea bag related activities
Decorative tea bags have become the basis for large collections and many collectors collect tea bags from around the world. An online catalog of tea bags for collectors is found on
Colnect
Colnect
Colnect Collectors Club Community, is a website containing wiki-like collectables catalogs. It allows collectors to manage their personal collection using these catalogs and automatically match their swap/wish-lists with those of other collectors....
.
Teabag folding
Teabag folding
Teabag folding is a form of origami the development of which is credited to Tiny van der Plas, who as a practitioner of origami developed the technique in 1992 as a papercraft art for embellishing greeting cards....
began in the
Netherlands
Netherlands
The Netherlands is a constituent country of the Kingdom of the Netherlands, located mainly in North-West Europe and with several islands in the Caribbean. Mainland Netherlands borders the North Sea to the north and west, Belgium to the south, and Germany to the east, and shares maritime borders...
and is often credited to Tiny van der Plas. It is a form of
origami
Origami
is the traditional Japanese art of paper folding, which started in the 17th century AD at the latest and was popularized outside Japan in the mid-1900s. It has since then evolved into a modern art form...
in which identical squares of patterned paper (cut from the front of tea bag sachets) are folded, and then arranged in
rosettes
Rosette (design)
A rosette is a round, stylized flower design, used extensively in sculptural objects from antiquity. Appearing in Mesopotamia and used to decorate the funeral stele in Ancient Greece...
. These rosettes are usually used to decorate
gift card
Gift card
A gift card is a restricted monetary equivalent or scrip that is issued byretailers or banks to be used as an alternative to a non-monetary gift....
s and it has become a popular
craft
Craft
A craft is a branch of a profession that requires some particular kind of skilled work. In historical sense, particularly as pertinent to the Medieval history and earlier, the term is usually applied towards people occupied in small-scale production of goods.-Development from the past until...
in both the
US
United States
The United States of America is a federal constitutional republic comprising fifty states and a federal district...
and
UK
United Kingdom
The United Kingdom of Great Britain and Northern IrelandIn the United Kingdom and Dependencies, other languages have been officially recognised as legitimate autochthonous languages under the European Charter for Regional or Minority Languages...
since 2000.
Cold used tea bags are used as a treatment for
sunburn
Sunburn
A sunburn is a burn to living tissue, such as skin, which is produced by overexposure to ultraviolet radiation, commonly from the sun's rays. Usual mild symptoms in humans and other animals include red or reddish skin that is hot to the touch, general fatigue, and mild dizziness. An excess of UV...
and arc eye.