 Lining (sewing)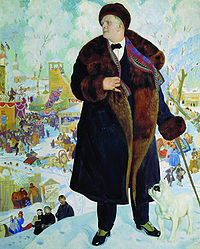 In
sewing
Sewing
Sewing is the craft of fastening or attaching objects using stitches made with a needle and thread. Sewing is one of the oldest of the textile arts, arising in the Paleolithic era...
and
tailor
Tailor
A tailor is a person who makes, repairs, or alters clothing professionally, especially suits and men's clothing.Although the term dates to the thirteenth century, tailor took on its modern sense in the late eighteenth century, and now refers to makers of men's and women's suits, coats, trousers,...
ing, a
lining
is an inner layer of
fabric
Textile
A textile or cloth is a flexible woven material consisting of a network of natural or artificial fibres often referred to as thread or yarn. Yarn is produced by spinning raw fibres of wool, flax, cotton, or other material to produce long strands...
,
fur
Fur
Fur is a synonym for hair, used more in reference to non-human animals, usually mammals; particularly those with extensives body hair coverage. The term is sometimes used to refer to the body hair of an animal as a complete coat, also known as the "pelage". Fur is also used to refer to animal...
, or other material inserted into
clothing
Clothing
Clothing refers to any covering for the human body that is worn. The wearing of clothing is exclusively a human characteristic and is a feature of nearly all human societies...
,
hat
Hat
A hat is a head covering. It can be worn for protection against the elements, for ceremonial or religious reasons, for safety, or as a fashion accessory. In the past, hats were an indicator of social status...
s,
luggage
Luggage
Baggage is any number of bags, cases and containers which hold a traveller's articles during transit.Luggage is more or less the same concept as "baggage", but is normally used in relation to the personal luggage of a specific person or persons Baggage is any number of bags, cases and containers...
,
curtain
Curtain
A curtain is a piece of cloth intended to block or obscure light, or drafts, or water in the case of a shower curtain. Curtains hung over a doorway are known as portières...
s,
handbag
Handbag
A handbag, or purse in American English, is a handled medium-to-large bag that is often fashionably designed, typically used by women, to hold personal items such as wallet/coins, keys, cosmetics, a hairbrush, pepper spray, cigarettes, mobile phone etc....
s and similar items.
Linings provide a neat inside finish and conceal
interfacing
Interfacing
Interfacing is a textile used on the unseen or "wrong" side of fabrics to make an area of a garment more rigid.Interfacings can be used to:*stiffen or add body to fabric, such as the interfacing used in shirt collars...
, padding, the raw edges of
seams
Seam (sewing)
In sewing, a seam is the join where two or more layers of fabric, leather, or other materials are held together with stitches. Prior to the invention of the sewing machine, all sewing was done by hand...
, and other construction details. A lining reduces the wearing strain on clothing, extending the useful life of the lined garment. A smooth lining allows a
coat
Coat (clothing)
A coat is a long garment worn by both men and women, for warmth or fashion. Coats typically have long sleeves and are open down the front, closing by means of buttons, zippers, hook-and-loop fasteners, toggles, a belt, or a combination of some of these...
or
jacket
Jacket
A jacket is a hip- or waist-length garment for the upper body. A jacket typically has sleeves, and fastens in the front. A jacket is generally lighter, tighter-fitting, and less insulating than a coat, which is outerwear...
to slip on over other clothing easily, and linings add warmth to cold-weather wear.
Linings are typically made of solid colors to coordinate with the garment
fabric
Textile
A textile or cloth is a flexible woven material consisting of a network of natural or artificial fibres often referred to as thread or yarn. Yarn is produced by spinning raw fibres of wool, flax, cotton, or other material to produce long strands...
, but patterned and contrasting-colored linings are also used. Designer Madelaine Vionnet introduced the ensemble in which the coat was lined in the fabric used for the dress worn with it, and this notion remains a characteristics of the
Chanel
Chanel
Chanel S.A. is a French fashion house founded by the couturier Gabrielle "Coco" Chanel, well established in haute couture, specializing in luxury goods . She gained the name "Coco" while maintaining a career as a singer at a café in France...
suit, which often features a lining and blouse of the same fabric.
In tailoring, home sewing, and
ready-to-wear
Ready-to-wear
Ready-to-wear or prêt-à-porter is the term for factory-made clothing, sold in finished condition, in standardized sizes, as distinct from made to measure or bespoke clothing tailored to a particular person's frame. Off-the-peg is sometimes used for items which are not clothing.Ready-to-wear has...
clothing construction, linings are usually completed as a unit before being fitted into the garment shell. In
haute couture
Haute couture
Haute couture refers to the creation of exclusive custom-fitted clothing. Haute couture is made to order for a specific customer, and it is usually made from high-quality, expensive fabric and sewn with extreme attention to detail and finished by the most experienced and capable seamstresses,...
, the sleeves and body are usually lined separately before assembly.
An interlining is an additional layer of fabric between the lining and the outer garment shell. Insulating interlinings for winter garments are usually sewn to the individual lining pieces before the lining is assembled.
A partial lining lines only the upper back and front of the garment, concealing the shoulder pads and interfacings,, with or without sleeves.
A zip-in, zip-out, snap-out or button-in lining (sometimes liner) is a warm removable lining for a jacket, coat, or raincoat

Raincoat

A raincoat is a waterproof or water-resistant coat worn to protect the body from rain. The term rain jacket is sometimes used to refer to raincoats that are waist length. A rain jacket may be combined with a pair of rain pants to make a rain suit.Modern raincoats are often constructed of...


that is held in place with a zipper

Zipper

A zipper is a commonly used device for temporarily joining two edges of fabric...


, snap fastener

Snap fastener

A snap fastener is a pair of interlocking discs commonly used in place of buttons to fasten clothing. A circular lip under one disc fits into a groove on the top of the other, holding them fast until a certain amount of force is applied...


s, or buttons. Garments with removable linings are usually lined with a lightweight fabric as well, to provide a neat finish when the warm lining is not worn.