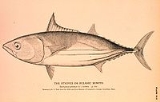 Skipjack tuna
The
skipjack tuna
, Katsuwonus pelamis, is a medium-sized perciform fish in the
tuna
Tuna
Tuna is a salt water fish from the family Scombridae, mostly in the genus Thunnus. Tuna are fast swimmers, and some species are capable of speeds of . Unlike most fish, which have white flesh, the muscle tissue of tuna ranges from pink to dark red. The red coloration derives from myoglobin, an...
family,
Scombridae
Scombridae
Scombridae is the family of the mackerels, tunas, and bonitos, and thus includes many of the most important and familiar food fishes. The family consists of about 55 species in 15 genera and two subfamilies...
. It is otherwise known as the
aku
,
arctic bonito
,
mushmouth
,
oceanic bonito
,
striped tuna
, or
victor fish
. It grows up to 1 m (3 ft) in length.
Description
It is a streamlined, fast-swimming
pelagic fish
Pelagic fish
Pelagic fish live near the surface or in the water column of coastal, ocean and lake waters, but not on the bottom of the sea or the lake. They can be contrasted with demersal fish, which do live on or near the bottom, and reef fish which are associated with coral reefs.The marine pelagic...
, common in tropical waters throughout the world, where it inhabits surface waters in large
shoal
Shoaling and schooling
In biology, any group of fish that stay together for social reasons are said to be shoaling , and if, in addition, the group is swimming in the same direction in a coordinated manner, they are said to be schooling . In common usage, the terms are sometimes used rather loosely...
s (up to 50,000 fish), feeding on fish,
crustacean
Crustacean
Crustaceans form a very large group of arthropods, usually treated as a subphylum, which includes such familiar animals as crabs, lobsters, crayfish, shrimp, krill and barnacles. The 50,000 described species range in size from Stygotantulus stocki at , to the Japanese spider crab with a leg span...
s,
cephalopod
Cephalopod
A cephalopod is any member of the molluscan class Cephalopoda . These exclusively marine animals are characterized by bilateral body symmetry, a prominent head, and a set of arms or tentacles modified from the primitive molluscan foot...
s and mollusks. It is an important prey species for large pelagic fishes and sharks.
It is an important commercial and
game fish
Game fish
Game fish are fish pursued for sport by recreational anglers. They can be freshwater or marine fish. Game fish can be eaten after being caught, though increasingly anglers practise catch and release to improve fish populations. Some game fish are also targeted commercially, particularly...
, usually caught using purse seine nets, and is sold fresh, frozen, canned, dried, salted, and smoked.
Skipjack is the most
fecund
Fecundity
Fecundity, derived from the word fecund, generally refers to the ability to reproduce. In demography, fecundity is the potential reproductive capacity of an individual or population. In biology, the definition is more equivalent to fertility, or the actual reproductive rate of an organism or...
of the main commercial tunas, and its population is considered sustainable against its current consumption. Its fishing is still controversial due to the methodology; with rod and reel or fishery options being promoted as ecologically preferable.
Countries recording large amounts of skipjack catches include the
Maldives
Maldives
The Maldives , , officially Republic of Maldives , also referred to as the Maldive Islands, is an island nation in the Indian Ocean formed by a double chain of twenty-six atolls oriented north-south off India's Lakshadweep islands, between Minicoy Island and...
,
France
France
The French Republic , The French Republic , The French Republic , (commonly known as France , is a unitary semi-presidential republic in Western Europe with several overseas territories and islands located on other continents and in the Indian, Pacific, and Atlantic oceans. Metropolitan France...
,
Spain
Spain
Spain , officially the Kingdom of Spain languages]] under the European Charter for Regional or Minority Languages. In each of these, Spain's official name is as follows:;;;;;;), is a country and member state of the European Union located in southwestern Europe on the Iberian Peninsula...
,
Sri Lanka
Sri Lanka
Sri Lanka, officially the Democratic Socialist Republic of Sri Lanka is a country off the southern coast of the Indian subcontinent. Known until 1972 as Ceylon , Sri Lanka is an island surrounded by the Indian Ocean, the Gulf of Mannar and the Palk Strait, and lies in the vicinity of India and the...
, and
Indonesia
Indonesia
Indonesia , officially the Republic of Indonesia , is a country in Southeast Asia and Oceania. Indonesia is an archipelago comprising approximately 13,000 islands. It has 33 provinces with over 238 million people, and is the world's fourth most populous country. Indonesia is a republic, with an...
.
Skipjack is considered to have "moderate" mercury contamination. As a result, pregnant women are advised against eating large quantities.
Gastronomy
In
Japanese cuisine
Japanese cuisine
Japanese cuisine has developed over the centuries as a result of many political and social changes throughout Japan. The cuisine eventually changed with the advent of the Medieval age which ushered in a shedding of elitism with the age of shogun rule...
, skipjack tuna is known as katsuo, and is commonly smoked and dried to make
katsuobushi
Katsuobushi
is the Japanese name for dried, fermented, and smoked skipjack tuna .Shaved Katsuobushi and dried kelp - kombu - are the main ingredients of dashi, a broth that forms the basis of many soups and sauces in Japanese cuisine.Katsuobushi's distinct umami flavor comes from its high...
, the central ingredient in making
dashi
Dashi
Dashi is a class of soup and cooking stock, considered fundamental to Japanese cooking. In 1980, Shizuo Tsuji wrote: "Many substitutes for dashi are possible, but without dashi, dishes are merely à la japonaise and lack the authentic flavor." Dashi forms the base for miso soup, clear broth, noodle...
(fish stock). Skipjack tuna is also used in
katsuo no shiokara
Shiokara
is a food in Japanese cuisine made from various marine animals that consists of small pieces of meat in a brown viscous paste of the animal's heavily salted, fermented viscera. The raw viscera are mixed with about 10% salt, 30% malted rice, packed in a closed container, and fermented for up to a...
.
Skipjack is also integral to
Maldivian cuisine
Maldivian cuisine
Traditional Maldivian cuisine is based on the following three main items and their derivatives:-Coconuts:The coconut is used in the grated form, squeezed to obtain coconut milk, or as coconut oil in dishes that are deep-fried. Hunigondi is the traditional Maldivian implement used to grate the...
.
External links
Clover, Charles. 2004. The End of the Line: How overfishing is changing the world and what we eat. Ebury Press, London. ISBN 0-09-189780-7