 St. Catherine's Cathedral, Kherson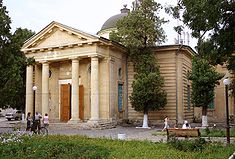 The
Cathedral of St. Catherine
is a religious building in the fortress of
Kherson
Kherson
Kherson is a city in southern Ukraine. It is the administrative center of the Kherson Oblast , and is designated as its own separate raion within the oblast. Kherson is an important port on the Black Sea and Dnieper River, and the home of a major ship-building industry...
,
Ukraine
Ukraine
Ukraine is a country in Eastern Europe. It has an area of 603,628 km², making it the second largest contiguous country on the European continent, after Russia...
. Built in 1781-1786, it was one of the earliest churches in New Russia. It is a domed
sandstone
Sandstone
Sandstone is a sedimentary rock composed mainly of sand-sized minerals or rock grains.Most sandstone is composed of quartz and/or feldspar because these are the most common minerals in the Earth's crust. Like sand, sandstone may be any colour, but the most common colours are tan, brown, yellow,...
structure with a
Tuscan
Tuscan order
Among canon of classical orders of classical architecture, the Tuscan order's place is due to the influence of the Italian Sebastiano Serlio, who meticulously described the five orders including a "Tuscan order", "the solidest and least ornate", in his fourth book of Regole generalii di...
portico
Portico
A portico is a porch leading to the entrance of a building, or extended as a colonnade, with a roof structure over a walkway, supported by columns or enclosed by walls...
and heavily
rusticated
Rustication (architecture)
thumb|upright|Two different styles of rustication in the [[Palazzo Medici-Riccardi]] in [[Florence]].In classical architecture rustication is an architectural feature that contrasts in texture with the smoothly finished, squared block masonry surfaces called ashlar...
walls. The church was dedicated to
Catherine of Alexandria
Catherine of Alexandria
Saint Catherine of Alexandria, also known as Saint Catherine of the Wheel and The Great Martyr Saint Catherine is, according to tradition, a Christian saint and virgin, who was martyred in the early 4th century at the hands of the pagan emperor Maxentius...
, the patron saint of the
reigning empress
Catherine II of Russia
Catherine II, also known as Catherine the Great , Empress of Russia, was born in Stettin, Pomerania, Prussia on as Sophie Friederike Auguste von Anhalt-Zerbst-Dornburg...
.
The church was built by General
Ivan Gannibal
Ivan Gannibal
Ivan Abramovich Gannibal was a Russian military leader and eminent Russian of African origin...
in the aftermath of the Russo-Turkish war and Russia's annexation of New Russia. It was intended as a memorial to the war of conquest and is full of symbolism illustrating Russia's claims to the
Byzantine
Byzantine
Byzantine usually refers to the Roman Empire during the Middle Ages.Byzantine may also refer to:* A citizen of the Byzantine Empire, or native Greek during the Middle Ages...
heritage. The architect is thought to have been
Ivan Starov
Ivan Starov
Ivan Yegorovich Starov was a Russian architect from St. Petersburg who devised the master plans for Yaroslavl, Voronezh, Pskov, Dnipropetrovsk, Mykolaiv, and many other towns in Russia and Ukraine...
(who worked extensively for Prince Potemkin); but the actual construction was supervised by the little-known Ivan Sitnikov.
The earliest description of the church is found in the diary of
Francisco de Miranda
Francisco de Miranda
Sebastián Francisco de Miranda Ravelo y Rodríguez de Espinoza , commonly known as Francisco de Miranda , was a Venezuelan revolutionary...
. In 1790 Prince Potemkin asked Starov to remodel the dome in imitation of
his own palace
Tauride Palace
Tauride Palace is one of the largest and most historic palaces in Saint Petersburg, Russia.- Potemkin :...
in St. Petersburg. The
belfry
Bell tower
A bell tower is a tower which contains one or more bells, or which is designed to hold bells, even if it has none. In the European tradition, such a tower most commonly serves as part of a church and contains church bells. When attached to a city hall or other civic building, especially in...
was added in 1800 but was dismantled within several years, after an
earthquake
Earthquake
An earthquake is the result of a sudden release of energy in the Earth's crust that creates seismic waves. The seismicity, seismism or seismic activity of an area refers to the frequency, type and size of earthquakes experienced over a period of time...
. The existing belfry dates from about 1806. After Potemkin's death he was buried in the cathedral, as was Prince Charles Frederick Henry of Württemberg, Maria Feodorovna's brother.
The cathedral's
icon
Icon
An icon is a religious work of art, most commonly a painting, from Eastern Christianity and in certain Eastern Catholic churches...
s were patterned after the
Hermitage
Hermitage Museum
The State Hermitage is a museum of art and culture in Saint Petersburg, Russia. One of the largest and oldest museums of the world, it was founded in 1764 by Catherine the Great and has been opened to the public since 1852. Its collections, of which only a small part is on permanent display,...
paintings by the 17th-century Spanish artists such as
Murillo
Bartolomé Estéban Murillo
Bartolomé Esteban Murillo was a Spanish Baroque painter. Although he is best known for his religious works, Murillo also produced a considerable number of paintings of contemporary women and children...
.
Vladimir Borovikovsky
Vladimir Borovikovsky
Vladimir Lukich Borovikovsky was a Russian painter who dominated Russian portraiture at the turn of the 19th century.-Biography:Vladimir Borovikovsky was born Vоlоdymyr Borovyk in Myrhorod on July 24, 1757. His father, Luka Borovyk was a Ukrainian Cossack and an amateur icon painter...
may have had a hand in their creation. The walls contain the copies of six life size figures of the apostles and saints executed by Gavrila Zamorayev from
Moscow
Moscow
Moscow is the capital, the most populous city, and the most populous federal subject of Russia. The city is a major political, economic, cultural, scientific, religious, financial, educational, and transportation centre of Russia and the continent...
(1758-1823).