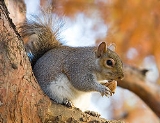 Squirrel
noun
(1) A kind of arboreal rodent having a long bushy tail
(2) The fur of a squirrel
Etymology
From
esquirel
, from
escurel
(modern ), from
scuriolus
, diminutive of
scurius
, variant of , from < + .
Noun
Any of the rodents of the family Sciuridae distinguished by their large bushy tail.
Verb
with "away": To hoard in a hidden place, by analogy to squirrels' habit of hoarding nuts.
with "around": To move or search erratically, especially as if hurried or confused.

My mother warned me not to squirrel around in my dad's workshop.
Usage notes
The participles with a double 'l' (
squirrelling
and
squirrelled
) are less common, but supported by the OED for UK usage.