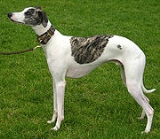 Whippet
The
Whippet
is a
breed
Dog breed
Dog breeds are groups of closely related and visibly similar domestic dogs, which are all of the subspecies Canis lupus familiaris, having characteristic traits that are selected and maintained by humans, bred from a known foundation stock....
of
dog
Dog
The domestic dog is a domesticated form of the gray wolf, a member of the Canidae family of the order Carnivora. The term is used for both feral and pet varieties. The dog may have been the first animal to be domesticated, and has been the most widely kept working, hunting, and companion animal in...
in the
sighthound
Sighthound
Sighthounds, also called gazehounds, are hounds that primarily hunt by speed and sight, instead of by scent and endurance as scent hounds do.-Appearance:...
family. They are active and playful and are physically similar to a small
Greyhound
Greyhound
The Greyhound is a breed of sighthound that has been primarily bred for coursing game and racing, and the breed has also recently seen a resurgence in its popularity as a pedigree show dog and family pet. It is a gentle and intelligent breed...
.
Description
Whippets are a medium-size dog averaging in weight from 15 to 30
lb
Pound (mass)
The pound or pound-mass is a unit of mass used in the Imperial, United States customary and other systems of measurement...
(6.8–14
kg
Kilogram
The kilogram or kilogramme , also known as the kilo, is the base unit of mass in the International System of Units and is defined as being equal to the mass of the International Prototype Kilogram , which is almost exactly equal to the mass of one liter of water...
), with height (under the FCI standard) of 18.5 - 20 inches (47 - 51 cm) for males and 17.5–18.5 in (44.5–47 cm) for females. Whippets tend to be somewhat larger in the United States and Canada with their population in show, coursing and some race whippets required to be within the AKC standard of 18.5 to 22.5 in (47 to 57.2 cm) for males, and 17.5 to 21.5 in (44.5 to 54.6 cm) for females. Because colour is considered immaterial in judging Whippets, they come in a wide variety of colours and marking patterns, everything from solid black to solid white, with red, fawn,
brindle
Brindle
Brindle is a coat coloring pattern in animals, particularly dogs, cats, cattle, guinea pigs, crested geckos and, rarely, horses. It is sometimes described as "tiger striped", although the brindle pattern is more subtle than that of a tiger's coat...
, blue, or cream. All manner of spots and blazes and patches are seen, sometimes all in the same litter.
Whippets regularly compete in dog shows, lure course racing and are among the fastest of dogs running a course at 36 mph.
Temperament
Whippets are generally quiet and gentle dogs, and may be content to spend much of the day resting. They are loyal and friendly. Because of this, whippets are known to have been used in aged care facilities. They may bark or jump at strangers and animals and may protect their owner if threatened.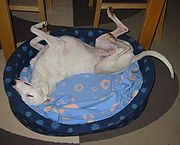 Whippets are not really well-adapted for living in a
kennel
Kennel
A kennel is the name given to any structure or shelter for dogs. A kennel is a doghouse, run, or other small structure in which a dog is kept...
, or as outside dogs. Their short coats do not provide insulation to withstand prolonged periods in cold temperatures. Their social nature makes them suitable indoor companions. Whippets are quiet and thus well suited to
apartment
Apartment
An apartment or flat is a self-contained housing unit that occupies only part of a building...
life, but require regular exercise and the chance to run free. Care should be taken with whippets on the street as it is difficult to instill any sort of traffic sense into some of them.
Whippets have been called a "poor man's racehorse." As their heritage would suggest, whippets are outstanding running dogs and are top competitors in
lure coursing
Lure coursing
Lure coursing is a sport for dogs that involves chasing a mechanically operated lure. Competition is usually limited to dogs of purebred sighthound breeds.-Lure course:...
, straight
racing
Racing
A sport race is a competition of speed, against an objective criterion, usually a clock or to a specific point. The competitors in a race try to complete a given task in the shortest amount of time...
, and oval track racing. Typically in these events, a temporary track and lure system is set up. The lure is usually a white plastic bin bag, sometimes in conjunction with a "squawker" to simulate a sort of prey sound or with a small piece of animal pelt. With the advent of new methods in motivational
obedience training
Obedience training
Obedience training usually refers to the training of a dog and the term is most commonly used in that context. Obedience training ranges from very basic training, such as teaching the dog to reliably respond to basic commands such as "sit", "down", "come", and "stay", to high level competition...
being used, whippets are becoming successful obedience dogs. Many enjoy
flyball
Flyball
Flyball is a dog sport in which teams of dogs race against each other from a start/finish line, over a line of hurdles, to a box that releases a tennis ball to be caught when the dog presses the spring-loaded pad, then back to their handlers while carrying the ball.Flyball is run in teams of four...
and
agility
Dog agility
Dog agility is a dog sport in which a handler directs a dog through an obstacle course in a race for both time and accuracy. Dogs run off-leash with no food or toys as incentives, and the handler can touch neither dog nor obstacles...
.
A May 7, 2007 article in
Science Daily
reported on a genetic mutation that may account for the abnormally high athletic ability of whippets.
The appearance and ease of
grooming
Dog grooming
Dog grooming refers to both the hygienic care and cleaning of a dog, as well as a process by which a dog's physical appearance is enhanced for showing or other types of competition. A dog groomer is a person who earns their living grooming dogs.-Reasons for grooming:Grooming is an important part...
whippets have made the breed somewhat popular in the
sport
of
conformation show
Conformation show
Conformation shows, also referred to as breed shows, are a kind of dog show in which a judge familiar with a specific dog breed evaluates individual purebred dogs for how well the dogs conform to the established breed type for their breed, as described in a breed's individual breed standard.A...
ing.
Health
Many whippets course, work and race and they have been bred for these jobs for many years. This has kept them a structurally sound breed which is predominantly free from the physical exaggerations that can lead to certain health problems.
The Kennel Club's so called
vital criteria
of "fit for function" is normally applicable to the Whippet.
Given proper nutrition, exercise, and veterinary care, most whippets live for 12 to 15 years. They are generally healthy, and are not prone to the frequent ear infections, skin allergies, or digestive problems that can afflict other breeds. Genetic eye defects, though quite rare, have been noted in the breed. Because of this, the American Whippet Club recommends that all breeders test for this defect in their breeding stock. Hip dysplasia is unknown in whippets.
Undescended testicles
Cryptorchidism
Cryptorchidism is the absence of one or both testes from the scrotum. It is the most common birth defect regarding male genitalia. In unique cases, cryptorchidism can develop later in life, often as late as young adulthood. About 3% of full-term and 30% of premature infant boys are born with at...
are common in the breed.
The heart of a whippet is large and slow beating, often being arrhythmic or even intermittent when the animal is at rest. This sometimes causes concern to the owner, or to the vet not experienced with the breed. Whippets will, however, demonstrate a regular heartbeat during exercise. In a health survey conducted by The Kennel Club (UK) cardiac problems were shown to be the second leading cause of mortality in Whippets. It is not clear, however, whether this is at all related to the breed's somewhat unusual heart function. See
athletic heart syndrome
Athletic heart syndrome
Athletic heart syndrome, also known as athlete's heart or athletic bradycardia, is a medical syndrome in which the human heart is enlarged due to significant amounts of exercise...
.
A 2007 study identified a
myostatin
Myostatin
Myostatin is a secreted TGF beta protein family member that inhibits muscle differentiation and growth. Myostatin is produced primarily in skeletal muscle cells, circulates in the blood and acts on muscle tissue, by binding a cell-bound receptor called the activin type II receptor...
mutation particular to whippets that is significantly associated with their athletic performance. Whippets with a single copy of this mutation are generally very fast; those with two copies have disproportionately large musculature and are known as "bully whippets"
although their temperament is not affected by this.
Whippets are, just like other sighthounds, intolerant of
barbiturate
Barbiturate
Barbiturates are drugs that act as central nervous system depressants, and can therefore produce a wide spectrum of effects, from mild sedation to total anesthesia. They are also effective as anxiolytics, as hypnotics, and as anticonvulsants...
anaesthetics. This is in part due to their low concentration of body fat and their liver's inability to metabolize the anaesthetics.
History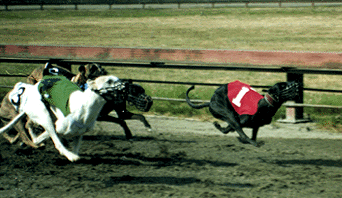 Whippets were bred to hunt by sight, coursing game in open areas at high speeds. One can find numerous representations of small greyhound-like hounds in art dating back to Roman times but the first written English use of the word "whippet" with regard to a type of dog was in 1610. There is a picture by Jean Baptiste Oudry (1686–1755) of "Misse", one of two English whippets presented to
Louis XV
Louis XV of France
Louis XV was a Bourbon monarch who ruled as King of France and of Navarre from 1 September 1715 until his death. He succeeded his great-grandfather at the age of five, his first cousin Philippe II, Duke of Orléans, served as Regent of the kingdom until Louis's majority in 1723...
, in the
Washington National Gallery
National Gallery of Art
The National Gallery of Art and its Sculpture Garden is a national art museum, located on the National Mall between 3rd and 9th Streets at Constitution Avenue NW, in Washington, DC...
and another, with her companion, "Turlu", by the same artist in the Musée National de Fontainebleau. However, some French sources, notably the Ministry of Culture, use the word "levrette" to describe Misse and Turlu. Levrette describes small greyhound type dogs like the whippet or the
Italian greyhound
Italian Greyhound
The Italian Greyhound is a small breed of dog of the sight hound type, sometimes called an "I.G.", or "Iggy" for short.-Appearance:The Italian Greyhound is the smallest of the sighthounds, typically weighing about and standing about tall at the withers...
. In the nineteenth century, whippet racing was a national sport in England, more popular than football. It is only beginning with this period that the existence of the whippet as a distinct breed can be stated with certainty. The age of the modern whippet dawned in 1890 when the English Kennel Club granted the breed official recognition, thus making the whippet eligible for competition in dog shows, and commencing the recording of their pedigrees. In the United States, the whippet was recognized in 1888 by the American Kennel Club. Early specimens were taken from the race track by dog fanciers of the time and exported all over the world. The whippet's versatility as a hunting, racing, exhibition or companion dog soon made it one of the most popular of the sighthound breeds.
External links