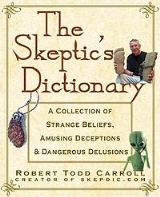 Skeptic's Dictionary
The Skeptic's Dictionary
is a collection of cross-referenced
skeptical
Scientific skepticism
Scientific skepticism is the practice of questioning the veracity of claims lacking empirical evidence or reproducibility, as part of a methodological norm pursuing "the extension of certified knowledge". For example, Robert K...
essays by
Robert Todd Carroll
Robert Todd Carroll
Robert Todd Carroll , Ph.D., is an American writer and academic. Carroll has written several books and skeptical essays but achieved notability by publishing the Skeptic's Dictionary online in 1994.-Early life and education:...
, published on his website skepdic.com and in a printed book. The skepdic.com site was launched in 1994 and the book was published in 2003 with nearly 400 entries. As of January 2011 the website has over 700 entries. A comprehensive single-volume guides to skeptical information on
pseudoscientific
Pseudoscience
Pseudoscience is a claim, belief, or practice which is presented as scientific, but which does not adhere to a valid scientific method, lacks supporting evidence or plausibility, cannot be reliably tested, or otherwise lacks scientific status...
,
paranormal
Paranormal
Paranormal is a general term that designates experiences that lie outside "the range of normal experience or scientific explanation" or that indicates phenomena understood to be outside of science's current ability to explain or measure...
, and
occult
Occult
The word occult comes from the Latin word occultus , referring to "knowledge of the hidden". In the medical sense it is used to refer to a structure or process that is hidden, e.g...
topics, the bibliography contains some seven hundred references for more detailed information. According to the back cover of the book, the on-line version receives approximately 500,000 hits per month.
Content
Carroll is an atheist and "hardened skeptic" (one "who has strong disbelief about all things occult"). Carroll states that the book is not meant to present a balanced view on occult subjects – it is intended to be a small counterbalance to the voluminous occult and paranormal literature.
The articles in the book are in several categories:
Print versions are available in Dutch, English, Japanese, Korean, and Russian. Numerous entries have been translated for the Internet in several other languages. A newsletter keeps interested parties up to date on new entries and an archived list of previous newsletters is available for online perusal. Norcross et al. state that Carroll has made considerable progress in exposing pseudoscience and quackery.
According to the author,
"The Skeptic's Dictionary is aimed at four distinct audiences: the open-minded seeker, who makes no commitment to or disavowal of occult claims; the soft skeptic, who is more prone to doubt than to believe; the hardened skeptic, who has strong disbelief about all things occult; and the believing doubter, who is prone to believe but has some doubts. The one group this book is not aimed at is the 'true believer

True-believer syndrome

True-believer syndrome is an informal or rhetorical term coined by M. Lamar Keene in his 1976 book The Psychic Mafia. Keene used the term to refer to people who continued to believe in a paranormal event or phenomenon even after it had been proven to have been staged...


' in the occult. If you have no skepticism in you, this book is not for you."
Carroll defines each of these categories, explaining how and why, in his opinion, his dictionary may be of interest, use, and benefit to each of them. He also defines the term "skepticism" as he uses it and identifies two types of skeptic, the Apollonian, who is "committed to clarity and rationality" and the Dionysian, who is "committed to passion and instinct."
William James
William James
William James was a pioneering American psychologist and philosopher who was trained as a physician. He wrote influential books on the young science of psychology, educational psychology, psychology of religious experience and mysticism, and on the philosophy of pragmatism...
,
Bertrand Russell
Bertrand Russell
Bertrand Arthur William Russell, 3rd Earl Russell, OM, FRS was a British philosopher, logician, mathematician, historian, and social critic. At various points in his life he considered himself a liberal, a socialist, and a pacifist, but he also admitted that he had never been any of these things...
, and
Friedrich Nietzsche
Friedrich Nietzsche
Friedrich Wilhelm Nietzsche was a 19th-century German philosopher, poet, composer and classical philologist...
exemplify the Apollonian skeptic, Carroll says, and Charles Sanders Peirce,
Tertullian
Tertullian
Quintus Septimius Florens Tertullianus, anglicised as Tertullian , was a prolific early Christian author from Carthage in the Roman province of Africa. He is the first Christian author to produce an extensive corpus of Latin Christian literature. He also was a notable early Christian apologist and...
,
Søren Kierkegaard
Søren Kierkegaard
Søren Aabye Kierkegaard was a Danish Christian philosopher, theologian and religious author. He was a critic of idealist intellectuals and philosophers of his time, such as Georg Wilhelm Friedrich Hegel, Friedrich Wilhelm Joseph Schelling and Karl Wilhelm Friedrich Schlegel...
, and
Blaise Pascal
Blaise Pascal
Blaise Pascal , was a French mathematician, physicist, inventor, writer and Catholic philosopher. He was a child prodigy who was educated by his father, a tax collector in Rouen...
are Dionysian skeptics.
Roy Herbert's review of the paperback version written for the
New Scientist
New Scientist
New Scientist is a weekly non-peer-reviewed English-language international science magazine, which since 1996 has also run a website, covering recent developments in science and technology for a general audience. Founded in 1956, it is published by Reed Business Information Ltd, a subsidiary of...
magazine commented that "It is an amazing assembly, elegantly written and level-headed, with a wry remark here and there." and that "This superb work is likely to be used so often that it is a pity it is a softback book.".
See also
An Encyclopedia of Claims, Frauds, and Hoaxes of the Occult and Supernatural

An Encyclopedia of Claims, Frauds, and Hoaxes of the Occult and Supernatural

An Encyclopedia of Claims, Frauds, and Hoaxes of the Occult and Supernatural is a 1995 book by James Randi with a foreword by Arthur C. Clarke. It serves as a reference for various pseudoscience and paranormal subjects....


by James Randi

James Randi

James Randi is a Canadian-American stage magician and scientific skeptic best known as a challenger of paranormal claims and pseudoscience. Randi is the founder of the James Randi Educational Foundation...



Critical thinking

Critical thinking

Critical thinking is the process or method of thinking that questions assumptions. It is a way of deciding whether a claim is true, false, or sometimes true and sometimes false, or partly true and partly false. The origins of critical thinking can be traced in Western thought to the Socratic...



Encyclopedia of Pseudoscience

Encyclopedia of Pseudoscience

The Encyclopedia of Pseudoscience , edited by Dr William F. Williams, "identifies, defines and explains terms and concepts related to the world of "almost science"...



FactCheck

FactCheck

FactCheck.org is a non-partisan, nonprofit website that describes itself as a consumer advocate' for voters that aims to reduce the level of deception and confusion in U.S. politics." It is a project of the Annenberg Public Policy Center of the Annenberg School for Communication at the University...



Freethought

Freethought

Freethought is a philosophical viewpoint that holds that opinions should be formed on the basis of science, logic, and reason, and should not be influenced by authority, tradition, or other dogmas...



Pseudoscience

Pseudoscience

Pseudoscience is a claim, belief, or practice which is presented as scientific, but which does not adhere to a valid scientific method, lacks supporting evidence or plausibility, cannot be reliably tested, or otherwise lacks scientific status...



Scientific skepticism

Scientific skepticism

Scientific skepticism is the practice of questioning the veracity of claims lacking empirical evidence or reproducibility, as part of a methodological norm pursuing "the extension of certified knowledge". For example, Robert K...



Skeptical Inquirer

Skeptical Inquirer

The Skeptical Inquirer is a bimonthly American magazine published by the Committee for Skeptical Inquiry with the subtitle: The magazine for science and reason....



Skepticism

Skepticism

Skepticism has many definitions, but generally refers to any questioning attitude towards knowledge, facts, or opinions/beliefs stated as facts, or doubt regarding claims that are taken for granted elsewhere...



Skeptic (U.S. magazine)

Skeptic (U.S. magazine)

Skeptic is a quarterly science education and science advocacy magazine published internationally by The Skeptics Society, a nonprofit organization devoted to promoting scientific skepticism and resisting the spread of pseudoscience, superstition, and irrational beliefs...



Snopes.com
The Freethinker (journal)

The Freethinker (journal)

The Freethinker is a British secular humanist magazine, founded by G.W. Foote in 1881. It is the world's oldest surviving freethought publication.It has always taken an unapologetically atheist, anti-religious stance...



The Skeptic (UK magazine)

The Skeptic (UK magazine)

The Skeptic is a British magazine and is billed as "the UK's longest running and foremost sceptical magazine, which examines science, scepticism, secularism, critical thinking and claims of the paranormal."-History, format and structure:...



The Straight Dope
External links