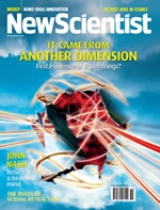 New Scientist
New Scientist
is a weekly non-peer-reviewed English-language
international science magazine
Scientific journal
In academic publishing, a scientific journal is a periodical publication intended to further the progress of science, usually by reporting new research. There are thousands of scientific journals in publication, and many more have been published at various points in the past...
, which since 1996 has also run a website, covering recent developments in science and technology for a general audience. Founded in 1956, it is published by Reed Business Information Ltd, a subsidiary of
Reed Elsevier
Reed Elsevier
Reed Elsevier is a publisher and information provider operating in the science, medical, legal, risk and business sectors. It is listed on several of the world's major stock exchanges. It is a FTSE 100 and FT500 Global company...
. The company Albert E. Reed acquired New Scientist when it merged with IPC Magazines in 1970, retaining the magazine when it sold most of its consumer magazines in a
management buyout
Management buyout
A management buyout is a form of acquisition where a company's existing managers acquire a large part or all of the company.- Overview :Management buyouts are similar in all major legal aspects to any other acquisition of a company...
to what is now
IPC Media
IPC Media
IPC Media , a wholly owned subsidiary of Time Inc., is a consumer magazine and digital publisher in the United Kingdom, with a large portfolio selling over 350 million copies each year.- Origins :...
.
The magazine covers current developments, news, and commentary from the scientific community, including environmental issues such as
climate change
Climate change
Climate change is a significant and lasting change in the statistical distribution of weather patterns over periods ranging from decades to millions of years. It may be a change in average weather conditions or the distribution of events around that average...
.