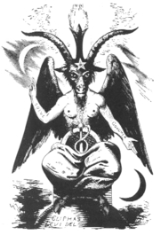 Occult
The word
occult
comes from the
Latin
Latin
Latin is an Italic language originally spoken in Latium and Ancient Rome. It, along with most European languages, is a descendant of the ancient Proto-Indo-European language. Although it is considered a dead language, a number of scholars and members of the Christian clergy speak it fluently, and...
word
occultus
(clandestine, hidden, secret), referring to "knowledge of the hidden". In the medical sense it is used to refer to a structure or process that is hidden, e.g. an "occult bleed" may be one detected indirectly by the presence of otherwise unexplained
anemia
Anemia
Anemia is a decrease in number of red blood cells or less than the normal quantity of hemoglobin in the blood. However, it can include decreased oxygen-binding ability of each hemoglobin molecule due to deformity or lack in numerical development as in some other types of hemoglobin...
.
The word has many uses in the
English language
English language
English is a West Germanic language that arose in the Anglo-Saxon kingdoms of England and spread into what was to become south-east Scotland under the influence of the Anglian medieval kingdom of Northumbria...
, popularly meaning "knowledge of the
paranormal
Paranormal
Paranormal is a general term that designates experiences that lie outside "the range of normal experience or scientific explanation" or that indicates phenomena understood to be outside of science's current ability to explain or measure...
", as opposed to "knowledge of the measurable", usually referred to as
science
Science
Science is a systematic enterprise that builds and organizes knowledge in the form of testable explanations and predictions about the universe...
.