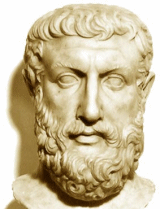 Metaphysics
Metaphysics
is a branch of
philosophy
Philosophy
Philosophy is the study of general and fundamental problems, such as those connected with existence, knowledge, values, reason, mind, and language. Philosophy is distinguished from other ways of addressing such problems by its critical, generally systematic approach and its reliance on rational...
concerned with explaining the fundamental nature of
being
Being
Being , is an English word used for conceptualizing subjective and objective aspects of reality, including those fundamental to the self —related to and somewhat interchangeable with terms like "existence" and "living".In its objective usage —as in "a being," or "[a] human being" —it...
and the
world
World
World is a common name for the whole of human civilization, specifically human experience, history, or the human condition in general, worldwide, i.e. anywhere on Earth....
, although the term is not easily defined. Traditionally, metaphysics attempts to answer two basic questions in the broadest possible terms:
"What is there?"
"What is it like?"
A person who studies metaphysics is called a
metaphysicist
or a
metaphysician
.