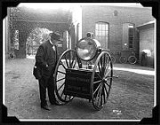 Searchlight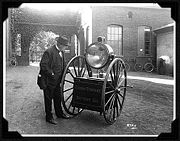 A
searchlight
is an apparatus that combines a bright light source with some form of
curved reflector
Curved mirror
A curved mirror is a mirror with a curved reflective surface, which may be either convex or concave . Most curved mirrors have surfaces that are shaped like part of a sphere, but other shapes are sometimes used in optical devices...
or other optics to project a powerful beam of
light
Light
Light or visible light is electromagnetic radiation that is visible to the human eye, and is responsible for the sense of sight. Visible light has wavelength in a range from about 380 nanometres to about 740 nm, with a frequency range of about 405 THz to 790 THz...
of approximately parallel rays in a particular direction, usually constructed so that it can be swiveled about.
Military use
The
Royal Navy
Royal Navy
The Royal Navy is the naval warfare service branch of the British Armed Forces. Founded in the 16th century, it is the oldest service branch and is known as the Senior Service...
used searchlights in 1882 to prevent Egyptian forces from manning artillery batteries at
Alexandria
Alexandria
Alexandria is the second-largest city of Egypt, with a population of 4.1 million, extending about along the coast of the Mediterranean Sea in the north central part of the country; it is also the largest city lying directly on the Mediterranean coast. It is Egypt's largest seaport, serving...
. Later that same year, the French and British forces landed troops under searchlights.
By 1907 the value of searchlights had become widely recognized. One recent use was to assist attacks by
torpedo boat
Torpedo boat
A torpedo boat is a relatively small and fast naval vessel designed to carry torpedoes into battle. The first designs rammed enemy ships with explosive spar torpedoes, and later designs launched self-propelled Whitehead torpedoes. They were created to counter battleships and other large, slow and...
s by dazzling gun crews on the ships being attacked. Other uses included detecting enemy ships at greater distances, as signaling devices, and to assist landing parties. Searchlights were also used by battleships and other capital vessels to locate attacking torpedo boats and were installed on many coastal artillery batteries for aiding night combat. They saw use in the
Russo-Japanese War
Russo-Japanese War
The Russo-Japanese War was "the first great war of the 20th century." It grew out of rival imperial ambitions of the Russian Empire and Japanese Empire over Manchuria and Korea...
from 1904–05.
World War I
Searchlights were first used in
World War I
World War I
World War I , which was predominantly called the World War or the Great War from its occurrence until 1939, and the First World War or World War I thereafter, was a major war centred in Europe that began on 28 July 1914 and lasted until 11 November 1918...
to create "artificial moonlight" to enhance opportunities for night attacks, a practice which continued in
World War II
World War II
World War II, or the Second World War , was a global conflict lasting from 1939 to 1945, involving most of the world's nations—including all of the great powers—eventually forming two opposing military alliances: the Allies and the Axis...
. Artificial moonlight was invented by historian and
tank warfare
Tank
A tank is a tracked, armoured fighting vehicle designed for front-line combat which combines operational mobility, tactical offensive, and defensive capabilities...
theorist,
Gen. J.F.C. Fuller
J.F.C. Fuller
Major-General John Frederick Charles Fuller, CB, CBE, DSO was a British Army officer, military historian and strategist, notable as an early theorist of modern armoured warfare, including categorising principles of warfare...
. The term "artificial moonlight" was used to distinguish illumination provided by searchlights from that provided by normal moonlight, which was referred to as "movement light" in nighttime manoeuvers.
World War II
Searchlights were used extensively in defense against nighttime aerial
bomber
Bomber
A bomber is a military aircraft designed to attack ground and sea targets, by dropping bombs on them, or – in recent years – by launching cruise missiles at them.-Classifications of bombers:...
raids around the time of
World War II
World War II
World War II, or the Second World War , was a global conflict lasting from 1939 to 1945, involving most of the world's nations—including all of the great powers—eventually forming two opposing military alliances: the Allies and the Axis...
. In particular, pairs of searchlights spaced a known distance apart were used to determine (via
triangulation
Triangulation
In trigonometry and geometry, triangulation is the process of determining the location of a point by measuring angles to it from known points at either end of a fixed baseline, rather than measuring distances to the point directly...
) the
altitude
Altitude
Altitude or height is defined based on the context in which it is used . As a general definition, altitude is a distance measurement, usually in the vertical or "up" direction, between a reference datum and a point or object. The reference datum also often varies according to the context...
of enemy bombers, so that the fuses on anti-aircraft flak shells could be set appropriately for maximum effect. In addition, the lights may have blinded bombardiers using optical
bombsight
Bombsight
A bombsight is a device used by bomber aircraft to accurately drop bombs. In order to do this, the bombsight has to estimate the path the bomb will take after release from the aircraft. The two primary forces during its fall are gravity and air drag, which makes the path of the bomb through the air...
s.
Searchlights were occasionally used tactically in ground battles. One famous occasion was the Soviets' use of seachlights during the
Battle of Berlin
Battle of Berlin
The Battle of Berlin, designated the Berlin Strategic Offensive Operation by the Soviet Union, was the final major offensive of the European Theatre of World War II....
in April 1945. 143 searchlights were directed at the German defense force across the Neisse River with the aim of temporarily blinding them during a Soviet offensive. However, the morning fog diffused the light and silhouetted the attacking Soviet forces, making them clearly visible to the Germans. The Soviets suffered heavy losses as a result and were forced to delay their invasion of the city.
World War II
World War II
World War II, or the Second World War , was a global conflict lasting from 1939 to 1945, involving most of the world's nations—including all of the great powers—eventually forming two opposing military alliances: the Allies and the Axis...
-era searchlights include models manufactured by
General Electric
General Electric
General Electric Company , or GE, is an American multinational conglomerate corporation incorporated in Schenectady, New York and headquartered in Fairfield, Connecticut, United States...
and by the
Sperry Company
Sperry Corporation
Sperry Corporation was a major American equipment and electronics company whose existence spanned more than seven decades of the twentieth century...
(of gyroscope fame). These were mostly of 60" (152.4 cm) diameter with rhodium plated parabolic mirror, reflecting a
carbon arc
Arc lamp
"Arc lamp" or "arc light" is the general term for a class of lamps that produce light by an electric arc . The lamp consists of two electrodes, first made from carbon but typically made today of tungsten, which are separated by a gas...
discharge. Peak output was 800,000,000
candela
Candela
The candela is the SI base unit of luminous intensity; that is, power emitted by a light source in a particular direction, weighted by the luminosity function . A common candle emits light with a luminous intensity of roughly one candela...
. It was powered by a 15 kW generator and had an effective beam visibility of 28 to 35 miles (45 to 56 km) in clear low humidity.
Non-military use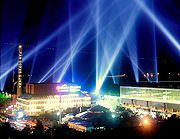 Today, searchlights are used in
advertising
Advertising
Advertising is a form of communication used to persuade an audience to take some action with respect to products, ideas, or services. Most commonly, the desired result is to drive consumer behavior with respect to a commercial offering, although political and ideological advertising is also common...
, fairs, festivals and other public events. Their use was once common for
movie
Film
A film, also called a movie or motion picture, is a series of still or moving images. It is produced by recording photographic images with cameras, or by creating images using animation techniques or visual effects...
premiere
Premiere
A premiere is generally "a first performance". This can refer to plays, films, television programs, operas, symphonies, ballets and so on. Premieres for theatrical, musical and other cultural presentations can become extravagant affairs, attracting large numbers of socialites and much media...
s; the waving searchlight beams can still be seen as a design element in the logo of the
20th Century Fox
20th Century Fox
Twentieth Century Fox Film Corporation — also known as 20th Century Fox, or simply 20th or Fox — is one of the six major American film studios...
movie studio
Movie studio
A movie studio is a term used to describe a major entertainment company or production company that has its own privately owned studio facility or facilities that are used to film movies...
, and
Fox television network
Fox Broadcasting Company
Fox Broadcasting Company, commonly referred to as Fox Network or simply Fox , is an American commercial broadcasting television network owned by Fox Entertainment Group, part of Rupert Murdoch's News Corporation. Launched on October 9, 1986, Fox was the highest-rated broadcast network in the...
.
See also
External links