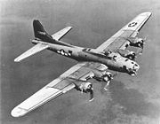 Bomber
A
bomber
is a
military aircraft
Military aircraft
A military aircraft is any fixed-wing or rotary-wing aircraft that is operated by a legal or insurrectionary armed service of any type. Military aircraft can be either combat or non-combat:...
designed to attack ground and sea targets, by dropping
bomb
Aerial bomb
An aerial bomb is a type of explosive weapon intended to travel through the air with predictable trajectories, usually designed to be dropped from an aircraft...
s on them, or – in recent years – by launching
cruise missile
Cruise missile
A cruise missile is a guided missile that carries an explosive payload and is propelled, usually by a jet engine, towards a land-based or sea-based target. Cruise missiles are designed to deliver a large warhead over long distances with high accuracy...
s at them.
Strategic bomber
Strategic bomber
A strategic bomber is a heavy bomber aircraft designed to drop large amounts of ordnance onto a distant target for the purposes of debilitating an enemy's capacity to wage war. Unlike tactical bombers, which are used in the battle zone to attack troops and military equipment, strategic bombers are...
s are primarily designed for long-range bombing missions against strategic targets such as supply bases, bridges, factories, shipyards, and cities themselves, in order to damage an enemy's war effort. Current examples include the nuclear-armed:
B-2 Spirit
B-2 Spirit
The Northrop Grumman B-2 Spirit is an American heavy bomber with low observable stealth technology designed to penetrate dense anti-aircraft defenses and deploy both conventional and nuclear weapons. The bomber has a crew of two and can drop up to eighty -class JDAM GPS-guided bombs, or sixteen ...
,
B-52 Stratofortress
B-52 Stratofortress
The Boeing B-52 Stratofortress is a long-range, subsonic, jet-powered strategic bomber operated by the United States Air Force since the 1950s. The B-52 was designed and built by Boeing, who have continued to provide maintainence and upgrades to the aircraft in service...
,
Tupolev Tu-95
Tupolev Tu-95
The Tupolev Tu-95 is a large, four-engine turboprop-powered strategic bomber and missile platform. First flown in 1952, the Tu-95 entered service with the former Soviet Union in 1956 and is expected to serve the Russian Air Force until at least 2040...
'Bear',
Tupolev Tu-22M
Tupolev Tu-22M
The Tupolev Tu-22M is a supersonic, swing-wing, long-range strategic and maritime strike bomber developed by the Soviet Union. Significant numbers remain in service with the Russian Air Force....
'Backfire'; historically notable examples are the:
Gotha G
Gotha G
|-See also:-References:* The Complete Encyclopedia of Flight 1848-1939 by John Batchelor and Malcolm V. Lowe-External links:*...
,
Avro Lancaster
Avro Lancaster
The Avro Lancaster is a British four-engined Second World War heavy bomber made initially by Avro for the Royal Air Force . It first saw active service in 1942, and together with the Handley Page Halifax it was one of the main heavy bombers of the RAF, the RCAF, and squadrons from other...
, Heinkel He-111,
Junkers Ju 88
Junkers Ju 88
The Junkers Ju 88 was a World War II German Luftwaffe twin-engine, multi-role aircraft. Designed by Hugo Junkers' company through the services of two American aviation engineers in the mid-1930s, it suffered from a number of technical problems during the later stages of its development and early...
,
B-17 Flying Fortress
,
B-24 Liberator
B-24 Liberator
The Consolidated B-24 Liberator was an American heavy bomber, designed by Consolidated Aircraft of San Diego, California. It was known within the company as the Model 32, and a small number of early models were sold under the name LB-30, for Land Bomber...
,
B-29 Superfortress
B-29 Superfortress
The B-29 Superfortress is a four-engine propeller-driven heavy bomber designed by Boeing that was flown primarily by the United States Air Forces in late-World War II and through the Korean War. The B-29 was one of the largest aircraft to see service during World War II...
, and
Tupolev Tu-16
Tupolev Tu-16
The Tupolev Tu-16 was a twin-engine jet bomber used by the Soviet Union. It has flown for more than 50 years, and the Chinese license-built Xian H-6 remains in service with the Chinese air force.-Development:...
'Badger'.
Tactical bombing
Tactical bombing
Tactical bombing is the aerial bombing aimed at targets of immediate military value, such as troops, military installations or equipment. This is in contrast to strategic bombing, attacking enemy's cities and factories to debilitate the enemy's capacity to wage war, the enemy's future military...
, aimed at enemy's military units and installations, is typically assigned to smaller aircraft operating at shorter ranges, typically along the troops on the ground or sea.