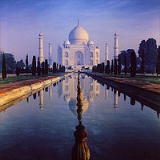 Reflecting pool

A
reflecting pool
or
reflection pool
is a water feature found in gardens, parks, and at memorial sites. It usually consists of a shallow pool of
water
Water
Water is a chemical substance with the chemical formula H2O. A water molecule contains one oxygen and two hydrogen atoms connected by covalent bonds. Water is a liquid at ambient conditions, but it often co-exists on Earth with its solid state, ice, and gaseous state . Water also exists in a...
, undisturbed by fountain jets, for a calm reflective surface.
Design
Reflecting pools are often designed with the outer basin floor at the rim slightly deeper than the central area to suppress wave formation. They can be as small as a bird bath, to as large as a major civic element. Their origins are from ancient
Persian gardens
Persian Gardens
The tradition and style in the garden design of Persian gardens has influenced the design of gardens from Andalusia to India and beyond. The gardens of the Alhambra show the influence of Persian Garden philosophy and style in a Moorish Palace scale from the era of Al-Andalus in Spain...
.
Notable reflecting pools include:
The Lincoln Memorial Reflecting Pool, and Capitol Reflecting Pool, in Washington, D.C.

Washington, D.C.

Washington, D.C., formally the District of Columbia and commonly referred to as Washington, "the District", or simply D.C., is the capital of the United States. On July 16, 1790, the United States Congress approved the creation of a permanent national capital as permitted by the U.S. Constitution....


(the reflecting pool in Washington DC, as of early March 2011, is under renovation)
The Al-Andalus

Al-Andalus

Al-Andalus was the Arabic name given to a nation and territorial region also commonly referred to as Moorish Iberia. The name describes parts of the Iberian Peninsula and Septimania governed by Muslims , at various times in the period between 711 and 1492, although the territorial boundaries...


era Moorish garden

Spanish garden

A traditional Spanish Garden is a style of garden or designed landscape developed in historic Spain, incorporating principles and elements of garden design from precedents in ancient Persian gardens and Islamic gardens, and the great Moorish gardens of the Al-Andalus era on the Iberian Peninsula...


reflecting pool in the Patio de los Arrayanes courtyard, at the Alhambra

Alhambra

The Alhambra , the complete form of which was Calat Alhambra , is a palace and fortress complex located in the Granada, Andalusia, Spain...


of Granada

Granada

Granada is a city and the capital of the province of Granada, in the autonomous community of Andalusia, Spain. Granada is located at the foot of the Sierra Nevada mountains, at the confluence of three rivers, the Beiro, the Darro and the Genil. It sits at an elevation of 738 metres above sea...


, in Andalusia

Andalusia

Andalusia is the most populous and the second largest in area of the autonomous communities of Spain. The Andalusian autonomous community is officially recognised as a nationality of Spain. The territory is divided into eight provinces: Huelva, Seville, Cádiz, Córdoba, Málaga, Jaén, Granada and...


n Spain