 Worship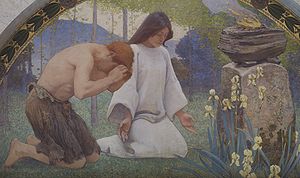 Worship
is an act of
religious
Religion
Religion is a collection of cultural systems, belief systems, and worldviews that establishes symbols that relate humanity to spirituality and, sometimes, to moral values. Many religions have narratives, symbols, traditions and sacred histories that are intended to give meaning to life or to...
devotion usually directed towards a deity. The word is derived from the Old English
worthscipe
, meaning
worthiness
or
worth-ship
— to give, at its simplest, worth to something, for example, Christian worship.
Evelyn Underhill
Evelyn Underhill
Evelyn Underhill was an English Anglo-Catholic writer and pacifist known for her numerous works on religion and spiritual practice, in particular Christian mysticism....
defines worship thus: "The absolute acknowledgment of all that lies beyond us—the glory that fills heaven and earth. It is the response that conscious beings make to their
Creator
Creator deity
A creator deity is a deity responsible for the creation of the world . In monotheism, the single God is often also the creator deity, while polytheistic traditions may or may not have creator deities...
, to the Eternal Reality from which they came forth; to
God
God
God is the English name given to a singular being in theistic and deistic religions who is either the sole deity in monotheism, or a single deity in polytheism....
, however they may think of Him or recognize Him, and whether He be realized through religion, through nature, through history, through science, art, or human life and character." Worship asserts the reality of its object and defines its meaning by reference to it.
An act of worship may be performed individually, in an informal or formal group, or by a designated leader. Religious worship happens in a wide variety of locations: in purpose-built
places of worship
Place of worship
A place of worship or house of worship is an establishment or her location where a group of people comes to perform acts of religious study, honor, or devotion. The form and function of religious architecture has evolved over thousands of years for both changing beliefs and architectural style...
, at home or in the open. Many religious traditions place an emphasis upon regular worship at frequent intervals, often daily or weekly. Expressions of worship vary but typically include one or more of the following:
Adoration versus veneration
Catholicism
Roman Catholic Church
The Catholic Church, also known as the Roman Catholic Church, is the world's largest Christian church, with over a billion members. Led by the Pope, it defines its mission as spreading the gospel of Jesus Christ, administering the sacraments and exercising charity...
,
Anglicanism
Anglicanism
Anglicanism is a tradition within Christianity comprising churches with historical connections to the Church of England or similar beliefs, worship and church structures. The word Anglican originates in ecclesia anglicana, a medieval Latin phrase dating to at least 1246 that means the English...
,
Oriental Orthodoxy
Oriental Orthodoxy
Oriental Orthodoxy is the faith of those Eastern Christian Churches that recognize only three ecumenical councils — the First Council of Nicaea, the First Council of Constantinople and the First Council of Ephesus. They rejected the dogmatic definitions of the Council of Chalcedon...
, and Eastern Orthodoxy make a technical distinction between
adoration
Adoration
Adoration is love given with deep affection. The term comes from the Latin adōrātiō, meaning "to give homage or worship to someone or something."-Ancient Middle East:...
or
latria
Latria
Latrīa is a Latin term used in Eastern Orthodox and Roman Catholic theology to mean adoration, a reverence directed only to the Holy Trinity. Latria carries an emphasis on the internal form of worship, rather than external ceremonies.-Catholic teachings:In Catholic teachings, latria also applies...
(Latin
adoratio
, Greek
latreia
,
[λατρεια]
), which is due to God alone, and
veneration
Veneration
Veneration , or veneration of saints, is a special act of honoring a saint: an angel, or a dead person who has been identified by a church committee as singular in the traditions of the religion. It is practiced by the Eastern Orthodox Church, the Roman Catholic, and Eastern Catholic Churches...
or
dulia
(Latin
veneratio
, Greek
douleia
[δουλεια]
), which may be lawfully offered to the
saint
Saint
A saint is a holy person. In various religions, saints are people who are believed to have exceptional holiness.In Christian usage, "saint" refers to any believer who is "in Christ", and in whom Christ dwells, whether in heaven or in earth...
s. The external acts of veneration resemble those of worship, but differ in their object and intent. Protestant Christians question whether such a distinction is always maintained in actual devotional practice, especially at the level of
folk religion
Folk religion
Folk religion consists of ethnic or regional religious customs under the umbrella of an organized religion, but outside of official doctrine and practices...
.
According to Mark Miravelle, the English word "worship" is equivocal, in that it has been used in Catholic writing, at any rate, to denote both adoration/
latria
and veneration/
dulia
, and in some cases even as a synonym for veneration as distinct from adoration:

Adoration, which is known as latria

Latria

Latrīa is a Latin term used in Eastern Orthodox and Roman Catholic theology to mean adoration, a reverence directed only to the Holy Trinity. Latria carries an emphasis on the internal form of worship, rather than external ceremonies.-Catholic teachings:In Catholic teachings, latria also applies...


in classical theology, is the worship and homage that is rightly offered to God alone. It is the acknowledgement of excellence and perfection of an uncreated, divine person. It is the worship of the Creator that God alone deserves.

Veneration, known as dulia in classical theology, is the honor due to the excellence of a created person. This refers to the excellence exhibited by the created being who likewise deserves recognition and honor. We see a general example of veneration in events like the awarding of academic awards for excellence in school, or the awarding of the Olympic medals for excellence in sports. There is nothing contrary to the proper adoration of God when we offer the appropriate honor and recognition that created persons deserve based on achievement in excellence.

Here a further clarification should be made regarding the use of the term "worship" in relation to the categories of adoration and veneration. Some schools of theology use the term "worship" to introduce both adoration and veneration. They would distinguish between "worship of adoration" and "worship of veneration." The word "worship" (in the same way the theological term "cult" is traditionally used) in these classical definitions was not at all synonymous with adoration, but could be used to introduce either adoration or veneration. Hence Catholic writers will sometimes use the term "worship" not to indicate adoration, but only the worship of veneration given to Mary and the saints.

Orthodox
Judaism
Judaism
Judaism ) is the "religion, philosophy, and way of life" of the Jewish people...
and orthodox Sunni
Islam
Islam
Islam . The most common are and . : Arabic pronunciation varies regionally. The first vowel ranges from ~~. The second vowel ranges from ~~~...
hold that for all practical purposes veneration should be considered the same as prayer; Orthodox Judaism (arguably with the exception of some Chasidic practices), orthodox Sunni Islam, and most kinds of
Protestantism
Protestantism
Protestantism is one of the three major groupings within Christianity. It is a movement that began in Germany in the early 16th century as a reaction against medieval Roman Catholic doctrines and practices, especially in regards to salvation, justification, and ecclesiology.The doctrines of the...
forbid veneration of saints or angels, classifying these actions as akin to
idolatry
Idolatry
Idolatry is a pejorative term for the worship of an idol, a physical object such as a cult image, as a god, or practices believed to verge on worship, such as giving undue honour and regard to created forms other than God. In all the Abrahamic religions idolatry is strongly forbidden, although...
.
Similarly,
Jehovah's Witnesses
Jehovah's Witnesses
Jehovah's Witnesses is a millenarian restorationist Christian denomination with nontrinitarian beliefs distinct from mainstream Christianity. The religion reports worldwide membership of over 7 million adherents involved in evangelism, convention attendance of over 12 million, and annual...
assert that many actions classified as
patriotic
Patriotism
Patriotism is a devotion to one's country, excluding differences caused by the dependencies of the term's meaning upon context, geography and philosophy...
by Protestant groups, such as saluting a
flag
Flag
A flag is a piece of fabric with a distinctive design that is usually rectangular and used as a symbol, as a signaling device, or decoration. The term flag is also used to refer to the graphic design employed by a flag, or to its depiction in another medium.The first flags were used to assist...
, are equivalent to worship and are therefore considered idolatrous as well.
Worship in Christianity
Worship in Islam
According to the
Qur'an
Qur'an
The Quran , also transliterated Qur'an, Koran, Alcoran, Qur'ān, Coran, Kuran, and al-Qur'ān, is the central religious text of Islam, which Muslims consider the verbatim word of God . It is regarded widely as the finest piece of literature in the Arabic language...
, mankind was created only for the purpose to worship
Allah
Allah
Allah is a word for God used in the context of Islam. In Arabic, the word means simply "God". It is used primarily by Muslims and Bahá'ís, and often, albeit not exclusively, used by Arabic-speaking Eastern Catholic Christians, Maltese Roman Catholics, Eastern Orthodox Christians, Mizrahi Jews and...
(Qur'an 51:56).
In general, Worship is all inclusive term for everything one says or does which is pleasing to Allah. The concepts and purposes of worship in Islam and Christianity are unparallel to other religions in existence. Combining the mundane with the spiritual, the individual with the society, and the internal soul with the external body. Worship has a unique role in Islam, and through practising the
Five Pillars of Islam
Five Pillars of Islam
The Pillars of Islam are basic concepts and duties for accepting the religion for the Muslims.The Shi'i and Sunni both agree on the essential details for the performance of these acts, but the Shi'a do not refer to them by the same name .-Pillars of Shia:According to Shia Islam, the...
, one of which is
salat
Salat
Salah is the practice of formal prayer in Islam. Its importance for Muslims is indicated by its status as one of the Five Pillars of Sunni Islam, of the Ten Practices of the Religion of Twelver Islam and of the 7 pillars of Musta'lī Ismailis...
, which is the practise of ritual prayer five times daily, a person is regarded as a Muslim who accords his entire life to the Will of Allah as expressed through the example of the Prophet of Islam
Muhammad
Muhammad
Muhammad |ligature]] at U+FDF4 ;Arabic pronunciation varies regionally; the first vowel ranges from ~~; the second and the last vowel: ~~~. There are dialects which have no stress. In Egypt, it is pronounced not in religious contexts...
.
The importance of worship may be seen in the fact that it has been prescribed by Allah in all religions prior to Islam. The Qur'an says:
"And assuredly We have sent among every people a messenger (with the command): worship Allah…" (Quran 16:36)
Worship in Islam has so many facets that it is difficult to describe them all in words. The most general meaning of worship in Islam is inclusive of everything which is pleasing to Allah, whether they deal with issues of belief, or deeds of the body. It may include everything a person perceives, thinks, intends, feels, says and does. It also refers to everything that Allah requires, external, internal or interactive. This includes rituals as well as beliefs, work, social activities, and personal behavior, as human being is a whole, such that every part affects every other.
Worship may be classified into two types:
1) Specific Beliefs, feelings and visible acts of devotion paid in homage to Allah which the Koran and
Sunnah
Sunnah
The word literally means a clear, well trodden, busy and plain surfaced road. In the discussion of the sources of religion, Sunnah denotes the practice of Prophet Muhammad that he taught and practically instituted as a teacher of the sharī'ah and the best exemplar...
have enjoined.
2) All other acts of goodness generally encouraged in the life of a Muslim.
According to
Muhammad Asad
Muhammad Asad
Muhammad Asad , was an Austrian Polish Jew who converted to Islam, and a 20th century journalist, traveler, writer, social critic, linguist, thinker, reformer, diplomat, political theorist, translator and scholar...
, on his notes in
The Message of the Qur'an
The Message of The Qur'an
The Message of the Qur'an is a translation and interpretation of the Qur'an by Muhammad Asad, a Polish Jew who converted to Islam...
translation on 51:26,
Thus, the innermost purpose of the creation of all rational beings is their cognition of the existence of Allah and, hence, their conscious willingness to conform their own existence to whatever they may perceive of His will and plan: and it is this twofold concept of cognition and willingness that gives the deepest meaning to what the Quran describes as "worship". As the next verse shows, this spiritual call does not arise from any supposed "need" on the part of the Creator, who is self-sufficient and infinite in His power, but is designed as an instrument for the inner development of the worshiper, who, by the act of his conscious self-surrender to the all-pervading Creative Will, may hope to come closer to an understanding of that Will and, thus closer to Allah Himself.

Worship in Hinduism
Worship in Hinduism involves invoking higher forces to assist in spiritual and material progress and is simultaneously both a science and an art. A sense of ´Bhakti´ or devotional love is generally invoked. This term is probably a central one in Hinduism. A direct translation from the Sanskrit to English is problematic. Worship takes a multitude of forms depending on community groups, geography and language. There is a flavour of loving and being in love with whatever object or focus of devotion. Worship is not confined to any place of worship, it also incorporates personal reflection, art forms and group . People usually perform worship to achieve some specific end or to integrate the body, the mind and the spirit in order to help the performer evolve into a higher being.
Worship in Sikhism
In Sikhism, worship takes place after the
Guru Granth Sahib
Guru Granth Sahib
Sri Guru Granth Sahib , or Adi Granth, is the religious text of Sikhism. It is the final and eternal guru of the Sikhs. It is a voluminous text of 1430 angs, compiled and composed during the period of Sikh gurus, from 1469 to 1708...
, which is the work of the 10 Sikh Gurus all in one. Sikhs worship God and only one God, known as "One Creator", "The Wonderful Teacher" (
Waheguru
Waheguru
Waheguru is a term most often used in Sikhism to refer to God, the Supreme Being or the creator of all. It means "The Good/Best Teacher" in the Punjabi language. Wahi means "good" and "Guru" is a term denoting "teacher"....
), or "Destroyer of Darkness".
Worship in Buddhism
Worship in Buddha Dharma may take innumerable forms given the doctrine of skillful means. Worship is evident in Buddhism in such forms as: guru yoga,
mandala
Mandala
Maṇḍala is a Sanskrit word that means "circle". In the Buddhist and Hindu religious traditions their sacred art often takes a mandala form. The basic form of most Hindu and Buddhist mandalas is a square with four gates containing a circle with a center point...
, thanka, yantra yoga, the discipline of the fighting monks of Shaolin,
panchamrita
Panchamrita
Panchamrita is a mixture of five foods used in Hindu worship and puja, usually honey, sugar, milk, yoghurt, and ghee.-Etymology:Pañcāmṛta is a Sanskrit compound of two words:, 'five'....
, mantra recitation, tea ceremony, ganacakra, amongst others.
Aspects of worship
Ancestor worship
Animal worship

Animal worship

Animal worship refers to religious rituals involving animals, especially in pre-modern societies, such as the glorification of animal deities, or animal sacrifice....



Idol worship
Intercession

Intercession

Intercession is the act of interceding between two parties. In both Christian and Islamic religious usage, it is a prayer to God on behalf of others....



Imperial cult

Imperial cult

An imperial cult is a form of state religion in which an emperor, or a dynasty of emperors , are worshipped as messiahs, demigods or deities. "Cult" here is used to mean "worship", not in the modern pejorative sense...



Major world religions