 Melodeon (organ)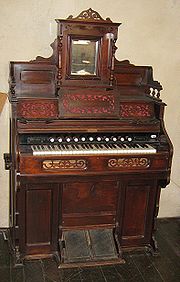 A
melodeon
is a type of 19th century
reed organ
Reed organ
A reed organ, also called a parlor organ, pump organ, cabinet organ, cottage organ, is an organ that generates its sounds using free metal reeds...
with a foot-operated
vacuum
Vacuum
In everyday usage, vacuum is a volume of space that is essentially empty of matter, such that its gaseous pressure is much less than atmospheric pressure. The word comes from the Latin term for "empty". A perfect vacuum would be one with no particles in it at all, which is impossible to achieve in...
bellows
Bellows
A bellows is a device for delivering pressurized air in a controlled quantity to a controlled location.Basically, a bellows is a deformable container which has an outlet nozzle. When the volume of the bellows is decreased, the air escapes through the outlet...
, and a
piano
Piano
The piano is a musical instrument played by means of a keyboard. It is one of the most popular instruments in the world. Widely used in classical and jazz music for solo performances, ensemble use, chamber music and accompaniment, the piano is also very popular as an aid to composing and rehearsal...
keyboard
Musical keyboard
A musical keyboard is the set of adjacent depressible levers or keys on a musical instrument, particularly the piano. Keyboards typically contain keys for playing the twelve notes of the Western musical scale, with a combination of larger, longer keys and smaller, shorter keys that repeats at the...
. It differs from the related
harmonium
Harmonium
A harmonium is a free-standing keyboard instrument similar to a reed organ. Sound is produced by air being blown through sets of free reeds, resulting in a sound similar to that of an accordion...
, which uses a
pressure
Pressure
Pressure is the force per unit area applied in a direction perpendicular to the surface of an object. Gauge pressure is the pressure relative to the local atmospheric or ambient pressure.- Definition :...
bellows. Melodeons were manufactured in the United States sometime after 1812 until the Civil War era. By 1840 forty builders are listed.
While it was sometimes used as a substitute for the pipe organ in small churches, it was primarily used in domestic settings.
In Ireland, the word is found in the commonly used phrase "cat melodeon". This simply means that something is awful. For example, if it is raining, one might say that the weather is "cat melodeon". The etymology of the phrase is uncertain, but may analogize poorly-played melodion music to the sound of a cat in heat.