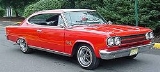 Rambler Marlin
The AMC Marlin is a two-door,
mid-sized
Mid-size car
A mid-size car is the North American/Australian standard for an automobile with a size equal to or greater than that of a compact...
fastback
Fastback
A fastback is a car body style whose roofline slopes continuously down at the back. The word can also designate the car itself. The style is seen on two-door coupés as well as four-door sedans.-History:...
car made in the
United States
United States
The United States of America is a federal constitutional republic comprising fifty states and a federal district...
by the American Motors Corporation (AMC) from 1965 to 1967. A halo model for the company, it was marketed as a
personal luxury car
Personal luxury car
A personal luxury car is a highly styled, luxury vehicle with an emphasis on image over practicality. Accenting the comfort and satisfaction of its owner and driver above all else, the personal luxury car sometimes sacrifices passenger capacity, cargo room, and fuel economy in favor of style and...
.
The fastback roof design was previewed on the 1964
Rambler Tarpon
Rambler Tarpon
thumb|305px|AMC press release photo of the TarponThe Rambler Tarpon was a concept car, a sporty youth-oriented 2 plus 2 hardtop coupé developed in 1963 by American Motors Corporation .-The Tarpon:...
show car, based on the compact
Rambler American
Rambler American
The Rambler American is an automobile manufactured by the American Motors Corporation between 1958 and 1969. The American was the second incarnation of AMC's forerunner Nash Motors second-generation Rambler compact that was sold under the Nash and Hudson Motors marques from 1954 and 1955.The...
. 1965 and 1966
model year
Model year
The model year of a product is a number used worldwide, but with a high level of prominence in North America, to describe approximately when a product was produced, and indicates the coinciding base specification of that product....
production Marlins were fastback versions of the mid-sized two-door hardtop
Rambler Classic
Rambler Classic
The Rambler Classic was an intermediate sized automobile that was built and sold by American Motors Corporation from model year 1961 to 1966...
, and 1967 brought a major redesign in which the car was given the new, longer
AMC Ambassador
AMC Ambassador
- 1958 :American Motors planned to produce a stretched a wheelbase version of the Rambler platform for Nash dealers to be the new Nash Ambassador, and another for Hudson dealers...
full-size
chassis
Chassis
A chassis consists of an internal framework that supports a man-made object. It is analogous to an animal's skeleton. An example of a chassis is the underpart of a motor vehicle, consisting of the frame with the wheels and machinery.- Vehicles :In the case of vehicles, the term chassis means the...
. This version had a longer hood and numerous improvements including more interior room and new V8 engines.
Origin
As consumer
per capita income
Per capita income
Per capita income or income per person is a measure of mean income within an economic aggregate, such as a country or city. It is calculated by taking a measure of all sources of income in the aggregate and dividing it by the total population...
increased in the early 1960s, the U.S. automobile market expanded. Whereas American Motors' profitable
marketing strategy
Marketing strategy
Marketing strategy is a process that can allow an organization to concentrate its limited resources on the greatest opportunities to increase sales and achieve a sustainable competitive advantage.-Developing a marketing strategy:...
under
George W. Romney
George W. Romney
George Wilcken Romney was an American businessman and Republican Party politician. He was chairman and CEO of American Motors Corporation from 1954 to 1962, the 43rd Governor of Michigan from 1963 to 1969, and the United States Secretary of Housing and Urban Development from 1969 to 1973...
had concentrated on compact, economical cars, Romney's successor as CEO,
Roy Abernethy
Roy Abernethy
Roy Abernethy was an executive in the American automobile industry, serving as CEO of American Motors Corporation from February 1962 to January 1967. Prior to his tenure at AMC, Abernethy had been with Packard Motors and Willys-Overland. Abernethy replaced George W...
, saw larger, more prestigious and luxurious models as a new profit opportunity. The objective was to compete with the "Big Three" automobile manufacturers (General Motors, Ford, and Chrysler) by expanding AMC's model lines into additional market segments; particularly by developing a sporty, roomy, 6-passenger sedan that would occupy a unique niche in the market. The idea was that the new car would be a distinctive, low-volume model symbolizing a new Rambler look and spearheading a full product line. To be a distinctive competitor in the big league with the Big Three, it was decided that it should be flashy and intermediate-sized, and in an era when other automakers were stressing the power of
muscle car
Muscle car
Muscle car is a term used to refer to a variety of high-performance automobiles. The Merriam-Webster dictionary defines muscle cars as "any of a group of American-made 2-door sports coupes with powerful engines designed for high-performance driving." Usually, a large V8 engine is fitted in a...
s for their intermediate-sized image vehicles, the new model - the Marlin - was to feature comfort and spaciousness.
Initially, in response to a proposal for a sporty youth-oriented car, a four-seat
fastback
Fastback
A fastback is a car body style whose roofline slopes continuously down at the back. The word can also designate the car itself. The style is seen on two-door coupés as well as four-door sedans.-History:...
design study, the
Rambler Tarpon
Rambler Tarpon
thumb|305px|AMC press release photo of the TarponThe Rambler Tarpon was a concept car, a sporty youth-oriented 2 plus 2 hardtop coupé developed in 1963 by American Motors Corporation .-The Tarpon:...
, had been built on the compact-sized
Rambler American
Rambler American
The Rambler American is an automobile manufactured by the American Motors Corporation between 1958 and 1969. The American was the second incarnation of AMC's forerunner Nash Motors second-generation Rambler compact that was sold under the Nash and Hudson Motors marques from 1954 and 1955.The...
platform. This was shown as a
concept car
Concept car
A concept vehicle or show vehicle is a car made to showcase new styling and or new technology. They are often shown at motor shows to gauge customer reaction to new and radical designs which may or may not have a chance of being produced....
at various
auto show
Auto show
An auto show, or motor show, is a public exhibition of current automobile models, debuts, concept cars, or out-of-production classics. It is commonly attended by automobile manufacturers. Most auto shows occur once or twice a year...
s but AMC's current "GEN-1"
V8 engine
AMC V8 engine
American Motors Corporation produced a series of widely-used V8 engines from the mid-1950s before being absorbed into Chrysler in 1987. Chrysler kept the AMC V8 in production until 1991 for the Jeep Grand Wagoneer....
would not fit in the comparatively small Rambler chassis; also the new "GEN-II" V8 designs were still in development, and market research showed that a six-cylinder engine alone would not satisfy potential customers.
Ultimately, and in line with Roy Abernethy's new marketing strategy, the decision was made to build the new fastback model on AMC's intermediate-sized
Rambler Classic
Rambler Classic
The Rambler Classic was an intermediate sized automobile that was built and sold by American Motors Corporation from model year 1961 to 1966...
platform
Automobile platform
An automobile platform is a shared set of common design, engineering, and production efforts, as well as major components over a number of outwardly distinct models and even types of automobiles, often from different, but related marques...
. The development team, under distinguished American designer
Richard A. Teague
Richard A. Teague
Richard A. Teague , born in Los Angeles, California, was an industrial designer in the North American automotive industry...
, had to work with considerably smaller budgets than their counterparts at Detroit's Big Three to create the new Marlin. They created a large, roomy and luxurious fastback which incorporated a number of design features from the Tarpon show car. (The roof was raised over the rear passenger area when Abernethy, who was six-foot-four (193 cm tall), insisted on being able to sit in the back seat of the design studies.) As the car was targeted at the evolving "personal luxury" segment, its long list of standard equipment was supplemented by numerous options that enabled buyers to personalize their Marlins.
1965
Launch
AMC billed the Marlin as a new addition to the company's self-styled "Sensible Spectaculars" model line. Backed by extensive advertising and merchandising, the car was officially announced on February 10, 1965, and unveiled in Rambler
dealer
Car dealership
A car dealership or vehicle local distribution is a business that sells new or used cars at the retail level, based on a dealership contract with an automaker or its sales subsidiary. It employs automobile salespeople to do the selling...
showrooms on March 19.
New car introductions, more significant in the 1960s than today, were often accompanied by special invitations and heavy publicity. The Marlin was advertised in 2,400 newspapers on its launch day, and American Motors'
news release
News release
A press release, news release, media release, press statement or video release is a written or recorded communication directed at members of the news media for the purpose of announcing something ostensibly newsworthy...
s positioned it as aimed at buyers wanting a sporty fastback that was also roomy and comfortable. This contrasted it with the smaller Barracuda and Mustang fastbacks that had arrived a year earlier. AMC's first model following the muscle car launches of the 1960s, the Marlin was intended to outflank competitors as a product they did not offer - a strategy now called "
niche market
Niche market
A niche market is the subset of the market on which a specific product is focusing; therefore the market niche defines the specific product features aimed at satisfying specific market needs, as well as the price range, production quality and the demographics that is intended to impact...
ing".
It followed signature design features of the
Ford Galaxie
Ford Galaxie
The Ford Galaxie was a full-size car built in the United States by the Ford Motor Company for model years 1959 through 1974. The name was used for the top models in Ford's full-size range from 1959 until 1961, in a marketing attempt to appeal to the excitement surrounding the Space Race...
"Sports Roof", the Plymouth Barracuda, the Mustang 2+2, and the 1965 fastback models from General Motors, including the
Chevrolet Impala
Chevrolet Impala
The Chevrolet Impala is a full-size automobile built by the Chevrolet division of General Motors introduced for the 1958 model year. Deriving its name from the southern African antelope, Chevrolet's most expensive passenger model through 1965 had become the best-selling automobile in the United...
"Sport Coupe" versions. A book on American muscle cars says V8-powered Marlins provided appropriate performance for the streamlined appearance.
Press reaction
The new model met with a mixed reception in the press.
Popular Mechanics
magazine recorded
0 to 60 mph
0 to 60 mph
The time it takes to accelerate from 0 to 60 mph is a commonly used performance measure for automotive acceleration in the United States and the United Kingdom. In the rest of the world 0 to 100 km/h is used...
in 10.8 seconds by manually shifting the automatic transmission, and fuel economy of 18.14 miles per US gallon at a steady 60 mph (97 km/h).
Tom McCahill
Tom McCahill
Thomas Jay McCahill III was an automotive journalist, born the grandson of a wealthy attorney in Larchmont, New York. McCahill graduated from Yale University with a degree in fine arts....
's road test in
Mechanics Illustrated
recorded 0 to 60 mph in 9.7 seconds with the 327 engine.
Motor Trend
magazine found the Marlin well balanced and said it added to the market's various personal performance sports cars. The
San Francisco Chronicle
San Francisco Chronicle
thumb|right|upright|The Chronicle Building following the [[1906 San Francisco earthquake|1906 earthquake]] and fireThe San Francisco Chronicle is a newspaper serving primarily the San Francisco Bay Area of the U.S. state of California, but distributed throughout Northern and Central California,...
praised it and noted effortless cruising at 80 mph (129 km/h)."
Hot Rod
magazine, which described the car as "weirdly attractive", ran the quarter-mile in 17.43 seconds at 79 mph (127 km/h) with the 327 CID and "Flash-O-Matic" transmission.
The Marlin emphasized the stretched-out hardtop (pillar-less) roofline that followed the contemporary styling vogue.
Automobile Quarterly
magazine thought the car very ugly, and expressed dislike for the inadequacy of the rear-view window, the positions of the steering-wheel and stoplights, the softness of the front seats, and the design of the pedals.
Designer reaction
Vincent Geraci (who became chief of product design and product identity at
Chrysler
Chrysler
Chrysler Group LLC is a multinational automaker headquartered in Auburn Hills, Michigan, USA. Chrysler was first organized as the Chrysler Corporation in 1925....
after AMC's buyout), viewed the Marlin as "an exciting program ... We took a 1965 body design and turned it into a sportier version. But enlarging the car from its original concept [the Tarpon] and raising the roof produced an adverse effect on overall appearance."
Bob Nixon (who after AMC's buyout in 1987 became
Jeep
Jeep
Jeep is an automobile marque of Chrysler . The first Willys Jeeps were produced in 1941 with the first civilian models in 1945, making it the oldest off-road vehicle and sport utility vehicle brand. It inspired a number of other light utility vehicles, such as the Land Rover which is the second...
's design chief at Chrysler) dismissed the project as an "ugly embarrassment" and said that the assignment to create a sporty fastback on the Classic platform was "like trying to build a Corvette on a Buick sedan body. It just doesn't work."
Carl Cameron, designer of the original Dodge Charger, named the Marlin as the only competition for his 1966 car even though, he said, the Marlin lacked some of the Charger's features and it was "very different". Contrary to the view that the Charger was a "clone" of the Marlin, Cameron said that the starting-point for his design was the
fastback 1949 Cadillac
Cadillac Series 61
The Fisher-bodied Series 61 used a wheelbase. It was available as a club coupe or sedan. All Cadillacs shared the same 346 in³ L-head V8 in 1939, with power at 135 hp and rising to 150 hp for 1941.-Series 63:...
, and that any similarity to the Marlin was coincidental. He added that as a result of the exceptionally tall Abernathy's insistence on being able to sit in the Marlin's back seat, "those cars had big squared-off roofs" whereas the Charger's roof treatment was "rounded off, much more pleasing to the eye."
Vehicle appointments and options
Standard features, which focused on comfort and luxurious appearance, included deluxe exterior trim, individual reclining front seats, front and rear center armrests when bucket seats were selected, and interiors from AMC's two-door Ambassador model, including dashboard and instrument panel. On the Marlin, the dashboard was trimmed with engine-turned aluminum. Interior door panels were finished with carpeting and stainless steel trim, when many cars at the time had cheaper stamped vinyl glued to cardboard. The reclining bucket seats could be ordered with headrests. The Marlin was also one of the first American automobiles with front
disc brake
Disc brake
The disc brake or disk brake is a device for slowing or stopping the rotation of a wheel while it is in motion.A brake disc is usually made of cast iron, but may in some cases be made of composites such as reinforced carbon–carbon or ceramic matrix composites. This is connected to the wheel and/or...
s (four-piston design, by
Bendix
Bendix Corporation
The Bendix Corporation was an American manufacturing and engineering company which during various times in its 60 year existence made brake systems, aeronautical hydraulics, avionics, aircraft and automobile fuel control systems, radios, televisions and computers, and which licensed its name for...
) as standard. It had drum brakes without servo assistance on the rear.
2,005 Marlins were built with the smallest engine option, a 145 hp 232 I6. The AMC-designed 270 hp 327 CID 4-barrel V8, often paired with an automatic transmission that had the shifter in a floor console, accounted for 42% of total production, while less than 6%, regardless of engine option, had the innovative five-speed "Twin-Stick" manual transmission (with
overdrive
Overdrive (mechanics)
Overdrive is a term used to describe a mechanism that allows an automobile to cruise at sustained speed with reduced engine RPM, leading to better fuel economy, lower noise and lower wear...
). Other options included "Solex" tinted glass (70% of production),
power steering
Power steering
Power steering helps drivers steer vehicles by augmenting steering effort of the steering wheel.Hydraulic or electric actuators add controlled energy to the steering mechanism, so the driver needs to provide only modest effort regardless of conditions. Power steering helps considerably when a...
, heavy-duty suspension, "Twin-Grip"
limited slip differential
Limited slip differential
A limited slip differential is a type of differential gear arrangement that allows for some difference in angular velocity of the output shafts, but imposes a mechanical bound on the disparity...
,
air conditioning
Air conditioning
An air conditioner is a home appliance, system, or mechanism designed to dehumidify and extract heat from an area. The cooling is done using a simple refrigeration cycle...
, adjustable
steering wheel
Steering wheel
A steering wheel is a type of steering control in vehicles and vessels ....
,
power window
Power window
Power windows or electric windows as well as electric or power window lifts are automobile windows which can be raised and lowered by depressing a button or switch, as opposed to using a hand-turned crank handle.- History :Packard introduced the first power windows in the 1940 Packard...
s, and a choice of
AM
Amplitude modulation
Amplitude modulation is a technique used in electronic communication, most commonly for transmitting information via a radio carrier wave. AM works by varying the strength of the transmitted signal in relation to the information being sent...
radio or an AM/
FM
FM broadcasting
FM broadcasting is a broadcasting technology pioneered by Edwin Howard Armstrong which uses frequency modulation to provide high-fidelity sound over broadcast radio. The term "FM band" describes the "frequency band in which FM is used for broadcasting"...
monaural
Monaural
Monaural or monophonic sound reproduction is single-channel. Typically there is only one microphone, one loudspeaker, or channels are fed from a common signal path...
unit (50% of production) with "Duo Costic" rear speaker and "Vibra Tone" system to simulate
stereophonic sound
Stereophonic sound
The term Stereophonic, commonly called stereo, sound refers to any method of sound reproduction in which an attempt is made to create an illusion of directionality and audible perspective...
(stereo broadcasting was not yet widely available in the U.S.). 221 Marlins were built without a radio. Wide-ranging interior colors and upholstery choices were available, and options for the exterior, including accent colors for the roof and side window trim, enabled further customization.
Pricing and sales
The
MSRP
Suggested retail price
The manufacturer's suggested retail price , list price or recommended retail price of a product is the price which the manufacturer recommends that the retailer sell the product. The intention was to help to standardise prices among locations...
price was
US$
United States dollar
The United States dollar , also referred to as the American dollar, is the official currency of the United States of America. It is divided into 100 smaller units called cents or pennies....
3,100 (US$ in dollars), compared with $3,063 for a
bench seat
Bench seat
The bench seat was the traditional seat installed in American automobiles. This seat featured a continuous pad running the full width of the cabin...
(six-passenger) version of the Rambler Classic 770 2-door hardtop, which did not have the extra features and luxurious interior of the Marlin. 10,327 Marlins were sold in the abbreviated first year of production.
1966

The Rambler Marlin became known as the AMC Marlin starting with the 1966 model year. All references to the historic Rambler brand name were removed from the car and promotional materials. This was part of Roy Abernethy's remake of AMC's
corporate identity
Corporate identity
In Corporate Communications, a corporate identity is the "persona" of a corporation which is designed to accord with and facilitate the attainment of business objectives...
, divorcing the larger car lines from the
Rambler
Rambler (automobile)
Rambler was an automobile brand name used by the Thomas B. Jeffery Company between 1900 and 1914, then by its successor, Nash Motors from 1950 to 1954, and finally by Nash's successor, American Motors Corporation from 1954 to 1969...
brand and the economy
compact car
Compact car
A compact car , or small family car , is a classification of cars which are larger than a supermini but smaller than or equal to a mid-size car...
image. The other changes were minor (e.g. a slight modification to the extruded aluminum grille, a front
sway bar
Sway bar
A sway bar or anti-roll bar or stabilizer bar is a part of an automobile suspension that helps reduce the roll of a vehicle that is induced by cornering or road irregularities. It connects opposite wheels together through short lever arms linked by a torsion spring...
made standard on six-cylinder models, and an optional black
vinyl roof
Vinyl roof
Vinyl roof refers to a vinyl covering for an automobile's top. This covering was originally designed to give the appearance of a convertible to models with a fixed roof, but eventually it evolved into a styling statement in its own right. Vinyl roofs were most popular in the American market, and...
cover that continued over the
trunk
Trunk (automobile)
The trunk or boot of an automobile or car is the vehicle's main storage, luggage, or cargo compartment. Trunk is used in North American English and Jamaican English; boot is used elsewhere in the English speaking world. Trunk is also primarily used in many non-English speaking regions, such as...
opening).
The year also saw the introduction of the fastback Dodge Charger, a derivative of the intermediate-sized Dodge Coronet, and a sporty model in direct response to the Marlin. Together, the Charger and Marlin were "unusual, distinctive and in a class by themselves." General Motors and Ford also positioned products similar to the Marlin as specialized "personal luxury" coupes and introduced 2-door fastback versions of their full- and intermediate-sized car lines.
AMC broadened the car's market appeal by lowering the base price to US$2,601 (US$ in dollars) and offering more options. For example: high-level
trim package
Trim package
A trim package is an automotive package composed by a set of cosmetic embellishments to a vehicle. In some cases the trim package may include a specific model or ending name...
s that had previously been standard, as well as the availability of a floor or center console mounted 4-speed manual transmission and a dash-mounted
tachometer
Tachometer
A tachometer is an instrument measuring the rotation speed of a shaft or disk, as in a motor or other machine. The device usually displays the revolutions per minute on a calibrated analogue dial, but digital displays are increasingly common...
, affected small changes in pricing and equipment that paralleled the competition. By comparison, Chrysler did a similar thing with the pricing and content of its Dodge Charger from the 1966 to the 1967 model years. Despite these changes, Marlin production fell to 4,547 in 1966.
Popular Science
magazine road test comparison of three 1966 sporty fastbacks (Ford Mustang, Plymouth Valiant, and AMC Rambler) highlighted the Marlin's quiet interior, high quality upholstery and positioned seats with adjustable backrests that "permit almost any driver to find an ideal seat-to-wheel-to-pedal relationship", as well as the "best-balanced ride on good roads and bad". The 287 CID two-barrel V8 engine with the three-speed automatic achieved
0 to 60 mph
0 to 60 mph
The time it takes to accelerate from 0 to 60 mph is a commonly used performance measure for automotive acceleration in the United States and the United Kingdom. In the rest of the world 0 to 100 km/h is used...
in 11.7 seconds, and was the quietest, but least responsive of the group. The test Marlin's standard drum brakes were criticized as inadequate, with the authors recommending the optional disk brakes.
1967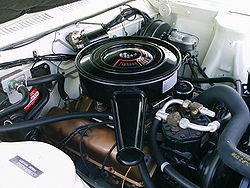 The Marlin was larger and more expensive for the 1967 model year. It was now built on AMC's completely redesigned 118 in (2,997 mm) wheelbase "senior" platform, i.e. the AMC Ambassador chassis. The retooling for 1967 design changes that were mostly to the "senior" line of AMC cars (Ambassador, Marlin, Rebel) cost $35 million. (US$ in dollars) The overall length of the new Marlin's body increased by 6.5 inches (165 mm) with more rear seat legroom, as well as being wider resulting in 2.2 inches (56 mm) of additional interior room, but in the process the car gained 350 pounds (159 kg) compared to the previous models.
Making the Marlin larger was a design requirement in anticipation of the 1968 entry of the compact-platform based
Javelin
AMC Javelin
The Javelin was a production version of one of the AMC AMX prototypes shown during the 1966 AMX project nationwide tour. Intended to rival other pony cars such as the Ford Mustang and Chevrolet Camaro. American Motor's Javelin debuted on 22 August 1967, for the 1968 model year...
. Also the longer, wider car would improve
product differentiation
Product differentiation
In economics and marketing, product differentiation is the process of distinguishing a product or offering from others, to make it more attractive to a particular target market. This involves differentiating it from competitors' products as well as a firm's own product offerings...
among AMC's various model lines. ''Motor Trend'' magazine compared two "Sporty Specialties" – the 1967 AMC Marlin and Dodge Charger – concluded that both are "caught in the middle" because "neither has the compactness of the basic sports-personal archetypes such as the Mustang or
Camaro
Chevrolet Camaro
The Chevrolet Camaro is an automobile manufactured by General Motors under the Chevrolet brand, classified as a pony car and some versions also as a muscle car. It went on sale on September 29, 1966, for the 1967 model year and was designed as a competing model to the Ford Mustang...
, nor the posh elegance to social climb" to the models such as the
Cadillac Eldorado
Cadillac Eldorado
The 1953 Eldorado was a special-bodied, low-production convertible . It was the production version of the 1952 El Dorado "Golden Anniversary" concept car, and borrowed bumper bullets from the 1951 GM Le Sabre show car...
or
Buick Riviera
Buick Riviera
The Riviera by Buick is an automobile produced by Buick in the United States from the 1963 to 1999 model years, with 1,127,261 produced.A full-size coupé or personal luxury car, the early models of the Riviera in particular have been highly praised by automotive journalists and writers.A common...
. Rather, "both aim at the driver who wants a sporty-type car, but who doesn't want to give up room and comfort and isn't ready to move into more expensive category." The 1967 Marlin was part of the "cool" car sales pie that featured sporty cars with "the popular fastback silhouette".
The Ambassador chassis allowed for a longer
hood
Hood (vehicle)
The hood or bonnet is the hinged cover over the engine of motor vehicles that allows access to the engine compartment for maintenance and repair. In British terminology, hood refers to a fabric cover over the passenger compartment of the car...
that harmonized better with its
fastback
Fastback
A fastback is a car body style whose roofline slopes continuously down at the back. The word can also designate the car itself. The style is seen on two-door coupés as well as four-door sedans.-History:...
rear end, and the body was given a less angular appearance. A bright trim strip from the door opening to the rear bumper, accentuates the slightly kicked-up "
coke bottle
Coke bottle styling
Coke bottle styling is a term used to describe any automotive body styling bearing an overall body shape resembling the classic glass Coca-Cola soft drink's contour bottle design. It is a style of automobile bodies with outward curving fenders with a narrow center. In contrast to "straight-edge"...
" profile of the rear fenders. The front end shared the Ambassador's protruding, vertically stacked headlights and an all-new recessed extruded aluminum grille with horizontal bars that bowed forward in the center. The grille was a black anodized version of the twin (parking and turn-signal) "rally light" grille on the Ambassador DPL models. The
hood ornament
Hood ornament
A hood/bonnet ornament, or radiator cap, or car mascot is a specially crafted model of something which symbolizes a car company like a badge, located on the front center portion of the hood...
was redesigned, with a small chrome
marlin
Marlin
Marlin, family Istiophoridae, are fish with an elongated body, a spear-like snout or bill, and a long rigid dorsal fin, which extends forward to form a crest. Its common name is thought to derive from its resemblance to a sailor's marlinspike...
fish set in clear plastic inside a chrome ring.
The main feature was the Marlin's fastback roof with "stylish elliptical
C-pillars
Pillar (car)
Pillars are the vertical supports of the greenhouse of an automobile — known respectively as the A, B, C or D-pillar moving in profile view from the front to rear....
that ended "between two stubby, squared-off fins" in the rear. The
decklid
Decklid
The decklid is the cover over the trunk/boot of motor vehicles that allows access to the main storage or luggage compartment...
was the same as on the previous model, but now without the large round insignia. A bigger back window improved rear visibility. New taillights were similar to those on the first-generation car. The rear bumper was slightly different from the one used on the Ambassador and Rebel
station wagon
Station wagon
A station wagon is a body style variant of a sedan/saloon with its roof extended rearward over a shared passenger/cargo volume with access at the back via a third or fifth door , instead of a trunk lid...
s, the top edge being a continuous horizontal line that fits up against the body.
Teague said the 1967 car was 'the best-looking Marlin we built.' ''Motor Trend'' magazine described the all-new styling of AMC's new full-size cars as "attractive" and "more graceful and easier on the eye in '67."
The second-generation Marlin did not have its own catalog, but was described within the large Ambassador sales brochure. The Ambassador's standard features and options also came on the Marlin. The interiors continued to offer premium materials and fittings, including wood-grain trim, and were the same as on the Ambassador 990 and DPL two-door hardtop models (with the exception of the "Custom" package that had two matching pillows) that "rival more expensive cars for luxury and quality, yet are durable enough to take years of normal wear." Many Marlins were ordered with the reclining buckets seats that not only featured a center armrest between them (with a center cushion for a third occupant or a floor console with gear selector), but also a foldaway center armrest for the rear seat. The interior design was new and featured a safety-oriented
dashboard
Dashboard
A dashboard is a control panel placed in front of the driver of an automobile, housing instrumentation and controls for operation of the vehicle....
with the instruments and controls grouped in front of the driver, while the rest of the dash was pushed forward and away from the passengers. Protruding knobs and controls were eliminated from any area that the passenger or driver could strike them. The steering wheel was smaller than used before and the column was now designed to collapse under impact. A new lance change feature was made standard.
An entirely new family of V8 engines was offered. The six-cylinder was still available, but rarely ordered -only 355 were built. The base V8 was the 290 CID with a 2-barrel carburetor, while a pair of 343 CID V8s were optional: a 2-barrel that ran on regular-fuel, as well as a high-compression (10.2:1) premium-fuel version with a 4-barrel carburetor and dual exhaust that produced 280 hp at 4800 rpm and 365 foot-pounds (495 N·m) of torque at 3000 rpm. An entirely new four-link, trailing-arm rear suspension system was introduced eliminating the previous
torque tube
Torque tube
A torque tube system is a driveshaft technology, often used in automobiles with a front engine and rear drive. It is not as widespread as the Hotchkiss drive, but is still occasionally used to this day...
design.
Motor Trend
magazine's road test of the Marlin with the 343 engine reported zero to 60 mph in 9.6 seconds, and ran a 17.6-second quarter mile at 82 mph (132 km/h) with two passengers aboard, which was comparable to the performance of a Dodge Charger with a 383 CID.
Fuel economy
Fuel economy in automobiles
Fuel usage in automobiles refers to the fuel efficiency relationship between distance traveled by an automobile and the amount of fuel consumed....
with the 280 hp V8 averaged 15.3 miles per US gallon city and 17.6 miles per US gallon highway, while with the 155 hp straight-six the big Marlin averaged 17.3 miles per US gallon city and 20.4 miles per US gallon highway. The Marlin "also handled well" and featured reclining seats that are "well worth the extra $44.65 to anyone who travels long distances."
Sales of the redesigned Marlin fell to 2,545. This was partly a result of customers' diminishing confidence in the financial health of the automaker under Abernethy's leadership, and partly confusion caused by AMC's move away from its loyal "economy" customer market segments into segments dominated by the domestic "Big Three" (GM, Ford, and Chrysler). Also, buyers did not turn to the "family"-sized fastbacks. Therefore the Marlin ceased production at the end of the '67 model year.
Racing
The Marlin "was an overlooked performer on the muscle car landscape", yet it was campaigned without
factory support
Factory-backed
Factory-backed is a term commonly used in motorsports to describe a sponsored racing team, car, motorcycle or driver that competes with official sanction and financial support, or "backing" from a manufacturer. As motorsports competition is an expensive endeavor, some degree of factory support is...
in
motorsport
Motorsport
Motorsport or motorsports is the group of sports which primarily involve the use of motorized vehicles, whether for racing or non-racing competition...
venues. Roy Abernethy had instituted a prohibition on automobile racing and he was opposed to corporate sponsorship of activities that glamorized speed and performance. While the Big Three automakers in the U.S. were focusing on high performance during the early 1960s, AMC ran advertising that said: "Why don't we enter high-performance Rambler V-8s in racing? Because the only race Rambler cares about is the human race." Nevertheless, the 1965 Marlin was an attempt to attract younger customers. The Marlin was promoted as an image-breaking model and AMC dealerships began sponsoring Ramblers in
auto racing
Auto racing
Auto racing is a motorsport involving the racing of cars for competition. It is one of the world's most watched televised sports.-The beginning of racing:...
.
Dragstrip
Preston Honea achieved
drag racing
Drag racing
Drag racing is a competition in which specially prepared automobiles or motorcycles compete two at a time to be the first to cross a set finish line, from a standing start, in a straight line, over a measured distance, most commonly a ¼-mile straight track....
fame with the "Bill Kraft Rambler". The effort began in 1964 when the Bill Kraft Rambler dealership had installed a highly modified
AMC Ambassador V8 engine
AMC V8 engine
American Motors Corporation produced a series of widely-used V8 engines from the mid-1950s before being absorbed into Chrysler in 1987. Chrysler kept the AMC V8 in production until 1991 for the Jeep Grand Wagoneer....
(the 327 V8 bored out to 418 CID, four carburetors, special intake manifold) in a 1964 Rambler that ran 112 mph (180 km/h) at the
Fontana
Fontana, California
Fontana is a city of 196,069 residents in San Bernardino County, California. Founded in 1913, it remained essentially rural until World War II, when entrepreneur Henry J. Kaiser built a large steel mill in the area...
drag strip
Drag strip
Drag strip may refer to:*Dragstrip, track used for drag racing*Drag Strip , Transformer character who is one of the Stunticons*Videocart-9: Drag Strip, drag racing videogame released in 1976-See also:*Dover Drag Strip...
. For the 1965 season, Kraft built a new "Bill Kraft Rambler", this time a fastback-bodied Marlin
Funny Car
Funny Car
Funny Car is a drag racing car class. In the United States, other "professional" classes are Top Fuel, Pro Stock, and Pro Stock Motorcycle. Funny cars have forward-mounted engines and carbon fiber automotive bodies over the chassis, giving them an appearance vaguely approximating manufacturers'...
on alcohol fuel and
nitrous
Nitrous
Nitrous oxide is a chemical compound used as an oxidizing agent to increase an internal combustion engine's power output by allowing more fuel to be burned than would normally be the case.-Nitrous and NOS:...
injection. The AMC engine was replaced by a Plymouth
Hemi
Hemi engine
A Hemi engine is an internal combustion engine in which the roof of each cylinder's combustion chambers is of hemispherical form.- History :...
. On its first time out, the Hemi-powered car ran a 10.31-second quarter mile at 138 mph (222 km/h).
Oval
Roy Haslam, a 1999 inductee to Victoria Auto Racing Hall of Fame, raced his AMC Marlin Super Stock (
image
) in Canada and the U.S. He won the July Cup and was 3rd in the season point championships.
Endurance
Brothers Larry and Don Hess raced a Marlin in the 1966
24 Hours of Daytona
24 Hours of Daytona
The 24 Hours of Daytona, currently known as the Rolex 24 Daytona for sponsorship reasons, is a 24-hour sports car endurance race held annually at Daytona International Speedway in Daytona Beach, Florida. It is run on a combined road course, utilizing portions of the NASCAR tri-oval and an infield...
. Sponsored by Queen City Rambler, a
Charlotte, North Carolina
Charlotte, North Carolina
Charlotte is the largest city in the U.S. state of North Carolina and the seat of Mecklenburg County. In 2010, Charlotte's population according to the US Census Bureau was 731,424, making it the 17th largest city in the United States based on population. The Charlotte metropolitan area had a 2009...
AMC dealership, the car ran almost stock, even a with radio antenna. The passenger seats were removed, a
roll bar
Roll cage
A roll cage is a specially constructed frame built in the cab of a vehicle to protect its occupants from being injured in an accident, particularly in the event of a roll-over. Roll cages are used in nearly all purpose-built racecars, and in most cars modified for racing...
installed, and the factory exhaust system replaced with open
headers
Exhaust manifold
In automotive engineering, an exhaust manifold collects the exhaust gases from multiple cylinders into one pipe. The word manifold comes from the Old English word manigfeald and refers to the folding together of multiple inputs and outputs.In contrast, an inlet manifold is the part of an engine...
that exited below the doors. The Marlin retired after 80 laps with overheating and steering problems, and was reportedly sold as a used car after the race.
Special versions
American Motors designers and stylists made two operational
show car
Show car
A show car, sometimes called a dream car, is a custom-made automobile created specifically for public display, rather than sale. They are shown at auto shows and other exhibitions.Show cars generally fall into one or more of three categories:...
s. Both used the platform of the first generation Marlin and promoted Rambler's new emphasis on luxury and glamour.
The Black Marlin toured the 1965 auto shows along with attractive young women in sailors' outfits. It was finished in black with "a sleek and stylish interior."
The Tahiti luxury version toured the shows in 1966, starting with the North American International Auto Show

North American International Auto Show

The North American International Auto Show is an annual auto show held in Detroit, Michigan at Cobo Center, usually in January. It is among the largest auto shows in North America.-History:...


in Detroit. It was finished in a brilliant fireflake blue with "bright South Seas floral upholstery," and matching throw pillows.
A design experiment in 1966 was the manufacture of a first-generation Marlin with the front end of the Ambassador.
The Marlin II essentially foretold the switch to the longer wheelbase platform that occurred for the 1967 model year. The car was used by Richard Teague, and was sold in 1967.
A 1966 Marlin was chosen by
George Barris
George Barris (auto customizer)
George Barris is a designer of custom cars.-Early history:George and his brother Sam were born in Chicago in the 1920s. After the deaths of their parents, they moved to Roseville, California as children to live with relatives. Both were good students, interested in drama, music, and design...
, one of the best-known designers of custom cars in the world, to promote road wheels by Rader, which also supplied the custom wheels (commonly known as "mags" or magnesium alloy wheels) for the Batmobile used in the 1960s
Batman TV series
Batman (TV series)
Batman is an American television series, based on the DC comic book character of the same name. It stars Adam West as Batman and Burt Ward as Robin — two crime-fighting heroes who defend Gotham City. It aired on the American Broadcasting Company network for three seasons from January 12, 1966 to...
. Later George Barris worked with AMC to produce dealer installed customizing kits for the
AMX
AMC AMX
The AMC AMX is a two-seat GT in style and approach sports car that was produced by American Motors Corporation for the 1968 through 1970 model years. The AMX was also classified as a muscle car, but "unique among other American cars at the time due its short wheelbase"...
.
The 1966 Rader Marlin featured wheels by Rader fitted with "thick wall" tires. The car was finished in Candy Red with bits of gold leaf

Gold leaf

right|thumb|250px|[[Burnishing]] gold leaf with an [[agate]] stone tool, during the water gilding processGold leaf is gold that has been hammered into extremely thin sheets and is often used for gilding. Gold leaf is available in a wide variety of karats and shades...


added to the clearcoat set off by Black Pearl Naugahyde

Naugahyde

Naugahyde is an American brand of artificial leather . Naugahyde is a composite of a knit fabric backing and polyvinyl chloride plastic coating. It was developed by United States Rubber Company, and is now manufactured and sold by the Uniroyal Engineered Products division of Michelin...


that covered the fastback roof back to the decklid

Decklid

The decklid is the cover over the trunk/boot of motor vehicles that allows access to the main storage or luggage compartment...


. Barris also modified the Marlin's front end with a custom mesh grille

Grille

A grille or grill is an opening of several slits side by side in a wall or metal sheet or other barrier, usually to let air or water enter and/or leave but keep larger objects including people and animals in or out.-Spelling:In the United States, "grille" is used to differentiate the automotive...


that incorporated four rectangular "Cibié" headlamps, which were not allowed in the U.S. at that time.
New market segments
The intermediate-size fastback car was not a big hit in the marketplace. However, "there were many who welcomed the new breed of mid-size fastbacks as a breath of fresh air." According to
Consumer Reports
, these cars defied "the usual guidelines to size and price class, and they cannot be measured against any standard".
The Marlin had low sales overall but generated publicity and excitement, attracting potential customers to AMC dealers and creating sales opportunities for other models. American Motors' claim to fame was as a maker of economical and undistinguished compact cars and the publicity and interest generated by the Marlin's rather radical design facilitated a shift in public opinion about the automaker, as well as the
contribution margin
Contribution margin
In cost-volume-profit analysis, a form of management accounting, contribution margin is the marginal profit per unit sale. It is a useful quantity in carrying out various calculations, and can be used as a measure of operating leverage...
to the company's sales. The Marlin's first-year sales helped generate a profit of US$5.2 million (US$ in dollars) for AMC in fiscal 1965, despite a three-week
strike
Strike action
Strike action, also called labour strike, on strike, greve , or simply strike, is a work stoppage caused by the mass refusal of employees to work. A strike usually takes place in response to employee grievances. Strikes became important during the industrial revolution, when mass labour became...
by the
United Auto Workers
United Auto Workers
The International Union, United Automobile, Aerospace and Agricultural Implement Workers of America, better known as the United Auto Workers , is a labor union which represents workers in the United States and Puerto Rico, and formerly in Canada. Founded as part of the Congress of Industrial...
.
The mid-sixties automobile market in the U.S. was marked an increasing influence of younger buyers who wanted a sporty image. Most of the "sportiness" of these was due to effective marketing. No longer satisfied with "standard" cars the market moved into new segments that included muscle models and personal-luxury cruisers. Many were heavily restyled derivatives of volume models and shared common parts. Moreover, they were image builders and big profit generators for their automakers. The objective of the Marlin was to move AMC in this direction. However, the AMC "had an established image as an expert in the small-car field", and thus faced problems in marketing the Marlin as a sporty big car. Moreover, "the Marlin actually represented a double leap" for AMC: into performance, as well as personalization. The model had a good start, but sales quickly bottomed out in the 1967 model year. The automaker's anti-racing philosophy turned around after $40 million (US$ in dollars) was spent to develop a new V8 engine family and AMC turned to "competitive events as a means of knocking down its avidly gathered reputation for economy."
Although the Marlin was discontinued in 1967, it paved the way for a successful replacement—the compact 1968
AMC Javelin
AMC Javelin
The Javelin was a production version of one of the AMC AMX prototypes shown during the 1966 AMX project nationwide tour. Intended to rival other pony cars such as the Ford Mustang and Chevrolet Camaro. American Motor's Javelin debuted on 22 August 1967, for the 1968 model year...
. Therefore, the Marlin's introduction in 1965 can be viewed as stopgap marketing move by AMC, influenced by the company's lack of a V8 engine at that time to fit the compact Rambler chassis. As a mid-sized car, the Marlin was not a dashing, affordable
pony car
Pony car
Pony car is an American class of automobile launched and inspired by the Ford Mustang in 1964. The term describes an affordable, compact, highly styled car with a sporty or performance-oriented image.-Origins of the breed:...
, and after three years of production, it would "step aside in favor of another two-door: the hip, new Javelin."
Political controversy
A Marlin was the subject of political controversy in Republican candidate
Mitt Romney
Mitt Romney
Willard Mitt Romney is an American businessman and politician. He was the 70th Governor of Massachusetts from 2003 to 2007 and is a candidate for the 2012 Republican Party presidential nomination.The son of George W...
's
2002 Massachusetts gubernatorial election
Massachusetts gubernatorial election, 2002
The Massachusetts gubernatorial election of 2002 was held on November 5, 2002. Businessman Mitt Romney was elected to a four-year term, to be served from January 2, 2003 until January 4, 2007. Every four years, Massachusetts holds state-wide elections for Governor, Lieutenant Governor, Attorney...
campaign.
In a television advertisement Romney and his wife Ann tenderly describe their first date and falling in love. Mrs. Romney recalls her husband pulling up in "some goofy-looking car" and running out of gas on the way home. Romney describes being embarrassed by the fact that in
high school
High school
High school is a term used in parts of the English speaking world to describe institutions which provide all or part of secondary education. The term is often incorporated into the name of such institutions....
he drove a car that he says was "kinda awful."
What Romney did not say in the ads was that the car was a brand new AMC Marlin, from the company headed by his father
George W. Romney
George W. Romney
George Wilcken Romney was an American businessman and Republican Party politician. He was chairman and CEO of American Motors Corporation from 1954 to 1962, the 43rd Governor of Michigan from 1963 to 1969, and the United States Secretary of Housing and Urban Development from 1969 to 1973...
.
The rival
Shannon O'Brien
Shannon O'Brien
Shannon Patricia Elizabeth O'Brien is a Democrat from Massachusetts. O'Brien served in the Massachusetts House of Representatives from 1987 through 1993, in the Massachusetts Senate from 1993 through 1995, and was the Massachusetts State Treasurer from 1999 through 2003...
campaign responded that Romney "actually drove a cool car"—a "personal luxury car" according to
AutoWeek
AutoWeek
AutoWeek is a fortnightly automotive enthusiast publication based in Detroit, Michigan. One of 32 titles published by Crain Communications Inc, its parent company, AutoWeek is unique as the only consumer title among its sister publications....
magazine. The press release by the Democratic ticket chided: "...the fact that Mitt Romney was embarrassed by his brand new car shows just how out of touch with regular working people he is."
Crossfire connection
Some of the main design components of the Marlin's design returned in 2004 with the
Chrysler Crossfire
Chrysler Crossfire
The Chrysler Crossfire is a rear-wheel drive sports car marketed by Chrysler as both coupé and roadster and was built for Chrysler by Karmann of Germany.-Design:...
. The new
coupé
Coupé
A coupé or coupe is a closed car body style , the precise definition of which varies from manufacturer to manufacturer, and over time...
displayed a fastback roof with broad rear fenders, a rear end treatment that prompted many automotive journalists to comment on the Crossfire's resemblance to the AMC Marlin. For example, Rob Rothwell wrote '...when I first espied the rear lines of the Chrysler Crossfire I was instantly transported back to 1965 and my favorite car of that year, the Rambler Marlin.'
Collectibility


The distinctive Marlin has found a niche among old car hobbyists and collectors of historic vehicles as evidenced by the backing of enthusiasts with a single marque antique auto club. Although a relatively low-production model, the Marlin is a derivative of AMC's higher-volume models so it shares many common parts. Vehicles in various stages of appearance and mechanical condition can be found for sale. Plusses for collectors of the 1965 model include decent performance with optional drivetrains, historical oddity, plush, bucket-seat interior, and its still low prices; while the Marlin's "distinctive" styling, rust issues, and slow appreciation in value are minuses.
There are also many active local and national (U.S. and other nations) Rambler and AMC car clubs that welcome Marlins.
A unique conversation piece and collectible is the 1966 AMC Marlin that was transformed into a top-less "convertible" by cutting off the car's roof. It was made for the
Florida Marlins
Florida Marlins
The Miami Marlins are a professional baseball team based in Miami, Florida, United States. Established in 1993 as an expansion franchise called the Florida Marlins, the Marlins are a member of the Eastern Division of Major League Baseball's National League. The Marlins played their home games at...
, a professional baseball team based in Miami Gardens, Florida. The one-of-a-kind car served in parades and on-field ceremonies at Dolphins Stadium. With no seats except for the driver, it transported the team's mascot "Billy the Marlin" for all fans to see during the ball club's 1997 world championship season.
Scale models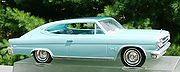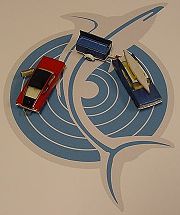 A highly detailed Marlin promotional 1/25-
scale model
Scale model
A scale model is a physical model, a representation or copy of an object that is larger or smaller than the actual size of the object, which seeks to maintain the relative proportions of the physical size of the original object. Very often the scale model is used as a guide to making the object in...
was manufactured under license from AMC by
Jo-Han
Jo-Han
Jo-Han is a manufacturer of plastic scale model car promotionals and kits originally based in Detroit. The company was founded there in 1947 by tool and die maker John Hanley - a year before West Gallogly's AMT and about the same time as PMC...
for the 1965 and 1966 model years. The only differences are their grilles and removal of the Rambler name on the 1966s. A friction model was also available from Jo-Han in 1966. Although available in a variety of single and two-tone color combinations, many of these "dealer promos" were done in aqua/dark blue two-tone plastic. Unwanted by AMC dealers as the 1966 model year neared its end, thousands of the models were given away to institutions such as children's hospitals and orphan's homes. They are now highly desirable and they command premium prices. Their value can be upwards of $200 to 400 for mint, in-the-box specimens that still have the hood ornament.
Jo-Han also produced 1/25-scale plastic kits of the 1966 Marlin, (Jo-Han C1900) and reissued it in the mid-1970s in the "U.S.A. Oldies" series
Image
(Jo-Han C-3666). They are based on the promotional models, but are less valuable today. According to Steve Magnante of
Hot Rod
magazine, Jo-Han appears to be poised for a comeback with its most famous unassembled model kits favoring offbeat subjects, "but save up-this stuff is pricey."
Two types of
die-cast toy
Die-cast toy
The term die-cast toy here refers to any toy or collectible model produced by using the die casting method. The toys are made of metal, with plastic, rubber or glass details. Wholly plastic toys are made by a similar process of injection moulding, but the two are rarely confused...
models were sold under the Corgi Toy brand and manufactured by
Mettoy Playcraft
Mettoy-Corgi
Corgi Toys is the name of a range of die-cast toy vehicles produced by Mettoy Playcraft Ltd. in the United Kingdom. The Mettoy company was founded in 1933 by German émigré Philip Ullmann in Northampton, England, where he was later joined by South African-born German Arthur Katz who had previously...
in the UK during the late 1960s. Both were done in
1:48 scale
1:48 scale
1:48 scale is popular among modelers both as diecast models, plastic models made from kits, and construction toys. It is especially popular with manufacturers of model airplanes and model trains...
. One was a two-tone red and black Marlin with opening doors and a tow hook. The "Rambler Marlin Sports Fastback" (Corgi 263) scale model was released in 1966 and withdrawn from the market in 1969. In addition to the two-tone paint with chrome bumpers and grille, the model features a detailed interior finished in white and the front seat backs can be tiped forward (as in the actual cars). The second was a gift boxed set (Corgi GS10) with the Marlin finished in blue with a white roof and featuring a
roof rack
Roof rack
A roof rack is a set of bars secured to the roof of a motor car. It is used to carry bulky items such as luggage, bicycles, canoes, kayaks, skis, or various carriers and containers.There is a long history of the use of roof racks and their designs...
for a
kayak
Kayak
A kayak is a small, relatively narrow, human-powered boat primarily designed to be manually propelled by means of a double blade paddle.The traditional kayak has a covered deck and one or more cockpits, each seating one paddler...
, as well as towing a matching utility
trailer
Trailer (vehicle)
A trailer is generally an unpowered vehicle pulled by a powered vehicle. Commonly, the term trailer refers to such vehicles used for transport of goods and materials....
with opening hatches. Released in 1968, this set had a short run of just 11 months.
Interchange
The following is a digest of a section in "The Marlin Handbook - 2004" prepared by the Marlin Auto Club.
First generation
Front fenders, hood, as well as front and rear bumpers are
interchangeable
Interchangeable parts
Interchangeable parts are parts that are, for practical purposes, identical. They are made to specifications that ensure that they are so nearly identical that they will fit into any device of the same type. One such part can freely replace another, without any custom fitting...
with the 1965 and 1966 Classic. The rear bumper from 1965 and 1966 Ambassadors will interchange, as well as the dashboard, seats, and other inside trim pieces. Windshields and the doors with their side glass are interchangeable with all two-door Classic and Ambassador models.
Drive train, front and rear suspension, brakes, radiators, master cylinders,
trunnion
Trunnion
A trunnion is a cylindrical protrusion used as a mounting and/or pivoting point. In a cannon, the trunnions are two projections cast just forward of the centre of mass of the cannon and fixed to a two-wheeled movable gun carriage...
s, steering columns, power steering pumps, engines, transmissions, brake drums and rotors are interchangeable with 1965 and 1966 Ambassadors and Classics. Some parts are even interchangeable back to 1958 and earlier, while other components were used by AMC into the 1970s.
The 232 CID I6 was used through the late-1970s. This engine was stroked and became the 258 CID that was used into the 1990s in Jeeps. Many engine components are shared. This engine was also upgraded into Jeep's 4-liter workhorse. It is possible to transplant this high-output
fuel-injected
Fuel injection
Fuel injection is a system for admitting fuel into an internal combustion engine. It has become the primary fuel delivery system used in automotive petrol engines, having almost completely replaced carburetors in the late 1980s....
engine into a Marlin. (See:
AMC Straight-6 engine
AMC Straight-6 engine
The American Motors Corporation straight-6 family of engines was used by a number of AMC and Jeep vehicles from 1964 through 2006.-195.6:American Motors' first straight-six engine was the...
)
The 287 CID and 327 CID V8s started out in 1956 and 1957 and were used in large Ramblers, Classics, and Ambassadors through 1966. The AMC 327 engine continued to be used in Jeep and marine applications into the mid-1970s. (See:
AMC V8 engine
AMC V8 engine
American Motors Corporation produced a series of widely-used V8 engines from the mid-1950s before being absorbed into Chrysler in 1987. Chrysler kept the AMC V8 in production until 1991 for the Jeep Grand Wagoneer....
)
Second generation
Front fenders, hood, front bumper, are interchangeable with all 1967 Ambassadors. Windshields as well as doors and their glass from all two-door Ambassadors and Rebels are also interchangeable.
The 1967 Marlin similarly shares most major mechanical components with 1967 and up "senior" (Ambassador, Rebel, and Matador) models. The front suspension design was changed in 1970; however, brake components are interchangeable with later models. Mechanically, the
track width
Axle track
The axle track in automobiles and other wheeled vehicles which have two or more wheels on an axle, is the distance between the centreline of two roadwheels on the same axle, each on the other side of the vehicle...
for 1967, as well as 1968, was 58.5 in (1,486 mm). Starting in 1969 this was increased to an even 60 in (1,524 mm). In spite of the track width increase, the rear axle uses the same mounting points and spring locations. Therefore, complete rear-end assemblies from later models "bolt in" with some minor exceptions such as the different drive shaft rear
universal joint
Universal joint
A universal joint, universal coupling, U joint, Cardan joint, Hardy-Spicer joint, or Hooke's joint is a joint or coupling in a rigid rod that allows the rod to 'bend' in any direction, and is commonly used in shafts that transmit rotary motion...
sizes compared to those used in 1967.
Starting with the 1967 model year, completely new "GEN-II" V8 engines were used in all AMC vehicles. In 1968, the high-performance 390 CID V8 was added. Then in 1970 and 1971 the 290 became the 304 CID, the 343 became the 360 CID, while the 390 became a 401 CID. Many of the V8 parts are interchangeable with the 290 and 343. All "GEN-II" engines fit into the second generation Marlin. American Motors' V8 engines were used through 1991 in the full-size
Jeep Wagoneer
Jeep Wagoneer
The Jeep Wagoneer was an early sport utility vehicle and the first luxury 4x4, produced under varying marques from 1963 to 1991. It was noteworthy for being in production for more than 28 years with only minor mechanical changes...
.
External links