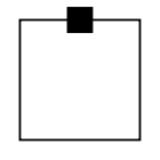 Monaural

Monaural
or
monophonic sound reproduction
(often shortened to
mono
) is single-channel. Typically there is only one
microphone
Microphone
A microphone is an acoustic-to-electric transducer or sensor that converts sound into an electrical signal. In 1877, Emile Berliner invented the first microphone used as a telephone voice transmitter...
, one
loudspeaker
Loudspeaker
A loudspeaker is an electroacoustic transducer that produces sound in response to an electrical audio signal input. Non-electrical loudspeakers were developed as accessories to telephone systems, but electronic amplification by vacuum tube made loudspeakers more generally useful...
, or (in the case of
headphones
Headphones
Headphones are a pair of small loudspeakers, or less commonly a single speaker, held close to a user's ears and connected to a signal source such as an audio amplifier, radio, CD player or portable Media Player. They are also known as stereophones, headsets or, colloquially, cans. The in-ear...
and multiple loudspeakers) channels are fed from a common signal path. In the case of multiple microphones the paths are mixed into a single signal path at some stage.
Monaural sound has been replaced by
stereo
Stereophonic sound
The term Stereophonic, commonly called stereo, sound refers to any method of sound reproduction in which an attempt is made to create an illusion of directionality and audible perspective...
sound in most entertainment applications. However, it remains the standard for
radiotelephone
Radiotelephone
A radiotelephone is a communications system for transmission of speech over radio. Radiotelephone systems are not necessarily interconnected with the public "land line" telephone network. "Radiotelephone" is often used to describe the usage of radio spectrum where it is important to distinguish the...
communications,
telephone
Telephone
The telephone , colloquially referred to as a phone, is a telecommunications device that transmits and receives sounds, usually the human voice. Telephones are a point-to-point communication system whose most basic function is to allow two people separated by large distances to talk to each other...
networks, and
Audio induction loop
Audio induction loop
Audio Induction Loop systems, also called audio-frequency induction loops or hearing loops, are an aid for the hard of hearing. They are a loop of cable around a designated area, usually a room or a building, which generates a magnetic field picked up by a hearing aid...
s for use with
hearing aid
Hearing aid
A hearing aid is an electroacoustic device which typically fits in or behind the wearer's ear, and is designed to amplify and modulate sound for the wearer. Earlier devices, known as "ear trumpets" or "ear horns", were passive funnel-like amplification cones designed to gather sound energy and...
s. A few radio stations, particularly of the
talk radio
Talk radio
Talk radio is a radio format containing discussion about topical issues. Most shows are regularly hosted by a single individual, and often feature interviews with a number of different guests. Talk radio typically includes an element of listener participation, usually by broadcasting live...
variety, choose to broadcast in monaural sound, as a monaural signal has a slight advantage in signal strength over a stereophonic signal of the same power.
History
While some experiments were made with stereophonic recording and reproduction from the early days of the
phonograph
Phonograph
The phonograph record player, or gramophone is a device introduced in 1877 that has had continued common use for reproducing sound recordings, although when first developed, the phonograph was used to both record and reproduce sounds...
in the late 19th century, until the second half of the 20th century monaural was the rule for almost all
audio recording
Sound recording and reproduction
Sound recording and reproduction is an electrical or mechanical inscription and re-creation of sound waves, such as spoken voice, singing, instrumental music, or sound effects. The two main classes of sound recording technology are analog recording and digital recording...
.
Monaural sound is normal on:
Incompatible standards exist for:
Later records (monophonic records - which had almost disappeared in the US by the end of 1967 - could be played with a stereo cartridge

Magnetic cartridge

A magnetic cartridge is a transducer used for the playback of gramophone records on a turntable or phonograph. It converts mechanical vibrational energy from a stylus riding in a spiral record groove into an electrical signal that is subsequently amplified and then converted back to sound by a...


)
Reel-to-reel audio tape recording

Reel-to-reel audio tape recording

Reel-to-reel, open reel tape recording is the form of magnetic tape audio recording in which the recording medium is held on a reel, rather than being securely contained within a cassette....


(depending on track alignment)
Compatible monaural and stereophonic standards exist for:
No monaural standards exist for:
8-track tape
Compact disc

Compact Disc

The Compact Disc is an optical disc used to store digital data. It was originally developed to store and playback sound recordings exclusively, but later expanded to encompass data storage , write-once audio and data storage , rewritable media , Video Compact Discs , Super Video Compact Discs ,...



At various times artists have preferred to work in mono, either in recognition of the technical limitations of the equipment of the era or due to a simple preference. This can be seen as analogous to film makers working in
black and white
Black-and-white
Black-and-white, often abbreviated B/W or B&W, is a term referring to a number of monochrome forms in visual arts.Black-and-white as a description is also something of a misnomer, for in addition to black and white, most of these media included varying shades of gray...
- such as
John Mellencamp
John Mellencamp
John Mellencamp, previously known by the stage names Johnny Cougar, John Cougar, and John Cougar Mellencamp, is an American rock singer-songwriter, musician, painter and occasional actor known for his catchy, populist brand of heartland rock that eschews synthesizers and other artificial sounds...
's 2010 album,
No Better Than This
No Better Than This
No Better Than This is an album by American singer-songwriter and musician John Mellencamp, produced by T Bone Burnett, that was released on August 17, 2010. The album was recorded at several historic locations throughout the United States...
, recorded in mono just like the mid-20th century blues and folk records it emulated were. Some early recordings such as
The Beatles
The Beatles
The Beatles were an English rock band, active throughout the 1960s and one of the most commercially successful and critically acclaimed acts in the history of popular music. Formed in Liverpool, by 1962 the group consisted of John Lennon , Paul McCartney , George Harrison and Ringo Starr...
first four albums -
Please Please Me
Please Please Me
Please Please Me is the debut album by the English rock band The Beatles. Parlophone rush-released the album on 22 March 1963 in the United Kingdom to capitalise on the success of singles "Please Please Me" and "Love Me Do" .Of the album's fourteen songs, eight were written by Lennon–McCartney...
,
With The Beatles
With the Beatles
With The Beatles is the second studio album by the English rock group The Beatles. It was released on 22 November 1963 on Parlophone, and was recorded four months after the band's debut Please Please Me...
,
A Hard Day's Night
A Hard Day's Night (album)
A Hard Day's Night is the third studio album by The Beatles, released on 10 July 1964 as the soundtrack to their film A Hard Day's Night. The American version of the album was released two weeks earlier, on 26 June 1964 by United Artists Records, with a different track listing...
, and
Beatles For Sale
Beatles for Sale
Beatles for Sale is the fourth studio album by the English rock band The Beatles, released in late 1964 and produced by George Martin for Parlophone. The album marked a minor turning point in the evolution of Lennon and McCartney as lyricists, John Lennon particularly now showing interest in...
- were re-released in the CD era as monophonic in recognition that the source tapes for the earliest recordings were two track, with vocals on one track and instruments on the other (even though this was only true on the first two, while the later pair had been recorded on four-track). This was actually intended to provide flexibility in producing a final mono mix, not to provide a stereo recording, although due to demand this was done anyway and the early material was available on vinyl in either mono or stereo formats. In the
1970s
1970s
File:1970s decade montage.png|From left, clockwise: US President Richard Nixon doing the V for Victory sign after his resignation from office after the Watergate scandal in 1974; Refugees aboard a US naval boat after the Fall of Saigon, leading to the end of the Vietnam War in 1975; The 1973 oil...
, it was common in the pop world that stereophonic versions of mono tracks were generated electronically using filtering techniques to attempt to pick out various instruments and vocals, but these were often considered unsatisfactory due to the artifacts of the conversion process.
Many of
Stanley Kubrick
Stanley Kubrick
Stanley Kubrick was an American film director, writer, producer, and photographer who lived in England during most of the last four decades of his career...
and
Woody Allen
Woody Allen
Woody Allen is an American screenwriter, director, actor, comedian, jazz musician, author, and playwright. Allen's films draw heavily on literature, sexuality, philosophy, psychology, Jewish identity, and the history of cinema...
's movies are shot in mono due to their director's preferences.
Monaural LP records were eventually phased out and no longer manufactured after the early 1970s. During the
1960s
1960s
The 1960s was the decade that started on January 1, 1960, and ended on December 31, 1969. It was the seventh decade of the 20th century.The 1960s term also refers to an era more often called The Sixties, denoting the complex of inter-related cultural and political trends across the globe...
it was common that albums were released as both monaural LPs and stereo LPs, occasionally with slight differences between the two (again detailed information of The Beatles' recordings provide a good example of the differences). This was because many people owned mono record players which were incapable of playing stereo records, as well as the prevalence of AM radio. Because of the limited quantities pressed and alternate mixes of several tracks, the monaural versions of these albums are often valued more highly than their stereo LP counterparts in record collecting circles today.
On 9 September 2009, The Beatles re-released a remastered box set of their mono output spanning the
Please Please Me
Please Please Me
Please Please Me is the debut album by the English rock band The Beatles. Parlophone rush-released the album on 22 March 1963 in the United Kingdom to capitalise on the success of singles "Please Please Me" and "Love Me Do" .Of the album's fourteen songs, eight were written by Lennon–McCartney...
album to
The Beatles
The Beatles (album)
The Beatles is the ninth official album by the English rock group The Beatles, a double album released in 1968. It is also commonly known as "The White Album" as it has no graphics or text other than the band's name embossed on its plain white sleeve.The album was written and recorded during a...
(commonly referred to as the "
White Album
"). The set, simply called
The Beatles in Mono
The Beatles in Mono
The Beatles in Mono is a box set compilation comprising the remastered monophonic recordings by The Beatles. The set was released on 9 September 2009, the same day the remastered stereo recordings and companion The Beatles Stereo Box Set were also released, along with The Beatles: Rock Band videogame...
, also includes a two-disc summary of the mono singles, B-sides and EP tracks released throughout their career. Also included were 5 tracks originally mixed for a
Yellow Submarine EP
but never released.
Bob Dylan
Bob Dylan
Bob Dylan is an American singer-songwriter, musician, poet, film director and painter. He has been a major and profoundly influential figure in popular music and culture for five decades. Much of his most celebrated work dates from the 1960s when he was an informal chronicler and a seemingly...
followed suit on October 19, 2010 with
The Original Mono Recordings
The Original Mono Recordings
The Original Mono Recordings is a box set compilation album of recordings by Bob Dylan, released in October 2010 on Legacy Recordings, catalogue 88697761042. It consists of Dylan's first eight studio albums in mono on nine compact discs, the album Blonde on Blonde being issued on two discs in its...
, a box set featuring the mono releases from 1962's
Bob Dylan
Bob Dylan (album)
Bob Dylan is the debut album by the American singer-songwriter Bob Dylan, released in March 1962 on Columbia Records. It features two original compositions, the rest being old folk standards, and was produced by Columbia's legendary talent scout John H...
to 1967's
John Wesley Harding
John Wesley Harding (album)
John Wesley Harding is singer-songwriter Bob Dylan's eighth studio album, released by Columbia Records in December 1967.Produced by Bob Johnston, the album marked Dylan's return to acoustic music and traditional roots, after three albums of electric rock music...
.