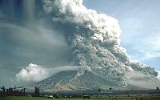 Pyroclastic flow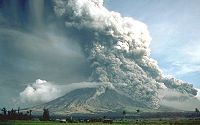 A
pyroclastic flow
is a fast-moving current of superheated
gas
Volcanic gas
|250px|thumb|right|Image of the [[rhyolitic]] [[lava dome]] of [[Chaitén Volcano]] during its 2008-2010 eruption.Volcanic gases include a variety of substances given off by active volcanoes...
(which can reach temperatures of about 1000 °C (1,832 °F)) and rock (collectively known as
tephra
Tephra
200px|thumb|right|Tephra horizons in south-central [[Iceland]]. The thick and light coloured layer at center of the photo is [[rhyolitic]] tephra from [[Hekla]]....
), which reaches speeds moving away from a volcano of up to 700 km/h (450 mph). The flows normally hug the ground and travel downhill, or spread laterally under gravity. Their speed depends upon the density of the current, the volcanic output rate, and the gradient of the slope. They are a common and devastating result of certain explosive
volcanic eruptions
Volcano
2. Bedrock3. Conduit 4. Base5. Sill6. Dike7. Layers of ash emitted by the volcano8. Flank| 9. Layers of lava emitted by the volcano10. Throat11. Parasitic cone12. Lava flow13. Vent14. Crater15...
.
The word
pyroclast
is derived from the
Greek
Greek language
Greek is an independent branch of the Indo-European family of languages. Native to the southern Balkans, it has the longest documented history of any Indo-European language, spanning 34 centuries of written records. Its writing system has been the Greek alphabet for the majority of its history;...
, meaning "fire", and , meaning "broken in pieces". A name for some pyroclastic flows is
nuée ardente
(
French
French language
French is a Romance language spoken as a first language in France, the Romandy region in Switzerland, Wallonia and Brussels in Belgium, Monaco, the regions of Quebec and Acadia in Canada, and by various communities elsewhere. Second-language speakers of French are distributed throughout many parts...
for "glowing cloud"); this was first used to describe the disastrous 1902 eruption of
Mount Pelée
Mount Pelée
Mount Pelée is an active volcano at the northern end of the island and French overseas department of Martinique in the Lesser Antilles island arc of the Caribbean. Its volcanic cone is composed of layers of volcanic ash and hardened lava....
on
Martinique
Martinique
Martinique is an island in the eastern Caribbean Sea, with a land area of . Like Guadeloupe, it is an overseas region of France, consisting of a single overseas department. To the northwest lies Dominica, to the south St Lucia, and to the southeast Barbados...
. These pyroclastic flows glowed red in the dark.
Pyroclastic flows that contain a much higher proportion of gas to rock are known as "fully dilute pyroclastic density currents" or
pyroclastic surge
Pyroclastic surge
A pyroclastic surge is a fluidized mass of turbulent gas and rock fragments which is ejected during some volcanic eruptions. It is similar to a pyroclastic flow but it has a lower density or contains a much higher proportion of gas to rock ratio, which makes it more turbulent and allows it to rise...
s. The lower density sometimes allows them to flow over higher topographic features such as ridges and hills. They may also contain steam, water and rock at less than 250 °C (482 °F); these are called "cold" compared with other flows, although the temperature is still lethally high. Cold pyroclastic surges can occur when the eruption is from a vent under a shallow lake or the sea. Fronts of some pyroclastic density currents are fully dilute; for example, during the eruption of
Mount Pelée
Mount Pelée
Mount Pelée is an active volcano at the northern end of the island and French overseas department of Martinique in the Lesser Antilles island arc of the Caribbean. Its volcanic cone is composed of layers of volcanic ash and hardened lava....
in 1902 a fully dilute current overwhelmed the city of
Saint-Pierre
Saint-Pierre, Martinique
Saint-Pierre is a town and commune of France's Caribbean overseas department of Martinique, founded in 1635 by Pierre Belain d'Esnambuc. Before the total destruction of Saint-Pierre in 1902 by a volcanic eruption, it was the most important city of Martinique culturally and economically, being known...
and killed nearly 30,000 people.
A pyroclastic flow is a type of
gravity current
Gravity current
In fluid dynamics, a gravity current is a primarily horizontal flow in a gravitational field that is driven by a density difference, hence gravity currents also sometimes being referred to as "density currents"...
; in scientific literature they are sometimes abbreviated to PDC (pyroclastic density current).
Causes
There are several scenarios which can produce a pyroclastic flow:
Size and effects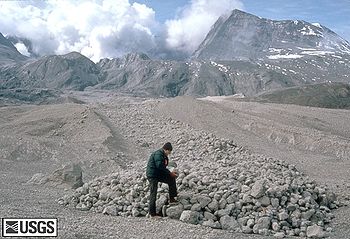 The volumes range from a few hundred cubic meters to more than a thousand cubic kilometres. The larger ones can travel for hundreds of kilometres, although none on that scale have occurred for several hundred thousand years. Most pyroclastic flows are around one to ten cubic kilometres and travel for several kilometres. Flows usually consist of two parts: the
basal flow
hugs the ground and contains larger, coarse boulders and rock fragments, while an extremely hot ash plume lofts above it because of the turbulence between the flow and the overlying air, admixes and heats cold atmospheric air causing expansion and convection.
The
kinetic energy
Kinetic energy
The kinetic energy of an object is the energy which it possesses due to its motion.It is defined as the work needed to accelerate a body of a given mass from rest to its stated velocity. Having gained this energy during its acceleration, the body maintains this kinetic energy unless its speed changes...
of the moving boulders will flatten trees and buildings in their path. The hot gases and high speed make them particularly lethal:
The towns of Pompeii

Pompeii

The city of Pompeii is a partially buried Roman town-city near modern Naples in the Italian region of Campania, in the territory of the comune of Pompei. Along with Herculaneum, Pompeii was destroyed and completely buried during a long catastrophic eruption of the volcano Mount Vesuvius spanning...


and Herculaneum

Herculaneum

Herculaneum was an ancient Roman town destroyed by volcanic pyroclastic flows in AD 79, located in the territory of the current commune of Ercolano, in the Italian region of Campania in the shadow of Mt...


, Italy

Italy

Italy , officially the Italian Republic languages]] under the European Charter for Regional or Minority Languages. In each of these, Italy's official name is as follows:;;;;;;;;), is a unitary parliamentary republic in South-Central Europe. To the north it borders France, Switzerland, Austria and...


, for example, were famously engulfed by pyroclastic surges in 79 AD with many lives lost.
A pyroclastic surge killed volcanologists

Volcanology

Volcanology is the study of volcanoes, lava, magma, and related geological, geophysical and geochemical phenomena. The term volcanology is derived from the Latin word vulcan. Vulcan was the ancient Roman god of fire....


Katia and Maurice Krafft

Katia and Maurice Krafft

Katia Krafft and her husband, Maurice Krafft were French volcanologists who died in a pyroclastic flow on Mount Unzen, in Japan, on June 3, 1991. The Kraffts were known for being pioneers in filming, photographing and recording volcanoes, often getting within feet of lava flows...


and 41 other people on Mount Unzen

Mount Unzen

is an active volcanic group of several overlapping stratovolcanoes, near the city of Shimabara, Nagasaki Prefecture, on the island of Kyūshū, Japan's southernmost main island....


, in Japan

Japan

Japan is an island nation in East Asia. Located in the Pacific Ocean, it lies to the east of the Sea of Japan, China, North Korea, South Korea and Russia, stretching from the Sea of Okhotsk in the north to the East China Sea and Taiwan in the south...


, on June 3, 1991. The surge started as a pyroclastic flow and the more energised surge climbed a spur on which the Kraffts and the others were standing; it engulfed them, and the corpses were covered with about 5 mm of ash.
On 25 June 1997 a pyroclastic flow travelled down Mosquito Ghaut on the Caribbean

Caribbean

The Caribbean is a crescent-shaped group of islands more than 2,000 miles long separating the Gulf of Mexico and the Caribbean Sea, to the west and south, from the Atlantic Ocean, to the east and north...


island of Montserrat

Montserrat

Montserrat is a British overseas territory located in the Leeward Islands, part of the chain of islands called the Lesser Antilles in the West Indies. This island measures approximately long and wide, giving of coastline...


. A large energised pyroclastic surge developed. This surge could not be restrained by the Ghaut and spilled out of it, killing 19 people who were in the Streatham village area (which was officially evacuated). Several others in the area suffered severe burns.
Interaction with water
Testimonial evidence from the
1883 eruption of Krakatoa
1883 eruption of Krakatoa
The 1883 eruption of Krakatoa began in May 1883 and culminated with the destruction of Krakatoa on 27 August 1883. Minor seismic activity continued to be reported until February 1884, though reports after October 1883 were later dismissed by Rogier Verbeek's investigation.-Early phase:In the years...
, supported by experimental evidence,shows that pyroclastic flows can cross significant bodies of water. One flow reached the
Sumatra
Sumatra
Sumatra is an island in western Indonesia, westernmost of the Sunda Islands. It is the largest island entirely in Indonesia , and the sixth largest island in the world at 473,481 km2 with a population of 50,365,538...
n coast as much as 48 km (30 mi) away.
A 2006 documentary film,
Ten Things You Didn't Know About Volcanoes
, demonstrated tests by a research team at Kiel University,
Germany
Germany
Germany , officially the Federal Republic of Germany , is a federal parliamentary republic in Europe. The country consists of 16 states while the capital and largest city is Berlin. Germany covers an area of 357,021 km2 and has a largely temperate seasonal climate...
, of pyroclastic flows moving over water. When the reconstructed pyroclastic flow (stream of mostly hot ash with varying densities) hit the water two things happened. The heavier material fell into the water, precipitating out from the pyroclastic flow and into the liquid. This large displacement of heavy ash into the water caused a displacement of water; in reality, this would cause a
tsunami
Tsunami
A tsunami is a series of water waves caused by the displacement of a large volume of a body of water, typically an ocean or a large lake...
due to the displacement via precipitate mass, as it did with the Krakatoa eruption. The temperature of the ash caused the water to evaporate, propelling the pyroclastic flow (now only consisting of the lighter material) along at an even faster pace than before on a bed of steam.
On the Moon
In 1963, NASA astronomer Winifred Cameron proposed that sinuous
rille
Rille
Rille is typically used to describe any of the long, narrow depressions in the lunar surface that resemble channels. Typically a rille can be up to several kilometers wide and hundreds of kilometers in length...
s on the
Moon
Moon
The Moon is Earth's only known natural satellite,There are a number of near-Earth asteroids including 3753 Cruithne that are co-orbital with Earth: their orbits bring them close to Earth for periods of time but then alter in the long term . These are quasi-satellites and not true moons. For more...
may have been formed by the lunar equivalent of terrestrial pyroclastic flows. In a lunar volcanic eruption, a pyroclastic cloud would follow local relief resulting in an often sinuous track. The Moon's Schroter's Valley is one example.
See also
Pyroclastic fall

Pyroclastic fall

A pyroclastic fall is a uniform deposit of material which has been ejected from a volcanic eruption or plume such as an ash fall or tuff. Pyroclastic air fall deposits are a result of:...



Pyroclastic rock

Pyroclastic rock

Pyroclastic rocks or pyroclastics are clastic rocks composed solely or primarily of volcanic materials. Where the volcanic material has been transported and reworked through mechanical action, such as by wind or water, these rocks are termed volcaniclastic...



Pyroclastic surge

Pyroclastic surge

A pyroclastic surge is a fluidized mass of turbulent gas and rock fragments which is ejected during some volcanic eruptions. It is similar to a pyroclastic flow but it has a lower density or contains a much higher proportion of gas to rock ratio, which makes it more turbulent and allows it to rise...



Lahar

Lahar

A lahar is a type of mudflow or debris flow composed of a slurry of pyroclastic material, rocky debris, and water. The material flows down from a volcano, typically along a river valley. The term is a shortened version of "berlahar" which originated in the Javanese language of...



Welded tuff
External links