 Pyramidal peak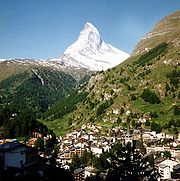 A
pyramidal peak
, or sometimes in its most extreme form called a
glacial horn
, is a
mountain
Mountain
Image:Himalaya_annotated.jpg|thumb|right|The Himalayan mountain range with Mount Everestrect 58 14 160 49 Chomo Lonzorect 200 28 335 52 Makalurect 378 24 566 45 Mount Everestrect 188 581 920 656 Tibetan Plateaurect 250 406 340 427 Rong River...
top that has been modified by the action of
ice
Ice
Ice is water frozen into the solid state. Usually ice is the phase known as ice Ih, which is the most abundant of the varying solid phases on the Earth's surface. It can appear transparent or opaque bluish-white color, depending on the presence of impurities or air inclusions...
during glaciation and
frost
Frost
Frost is the solid deposition of water vapor from saturated air. It is formed when solid surfaces are cooled to below the dew point of the adjacent air as well as below the freezing point of water. Frost crystals' size differ depending on time and water vapour available. Frost is also usually...
weathering
Weathering
Weathering is the breaking down of rocks, soils and minerals as well as artificial materials through contact with the Earth's atmosphere, biota and waters...
. If the use is unambiguous within a mountain context, then the simple terms
peak
or
horn
may be used.
Formation
Ice fields at the head of
glacier
Glacier
A glacier is a large persistent body of ice that forms where the accumulation of snow exceeds its ablation over many years, often centuries. At least 0.1 km² in area and 50 m thick, but often much larger, a glacier slowly deforms and flows due to stresses induced by its weight...
s develop bowl-shaped
basins
Depression (geology)
A depression in geology is a landform sunken or depressed below the surrounding area. Depressions may be formed by various mechanisms.Structural or tectonic related:...
in the sides of a mountain called
cirque
Cirque
Cirque may refer to:* Cirque, a geological formation* Makhtesh, an erosional landform found in the Negev desert of Israel and Sinai of Egypt*Cirque , an album by Biosphere* Cirque Corporation, a company that makes touchpads...
s (sometimes called corries or cwms). Cirque glaciers have specific characteristics. They have rotational sliding that abrades the floor of the basin but not the edge and that causes the bowl shape to form and also contributes to the development of the morainal or rock thresholds that separate them from downvalley slopes as well as hold in
glacial lake
Glacial lake
A glacial lake is a lake with origins in a melted glacier. Near the end of the last glacial period, roughly 10,000 years ago, glaciers began to retreat. A retreating glacier often left behind large deposits of ice in hollows between drumlins or hills. As the ice age ended, these melted to create...
s called tarns. As cirques are formed by glaciation in an alpine environment, the headwall and ridges known as
arête
Arete
Areté is the term meaning "virtue" or "excellence", from Greek ἈρετήArete may also be used:*as a given name of persons or things:**Queen Arete , a character in Homer's Odyssey.***197 Arete, an asteroid....
s become more steep and defined. This occurs due to freeze/thaw and mass wasting beneath the ice surface. It is widely held that a common cause for headwall steepening and extension headward is the
crevasse
Crevasse
A crevasse is a deep crack in an ice sheet rhys glacier . Crevasses form as a result of the movement and resulting stress associated with the sheer stress generated when two semi-rigid pieces above a plastic substrate have different rates of movement...
s known as
bergschrund
Bergschrund
A bergschrund is a crevasse that forms where the moving glacier ice separates from the stagnant ice above. It is often a serious obstacle for mountaineers, who sometimes abbreviate "bergschrund" to "schrund"....
that occur between the moving ice and the headwall. This is a location where plucking and shattering has been seen by observers that explore the crevasses. A completed cirque is exposed as the glacier that was in the cirque melts away, after the periods of glaciation in the
Pleistocene
Pleistocene
The Pleistocene is the epoch from 2,588,000 to 11,700 years BP that spans the world's recent period of repeated glaciations. The name pleistocene is derived from the Greek and ....
. When there are three or more of these cirque headwalls and arêtes joined together to form a single peak it creates a pyramid shape with very steep walls and it is called a horn or glacial horn. They are a common shape for mountain tops in well glaciated areas. The number of faces that make up the sides of a horn are dependent on the number of cirques involved in the formation of the peak, but the most common number of faces for a horn to have is three or four.
A
glacial horn
takes the process to its limits, producing near vertical faces on all sides. In the
Alps
Alps
The Alps is one of the great mountain range systems of Europe, stretching from Austria and Slovenia in the east through Italy, Switzerland, Liechtenstein and Germany to France in the west....
, "Horn" is also the name of very exposed peaks with slope inclinations of 45-60° (e.g.
Kitzbühel
Kitzbühel
-Demographic evolution:-Personalities:*Karl Wilhelm von Dalla Torre , entomologist and botanist*Alfons Walde , expressionist painter and architect*Peter Aufschnaiter , mountaineer and geographer...
er Horn).
Examples
Examples of horns include: