 Punishment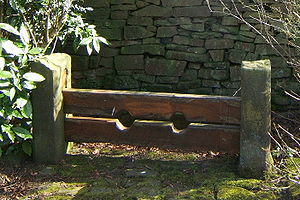 Punishment
is the
authoritative
Authority
The word Authority is derived mainly from the Latin word auctoritas, meaning invention, advice, opinion, influence, or command. In English, the word 'authority' can be used to mean power given by the state or by academic knowledge of an area .-Authority in Philosophy:In...
imposition of something negative or unpleasant on a person or animal in response to
behavior
Behavior
Behavior or behaviour refers to the actions and mannerisms made by organisms, systems, or artificial entities in conjunction with its environment, which includes the other systems or organisms around as well as the physical environment...
deemed wrong by an individual or group.
The authority may be either a group or a single person, and punishment may be carried out formally under a system of
law
Law
Law is a system of rules and guidelines which are enforced through social institutions to govern behavior, wherever possible. It shapes politics, economics and society in numerous ways and serves as a social mediator of relations between people. Contract law regulates everything from buying a bus...
or informally in other kinds of social settings such as within a family. Negative consequences that are not authorized or that are administered without a breach of rules are not considered to be punishment as defined here. The study and practice of the punishment of
crime
Crime
Crime is the breach of rules or laws for which some governing authority can ultimately prescribe a conviction...
s, particularly as it applies to imprisonment, is called
penology
Penology
Penology is a section of criminology that deals with the philosophy and practice of various societies in their attempts to repress criminal activities, and satisfy public opinion via an appropriate treatment regime for persons convicted of criminal offenses.The Oxford English Dictionary defines...
, or, often in modern texts,
corrections
Corrections
In criminal justice, particularly in North America, correction, corrections, and correctional, are umbrella terms describing a variety of functions typically carried out by government agencies and involving the punishment, treatment, and supervision of persons who have been convicted of crimes....
; in this context, the punishment process is euphemistically called "correctional process".
Fundamental justifications for punishment include:
retribution
Retributive justice
Retributive justice is a theory of justice that considers that punishment, if proportionate, is a morally acceptable response to crime, with an eye to the satisfaction and psychological benefits it can bestow to the aggrieved party, its intimates and society....
,
deterrence
Deterrence (legal)
Deterrence is the use of punishment as a threat to deter people from committing a crime. Deterrence is often contrasted with retributivism, which holds that punishment is a necessary consequence of a crime and should be calculated based on the gravity of the wrong done.- Categories :Deterrence can...
,
rehabilitation
Rehabilitation (penology)
Rehabilitation means; To restore to useful life, as through therapy and education or To restore to good condition, operation, or capacity....
, and
incapacitation
Crime prevention
Crime prevention is the attempt to reduce victimization and to deter crime and criminals. It is applied specifically to efforts made by governments to reduce crime, enforce the law, and maintain criminal justice.-Studies:...
s such as isolation in order to prevent the wrongdoer's having contact with potential victims.
Of the four justifications, only retribution is part of the definition of punishment and none of the other justifications are guaranteed outcomes.
If only some of the conditions included in the definition of punishment are present, descriptions other than "punishment" may be considered more accurate. Inflicting something negative, or unpleasant, on a person or animal, without authority is considered either spite or revenge rather than punishment. In addition, the word "punishment" is used as a metaphor, as when a boxer experiences "
punishment
" during a fight. In other situations breaking the rules may be rewarded, and is therefore without negative consequences, and so cannot be considered punishment. Finally the condition of breaking (or breaching) the rules must be satisfied to be considered punishment.
Punishments differ in the degree of severity of their unpleasantness, and may include
sanctions
Sanctions (law)
Sanctions are penalties or other means of enforcement used to provide incentives for obedience with the law, or with rules and regulations. Criminal sanctions can take the form of serious punishment, such as corporal or capital punishment, incarceration, or severe fines...
such as reprimands, deprivations of privileges or
liberty
Liberty
Liberty is a moral and political principle, or Right, that identifies the condition in which human beings are able to govern themselves, to behave according to their own free will, and take responsibility for their actions...
, fines,
incarceration
Incarceration
Incarceration is the detention of a person in prison, typically as punishment for a crime .People are most commonly incarcerated upon suspicion or conviction of committing a crime, and different jurisdictions have differing laws governing the function of incarceration within a larger system of...
s,
ostracism
, the infliction of
pain
Pain
Pain is an unpleasant sensation often caused by intense or damaging stimuli such as stubbing a toe, burning a finger, putting iodine on a cut, and bumping the "funny bone."...
, and the death penalty.
Corporal punishment
Corporal punishment
Corporal punishment is a form of physical punishment that involves the deliberate infliction of pain as retribution for an offence, or for the purpose of disciplining or reforming a wrongdoer, or to deter attitudes or behaviour deemed unacceptable...
refers to punishments in which pain is intended to be inflicted upon the transgressor.
Punishments may be judged as fair or unfair in terms of their degree of
reciprocity
Norm of reciprocity
The norm of reciprocity is the social expectation that people will respond to each other in kind—returning benefits for benefits, and responding with either indifference or hostility to harms. The social norm of reciprocity often takes different forms in different areas of social life, or in...
and
proportionality
Proportionality (law)
Proportionality is a principle in law which covers two distinct concepts. Within municipal law it is used to convey the idea that the punishment of an offender should fit the crime...
.
Punishment can be an integral part of socialization, and punishing unwanted behaviour is often part of a system of
pedagogy
Pedagogy
Pedagogy is the study of being a teacher or the process of teaching. The term generally refers to strategies of instruction, or a style of instruction....
or behavioral modification which also includes rewards.
In philosophy
In common usage, the word "punishment" might be described as "an authorized imposition of deprivations—of freedom or privacy or other goods to which the person otherwise has a right, or the imposition of special burdens—because the person has been found guilty of some criminal violation, typically (though not invariably) involving harm to the innocent."
In psychology
Introduced by B.F. Skinner, punishment has a more restrictive and technical definition. Along with reinforcement it belongs under the
Operant Conditioning
Operant conditioning
Operant conditioning is a form of psychological learning during which an individual modifies the occurrence and form of its own behavior due to the association of the behavior with a stimulus...
category. Operant Conditioning refers to learning with either punishment or reinforcement. It is also referred to as response-stimulus conditioning. In psychology, punishment is the reduction of a behavior via application of an adverse stimulus ("
positive
punishment") or removal of a pleasant stimulus ("
negative
punishment"). Extra chores or
spanking
Spanking
Spanking refers to the act of striking the buttocks of another person to cause temporary pain without producing physical injury. It generally involves one person striking the buttocks of another person with an open hand. When an open hand is used, spanking is referred to in some countries as...
are examples of positive punishment, while making an offending student lose recess or play privileges are examples of negative punishment. The definition requires that punishment is only determined after the fact by the reduction in behavior; if the offending behavior of the subject does not decrease then it is not considered punishment. There is some
conflation
Conflation
Conflation occurs when the identities of two or more individuals, concepts, or places, sharing some characteristics of one another, become confused until there seems to be only a single identity — the differences appear to become lost...
of punishment and
aversives
Aversives
In psychology, aversives are unpleasant stimuli that induce changes in behavior through punishment; by applying an aversive immediately following a behavior, the likelihood of the behavior occurring in the future is reduced. Aversives can vary from being slightly unpleasant or irritating to...
, though an aversive that does not decrease behavior is not considered punishment
In socio-biology
Punishment is sometimes called
retaliatory
Revenge
Revenge is a harmful action against a person or group in response to a grievance, be it real or perceived. It is also called payback, retribution, retaliation or vengeance; it may be characterized, justly or unjustly, as a form of justice.-Function in society:Some societies believe that the...
or
moralistic aggression
; it has been observed in all species of
social animal
Social animal
A social animal is a loosely defined term for an organism that is highly interactive with other members of its species to the point of having a recognizable and distinct society.All mammals are social to the extent that mothers and offspring bond...
s, leading evolutionary biologists to conclude that it is an
evolutionarily stable strategy
Evolutionarily stable strategy
In game theory and behavioural ecology, an evolutionarily stable strategy , which is sometimes also called an evolutionary stable strategy, is a strategy which, if adopted by a population of players, cannot be invaded by any alternative strategy that is initially rare. An ESS is an equilibrium...
, selected because it favors
cooperative behavior
Cooperation
Cooperation or co-operation is the process of working or acting together. In its simplest form it involves things working in harmony, side by side, while in its more complicated forms, it can involve something as complex as the inner workings of a human being or even the social patterns of a...
.
Scope of application
Punishments are applied for various purposes, most generally, to encourage and enforce proper behavior as defined by society or family. Criminals are punished judicially, by fines,
corporal punishment
Corporal punishment
Corporal punishment is a form of physical punishment that involves the deliberate infliction of pain as retribution for an offence, or for the purpose of disciplining or reforming a wrongdoer, or to deter attitudes or behaviour deemed unacceptable...
or
custodial sentence
Custodial sentence
A custodial sentence is a judicial sentence, imposing a punishment consisting of mandatory custody of the convict, either in prison or in some other closed therapeutic and/or educational institution, such as a reformatory, psychiatry or drug detoxification...
s such as
prison
Prison
A prison is a place in which people are physically confined and, usually, deprived of a range of personal freedoms. Imprisonment or incarceration is a legal penalty that may be imposed by the state for the commission of a crime...
; detainees risk further punishments for breaches of internal rules.
Child
Child
Biologically, a child is generally a human between the stages of birth and puberty. Some vernacular definitions of a child include the fetus, as being an unborn child. The legal definition of "child" generally refers to a minor, otherwise known as a person younger than the age of majority...
ren, pupils and other trainees may be punished by their educators or instructors (mainly
parent
Parent
A parent is a caretaker of the offspring in their own species. In humans, a parent is of a child . Children can have one or more parents, but they must have two biological parents. Biological parents consist of the male who sired the child and the female who gave birth to the child...
s,
guardian
Legal guardian
A legal guardian is a person who has the legal authority to care for the personal and property interests of another person, called a ward. Usually, a person has the status of guardian because the ward is incapable of caring for his or her own interests due to infancy, incapacity, or disability...
s, or
teacher
Teacher
A teacher or schoolteacher is a person who provides education for pupils and students . The role of teacher is often formal and ongoing, carried out at a school or other place of formal education. In many countries, a person who wishes to become a teacher must first obtain specified professional...
s, tutors and
coach
Coach (sport)
In sports, a coach is an individual involved in the direction, instruction and training of the operations of a sports team or of individual sportspeople.-Staff:...
es) - see
Child discipline
Child discipline
Child discipline is the set of rules, rewards and punishments administered to teach self control, increase desirable behaviors and decrease undesirable behaviors in children. In its most general sense, discipline refers to systematic instruction given to a disciple. To discipline thus means to...
.
Slaves, domestic and other servants used to be punishable by their masters. Employees can still be subject to a contractual form of fine or
demotion
Demotion
A demotion is a reduction in an employee's rank or job title within the organizational hierarchy of a company, public service department, or other body. A demotion may also lead to the loss of other privileges associated with a more senior rank and/or a reduction in salary or benefits...
. Most hierarchical organizations, such as military and police forces, or even churches, still apply quite rigid internal discipline, even with a judicial system of their own (court martial, canonical courts).
Punishment may also be applied on moral, especially religious, grounds, as in
penance
Penance
Penance is repentance of sins as well as the proper name of the Roman Catholic, Orthodox Christian, and Anglican Sacrament of Penance and Reconciliation/Confession. It also plays a part in non-sacramental confession among Lutherans and other Protestants...
(which is voluntary) or imposed in a
theocracy
Theocracy
Theocracy is a form of organization in which the official policy is to be governed by immediate divine guidance or by officials who are regarded as divinely guided, or simply pursuant to the doctrine of a particular religious sect or religion....
with a religious police (as in a strict
Islamic state
Islamic State
An Islamic state is a type of government, in which the primary basis for government is Islamic religious law...
like
Iran
Iran
Iran , officially the Islamic Republic of Iran , is a country in Southern and Western Asia. The name "Iran" has been in use natively since the Sassanian era and came into use internationally in 1935, before which the country was known to the Western world as Persia...
or under the Taliban) or (though not a true theocracy) by
Inquisition
Inquisition
The Inquisition, Inquisitio Haereticae Pravitatis , was the "fight against heretics" by several institutions within the justice-system of the Roman Catholic Church. It started in the 12th century, with the introduction of torture in the persecution of heresy...
.
History and rationale
The progress of civilization has resulted in a change alike in the theory and in the method of punishment.
Seriousness of a crime; Punishment fits the crime
A principal of the rationale for the degree punishment meted out is that the punishment should fit the crime. One standard for measurement is the degree to which a crime affects others or society. Measurements of the degree of seriousness of a crime have been developed. A
felony
Felony
A felony is a serious crime in the common law countries. The term originates from English common law where felonies were originally crimes which involved the confiscation of a convicted person's land and goods; other crimes were called misdemeanors...
is generally considered to be a crime of "high
seriousness
Seriousness
Seriousness is an attiude of gravity, solemnity, persistence, and earnestness toward something considered to be of importance....
", while a
misdemeanor
Misdemeanor
A misdemeanor is a "lesser" criminal act in many common law legal systems. Misdemeanors are generally punished much less severely than felonies, but theoretically more so than administrative infractions and regulatory offences...
is not.
Possible reasons for punishment
There are many possible reasons that might be given to justify or explain why someone ought to be punished; here follows a broad outline of typical, possibly conflicting, justifications.
Deterrence / prevention
One reason given to justify punishment is that it is a measure to prevent people from committing an offence - deterring previous offenders from re-offending, and preventing those who may be contemplating an offence they have not committed from actually committing it. This punishment is intended to be sufficient that people would choose not to commit the crime rather than experience the punishment. The aim is to deter everyone in the community from committing offences.
Rehabilitation
Some punishment includes work to reform and
rehabilitate
Rehabilitation (penology)
Rehabilitation means; To restore to useful life, as through therapy and education or To restore to good condition, operation, or capacity....
the wrongdoer so that they will not commit the offence again. This is distinguished from deterrence, in that the goal here is to change the offender's attitude to what they have done, and make them come to see that their behavior was wrong.
Incapacitation / societal protection
Incapacitation as a justification of punishment refers to the offender's ability to commit further offences being removed. Imprisonment separates offenders from the community, removing or reducing their ability to carry out certain crimes. The death penalty does this in a permanent way. In some societies, people who stole have been punished by having their hands amputated.
Retribution
Criminal activities typically give a benefit to the offender and a loss to the victim. Punishment has been justified as a measure of
retributive justice
Retributive justice
Retributive justice is a theory of justice that considers that punishment, if proportionate, is a morally acceptable response to crime, with an eye to the satisfaction and psychological benefits it can bestow to the aggrieved party, its intimates and society....
, in which the goal is to try to rebalance any unjust advantage gained by ensuring that the offender also suffers a loss. Sometimes viewed as a way of "getting even" with a wrongdoer — the suffering of the wrongdoer is seen as a desired goal in itself, even if it has no restorative benefits. One reason
societies
Society
A society, or a human society, is a group of people related to each other through persistent relations, or a large social grouping sharing the same geographical or virtual territory, subject to the same political authority and dominant cultural expectations...
have administered punishments is to diminish the perceived need for retaliatory "street justice",
blood feud
Blood Feud
"Blood Feud" is the twenty-second and final episode of The Simpsons second season. It originally aired on the Fox network in the United States on July 11, 1991. In the episode, Mr. Burns falls ill and desperately needs a blood transfusion. Homer discovers Bart has Burns' rare blood type and urges...
and
vigilantism
Vigilante
A vigilante is a private individual who legally or illegally punishes an alleged lawbreaker, or participates in a group which metes out extralegal punishment to an alleged lawbreaker....
.
Restoration
For minor offenses, punishment may take the form of the offender "righting the wrong", or restitution. Community service or compensation orders are examples of this sort of penalty.
Education/Denunciation
Punishment can be explained by positive prevention theory to use the criminal justice system to teach people what are the social norms for what is correct, and acts as a reinforcement. It teaches people to obey the law and eliminates the free-rider principle of people not obeying the law getting away with it.
Punishment can serve as a means for society to publicly express denunciation of an action as being criminal. Besides educating people regarding what is not acceptable behavior, it serves the dual function of preventing vigilante justice by acknowledging public anger, while concurrently deterring future criminal activity by stigmatizing the offender.
This is sometimes called the "Expressive Theory" of denunciation.
The
pillory
Pillory
The pillory was a device made of a wooden or metal framework erected on a post, with holes for securing the head and hands, formerly used for punishment by public humiliation and often further physical abuse, sometimes lethal...
was a method for carrying out public denunciation.
General references
External links