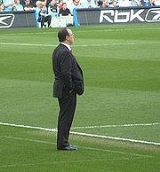 Coach (sport)
In
sport
Sport
A Sport is all forms of physical activity which, through casual or organised participation, aim to use, maintain or improve physical fitness and provide entertainment to participants. Sport may be competitive, where a winner or winners can be identified by objective means, and may require a degree...
s, a
coach
is an individual involved in the direction, instruction and training of the operations of a sports team or of individual sportspeople.
Staff
A coach, particularly in a major operation, is traditionally aided in his/her efforts by one or more assistant coaches known as the assistant coaching staff and team. The staff may include coordinators, strength and fitness specialists, and trainers.
Coaching in association football
In football, the duties of a coach can vary depending on the level they are coaching at and the country they are coaching in, amongst others. In youth football, the primary objective of a coach is to aid players in the development of their technical skills, with emphasis on the enjoyment and fair play of the game rather than physical or tactical development. In recent decades, efforts have been made by governing bodies in various countries to overhaul their coaching structures at youth level with the aim of encouraging coaches to put player development and enjoyment ahead of winning matches.
In professional football, the role of the coach or trainer is limited to the training and development of a club's "first team" in most countries. The coach is aided by a number of assistant coaches, one of which carries the responsibility for the training and preparation of the
goalkeeper
Goalkeeper
In many team sports which involve scoring goals, a goalkeeper is a designated player charged with directly preventing the opposing team from scoring by intercepting shots at goal...
s. The coach is also assisted by medical staff and
athletic preparators
Athletic trainer
An athletic trainer is a certified, health care professional who practices in the field of sports medicine. Athletic training has been recognized by the American Medical Association as an allied health care profession since 1990....
.
The medium to long term strategy of a football club, with regard to transfer policies, youth development and other sporting matters, is not the business of a coach in most footballing countries. The presence of a sporting director is designed to give the medium term development of a club the full attention of one professional, allowing the coach to focus on improving and producing performances from the players under their charge. The system also provides a certain level of protection against overspending on players in search of instant success. In
British football
Football in the United Kingdom
Football in the United Kingdom is organised on a separate basis in each of the four countries of the United Kingdom, with each having a national football association responsible for the overall management of football within their respective country. There is no United Kingdom national football team...
, the director of a professional football team is more commonly awarded the position of
manager
Manager (association football)
In association football, a manager is responsible for running a football club or a national team. The manager of a professional club is responsible directly to the club president. The position of manager is almost exclusively used in British football...
, a role that combines the duties of coach and sporting director.
The responsibilities of a European football (soccer) manager tend to be divided up in North American professional sports, where the teams usually have a separate general manager and
head coach
Coach (sport)
In sports, a coach is an individual involved in the direction, instruction and training of the operations of a sports team or of individual sportspeople.-Staff:...
, although occasionally a person may fill both roles of general manager and head coach. While the first team coach in football (soccer) is usually an assistant to the manager who actually holds the real power, the American style general manager and head coach have clearly distinct areas of responsibilities. For example, a typical European football manager would have the final say on player lineups and contract negotiations, while in American sports these duties would be handled separately by the head coach and general manager, respectively.Also sports can be changed due to a coach deciding on the game.
Coaching in baseball
Baseball, at least at the professional level in North America, is unique in that the individual who heads the coaching staff does not use the title of "head coach", but is instead called the
field manager
Manager (baseball)
In baseball, the field manager is an individual who is responsible for matters of team strategy on the field and team leadership. Managers are typically assisted by between one and six assistant coaches, whose responsibilities are specialized...
. Baseball "coaches" at that level are members of the coaching staff under the overall supervision of the manager, with each coach having a specialized role. The baseball field manager is essentially equivalent to head coaches in other American professional sports leagues; player transactions are handled by the
general manager
General manager (baseball)
In Major League Baseball, the general manager of a team typically controls player transactions and bears the primary responsibility on behalf of the ballclub during contract discussions with players....
. The term "manager" used without qualification almost always refers to the field manager, while the general manager is often called the GM.
At amateur levels, the terminology is more similar to that of other sports. The person known as the "manager" in professional leagues is generally called the "head coach" in amateur leagues; this terminology is standard in
U.S. college baseball
College baseball
College baseball is baseball that is played on the intercollegiate level at institutions of higher education. Compared to football and basketball, college competition in the United States plays a less significant contribution to cultivating professional players, as the minor leagues primarily...
.
Coaching in the United States
All major U.S. collegiate sports have associations for their coaches to engage in professional development activities, but professional coaches tend to have less formal associations, and have never developed into a group resembling a union in the way that athletic players in many leagues have.
Many coaching contracts allow the termination of the coach with little notice and without specific cause, usually in the case of high-profile coaches with the payment of a financial settlement.
U.S. collegiate coaching contracts require termination without the payment of a settlement if the coach is found to be in serious violation of named rules, usually with regard to the recruiting or retention of players in violation of
amateur
Amateur
An amateur is generally considered a person attached to a particular pursuit, study, or science, without pay and often without formal training....
status.
Coaching is a very fickle profession, and a reversal of the team's fortune often finds last year's "Coach of the Year" to be seeking employment in the next.
Many coaches are former players of the sport themselves, and coaches of professional sports teams are sometimes retired players.
On some teams, the principal coach (usually referred to as the
head coach
Head coach
A head coach, senior coach or manager is a professional at training and developing athletes. They typically hold a more public profile and are paid more than other coaches...
) has little to do with the development of details such as techniques of play or placement of players on the playing surface, leaving this to assistants while concentrating on larger issues such as recruitment and organizational development.
Successful coaches often become as well or even better-known than the athletes they coach, and in recent years have come to command high salaries and have agents of their own to negotiate their contracts with the teams. Often the head coach of a well-known team has his or her own
radio
Radio
Radio is the transmission of signals through free space by modulation of electromagnetic waves with frequencies below those of visible light. Electromagnetic radiation travels by means of oscillating electromagnetic fields that pass through the air and the vacuum of space...
and
television
Television
Television is a telecommunication medium for transmitting and receiving moving images that can be monochrome or colored, with accompanying sound...
programs and becomes the primary "face" associated with the team.
Preparation for coaching
Coaching courses and training seminars are increasingly available. One important role of coaches, especially youth coaches, is establishing safety for school-age athletes. This requires knowledge of CPR, prevention of
dehydration
Dehydration
In physiology and medicine, dehydration is defined as the excessive loss of body fluid. It is literally the removal of water from an object; however, in physiological terms, it entails a deficiency of fluid within an organism...
, and following current concussion management guidelines.
See also
Head coach

Head coach

A head coach, senior coach or manager is a professional at training and developing athletes. They typically hold a more public profile and are paid more than other coaches...


(American football)
Manager (association football)

Manager (association football)

In association football, a manager is responsible for running a football club or a national team. The manager of a professional club is responsible directly to the club president. The position of manager is almost exclusively used in British football...



Coach (baseball)

Coach (baseball)

In baseball, a number of coaches assist in the smooth functioning of a team. They are assistants to the manager, or head coach, who determines the lineup and decides how to substitute players during the game...



Manager (baseball)

Manager (baseball)

In baseball, the field manager is an individual who is responsible for matters of team strategy on the field and team leadership. Managers are typically assisted by between one and six assistant coaches, whose responsibilities are specialized...



Coach (basketball)

Coach (basketball)

Basketball coaching is the act of directing and strategizing the behaviour of a basketball team or individual basketball player. Basketball coaching typically encompasses the improvement of individual and team offensive and defensive skills, as well as overall physical conditioning.Coaching is...



Coach (ice hockey)

Coach (ice hockey)

Coach in ice hockey is the person responsible for directing the team during games and practices, prepares strategy and decides which players will participate in games....



Player-coach

Player-coach

A player-coach, in sports, is a member of a sports team who simultaneously holds both playing and coaching duties. The term can be used to refer to both players who serve as head coaches, or as assistant coaches....



Player-manager
External links