 Polyphenol antioxidant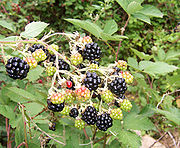 A
polyphenol antioxidant
is a type of
antioxidant
Antioxidant
An antioxidant is a molecule capable of inhibiting the oxidation of other molecules. Oxidation is a chemical reaction that transfers electrons or hydrogen from a substance to an oxidizing agent. Oxidation reactions can produce free radicals. In turn, these radicals can start chain reactions. When...
containing a
polyphenol
Polyphenol
Polyphenols are a structural class of natural, synthetic, and semisynthetic organic chemicals characterized by the presence of large multiples of phenol structural units...
ic substructure. Numbering over 4,000 distinct species, many of these compounds have antioxidant activity
in vitro
In vitro
In vitro refers to studies in experimental biology that are conducted using components of an organism that have been isolated from their usual biological context in order to permit a more detailed or more convenient analysis than can be done with whole organisms. Colloquially, these experiments...
but are unlikely to have antioxidant roles
in vivo
In vivo
In vivo is experimentation using a whole, living organism as opposed to a partial or dead organism, or an in vitro controlled environment. Animal testing and clinical trials are two forms of in vivo research...
. Rather, they may affect cell-to-cell signaling,
receptor
Receptor (biochemistry)
In biochemistry, a receptor is a molecule found on the surface of a cell, which receives specific chemical signals from neighbouring cells or the wider environment within an organism...
sensitivity, inflammatory
enzyme
Enzyme
Enzymes are proteins that catalyze chemical reactions. In enzymatic reactions, the molecules at the beginning of the process, called substrates, are converted into different molecules, called products. Almost all chemical reactions in a biological cell need enzymes in order to occur at rates...
activity or gene regulation.
Evolutionary perspective
From about 500 million years ago, freshwater and terrestrial plants slowly optimized the production of "new" endogenous antioxidants, such as
ascorbic acid
Ascorbic acid
Ascorbic acid is a naturally occurring organic compound with antioxidant properties. It is a white solid, but impure samples can appear yellowish. It dissolves well in water to give mildly acidic solutions. Ascorbic acid is one form of vitamin C. The name is derived from a- and scorbutus , the...
(vitamin C),
polyphenol
Polyphenol
Polyphenols are a structural class of natural, synthetic, and semisynthetic organic chemicals characterized by the presence of large multiples of phenol structural units...
s (including flavonoids),
tocopherol
Tocopherol
Tocopherols are a class of chemical compounds of which many have vitamin E activity. It is a series of organic compounds consisting of various methylated phenols...
s, etc. A few of these appeared more recently, in the last 50–200 million years, in fruits and flowers of angiosperm plants. In fact, the angiosperms (the dominant type of plant today) and most of their antioxidant pigments evolved during the late
Jurassic
Jurassic
The Jurassic is a geologic period and system that extends from about Mya to Mya, that is, from the end of the Triassic to the beginning of the Cretaceous. The Jurassic constitutes the middle period of the Mesozoic era, also known as the age of reptiles. The start of the period is marked by...
period.
Sources of polyphenol antioxidants
The main source of polyphenols is dietary, since they are found in a wide array of
phytochemical
Phytochemical
Phytochemicals are biologically active chemical compounds that occur naturally in plants . Phytochemicals are the molecules responsible for the color and organoleptic properties . For example, the deep purple color of blueberries and the smell of garlic...
-bearing foods. For example,
honey
Honey
Honey is a sweet food made by bees using nectar from flowers. The variety produced by honey bees is the one most commonly referred to and is the type of honey collected by beekeepers and consumed by humans...
; most
legume
s; fruits such as
apple
Apple
The apple is the pomaceous fruit of the apple tree, species Malus domestica in the rose family . It is one of the most widely cultivated tree fruits, and the most widely known of the many members of genus Malus that are used by humans. Apple grow on small, deciduous trees that blossom in the spring...
s,
blackberries
Blackberry
The blackberry is an edible fruit produced by any of several species in the Rubus genus of the Rosaceae family. The fruit is not a true berry; botanically it is termed an aggregate fruit, composed of small drupelets. The plants typically have biennial canes and perennial roots. Blackberries and...
,
blueberries
Blueberry
Blueberries are flowering plants of the genus Vaccinium with dark-blue berries and are perennial...
,
cantaloupe
Cantaloupe
"Rockmelon" redirects here, for the band see Rockmelons. See also Cantaloupe .Cantaloupe refers to a variety of Cucumis melo, a species in the family Cucurbitaceae which includes nearly all melons and squashes. Cantaloupes range in size from...
,
pomegranate
Pomegranate
The pomegranate , Punica granatum, is a fruit-bearing deciduous shrub or small tree growing between five and eight meters tall.Native to the area of modern day Iran, the pomegranate has been cultivated in the Caucasus since ancient times. From there it spread to Asian areas such as the Caucasus as...
,
cherries
Cherry
The cherry is the fruit of many plants of the genus Prunus, and is a fleshy stone fruit. The cherry fruits of commerce are usually obtained from a limited number of species, including especially cultivars of the wild cherry, Prunus avium....
,
cranberries
Cranberry
Cranberries are a group of evergreen dwarf shrubs or trailing vines in the subgenus Oxycoccus of the genus Vaccinium. In some methods of classification, Oxycoccus is regarded as a genus in its own right...
,
grape
Grape
A grape is a non-climacteric fruit, specifically a berry, that grows on the perennial and deciduous woody vines of the genus Vitis. Grapes can be eaten raw or they can be used for making jam, juice, jelly, vinegar, wine, grape seed extracts, raisins, molasses and grape seed oil. Grapes are also...
s,
pear
Pear
The pear is any of several tree species of genus Pyrus and also the name of the pomaceous fruit of these trees. Several species of pear are valued by humans for their edible fruit, but the fruit of other species is small, hard, and astringent....
s,
plum
Plum
A plum or gage is a stone fruit tree in the genus Prunus, subgenus Prunus. The subgenus is distinguished from other subgenera in the shoots having a terminal bud and solitary side buds , the flowers in groups of one to five together on short stems, and the fruit having a groove running down one...
s,
raspberries
Raspberry
The raspberry or hindberry is the edible fruit of a multitude of plant species in the genus Rubus, most of which are in the subgenus Idaeobatus; the name also applies to these plants themselves...
, and
strawberries
Strawberry
Fragaria is a genus of flowering plants in the rose family, Rosaceae, commonly known as strawberries for their edible fruits. Although it is commonly thought that strawberries get their name from straw being used as a mulch in cultivating the plants, the etymology of the word is uncertain. There...
; and
vegetable
Vegetable
The noun vegetable usually means an edible plant or part of a plant other than a sweet fruit or seed. This typically means the leaf, stem, or root of a plant....
s such as
broccoli
Broccoli
Broccoli is a plant in the cabbage family, whose large flower head is used as a vegetable.-General:The word broccoli, from the Italian plural of , refers to "the flowering top of a cabbage"....
,
cabbage
Cabbage
Cabbage is a popular cultivar of the species Brassica oleracea Linne of the Family Brassicaceae and is a leafy green vegetable...
,
celery
Celery
Apium graveolens is a plant species in the family Apiaceae commonly known as celery or celeriac , depending on whether the petioles or roots are eaten: celery refers to the former and celeriac to the latter. Apium graveolens grows to 1 m tall...
,
onion
Onion
The onion , also known as the bulb onion, common onion and garden onion, is the most widely cultivated species of the genus Allium. The genus Allium also contains a number of other species variously referred to as onions and cultivated for food, such as the Japanese bunching onion The onion...
and
parsley
Parsley
Parsley is a species of Petroselinum in the family Apiaceae, native to the central Mediterranean region , naturalized elsewhere in Europe, and widely cultivated as an herb, a spice and a vegetable.- Description :Garden parsley is a bright green hairless biennial herbaceous plant in temperate...
are rich in polyphenols. Red wine,
chocolate
Chocolate
Chocolate is a raw or processed food produced from the seed of the tropical Theobroma cacao tree. Cacao has been cultivated for at least three millennia in Mexico, Central and South America. Its earliest documented use is around 1100 BC...
,
white tea
White tea
White tea is a lightly oxidized tea grown and harvested almost exclusively in China, primarily in the Fujian province.White tea comes from the delicate buds and younger leaves of the Chinese Camellia sinensis plant. These buds and leaves are allowed to wither in natural sunlight before they are...
,
green tea
Green tea
Green tea is made solely from the leaves of Camellia sinensis that have undergone minimal oxidation during processing. Green tea originates from China and has become associated with many cultures throughout Asia. It has recently become more widespread in the West, where black tea is traditionally...
,
olive oil
Olive oil
Olive oil is an oil obtained from the olive , a traditional tree crop of the Mediterranean Basin. It is commonly used in cooking, cosmetics, pharmaceuticals, and soaps and as a fuel for traditional oil lamps...
,
argan oil
Argan oil
Argan oil is an oil produced from the kernels of the argan tree, endemic to Morocco, that is valued for its nutritive, cosmetic and numerous medicinal properties. The tree, a relict species from the Tertiary age, is extremely well adapted to drought and other environmentally difficult conditions of...
, bee pollen and many
grain
GRAIN
GRAIN is a small international non-profit organisation that works to support small farmers and social movements in their struggles for community-controlled and biodiversity-based food systems. Our support takes the form of independent research and analysis, networking at local, regional and...
s are sources. Ingestion of polyphenols occurs by consuming a wide array of plant foods; correspondingly, the role of dietary supplements as a method of realizing these health benefits is the subject of considerable discussion.
Biochemical theory
The regulation theory considers a polyphenol antioxidant's ability to scavenge free radicals and up-regulate certain metal
chelation
Chelation
Chelation is the formation or presence of two or more separate coordinate bonds between apolydentate ligand and a single central atom....
reactions. Various
reactive oxygen species
Reactive oxygen species
Reactive oxygen species are chemically reactive molecules containing oxygen. Examples include oxygen ions and peroxides. Reactive oxygen species are highly reactive due to the presence of unpaired valence shell electrons....
, such as
singlet oxygen
Singlet oxygen
Singlet oxygen is the common name used for the diamagnetic form of molecular oxygen , which is less stable than the normal triplet oxygen. Because of its unusual properties, singlet oxygen can persist for over an hour at room temperature, depending on the environment...
,
peroxynitrite
Peroxynitrite
Peroxynitrite is the anion with the formula ONOO−. It is an unstable structural isomer of nitrate, NO3−, which has the same formula but a different structure. Although peroxynitrous acid is highly reactive, its conjugate base peroxynitrite is stable in basic solution...
and
hydrogen peroxide
Hydrogen peroxide
Hydrogen peroxide is the simplest peroxide and an oxidizer. Hydrogen peroxide is a clear liquid, slightly more viscous than water. In dilute solution, it appears colorless. With its oxidizing properties, hydrogen peroxide is often used as a bleach or cleaning agent...
, must be continually removed from cells to maintain healthy metabolic function. Diminishing the concentrations of reactive oxygen species can have several benefits possibly associated with ion transport systems and so may affect
redox signaling
Redox signaling
Redox signaling is when free radicals, reactive oxygen species , and other electronically activated species such as nitric oxide act as biological messengers. Arguably, hydrogen sulfide and carbon monoxide are also redox signaling molecules...
.
Potential biological consequences

Consuming dietary polyphenols may be associated with beneficial effects in higher animal species:
Difficulty in analyzing effects of specific chemicals

It is difficult to evaluate the physiological effects of specific polyphenolic antioxidants, since such a large number of individual compounds may occur even in a single food and their fate in vivo cannot be measured. For example, over sixty different chemically distinct flavonoids are known to occur in a given red wine. The polyphenol content of wines is usually evaluated by the
Folin-Ciocalteu reagent
Folin-Ciocalteu reagent
The Folin–Ciocalteu reagent or Folin's phenol reagent or Folin–Denis reagent, also called the Gallic Acid Equivalence method , is a mixture of phosphomolybdate and phosphotungstate used for the colorimetric assay of phenolic and polyphenolic antioxidants...
which correlates well with alternative chemical and biological procedures for determining antioxidant potential.
Other more detailed chemical research has elucidated the difficulty of isolating individual polyphenolic antioxidants. Significant variation in polyphenol content occurs among various brands of tea may underlie inconsistencies of epidemiological studies implying beneficial health effects of polyphenol antioxidants of
green tea
Green tea
Green tea is made solely from the leaves of Camellia sinensis that have undergone minimal oxidation during processing. Green tea originates from China and has become associated with many cultures throughout Asia. It has recently become more widespread in the West, where black tea is traditionally...
blends. The
Oxygen Radical Absorbance Capacity
Oxygen radical absorbance capacity
Oxygen Radical Absorbance Capacity is a method of measuring antioxidant capacities in biological samples in vitro.A wide variety of foods has been tested using this method, with certain spices, berries and legumes rated highly. There exists no physiological proof in vivo that free-radical theory...
(ORAC) test is a laboratory indicator of antioxidant potential in foods and
dietary supplement
Dietary supplement
A dietary supplement, also known as food supplement or nutritional supplement, is a preparation intended to supplement the diet and provide nutrients, such as vitamins, minerals, fiber, fatty acids, or amino acids, that may be missing or may not be consumed in sufficient quantities in a person's diet...
s. However, ORAC results cannot be confirmed to be physiologically applicable.
Practical aspects of dietary polyphenol antioxidants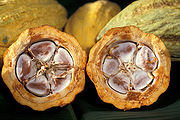 There is debate regarding the total body absorption of dietary intake of polyphenolic compounds. While some indicate potential health effects of certain specific polyphenols, most studies demonstrate low
bioavailability
Bioavailability
In pharmacology, bioavailability is a subcategory of absorption and is used to describe the fraction of an administered dose of unchanged drug that reaches the systemic circulation, one of the principal pharmacokinetic properties of drugs. By definition, when a medication is administered...
and rapid excretion of polyphenols, indicating their potential roles only in small concentrations in vivo. More research is needed to understand the interactions between a variety of these chemicals acting in concert within the human body. In particular there is evidence that some combinations of foods may inhibit efficient intestinal transfer of certain polyphenol antioxidants; refined sugars, for example, have been shown to impede this uptake under certain circumstances. Furthermore caution should be exercised in attempting diets depending largely on dietary supplements as opposed to a broad array of food sources, since the quality and concentrations of beneficial chemicals in some commercial products is subject to question.
Topical application of polyphenol antioxidants
There is little evidence that reactive oxygen species play a role in the process of skin
aging
Ageing
Ageing or aging is the accumulation of changes in a person over time. Ageing in humans refers to a multidimensional process of physical, psychological, and social change. Some dimensions of ageing grow and expand over time, while others decline...
. The skin is exposed to various
exogenous
Exogenous
Exogenous refers to an action or object coming from outside a system. It is the opposite of endogenous, something generated from within the system....
sources of
oxidative stress
Oxidative stress
Oxidative stress represents an imbalance between the production and manifestation of reactive oxygen species and a biological system's ability to readily detoxify the reactive intermediates or to repair the resulting damage...
, including
ultraviolet
Ultraviolet
Ultraviolet light is electromagnetic radiation with a wavelength shorter than that of visible light, but longer than X-rays, in the range 10 nm to 400 nm, and energies from 3 eV to 124 eV...
radiation whose spectral components may be responsible for the extrinsic type of skin aging, sometimes termed
photoaging
Photoaging
Photoaging or photoageing is a term used for the characteristic changes induced by chronic UVA and UVB exposure. Tretinoin is the best studied retinoid in the treatment of photoaging...
. It has been shown not only that increased levels of protective low molecular weight antioxidants through a diet rich in phytochemicals, but also by direct topical dermal application of low molecular weight antioxidants, notably
vitamins C
Vitamin C
Vitamin C or L-ascorbic acid or L-ascorbate is an essential nutrient for humans and certain other animal species. In living organisms ascorbate acts as an antioxidant by protecting the body against oxidative stress...
and
E
Vitamin E
Vitamin E is used to refer to a group of fat-soluble compounds that include both tocopherols and tocotrienols. There are many different forms of vitamin E, of which γ-tocopherol is the most common in the North American diet. γ-Tocopherol can be found in corn oil, soybean oil, margarine and dressings...
, as well as
lipoic acid
Lipoic acid
Lipoic acid , also known as α-lipoic acid and Alpha Lipoic Acid is an organosulfur compound derived from octanoic acid. LA contains two vicinal sulfur atoms attached via a disulfide bond and is thus considered to be oxidized...
, may confer protective effects against oxidative stress. However, controlled long-term studies on the efficacy of low molecular weight antioxidants in the prevention or treatment of
skin
Skin
-Dermis:The dermis is the layer of skin beneath the epidermis that consists of connective tissue and cushions the body from stress and strain. The dermis is tightly connected to the epidermis by a basement membrane. It also harbors many Mechanoreceptors that provide the sense of touch and heat...
aging in humans are absent.
See also
Other articles