 Picadillo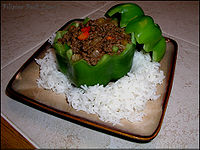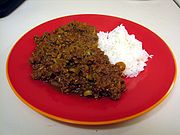 Picadillo
is a traditional dish in many
Latin America
Latin America
Latin America is a region of the Americas where Romance languages – particularly Spanish and Portuguese, and variably French – are primarily spoken. Latin America has an area of approximately 21,069,500 km² , almost 3.9% of the Earth's surface or 14.1% of its land surface area...
n countries and the
Philippines
Philippines
The Philippines , officially known as the Republic of the Philippines , is a country in Southeast Asia in the western Pacific Ocean. To its north across the Luzon Strait lies Taiwan. West across the South China Sea sits Vietnam...
(where it is known as
giniling
) that is similar to
hash
Hash (food)
Hash is a dish consisting of meat, potatoes, and spices, that are mashed together into a smooth, creamy consistency, and then cooked either alone or with other ingredients such as onions....
. It is made with
ground meat
Ground meat
Ground meat is meat finely chopped by a meat grinder or a chopping knife. It is called minced meat or more usually mince outside North America....
(usually beef), tomatoes (
tomato sauce
Tomato sauce
A tomato sauce is any of a very large number of sauces made primarily from tomatoes, usually to be served as part of a dish...
may be used as a substitute), and other ingredients that vary by region.
It is often served with
rice
Rice
Rice is the seed of the monocot plants Oryza sativa or Oryza glaberrima . As a cereal grain, it is the most important staple food for a large part of the world's human population, especially in East Asia, Southeast Asia, South Asia, the Middle East, and the West Indies...
or used as a filling in dishes such as tacos, savoury pastries or croquettes.
The name comes from the
Spanish
Spanish language
Spanish , also known as Castilian , is a Romance language in the Ibero-Romance group that evolved from several languages and dialects in central-northern Iberia around the 9th century and gradually spread with the expansion of the Kingdom of Castile into central and southern Iberia during the...
word "picar," which means "to mince" or "to chop".
Cuba
Cuba
Cuba
The Republic of Cuba is an island nation in the Caribbean. The nation of Cuba consists of the main island of Cuba, the Isla de la Juventud, and several archipelagos. Havana is the largest city in Cuba and the country's capital. Santiago de Cuba is the second largest city...
n versions include peppers, onions, garlic,
oregano
Plectranthus amboinicus
Plectranthus amboinicus is a tender fleshy perennial plant in the family Lamiaceae with an oregano-like flavor and odor, native to Southern and Eastern Africa, but widely cultivated and naturalised in the Old and New World Tropics...
,
cumin
Cumin
Cumin is a flowering plant in the family Apiaceae, native from the east Mediterranean to India. Its seeds are used in the cuisines of many different cultures, in both whole and ground form.-Etymology:...
, tomato sauce,
stock
Stock (food)
Stock is a flavoured water preparation. It forms the basis of many dishes, particularly soups and sauces.- Preparation :Stock is made by simmering various ingredients in water, including some or all of the following...
, olives and on occasion raisins, potatoes, and capers, and is usually sauteed in olive oil and white wine, depending on the region. Cuban picadillo is served with black turtle beans and rice.
Dominican Republic
In the
Dominican Republic
Dominican Republic
The Dominican Republic is a nation on the island of La Hispaniola, part of the Greater Antilles archipelago in the Caribbean region. The western third of the island is occupied by the nation of Haiti, making Hispaniola one of two Caribbean islands that are shared by two countries...
it includes peppers, red onions, garlic, tomato paste,
bouillon cube
Bouillon cube
A bouillon cube [ˈbuːjɒn kjuːb] or stock cube is dehydrated bouillon or stock formed into a small cube about 15 mm wide. It is made by dehydrating vegetables, meat stock, a small portion of fat, salt and seasonings and shaping them into a small cube...
, olives, capers, raisins, hard-boiled egg, cider vinegar, and
allspice
Allspice
Allspice, also called Jamaica pepper, pepper, myrtle pepper, pimenta, or newspice, is a spice that is the dried unripe fruit of Pimenta dioica , a mid-canopy tree native to the Greater Antilles, southern Mexico, and Central America, now cultivated in many warm parts of the world...
, and is served with either
white
White
White is a color, the perception of which is evoked by light that stimulates all three types of color sensitive cone cells in the human eye in nearly equal amounts and with high brightness compared to the surroundings. A white visual stimulation will be void of hue and grayness.White light can be...
or brown rice.
Puerto Rico
In
Puerto Rico
Puerto Rico
Puerto Rico , officially the Commonwealth of Puerto Rico , is an unincorporated territory of the United States, located in the northeastern Caribbean, east of the Dominican Republic and west of both the United States Virgin Islands and the British Virgin Islands.Puerto Rico comprises an...
it is used as a filling for
empanada
Empanada
An empanada is a stuffed bread or pastry baked or fried in many countries in Latin America, Southern Europe and parts of Southeast Asia. The name comes from the verb empanar, meaning to wrap or coat in bread. Empanada is made by folding a dough or bread patty around the stuffing...
s,
alcapurria
Alcapurria
Alcapurria is a fritter dish from Puerto Rico, a culinary dish that found its way to the Dominican Republic and Cuba.- Preparation :An alcapurria is made from a doughy mixture of mashed up tubers and root vegetables that grow on the island surrounding a center of heavily seasoned meat...
and other
fritter
Fritter
A fritter is any kind of food coated in batter and deep fried. Although very similar to a doughnut it differs in the fact that it requires some base ingredient beyond the dough it is cooked with.-Anglo-American fritters:...
s. The ground meat is sauteed with
annatto oil
Annatto
Annatto, sometimes called roucou or achiote, is a derivative of the achiote trees of tropical regions of the Americas, used to produce a yellow to orange food coloring and also as a flavoring...
,
thyme
Thyme
Thyme is a culinary and medicinal herb of the genus Thymus.-History:Ancient Egyptians used thyme for embalming. The ancient Greeks used it in their baths and burnt it as incense in their temples, believing it was a source of courage...
, cumin, oregano,
bay leaf
Bay leaf
Bay leaf refers to the aromatic leaf of the bay laurel . Fresh or dried bay leaves are used in cooking for their distinctive flavor and fragrance. The leaves are often used to flavor soups, stews, braises and pâtés in Mediterranean cuisine...
,
recaito
Recaíto
-Preparation:Recaíto is mix of onions, garlic, ajicitos, green cubanelle pepper and lots of cilantro and culantro. All of the ingredients are put in to a blender and blended until smooth...
,
tomato sauce
Tomato sauce
A tomato sauce is any of a very large number of sauces made primarily from tomatoes, usually to be served as part of a dish...
and on occasion
raisin
Raisin
Raisins are dried grapes. They are produced in many regions of the world. Raisins may be eaten raw or used in cooking, baking and brewing...
(soaked in
rum
Rum
Rum is a distilled alcoholic beverage made from sugarcane by-products such as molasses, or directly from sugarcane juice, by a process of fermentation and distillation. The distillate, a clear liquid, is then usually aged in oak barrels...
),
olive
Olive
The olive , Olea europaea), is a species of a small tree in the family Oleaceae, native to the coastal areas of the eastern Mediterranean Basin as well as northern Iran at the south end of the Caspian Sea.Its fruit, also called the olive, is of major agricultural importance in the...
s,
caper
Caper
Capparis spinosa, the caper bush, is a perennial winter-deciduous species that bears rounded, fleshy leaves and large white to pinkish-white flowers. A caper is also the pickled bud of this plant...
s, and
ham
Ham
Ham is a cut of meat from the thigh of the hind leg of certain animals, especiallypigs. Nearly all hams sold today are fully cooked or cured.-Etymology:...
.
Philippines
In the
Philippines
Philippines
The Philippines , officially known as the Republic of the Philippines , is a country in Southeast Asia in the western Pacific Ocean. To its north across the Luzon Strait lies Taiwan. West across the South China Sea sits Vietnam...
, picadillo is traditionally made with
beef
Beef
Beef is the culinary name for meat from bovines, especially domestic cattle. Beef can be harvested from cows, bulls, heifers or steers. It is one of the principal meats used in the cuisine of the Middle East , Australia, Argentina, Brazil, Europe and the United States, and is also important in...
and either potatoes or
chayote
Chayote
The chayote , also known as christophene, vegetable pear, mirliton, pear squash, christophine , chouchoute , choko , starprecianté, citrayota, citrayote , chuchu , chow chow , cho cho , sayote ,...
.
Mexico
In
Mexico
Mexico
The United Mexican States , commonly known as Mexico , is a federal constitutional republic in North America. It is bordered on the north by the United States; on the south and west by the Pacific Ocean; on the southeast by Guatemala, Belize, and the Caribbean Sea; and on the east by the Gulf of...
, the dish usually calls for onions and lime to be stirred into the meat while it cooks and the sauce is sometimes sweetened by adding sugar to the pan that the meat and sauce are being fried in or, more recently, by using honey, giving the finished meal a somewhat teriyaki or
bulgogi
Bulgogi
Bulgogi is a Korean dish that usually consists of marinated barbecued beef, although chicken or pork may also be used. It is listed at number 23 on World's 50 most delicious foods readers' poll complied by CNN Go in 2011.-Etymology:...
like taste. Raisins may also be added to taste. In some coastal or Indigenous areas, the beef is substituted with
seafood
Seafood
Seafood is any form of marine life regarded as food by humans. Seafoods include fish, molluscs , crustaceans , echinoderms . Edible sea plants, such as some seaweeds and microalgae, are also seafood, and are widely eaten around the world, especially in Asia...
ranging from shellfish to tuna.