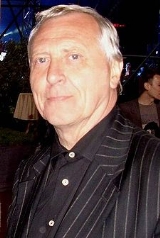 Peter Greenaway
Peter Greenaway
,
CBE
Order of the British Empire
The Most Excellent Order of the British Empire is an order of chivalry established on 4 June 1917 by George V of the United Kingdom. The Order comprises five classes in civil and military divisions...
(born 5 April 1942) is a British film director. His films are noted for the distinct influence of Renaissance and Baroque painting, and
Flemish painting
Flemish painting
Flemish painting flourished from the early 15th century until the 17th century. Flanders delivered the leading painters in Northern Europe and attracted many promising young painters from neighbouring countries. These painters were invited to work at foreign courts and had a Europe-wide influence...
in particular. The scenic composition and illumination and the contrasts of costume and nudity, nature and architecture, furniture and people, sexual pleasure and painful death are common traits in his films.
Early life
Greenaway was born in
Newport
Newport
Newport is a city and unitary authority area in Wales. Standing on the banks of the River Usk, it is located about east of Cardiff and is the largest urban area within the historic county boundaries of Monmouthshire and the preserved county of Gwent...
,
Monmouthshire
Monmouthshire (historic)
Monmouthshire , also known as the County of Monmouth , is one of thirteen ancient counties of Wales and a former administrative county....
,
Wales
Wales
Wales is a country that is part of the United Kingdom and the island of Great Britain, bordered by England to its east and the Atlantic Ocean and Irish Sea to its west. It has a population of three million, and a total area of 20,779 km²...
, to a teacher mother and a builder's merchant father. Greenaway's family left South Wales when he was three years old (they had moved there originally to avoid
the Blitz
The Blitz
The Blitz was the sustained strategic bombing of Britain by Nazi Germany between 7 September 1940 and 10 May 1941, during the Second World War. The city of London was bombed by the Luftwaffe for 76 consecutive nights and many towns and cities across the country followed...
) and settled in
Essex
Essex
Essex is a ceremonial and non-metropolitan county in the East region of England, and one of the home counties. It is located to the northeast of Greater London. It borders with Cambridgeshire and Suffolk to the north, Hertfordshire to the west, Kent to the South and London to the south west...
, England. He attended Forest School in North-East London. At an early age Greenaway decided on becoming a painter. He became interested in European cinema, focusing first on the films of
Ingmar Bergman
Ingmar Bergman
Ernst Ingmar Bergman was a Swedish director, writer and producer for film, stage and television. Described by Woody Allen as "probably the greatest film artist, all things considered, since the invention of the motion picture camera", he is recognized as one of the most accomplished and...
, and then on the French
nouvelle vague
filmmakers such as
Jean-Luc Godard
Jean-Luc Godard
Jean-Luc Godard is a French-Swiss film director, screenwriter and film critic. He is often identified with the 1960s French film movement, French Nouvelle Vague, or "New Wave"....
and, most especially,
Alain Resnais
Alain Resnais
Alain Resnais is a French film director whose career has extended over more than six decades. After training as a film editor in the mid-1940s, he went on to direct a number of short films which included Nuit et Brouillard , an influential documentary about the Nazi concentration camps.He began...
.
1962-1999
In 1962, Greenaway began studies at
Walthamstow
Walthamstow
Walthamstow is a district of northeast London, England, located in the London Borough of Waltham Forest. It is situated north-east of Charing Cross...
College of Art, where a fellow student was musician
Ian Dury
Ian Dury
Ian Robins Dury was an English rock and roll singer, lyricist, bandleader and actor who initially rose to fame during the late 1970s, during the punk and New Wave era of rock music...
(later cast in
The Cook, the Thief, His Wife & Her Lover
The Cook, the Thief, His Wife & Her Lover
The Cook, the Thief, His Wife & Her Lover is a 1989 romantic crime drama written and directed by Peter Greenaway, starring Richard Bohringer, Michael Gambon, Helen Mirren, and Alan Howard in the titular roles...
). Greenaway trained as a muralist for three years; he made his first film,
Death of Sentiment
, a
churchyard
Churchyard
A churchyard is a patch of land adjoining or surrounding a church which is usually owned by the relevant church or local parish itself. In the Scots language or Northern English language this can also be known as a kirkyard or kirkyaird....
furniture essay filmed in four large London cemeteries. In 1965, he joined the
Central Office of Information
Central Office of Information
The Central Office of Information is the UK government's marketing and communications agency. Its Chief Executive, currently Mark Lund, reports to the Minister for the Cabinet Office...
(COI), working there fifteen years as a film editor and director. In that time he created a filmography of experimental films, starting with
Train
(1966), footage of the last steam trains at
Waterloo station
Waterloo station
Waterloo station, also known as London Waterloo, is a central London railway terminus and London Underground complex. The station is owned and operated by Network Rail and is close to the South Bank of the River Thames, and in Travelcard Zone 1....
, (situated behind the COI), edited to a
musique concrète
Musique concrète
Musique concrète is a form of electroacoustic music that utilises acousmatic sound as a compositional resource. The compositional material is not restricted to the inclusion of sounds derived from musical instruments or voices, nor to elements traditionally thought of as "musical"...
composition.
Tree
(1966), is a homage to the embattled tree growing in concrete outside the
Royal Festival Hall
Royal Festival Hall
The Royal Festival Hall is a 2,900-seat concert, dance and talks venue within Southbank Centre in London. It is situated on the South Bank of the River Thames, not far from Hungerford Bridge. It is a Grade I listed building - the first post-war building to become so protected...
on the
South Bank
South Bank
South Bank is an area of London, England located immediately adjacent to the south side of the River Thames. It forms a long and narrow section of riverside development that is within the London Borough of Lambeth to the border with the London Borough of Southwark and was formerly simply known as...
in London. By the 1970s he was confident and ambitious and made
Vertical Features Remake
Vertical Features Remake
Vertical Features Remake is a film by Peter Greenaway. It portrays the work of a fictional Institute of Reclamation and Restoration as they attempt to assemble raw footage taken by ornithologist Tulse Luper into a short film, in accordance with his notes and structuralist film theory...
and
A Walk Through H
. The former is an examination of various arithmetical editing structures, and the latter is a journey through the maps of a fictitious country.
In 1980, Greenaway delivered
The Falls
The Falls
The Falls is a 1980 film directed by Peter Greenaway. It was Greenaway's first feature-length film after many years making shorts. It does not have a traditional dramatic narrative; it takes the form of a mock documentary in 92 short parts.-Plot:...
(his first feature-length film) – a mammoth, fantastical, absurdist encyclopedia of flight-associated material all relating to ninety-two victims of what is referred to as the Violent Unknown Event (VUE). In the 1980s, Greenaway's cinema flowered in his best-known films,
The Draughtsman's Contract
The Draughtsman's Contract
The Draughtsman's Contract is a 1982 British film written and directed by Peter Greenaway – his first conventional feature film . Originally produced for Channel 4 the film is a form of murder mystery, set in 1694...
(1982),
A Zed & Two Noughts
A Zed & Two Noughts
Elements of Michael Nyman's score invoke the "Dies Irae" section from Heinrich Ignaz Biber's Requiem ex F con terza minore. The Angelfish Decay/Swan Rot/L'Escargot theme was originally written for Childs Play, a dance work commissioned by Lucinda Childs. Performance of the soundtrack is credited...
(1985),
The Belly of an Architect
The Belly of an Architect
The Belly of an Architect is a 1987 film drama written and directed by Peter Greenaway, featuring original music by Glenn Branca and Wim Mertens....
(1987),
Drowning by Numbers
Drowning by Numbers
Drowning by Numbers is a 1988 British film directed by Peter Greenaway. It was entered into the 1988 Cannes Film Festival.-Plot:The film's plot centers on three women — a grandmother, mother and daughter — each named Cissie Colpitts. As the story progresses each woman successively drowns her husband...
(1988), and his most successful (and controversial) film,
The Cook, the Thief, His Wife & Her Lover
The Cook, the Thief, His Wife & Her Lover
The Cook, the Thief, His Wife & Her Lover is a 1989 romantic crime drama written and directed by Peter Greenaway, starring Richard Bohringer, Michael Gambon, Helen Mirren, and Alan Howard in the titular roles...
(1989). Greenaway's most familiar musical collaborator during this period is composer
Michael Nyman
Michael Nyman
Michael Laurence Nyman, CBE is an English composer of minimalist music, pianist, librettist and musicologist, known for the many film scores he wrote during his lengthy collaboration with the filmmaker Peter Greenaway, and his multi-platinum soundtrack album to Jane Campion's The Piano...
, who has scored several films.
In 1989, he collaborated with artist
Tom Phillips
Tom Phillips (artist)
Tom Phillips CBE R.A. is an English artist. He was born in London, where he continues to work. He is a painter, printmaker and collagist.-Life:...
on a television serial
A TV Dante
A TV Dante
A TV Dante is a 1989 film directed by Tom Phillips and Peter Greenaway. It covers eight of the thirty-four Cantos in Inferno ....
, dramatising the first few cantos of
Dante
Dante Alighieri
Durante degli Alighieri, mononymously referred to as Dante , was an Italian poet, prose writer, literary theorist, moral philosopher, and political thinker. He is best known for the monumental epic poem La commedia, later named La divina commedia ...
's
Inferno
The Divine Comedy
The Divine Comedy is an epic poem written by Dante Alighieri between 1308 and his death in 1321. It is widely considered the preeminent work of Italian literature, and is seen as one of the greatest works of world literature...
. In the 1990s, he presented the visually spectacular
Prospero's Books
Prospero's Books
Prospero's Books , written and directed by Peter Greenaway, is a cinematic adaptation of The Tempest, by William Shakespeare. John Gielgud is Prospero, the protagonist who provides the off-screen narration and the voices to the other story characters...
(1991), the controversial
The Baby of Mâcon
The Baby of Mâcon
The Baby of Mâcon is a 1993 film written and directed by Peter Greenaway starring Ralph Fiennes, Julia Ormond and Philip Stone.-Plot:A town cursed with barren women and famine is saved by a miracle birth to an old, ugly woman: the Mother. Immediately afterwards, the old woman's Daughter claims to...
(1993),
The Pillow Book
The Pillow Book (film)
The Pillow Book is a 1996 film by United Kingdom director Peter Greenaway, which stars Vivian Wu as Nagiko, a Japanese model in search of pleasure and new cultural experience from various lovers...
(1996), and
8½ Women
8½ Women
8½ Women is a 1999 comedy-drama film written and directed by Peter Greenaway, and starring John Standing, Matthew Delamere, and Vivian Wu. The international co-production was entered into the 1999 Cannes Film Festival.-Plot:After the death of his wife , wealthy businessman Philip Emmenthal 8½...
(1999).
In the early 1990s, Greenaway wrote ten
opera
Opera
Opera is an art form in which singers and musicians perform a dramatic work combining text and musical score, usually in a theatrical setting. Opera incorporates many of the elements of spoken theatre, such as acting, scenery, and costumes and sometimes includes dance...
libretti known as the
Death of a Composer
Death of a Composer
The Death of a Composer is a series of ten opera libretti by Peter Greenaway dealing with the deaths of ten 20th Century composers from Anton Webern to John Lennon. All ten composers left behind ten common clues related to their deaths. Greenaway was interested in this commonality and explored...
series, dealing with the commonalities of the deaths of ten composers from
Anton Webern
Anton Webern
Anton Webern was an Austrian composer and conductor. He was a member of the Second Viennese School. As a student and significant follower of Arnold Schoenberg, he became one of the best-known exponents of the twelve-tone technique; in addition, his innovations regarding schematic organization of...
to
John Lennon
John Lennon
John Winston Lennon, MBE was an English musician and singer-songwriter who rose to worldwide fame as one of the founding members of The Beatles, one of the most commercially successful and critically acclaimed acts in the history of popular music...
, however, the other composers are fictitious, and one is a character from
The Falls
. In 1995,
Louis Andriessen
Louis Andriessen
Louis Andriessen is a Dutch composer and pianist based in Amsterdam. He teaches composition at the Royal Conservatory of The Hague...
completed the sixth libretto,
Rosa – A Horse Drama
. He is currently professor of cinema studies at the
European Graduate School
European Graduate School
The European Graduate School in Saas-Fee, Switzerland is a privately funded graduate school founded by the non-profit European Foundation of Interdisciplinary Studies. Its German name is Europäische Universität für Interdisziplinäre Studien...
in
Saas-Fee
Saas-Fee
Saas-Fee is the main village in the Saastal, or the Saas Valley, and is a municipality in the district of Visp in the canton of Valais in Switzerland...
, Switzerland.
2000 - present
Greenaway completed the artistically ambitious,
The Tulse Luper Suitcases
The Tulse Luper Suitcases
The Tulse Luper Suitcases is a multimedia project by Peter Greenaway, initially intended to comprise three "source" and one feature films, a 16-episode TV series, and 92 DVDs, as well as Web sites, CD-ROMs and books...
, a multimedia project with innovative film techniques that resulted in three films. Later there were releases of two shorter features which rework the material of the first three films.
He also contributed to
Visions of Europe
Visions of Europe
Live Visions of Europe is a live album by the Finnish power metal band Stratovarius. The album was recorded in Italy and Greece during their tour for their album Visions.- Disc 1 : - Disc 2 :-Personnel:*Timo Kotipelto - Vocals...
, a short film collection by different European Union directors; his British entry is
The European Showerbath
.
Nightwatching
Nightwatching
Nightwatching is a 2007 film about the artist Rembrandt and the creation of his painting The Night Watch. The film is directed by Peter Greenaway and stars Martin Freeman as Rembrandt, with Eva Birthistle as his wife Saskia van Uylenburg, Jodhi May as his lover Geertje Dircx, and Emily Holmes as...
and
Rembrandt's J'Accuse
Rembrandt's J'Accuse
Rembrandt's J'Accuse is a 2008 Dutch, German, Finnish documentary directed by Peter Greenaway about criticism of today's visual illiteracy argued by means of a forensic search of Rembrandt's Night Watch painting. Greenaway explains the conspiracy about a murder and the motives of all its characters...
two films on Rembrandt which were released in 2007 and 2008 respectively.
Nightwatching
is the first feature in the series "Dutch Masters", with the next project titled as "
Goltzius and the Pelican Company
Goltzius and the Pelican Company
Goltzius and the Pelican Company is an upcoming film about Hendrik Goltzius, a late 16th century Dutch printer and engraver of erotic prints. He seduces the Margrave of Alsace into paying for a printing press to make and publish illustrated books. Goltzius promises him an extraordinary book of...
".
On 17 June 2005, Greenaway appeared for his first
VJ
VJ (video performance artist)
VJing is a broad designation for realtime visual performance. Characteristics of VJing are the creation or manipulation of imagery in realtime through technological mediation and for an audience, in synchronization to music. VJing often takes place at events such as concerts, nightclubs, music...
performance during an art club evening in Amsterdam, the Netherlands, with music by DJ Serge Dodwell (aka Radar), as a backdrop, 'VJ' Greenaway used for his set a special system consisting of a large plasma screen with laser controlled touchscreen to project the ninety-two
Tulse Luper
stories on the twelve screens of "Club 11", mixing the images live. This was later reprised at the Optronica festival, London.
On 12 October 2007, he created the multimedia installation
Peopling the Palaces at Venaria Reale
at the Royal Palace of Venaria that will remain open for three years and that animate the Palace with 100 videoprojectors.
'Nine Classical Paintings Revisited'
In 2006, Greenaway began an ambitious series of digital
video installation
Video installation
Video installation is a contemporary art form that combines video technology with installation art, making use of all aspects of the surrounding environment to affect the audience. Tracing its origins to the birth of video art in the 1970s, it has increased in popularity as digital video production...
s,
Nine Classical Paintings Revisited
, with his exploration of
Rembrandt
's
Night Watch
Night Watch (painting)
Night Watch or The Night Watch or The Shooting Company of Frans Banning Cocq is the common name of one of the most famous works by Dutch painter Rembrandt van Rijn....
in the
Rijksmuseum
Rijksmuseum
The Rijksmuseum Amsterdam or simply Rijksmuseum is a Dutch national museum in Amsterdam, located on the Museumplein. The museum is dedicated to arts, crafts, and history. It has a large collection of paintings from the Dutch Golden Age and a substantial collection of Asian art...
in Amsterdam. On 30 June 2008, after much negotiation, Greenaway staged a one-night performance 'remixing'
da Vinci
Leonardo da Vinci
Leonardo di ser Piero da Vinci was an Italian Renaissance polymath: painter, sculptor, architect, musician, scientist, mathematician, engineer, inventor, anatomist, geologist, cartographer, botanist and writer whose genius, perhaps more than that of any other figure, epitomized the Renaissance...
's
The Last Supper
in the
refectory
Refectory
A refectory is a dining room, especially in monasteries, boarding schools and academic institutions. One of the places the term is most often used today is in graduate seminaries...
of
Santa Maria delle Grazie
Santa Maria delle Grazie (Milan)
Santa Maria delle Grazie is a church and Dominican convent in Milan, northern Italy, included in the UNESCO World Heritage sites list...
in Milan to a select audience of dignitaries. The performance consisted of superimposing digital imagery and projections onto the painting with music from the composer Marco Robino.
Greenaway exhibited his digital exploration of
The Wedding at Cana
by
Paolo Veronese
Paolo Veronese
Paolo Veronese was an Italian painter of the Renaissance in Venice, famous for paintings such as The Wedding at Cana and The Feast in the House of Levi...
as part of the 2009 Venice Biennial. An arts writer for the
New York Times
called it "possibly the best unmanned
art history
Art history
Art history has historically been understood as the academic study of objects of art in their historical development and stylistic contexts, i.e. genre, design, format, and style...
lecture you'll ever experience," while acknowledging that some viewers might respond to it as "mediocre art,
Disneyfied
Disneyfication
Disneyfication is a term which describes the transformation of something, usually society at large, to resemble The Walt Disney Company's theme parks. The latter term appears in Sharon Zukin's book, The Cultures of Cities , and was popularized by Alan Bryman in a 2004 book, The Disneyization of...
kitsch
Kitsch
Kitsch is a form of art that is considered an inferior, tasteless copy of an extant style of art or a worthless imitation of art of recognized value. The concept is associated with the deliberate use of elements that may be thought of as cultural icons while making cheap mass-produced objects that...
or a flamboyant denigration of
site-specific
Site-specific art
Site-specific art is artwork created to exist in a certain place. Typically, the artist takes the location into account while planning and creating the artwork...
video installation." The 50-minute presentation, set to a soundtrack, incorporates closeup images of faces from the painting along with animated diagrams revealing compositional relations among the figures. These images are projected onto and around the replica of the painting that now stands at the original site, within the
Palladian architecture
Palladian architecture
Palladian architecture is a European style of architecture derived from the designs of the Venetian architect Andrea Palladio . The term "Palladian" normally refers to buildings in a style inspired by Palladio's own work; that which is recognised as Palladian architecture today is an evolution of...
of the
Benedictine
Benedictine
Benedictine refers to the spirituality and consecrated life in accordance with the Rule of St Benedict, written by Benedict of Nursia in the sixth century for the cenobitic communities he founded in central Italy. The most notable of these is Monte Cassino, the first monastery founded by Benedict...
refectory on
San Giorgio Maggiore
San Giorgio Maggiore
San Giorgio Maggiore is one of the islands of Venice, northern Italy, lying east of the Giudecca and south of the main island group. The isle is surrounded by Canale della Grazia, Canale della Giudecca, Saint Mark Basin, Canale di San Marco and the southern lagoon...
. The soundtrack features music and imagined dialogue scripted by Greenaway for the 126 "wedding guests, servants, onlookers and wedding crashers" depicted in the painting, consisting of
small talk
Small talk (phatic communication)
Small talk is an informal type of discourse that does not cover any functional topics of conversation or any transactions that need to be addressed....
and banal chatter that culminates in reaction to the
miraculous transformation of water to wine
Marriage at Cana
In Christianity, the transformation of water into wine at the Marriage at Cana or Wedding at Cana is the first miracle of Jesus in the Gospel of John....
, according to the Gospels the first miracle performed by
Jesus
Jesus
Jesus of Nazareth , commonly referred to as Jesus Christ or simply as Jesus or Christ, is the central figure of Christianity...
. Picasso's
Guernica
Guernica (painting)
Guernica is a painting by Pablo Picasso. It was created in response to the bombing of Guernica, Basque Country, by German and Italian warplanes at the behest of the Spanish Nationalist forces, on 26 April 1937, during the Spanish Civil War...
,
Seurat
Georges-Pierre Seurat
Georges-Pierre Seurat was a French Post-Impressionist painter and draftsman. He is noted for his innovative use of drawing media and for devising a technique of painting known as pointillism...
's
Grande Jatte
, works by
Jackson Pollock
Jackson Pollock
Paul Jackson Pollock , known as Jackson Pollock, was an influential American painter and a major figure in the abstract expressionist movement. During his lifetime, Pollock enjoyed considerable fame and notoriety. He was regarded as a mostly reclusive artist. He had a volatile personality, and...
and
Claude Monet
Claude Monet
Claude Monet was a founder of French impressionist painting, and the most consistent and prolific practitioner of the movement's philosophy of expressing one's perceptions before nature, especially as applied to plein-air landscape painting. . Retrieved 6 January 2007...
,
Velázquez
Diego Velázquez
Diego Rodríguez de Silva y Velázquez was a Spanish painter who was the leading artist in the court of King Philip IV. He was an individualistic artist of the contemporary Baroque period, important as a portrait artist...
's
Las Meninas
Las Meninas
Las Meninas is a 1656 painting by Diego Velázquez, the leading artist of the Spanish Golden Age, in the Museo del Prado in Madrid. The work's complex and enigmatic composition raises questions about reality and illusion, and creates an uncertain relationship between the viewer and the figures...
and
Michelangelo
Michelangelo
Michelangelo di Lodovico Buonarroti Simoni , commonly known as Michelangelo, was an Italian Renaissance painter, sculptor, architect, poet, and engineer who exerted an unparalleled influence on the development of Western art...
's
The Last Judgment
The Last Judgment (Michelangelo)
The Last Judgment is a canonical fresco by the Italian Renaissance master Michelangelo executed on the altar wall of the Sistine Chapel in Vatican City...
are possible series subjects.
Films
Shorts
Documentaries and mockumentaries
Television
Exhibitions
External links