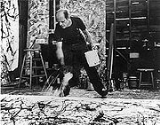 Jackson Pollock
Paul Jackson Pollock
known as
Jackson Pollock
, was an influential American painter and a major figure in the
abstract expressionist
Abstract expressionism
Abstract expressionism was an American post–World War II art movement. It was the first specifically American movement to achieve worldwide influence and put New York City at the center of the western art world, a role formerly filled by Paris...
movement. During his lifetime, Pollock enjoyed considerable fame and notoriety. He was regarded as a mostly reclusive artist. He had a volatile personality, and struggled with alcoholism for most of his life. In 1945, he married the artist
Lee Krasner
Lee Krasner
Lee Krasner was an influential abstract expressionist painter in the second half of the 20th century. On October 25, 1945, she married artist Jackson Pollock, who was also influential in the Abstract Expressionism movement....
, who became an important influence on his career and on his legacy.
Pollock died at the age of 44 in an alcohol-related car accident.
..people have always frightened and bored me, consequently I have been within my own shell.. (1929)

as quoted in Abstract Expressionism David Anfam, Thames and Hudson Ltd London, 1990, p. 30
It came into existence because I had to paint it. Any attempt on my part to say something about it, to attempt explanation of the inexplicable, could only destroy it. (1947, on his painting 'She wolf')

as quoted in Abstract Expressionism, David Anfam, Thames and Hudson Ltd London, 1990, p. 87
Energy and motion made visible – memories arrested in space. (around 1948-'49)

as quoted in Abstract Expressionism, David Anfam, Thames and Hudson Ltd London, 1990, p. 121