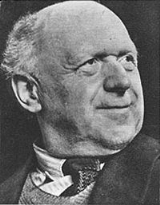 Otto Neurath
Otto Neurath
was an
Austria
Austria
Austria , officially the Republic of Austria , is a landlocked country of roughly 8.4 million people in Central Europe. It is bordered by the Czech Republic and Germany to the north, Slovakia and Hungary to the east, Slovenia and Italy to the south, and Switzerland and Liechtenstein to the...
n
philosopher of science
Philosophy of science
The philosophy of science is concerned with the assumptions, foundations, methods and implications of science. It is also concerned with the use and merit of science and sometimes overlaps metaphysics and epistemology by exploring whether scientific results are actually a study of truth...
,
sociologist
Sociology
Sociology is the study of society. It is a social science—a term with which it is sometimes synonymous—which uses various methods of empirical investigation and critical analysis to develop a body of knowledge about human social activity...
, and
political economist
Political economy
Political economy originally was the term for studying production, buying, and selling, and their relations with law, custom, and government, as well as with the distribution of national income and wealth, including through the budget process. Political economy originated in moral philosophy...
. Before he was forced to flee his native country for
Great Britain
Great Britain
Great Britain or Britain is an island situated to the northwest of Continental Europe. It is the ninth largest island in the world, and the largest European island, as well as the largest of the British Isles...
in the wake of the
Nazi
Nazism
Nazism, the common short form name of National Socialism was the ideology and practice of the Nazi Party and of Nazi Germany...
occupation, Neurath was one of the leading figures of the
Vienna Circle
Vienna Circle
The Vienna Circle was an association of philosophers gathered around the University of Vienna in 1922, chaired by Moritz Schlick, also known as the Ernst Mach Society in honour of Ernst Mach...
.
Biography
Neurath was born in
Vienna
Vienna
Vienna is the capital and largest city of the Republic of Austria and one of the nine states of Austria. Vienna is Austria's primary city, with a population of about 1.723 million , and is by far the largest city in Austria, as well as its cultural, economic, and political centre...
, the son of
Wilhelm Neurath
(1840–1901), a well-known political economist at the time. He studied mathematics in Vienna and gained his
Ph.D.
Ph.D.
A Ph.D. is a Doctor of Philosophy, an academic degree.Ph.D. may also refer to:* Ph.D. , a 1980s British group*Piled Higher and Deeper, a web comic strip*PhD: Phantasy Degree, a Korean comic series* PhD Docbook renderer, an XML renderer...
in the department of
Political Science
Political science
Political Science is a social science discipline concerned with the study of the state, government and politics. Aristotle defined it as the study of the state. It deals extensively with the theory and practice of politics, and the analysis of political systems and political behavior...
and
Statistics
Statistics
Statistics is the study of the collection, organization, analysis, and interpretation of data. It deals with all aspects of this, including the planning of data collection in terms of the design of surveys and experiments....
at the University of Berlin.
He married
Anna Schapire
in 1907. She died as a result of childbirth (Paul Neurath) in 1911, and he married a close friend, the mathematician and philosopher
Olga Hahn
Olga Hahn-Neurath
Olga Hahn-Neurath was an Austrian mathematician and philosopher. She is best known for being a member of the Vienna Circle. She was sister of the mathematician Hans Hahn....
. Perhaps because of Olga's blindness and then because of the outbreak of war, his son, Paul Neurath was sent to a children's home outside Vienna, where Neurath's mother lived, and returned to live with his father and Olga when he was nine years old.
Neurath taught political economy at the
Neue Wiener Handelsakademie
(New College of Commerce, Venna) until war broke out. Subsequently he became director of the
Deutsches Kriegwirtschaftsmuseum
(German Museum of War Economy, later the
Deutsches Wirtschaftmuseum
) at Leipzig. Wolfgang Schumann, known from the
Dürerbund
Dürerbund
The Dürerbund was an organization of writers and artists with a strong influence on the intellectual life of the middle class in the German Reich, but also in Austria and Switzerland....
for which Neurath had written many articles, urged him to work out a plan for socialization. Neurath joined the German Social Democratic Party in 1918-19 and ran an office for central economic planning in
Munich
Munich
Munich The city's motto is "" . Before 2006, it was "Weltstadt mit Herz" . Its native name, , is derived from the Old High German Munichen, meaning "by the monks' place". The city's name derives from the monks of the Benedictine order who founded the city; hence the monk depicted on the city's coat...
. When the
Bavarian Soviet Republic
Bavarian Soviet Republic
The Bavarian Soviet Republic, also known as the Munich Soviet Republic was, as part of the German Revolution of 1918–1919, the short-lived attempt to establish a socialist state in form of a council republic in the Free State of Bavaria. It sought independence from the also recently proclaimed...
was defeated, Neurath was imprisoned but returned to Austria after intervention from the Austrian government. While in prison he wrote "Anti-Spengler", a critical attack on
Oswald Spengler
Oswald Spengler
Oswald Manuel Arnold Gottfried Spengler was a German historian and philosopher whose interests also included mathematics, science, and art. He is best known for his book The Decline of the West , published in 1918, which puts forth a cyclical theory of the rise and decline of civilizations...
's "Decline of the West".
In Vienna, he became secretary for the Austrian Association for Housing and Small Gardens (
Verband für Siedlungs-und Kleingarenwesen
), a collection of self-help groups that set out to provide housing and garden plots to its members. In 1923, he became the director of a new museum for housing and city planning
(Siedlungsmuseum)
. In 1925 he opened the
Gesellschafts-und Wirtschaftsmuseum
, or "Social and Economic Museum", which led him to work on
graphic design
Graphic design
Graphic design is a creative process – most often involving a client and a designer and usually completed in conjunction with producers of form – undertaken in order to convey a specific message to a targeted audience...
and visual education. With the illustrator
Gerd Arntz
Gerd Arntz
Gerd Arntz was a German Modernist artist - famous for his black and white woodcuts. A core member of the Cologne Progressives he was also a council communist...
and with
Marie Reidemeister
Marie Neurath
Marie Neurath, born Marie Reidemeister , was a member of the team that developed the Vienna Method of Pictorial Statistics , which she later renamed Isotype. She was also a prolific author and designer of educational books for younger readers. Her brother was mathematician Kurt Reidemeister...
(who he would later marry), Neurath created
Isotype
Isotype (pictograms)
Isotype is a method of showing social, technological, biological and historical connections in pictorial form...
, a symbolic way of representing quantitative information via easily interpretable icons.
During the 1920s, Neurath also became an ardent
logical positivist
Logical positivism
Logical positivism is a philosophy that combines empiricism—the idea that observational evidence is indispensable for knowledge—with a version of rationalism incorporating mathematical and logico-linguistic constructs and deductions of epistemology.It may be considered as a type of analytic...
, and was the main author of the
Vienna Circle
Vienna Circle
The Vienna Circle was an association of philosophers gathered around the University of Vienna in 1922, chaired by Moritz Schlick, also known as the Ernst Mach Society in honour of Ernst Mach...
manifesto. He was the driving force behind the
Unity of Science
Unified Science
"Unified Science" can refer to any of three related strands in contemporary thought.* Belief in the unity of science was a central tenet of logical positivism. Different logical positivists construed this doctrine in several different ways, e.g...
movement and the
International Encyclopedia of Unified Science
International Encyclopedia of Unified Science
In 1938 a new series of publications started in USA. It was the International Encyclopedia of Unified Science . An ambitious project never completed devoted to unified science...
. During the 1930s, he also began promoting Isotype as an International Picture Language, connecting it both with the adult education movement and with the Internationalist passion for new and artificial languages, although he stressed in talks and correspondence that Isotype was not intended to be a stand-alone language, and was limited in what it could communicate.
Austria after the
Anschluss
Anschluss
The Anschluss , also known as the ', was the occupation and annexation of Austria into Nazi Germany in 1938....
was no place for Marxists. Neurath was a socialist of Jewish heritage, and had been active in the construction of
Red Vienna
Red Vienna
Red Vienna was the nickname of the capital of Austria between 1918 and 1934, when the Social Democrats had the majority and the city was democratically governed for the first time.-Social situation after World War I:...
. He and his wife fled, first to
Holland
. There Olga died and after the
Luftwaffe
Luftwaffe
Luftwaffe is a generic German term for an air force. It is also the official name for two of the four historic German air forces, the Wehrmacht air arm founded in 1935 and disbanded in 1946; and the current Bundeswehr air arm founded in 1956....
bombing of
Rotterdam
Rotterdam
Rotterdam is the second-largest city in the Netherlands and one of the largest ports in the world. Starting as a dam on the Rotte river, Rotterdam has grown into a major international commercial centre...
he fled with Marie Reidemeister to England, crossing the
Channel
English Channel
The English Channel , often referred to simply as the Channel, is an arm of the Atlantic Ocean that separates southern England from northern France, and joins the North Sea to the Atlantic. It is about long and varies in width from at its widest to in the Strait of Dover...
with other refugees in an open boat. He and Marie married after a period interned on the
Isle of Man
Isle of Man
The Isle of Man , otherwise known simply as Mann , is a self-governing British Crown Dependency, located in the Irish Sea between the islands of Great Britain and Ireland, within the British Isles. The head of state is Queen Elizabeth II, who holds the title of Lord of Mann. The Lord of Mann is...
(Neurath was in
Onchan
Onchan
Onchan , is a village in the parish of Onchan on the Isle of Man. It is at the north end of Douglas Bay. Although administratively a village, it has the second largest population on the island, after Douglas, with which it forms a conurbation....
camp). In England, he and Marie set up the Isotype Institute in
Oxford
Oxford
The city of Oxford is the county town of Oxfordshire, England. The city, made prominent by its medieval university, has a population of just under 165,000, with 153,900 living within the district boundary. It lies about 50 miles north-west of London. The rivers Cherwell and Thames run through...
and he was asked to advise on, and design Isotype charts for, the intended redevelopment of the slums of
Bilston
Bilston
Bilston is a town in the English county of West Midlands, situated in the southeastern corner of the City of Wolverhampton. Three wards of Wolverhampton City Council cover the town: Bilston East and Bilston North, which almost entirely comprise parts of the historic Borough of Bilston, and...
, near
Wolverhampton
Wolverhampton
Wolverhampton is a city and metropolitan borough in the West Midlands, England. For Eurostat purposes Walsall and Wolverhampton is a NUTS 3 region and is one of five boroughs or unitary districts that comprise the "West Midlands" NUTS 2 region...
. Neurath died, suddenly and unexpectedly in December 1945. After his death,
Marie Neurath
Marie Neurath
Marie Neurath, born Marie Reidemeister , was a member of the team that developed the Vienna Method of Pictorial Statistics , which she later renamed Isotype. She was also a prolific author and designer of educational books for younger readers. Her brother was mathematician Kurt Reidemeister...
continued the work of the Isotype Institute, publishing Neurath's writings posthumously, completing projects he had started and writing many children's books using the Isotype system, until her death in the 1980s.
Work
Most work by and about Neurath is still available only in German. However he also wrote in English, using Ogden's
Basic English
Basic English
Basic English, also known as Simple English, is an English-based controlled language created by linguist and philosopher Charles Kay Ogden as an international auxiliary language, and as an aid for teaching English as a Second Language...
. His scientific papers are held at the Noord-Hollands Archief in Haarlem; the Otto and Marie Neurath Isotype Collection is held in the Department of Typography & Graphic Communication at the
University of Reading
University of Reading
The University of Reading is a university in the English town of Reading, Berkshire. The University was established in 1892 as University College, Reading and received its Royal Charter in 1926. It is based on several campuses in, and around, the town of Reading.The University has a long tradition...
in England.
Philosophy of science and language
In one of his later and most important works,
Physicalism
, Neurath completely transformed the nature of the logical positivist discussion of the program of unifying the sciences. Neurath delineates and explains his points of agreement with the general principles of the positivist program and its conceptual bases:
the construction of a universal system which would comprehend all of the knowledge furnished by the various sciences, and
the absolute rejection of metaphysics, in the sense of all propositions not translatable into verifiable scientific sentences.
He then rejects the positivist treatment of language in general and, in particular, some of Wittgenstein's early fundamental ideas.
First Neurath rejects isomorphism between language and reality as useless metaphysical speculation, which would call for explaining how words and sentences could represent things in the external world. Instead, Neurath proposed that language and reality coincide—that reality consists in simply the totality of previously verified sentences in the language, and "truth" of a sentence is about its relationship to the totality of already verified sentences. Either a sentence failing to "concord" (or cohere) with the totality of the sentences already verified, should be considered false, or that some of that totality's propositions must in some way be modified. He thus views truth as a question of internal
coherence
Coherence theory of truth
Coherence theory of truth regards truth as coherence with some specified set of sentences, propositions or beliefs. There is no single coherence theory of truth, but rather an assortment of perspectives that are commonly collected under this title...
of linguistic assertions, rather than anything to do with facts or other entities in the world. Moreover, the criterion of verification is to be applied to the system as a whole (see
semantic holism
Semantic holism
Semantic holism is a doctrine in the philosophy of language to the effect that a certain part of language, be it a term or a complete sentence, can only be understood through its relations to a larger segment of language. There is substantial controversy, however, as to exactly what the larger...
) and not to single sentences. Such ideas exercised a profound influence over the
holistic verificationism
of W.V.O. Quine.
In fact, it was Quine, in
Word and Object
Word and Object
Word and Object is a 1960 book of epistemology by Willard Van Orman Quine. In it, Quine develops his thesis of the Indeterminacy of translation....
(p. 3f), who made famous Neurath's analogy which compares the holistic nature of language and consequently scientific verification with the construction of a boat which is already at sea:

We are like sailors who on the open sea must reconstruct their ship but are never able to start afresh from the bottom. Where a beam is taken away a new one must at once be put there, and for this the rest of the ship is used as support. In this way, by using the old beams and driftwood the ship can be shaped entirely anew, but only by gradual reconstruction.

Stanovich
Keith Stanovich
Keith E. Stanovich is the Canada Research Chair of Applied Cognitive Science at the Department of Human Development and Applied Psychology, University of Toronto. His research areas are the psychology of reasoning and the psychology of reading...
discusses this metaphor in context of memes and memeplexes and refers to this metaphor as a "
Neurathian bootstrap
Neurathian bootstrap
The Neurathian bootstrap is based on a metaphor Otto Neurath used to describe a philosophy of science. The metaphor is based on a quote from Quine's writings in Word and Object:...
".
Neurath also went on to reject the notion that science should be reconstructed in terms of sense data, since perceptual experiences are too subjective to constitute a valid foundation for the formal reconstruction of science. The phenomenological language that most positivists were still emphasizing was to be replaced, in his view, with the language of mathematical physics. This would allow for the objective formulations required because it is based on spatio-temporal coordinates. Such a
physicalistic
approach to the sciences would facilitiate the elimination of every residual element of metaphysics because it would permit them to be reduced to a system of assertions relative to physical facts.
Finally, Neurath suggested that since language itself is a physical system, because it is made up of an ordered succession of sounds or symbols, it is capable of describing its own structure without contradiction.
These ideas helped form the foundation of the sort of
physicalism
Physicalism
Physicalism is a philosophical position holding that everything which exists is no more extensive than its physical properties; that is, that there are no kinds of things other than physical things...
which is still today the dominant position with regard to metaphysics and, especially, the
philosophy of mind
Philosophy of mind
Philosophy of mind is a branch of philosophy that studies the nature of the mind, mental events, mental functions, mental properties, consciousness and their relationship to the physical body, particularly the brain. The mind-body problem, i.e...
.
Publications
Otto Neurath wrote several books and articles. Books, a selection:
1913. Serbiens Erfolge im Balkankriege : eine wirtschaftliche und soziale Studie. Wien : Manz.
1921. Anti-Spengler. München, G.D.W. Callwey.
1926. Antike Wirtschaftsgeschichte. Leipzig, Berlin : B. G. Teubner.
1928. Lebensgestaltung und Klassenkampf. Berlin : E. Laub.
1933 Einheitswissenschaft und Psychologie. Wien.
1936. International Picture Language; the First Rules of Isotype. London : K. Paul, Trench, Trubner & co., ltd., 1936
1937. Basic by Isotype. London, K. Paul, Trench, Trubner & co., ltd.
1939. Modern Man in the Making. Alfred A. Knopf
1944. Foundations of the Social Sciences. University of Chicago Press
1944. International Encyclopedia of Unified Science. With Rudolf Carnap

Rudolf Carnap

Rudolf Carnap was an influential German-born philosopher who was active in Europe before 1935 and in the United States thereafter. He was a major member of the Vienna Circle and an advocate of logical positivism....


, and Charles W. Morris

Charles W. Morris

Charles W. Morris was an American semiotician and philosopher.-Background:A son of Charles William and Laura Morris, Charles William Morris was born on May 23, 1901...


(eds.). University of Chicago Press.
1946. Philosophical Papers, 1913–1946. Marie Neurath and Robert Cohen, with Carolyn R. Fawcett, eds.
1973. Empiricism and Sociology. Marie Neurath and Robert Cohen, eds. With a selection of biographical and autobiographical sketches by Popper and Carnap. Includes abridged translation of Anti-Spengler.
Articles, a selection:
1912. The problem of the pleasure maximum. In: Cohen and Neurath (eds.) 1983
1913. The lost wanderers of Descartes and the auxiliary motive. In: Cohen and Neurath 1983
1916. On the classification of systems of hypotheses. In: Cohen and Neurath 1983
1919. Through war economy to economy in kind. In: Neurath 1973 (a short fragment only)
1920a. Total socialisation. In: Cohen and Uebel 2004
1920b. A system of socialisation. In: Cohen and Uebel 2004
1928. Personal life and class struggle. In: Neurath 1973
1930. Ways of the scientific world-conception. In: Cohen and Neurath 1983
1931a. The current growth in global productive capacity. In: Cohen and Uebel 2004
1931b. Empirical sociology. In: Neurath 1973
1932. Protokollsätze (Protocol statements).In: Erkenntnis, Vol. 3. Repr.: Cohen and Neurath 1983
1935a. Pseudorationalism of falsification. In: Cohen and Neurath 1983
1935b. The unity of science as a task. In: Cohen and Neurath 1983
1940. Argumentation and action. The Otto Neurath Nachlass in Haarlem 198 K.41
1941. The danger of careless terminology. In: The New Era 22: 145–50
1942. International planning for freedom. In: Neurath 1973
1943. Planning or managerial revolution. (Review of J. Burnham, The Managerial Revolution). The New Commonwealth 148–54
1943–5. Neurath–Carnap correspondence, 1943–1945. The Otto Neurath Nachlass in Haarlem, 223
1944b. Ways of life in a world community. The London Quarterly of World Affairs, 29–32
1945a. Physicalism, planning and the social sciences: bricks prepared for a discussion v. Hayek. 26 July 1945. The Otto Neurath Nachlass in Haarlem 202 K.56
1945b. Neurath–Hayek correspondence, 1945. The Otto Neurath Nachlass in Haarlem 243
1945c. Alternatives to market competition. (Review of F. Hayek, The Road to Serfdom). The London Quarterly of World Affairs 121–2
1946a. The orchestration of the sciences by the encyclopedism of logical empiricism. In: Cohen and. Neurath 1983
1946b. After six years. In: Synthese 5:77–82
1946c. The orchestration of the sciences by the encyclopedism of logical empiricism. In: Cohen and. Neurath 1983
1946. From Hieroglyphics to Isotypes. Nicholson and Watson. Excerpts. Rotha (1946) claims that this is in part Neurath's autobiography.
Further reading
Cartwright Nancy

Nancy Cartwright

Nancy Campbell Cartwright is an American film and television actress, comedian and voice artist. She is best known for her long-running role as Bart Simpson on the animated television series The Simpsons...


, J. Cat, L. Fleck, and T. Uebel, 1996. Otto Neurath: philosophy between science and politics. Cambridge University Press

Cambridge University Press

Cambridge University Press is the publishing business of the University of Cambridge. Granted letters patent by Henry VIII in 1534, it is the world's oldest publishing house, and the second largest university press in the world...



Cohen R. S. and M. Neurath (eds.) 1983. Otto Neurath: philosophical papers. Reidel
Cohen, R. S. and T. Uebel (eds.) 2004. Otto Neurath: economic writings 1904–1945. Kluwer
Matthew Eve and Christopher Burke: Otto Neurath: From Hieroglyphics to Isotype. A visual Autobiography, Hyphen Press, London 2010
Kraeutler, Hadwig. 2008. Otto Neurath. Museum and Exhibition Work – Spaces (Designed) for Communication. Frankfurt, Berlin, Bern, Bruxelles, New York, Oxford, Vienna, Peter Lang Internationaler Verlag der Wissenschaften.
Nemeth, E., and Stadler, F., eds., "Encyclopedia and Utopia: The Life and Work of Otto Neurath (1882–1945)." Vienna Circle Institute Yearbook, vol. 4.
O'Neill, John

John O'Neill (philosopher)

John O'Neill is a philosopher. He is professor of Political Economy at the University of Manchester.-Academic history:John O'Neill held the post of professor of philosophy at Lancaster University....


, 2003, "Unified science as political philosophy: positivism, pluralism and liberalism," Studies in History and Philosophy of Science.
Rotha, Paul

Paul Rotha

Paul Rotha was a British documentary film-maker, film historian and critic. He was educated at Highgate School....


, 1946, "From Hieroglyphs to Isotypes".
Vossoughian, Nader. 2008. Otto Neurath: The Language of the Global Polis. NAi Publishers. ISBN 9789056623500
Danilo Zolo, 1990, Reflexive Epistemology and Social Complexity. The Philosophical Legacy of Otto Neurath, Dordrecht: Kluwer
External links