 Obatzda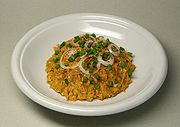 Obatzda
ˈoːbatsdɐ is a
Bavaria
Bavaria
Bavaria, formally the Free State of Bavaria is a state of Germany, located in the southeast of Germany. With an area of , it is the largest state by area, forming almost 20% of the total land area of Germany...
n
cheese
Cheese
Cheese is a generic term for a diverse group of milk-based food products. Cheese is produced throughout the world in wide-ranging flavors, textures, and forms....
delicacy. It is prepared by mixing two thirds aged soft cheese, usually
Camembert
Camembert (cheese)
Camembert is a soft, creamy, surface-ripened cow's milk cheese. It was first made in the late 18th century in Normandy in northern France.-Production:...
(Romadur or similar cheeses may be used as well) and one third
butter
Butter
Butter is a dairy product made by churning fresh or fermented cream or milk. It is generally used as a spread and a condiment, as well as in cooking applications, such as baking, sauce making, and pan frying...
.
Sweet or hot
paprika
Paprika
Paprika is a spice made from the grinding of dried fruits of Capsicum annuum . In many European languages, the word paprika refers to bell peppers themselves. The seasoning is used in many cuisines to add color and flavor to dishes. Paprika can range from mild to hot...
powder
Powder (substance)
A powder is a dry,thick bulk solid composed of a large number of very fine particles that may flow freely when shaken or tilted. Powders are a special sub-class of granular materials, although the terms powder and granular are sometimes used to distinguish separate classes of material...
,
salt
Salt
In chemistry, salts are ionic compounds that result from the neutralization reaction of an acid and a base. They are composed of cations and anions so that the product is electrically neutral...
,
pepper
Black pepper
Black pepper is a flowering vine in the family Piperaceae, cultivated for its fruit, which is usually dried and used as a spice and seasoning. The fruit, known as a peppercorn when dried, is approximately in diameter, dark red when fully mature, and, like all drupes, contains a single seed...
are the traditional seasonings. An optional amount of
onion
Onion
The onion , also known as the bulb onion, common onion and garden onion, is the most widely cultivated species of the genus Allium. The genus Allium also contains a number of other species variously referred to as onions and cultivated for food, such as the Japanese bunching onion The onion...
s,
garlic
Garlic
Allium sativum, commonly known as garlic, is a species in the onion genus, Allium. Its close relatives include the onion, shallot, leek, chive, and rakkyo. Dating back over 6,000 years, garlic is native to central Asia, and has long been a staple in the Mediterranean region, as well as a frequent...
,
horseradish
Horseradish
Horseradish is a perennial plant of the Brassicaceae family, which also includes mustard, wasabi, broccoli, and cabbages. The plant is probably native to south eastern Europe and the Arab World , but is popular around the world today...
, cloves, ground
cumin
Cumin
Cumin is a flowering plant in the family Apiaceae, native from the east Mediterranean to India. Its seeds are used in the cuisines of many different cultures, in both whole and ground form.-Etymology:...
or
caraway
Caraway
Caraway also known as meridian fennel, or Persian cumin is a biennial plant in the family Apiaceae, native to western Asia, Europe and Northern Africa....
seeds may be used and some
cream
Cream
Cream is a dairy product that is composed of the higher-butterfat layer skimmed from the top of milk before homogenization. In un-homogenized milk, over time, the lighter fat rises to the top. In the industrial production of cream this process is accelerated by using centrifuges called "separators"...
as well. The cheeses and spices are mixed together into a smooth mass. It is usually eaten spread on bread or
pretzel
Pretzel
A pretzel is a type of baked food made from dough in soft and hard varieties and savory or sweet flavors in a unique knot-like shape, originating in Europe...
s.
Obatzda
is a classic example of Bavarian
biergarten
Beer garden
Beer garden is an open-air area where beer, other drinks and local food are served. The concept originates from and is most common in Southern Germany...
food.
A similar
Austria
Austria
Austria , officially the Republic of Austria , is a landlocked country of roughly 8.4 million people in Central Europe. It is bordered by the Czech Republic and Germany to the north, Slovakia and Hungary to the east, Slovenia and Italy to the south, and Switzerland and Liechtenstein to the...
n/
Hungarian
/
Slovakia
Slovakia
The Slovak Republic is a landlocked state in Central Europe. It has a population of over five million and an area of about . Slovakia is bordered by the Czech Republic and Austria to the west, Poland to the north, Ukraine to the east and Hungary to the south...
n recipe is called
Liptauer
Liptauer
Liptauer is a spicy cheese spread made with sheep milk cheese, goat's milk cheese, quark cheese or cottage cheese. It is a part of Slovak cuisine , Hungarian cuisine , Austrian cuisine and Italian cuisine...
which uses fresh
curd
Curd
Curds are a dairy product obtained by curdling milk with rennet or an edible acidic substance such as lemon juice or vinegar, and then draining off the liquid portion. The increased acidity causes the milk proteins to tangle into solid masses, or curds. The remaining liquid, which contains only...
cheese as a substitute soft cheeses and the butter, but uses about the same spice mix.
It is also very similar to Welsh rarebit, although Obatzda is served cold and Welsh rarebit hot.
External links