 Nakuru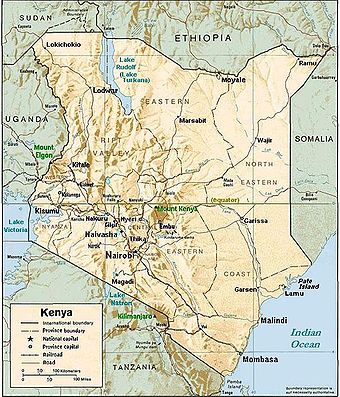 Nakuru
, the provincial capital of
Kenya
Kenya
Kenya , officially known as the Republic of Kenya, is a country in East Africa that lies on the equator, with the Indian Ocean to its south-east...
's
Rift Valley
Rift Valley Province, Kenya
Rift Valley Province of Kenya, bordering Uganda, is one of Kenya's seven administrative provinces outside Nairobi.Rift Valley Province is the largest and one of the most economically important provinces in Kenya. It is dominated by the Great Rift Valley which passes through it and gives the...
province
Subdivisions of Kenya
Kenya comprises eight provinces each headed by a Provincial Commissioner . The provinces are subdivided into districts . There were 69 districts as of 1999 census. Districts are then subdivided into 497 divisions...
, with roughly 300,000 inhabitants, and currently the fourth largest urban centre in the country, lies about 1850 m above sea level. It is also the capital of
Nakuru District
Nakuru District
Nakuru District is a district in the Rift Valley Province, Kenya. The district capital is Nakuru. With a population of 1,187,039 , it is the second largest district in Kenya after Nairobi. Nakuru District has an area of 7,242 km²....
.
History
The history of Nakuru
http://www.margiti.com/Nakuru
can perhaps be traced to the prehistoric period due to the archeological discoveries located about 8 km from the Central Business District at the
Hyrax Hill
Hyrax Hill
Hyrax Hill is a prehistoric site near Nakuru in the Rift Valley province of Kenya. It is considered one of the country's most important neolithic excavation sites. Hyrax Hill dates from 1500 B.C. and was discovered by Louis and Mary Leakey in 1926....
reserve. Nakuru is Kenya's 3rd largest residency, larger even than the smallest of the three cities, Kisumu. However, the modern town, as with many others in Kenya, derives its name from the
Maasai
Maasai language
The Maasai language is an Eastern Nilotic language spoken in Southern Kenya and Northern Tanzania by the Maasai people, numbering about 800,000...
speaking people of Kenya. Nakuru was established by the British as part of the White highlands during the colonial era and it has continued growing into a cosmopolitan town. It received township status in 1904 and became a municipality in 1952.
The history of Kenya as a country is closely intertwined with that of Nakuru as a town and a district. The first and second presidents of Kenya maintained their semi-official residents within the town, Mzee
Jomo Kenyatta
Jomo Kenyatta
Jomo Kenyattapron.] served as the first Prime Minister and President of Kenya. He is considered the founding father of the Kenyan nation....
, and within the district, Mzee
Daniel arap Moi
Daniel arap Moi
Daniel Toroitich arap Moi was the President of Kenya from 1978 until 2002.Daniel arap Moi is popularly known to Kenyans as 'Nyayo', a Swahili word for 'footsteps'...
. The town for a long time has been the hotbed of Kenyan politics and it was home to a variety of colorful politicians including the late Kariuki Chotara, Kihika Kimani and the late Mirugi Kariuki.
In 2006, the then MP, Mirugi Kariuki was killed in a plane crash in
Marsabit
Marsabit
Marsabit is a town in northern Kenya, located 170 km east of the center of the East African Rift at 37°58' E, 2°19' N . It is located in the Eastern Province and is almost surrounded by the Marsabit National Park and Reserve...
on his way to a peace meeting. The crash also killed five other members of parliament. The ensuing by-election was contested and won by his son, William Kariuki Mirugi of the
Narc-Kenya
Narc-Kenya
The National Rainbow Coalition–Kenya is a political party in Kenya. The party was formed after the defeat of the Government sponsored Draft constitution. It was formed by National Rainbow Coalition members loyal to the government...
party. At the age of 27, Hon. William Kariuki Mirugi became one of the youngest members of parliament to represent
Nakuru Town Constituency
Nakuru Town Constituency
Nakuru Town Constituency is an electoral constituency in Kenya. It is one of six constituencies in Nakuru District. The constituency was established for the 1963 elections. The entire constituency is located within Nakuru municipality....
. He was however defeated by Lee Kinyanjui during the 2007 general elections beating his close rival Mike Brawan. The 2007 post-election violence also took a toll on the town, with dozens of buildings burnt to the ground by various factions.
Nakuru is a sister city of
East Orange, New Jersey
East Orange, New Jersey
East Orange is a city in Essex County, New Jersey, United States. As of the 2010 United States Census the city's population 64,270, making it the state's 20th largest municipality, having dropped 5,554 residents from its population of 69,824 in the 2000 Census, when it was the state's 14th most...
http://www.sister-cities.org/icrc/directory/Africa/Kenya
.
Economy
Agriculture
Agriculture
Agriculture is the cultivation of animals, plants, fungi and other life forms for food, fiber, and other products used to sustain life. Agriculture was the key implement in the rise of sedentary human civilization, whereby farming of domesticated species created food surpluses that nurtured the...
,
manufacturing
Manufacturing
Manufacturing is the use of machines, tools and labor to produce goods for use or sale. The term may refer to a range of human activity, from handicraft to high tech, but is most commonly applied to industrial production, in which raw materials are transformed into finished goods on a large scale...
and
tourism
Tourism
Tourism is travel for recreational, leisure or business purposes. The World Tourism Organization defines tourists as people "traveling to and staying in places outside their usual environment for not more than one consecutive year for leisure, business and other purposes".Tourism has become a...
are the backbone of the economy of Nakuru. The area surrounding the town is known for its vast agricultural potential with numerous small farms and also vast agricultural enterprises..The main crops grown around Nakuru and marketed in the town include
coffee
Coffee
Coffee is a brewed beverage with a dark,init brooo acidic flavor prepared from the roasted seeds of the coffee plant, colloquially called coffee beans. The beans are found in coffee cherries, which grow on trees cultivated in over 70 countries, primarily in equatorial Latin America, Southeast Asia,...
,
wheat
Wheat
Wheat is a cereal grain, originally from the Levant region of the Near East, but now cultivated worldwide. In 2007 world production of wheat was 607 million tons, making it the third most-produced cereal after maize and rice...
,
barley
Barley
Barley is a major cereal grain, a member of the grass family. It serves as a major animal fodder, as a base malt for beer and certain distilled beverages, and as a component of various health foods...
,
maize
Maize
Maize known in many English-speaking countries as corn or mielie/mealie, is a grain domesticated by indigenous peoples in Mesoamerica in prehistoric times. The leafy stalk produces ears which contain seeds called kernels. Though technically a grain, maize kernels are used in cooking as a vegetable...
, and
bean
Bean
Bean is a common name for large plant seeds of several genera of the family Fabaceae used for human food or animal feed....
s. These crops are stored in massive
silo
Silo
A silo is a structure for storing bulk materials.Silo may also refer to:* Silo , a 3D modeling software* Silo , a defunct chain of retail electronics stores* SILO , used in Linux...
s at the outskirts of the town by the National Cereals and Produce Board and Lesiolo Grain Handlers Limited. The crops provide the primary raw material for the manufacturing industries found in Nakuru and Nairobi. These industries include flour milling and grain ginneries.
Dairy farming
Dairy farming
Dairy farming is a class of agricultural, or an animal husbandry, enterprise, for long-term production of milk, usually from dairy cows but also from goats and sheep, which may be either processed on-site or transported to a dairy factory for processing and eventual retail sale.Most dairy farms...
is a key economic activity and provides the inputs for various milk processing plants around the town.
The town is also a center for various retail businesses that provide goods and services to the manufacturing and agricultural sectors. A large public
market
Market
A market is one of many varieties of systems, institutions, procedures, social relations and infrastructures whereby parties engage in exchange. While parties may exchange goods and services by barter, most markets rely on sellers offering their goods or services in exchange for money from buyers...
lies to the west of the town on the main thoroughfare to the capital,
Nairobi
Nairobi
Nairobi is the capital and largest city of Kenya. The city and its surrounding area also forms the Nairobi County. The name "Nairobi" comes from the Maasai phrase Enkare Nyirobi, which translates to "the place of cool waters". However, it is popularly known as the "Green City in the Sun" and is...
.
Education
Nakuru is also an important educational center. It is the home of
Egerton University
Egerton University
Egerton University is a public university; the main campus is in Njoro, near the city of Nakuru, Kenya. The chancellor is Ambassador Bethuel K Kiplagat and the vice chancellor is Professor J. K. Tuitoek.-History:...
, a large public university, and
Kabarak University
Kabarak University
Kabarak University is a purpose-built Christian based university on a 600 acre farm located twenty kilometres from Nakuru, Kenya on the Nakuru-Eldama Ravine road in Kenya's Rift Valley. The campus features an outdoor swimming pool, sports areas, tree-shaded lawns and residential facilities for...
, a private university associated with former President Moi's business and religious interests. The Rift Valley Institute of Technology is also based here, as is the Kenya Industrial Training Institute (KITI). The Kenya Institute of Management (KIM) has a college branch in Nakuru. Nakuru is now becoming a center of academics with campuses for the University of Nairobi, Kenyatta University, Jomo Kenyatta University of Science and Technology, Mt. Kenya University, The Kenya Methodist University being set up in the town. Other important institutions include The Institute of Advanced Studies, KIBSATenya Institute of Biomedical Sciences and Technology (KIBSAT)]) and most recent Nakuru Counseling & Training Institute [
NCTI
], which is a project of Nakuru Christian Professionals Association. The institute, popularly known as Centre of Hope trains youths at moderate fees and offers full sponsorship to the needy in the community. It partners with Nakurun Lapset ry (Finland) among others.Mwangaza College,initially called the Bishop Ndingi Centre for skills formation,is also another known college in Nakuru.
Nakuru is also a home to various private colleges and privately owned secondary schools. Famous private secondary schools include Melvin Jones Lions Academy,
Greensteds School
Greensteds School
-History:Greensteds School was established in 1936 on a piece of land as a mixed day and boarding school situated 17 kilometres south of Nakuru town, Kenya...
and Shah Lalji Nagpar Academy. Students in these schools follow the British curriculum and education up till A-levels is currently being offered.
Tourism
Nakuru is home to
Lake Nakuru
Lake Nakuru
Lake Nakuru is one of the Rift Valley soda lakes at an elevation of 1754 m above sea level. It lies to the south of Nakuru, in the rift valley of Kenya and is protected by Lake Nakuru National Park....
, one of the
Rift Valley soda lakes
Rift Valley lakes
The Rift Valley lakes are a group of lakes in the Great Rift Valley formed by the East African Rift which runs through the whole eastern side of the African continent from north to south...
, which forms part of the Lake Nakuru National Park. The park has large numbers of
flamingo
Flamingo
Flamingos or flamingoes are gregarious wading birds in the genus Phoenicopterus , the only genus in the family Phoenicopteridae...
es that can be seen foraging in the shallow lake. The park also has many wild animals that can be seen during a safari. Apart from the animals numerous other sites of interest are accessible from Nakuru. These include Menengai Crater, a dormant volcano. Small
fumarole
Fumarole
A fumarole is an opening in a planet's crust, often in the neighborhood of volcanoes, which emits steam and gases such as carbon dioxide, sulfur dioxide, hydrochloric acid, and hydrogen sulfide. The steam is created when superheated water turns to steam as its pressure drops when it emerges from...
s and steam vents can regularly be observed within the forested
caldera
Caldera
A caldera is a cauldron-like volcanic feature usually formed by the collapse of land following a volcanic eruption, such as the one at Yellowstone National Park in the US. They are sometimes confused with volcanic craters...
from above. The second largest surviving volcanic crater in the world, it plunges 483 m down from the rim and the summit is accessible by foot or vehicle 8 km from the main road to
Nyahururu
Nyahururu
Nyahururu is a town in Kenya, lying east of Nakuru. It is part of Laikipia District in Rift Valley Province. Despite this, Nyahururu formerly functioned as the administrative capital of Nyandarua District, one of seven districts that constitute Central Province in Kenya, until the headquarters...
. The wood-covered crater ground is a nature reserve.
Although
Lake Bogoria
Lake Bogoria
Lake Bogoria is a saline, alkaline lake that lies in a volcanic region in a half-graben basin south of Lake Baringo, Kenya, a little north of the equator. Lake Bogoria, like Lake Nakuru, Lake Elmenteita, and Lake Magadi further south in the Rift Valley, and Lake Logipi to the north, is home at...
and
Lake Baringo
Lake Baringo
Lake Baringo is, after Lake Turkana, the most northern of the Great Rift Valley lakes of Kenya, with a surface area of about and an elevation of about . The lake is fed by several rivers, El Molo, Perkerra and Ol Arabel, and has no obvious outlet; the waters are assumed to seep through lake...
are in Baringo District, they are easily accessible from Nakuru. These are major tourist attraction sites too.
The Rift Valley Sports Club lies in the centre of the town. A number of sporting activities are hosted at this club and popular among them is
cricket
Cricket
Cricket is a bat-and-ball game played between two teams of 11 players on an oval-shaped field, at the centre of which is a rectangular 22-yard long pitch. One team bats, trying to score as many runs as possible while the other team bowls and fields, trying to dismiss the batsmen and thus limit the...
. The local Indian community can be found at cricket fixtures throughout the year.
The town hosts an annual rugby festival dubbed "The Great Rift 10-a-side" which features teams from across the East Africa region.
Hyrax Hill
Hyrax Hill
Hyrax Hill is a prehistoric site near Nakuru in the Rift Valley province of Kenya. It is considered one of the country's most important neolithic excavation sites. Hyrax Hill dates from 1500 B.C. and was discovered by Louis and Mary Leakey in 1926....
Prehistoric Site, discovered by the Leakeys in 1926, is considered a major
Neolithic
Neolithic
The Neolithic Age, Era, or Period, or New Stone Age, was a period in the development of human technology, beginning about 9500 BC in some parts of the Middle East, and later in other parts of the world. It is traditionally considered as the last part of the Stone Age...
and
Iron Age
Iron Age
The Iron Age is the archaeological period generally occurring after the Bronze Age, marked by the prevalent use of iron. The early period of the age is characterized by the widespread use of iron or steel. The adoption of such material coincided with other changes in society, including differing...
site. The adjoining museum features finds from various nearby excavations.
People
Nakuru is populated by people from the whole of Kenya and from many regions of the world. The town has a sizable population of Kenyans of Indian origin and a few of the original settler families also remained in the area. Although the town's population is predominantly African, the town has a cosmopolitan feel. People from different regions of the country have added a unique flavor to the town. The people and their politics make Nakuru a vibrant town. As per 1999 Kenya Population Census
http://treasury.go.ke/cbs.go.ke/pdf/authority.pdf
, Nakuru had the third largest urban population in Kenya.
Surrounding towns include Lanet, which lies approximately 10 km from Nakuru, predominantly a residential town and home to an army base.
Njoro
Njoro
Njoro is an agricultural town 18 km west south west of Nakuru, Kenya. Njoro is the divisional headquarters of Njoro Division of Nakuru District. It houses the divisional headquarters of the provincial administration and the police.- Brief history :...
lies 20 km from Nakuru and is a small agricultural town with a local
university
University
A university is an institution of higher education and research, which grants academic degrees in a variety of subjects. A university is an organisation that provides both undergraduate education and postgraduate education...
aimed at promoting agricultural development in
Kenya
Kenya
Kenya , officially known as the Republic of Kenya, is a country in East Africa that lies on the equator, with the Indian Ocean to its south-east...
, namely
Egerton University
Egerton University
Egerton University is a public university; the main campus is in Njoro, near the city of Nakuru, Kenya. The chancellor is Ambassador Bethuel K Kiplagat and the vice chancellor is Professor J. K. Tuitoek.-History:...
(est. 1934).
John Kitilit of
ODM
Orange Democratic Movement
Orange Democratic Movement refers to a political party in Kenya, which is the successor of a former grassroots people's movement which was formed in the 2005 Kenyan constitutional referendum. The erstwhile single party which separated in August 2007 into two...
was elected the mayor of Nakuru in July 2009, beating the outgoing mayor David Gikaria.
See also
Railway stations in Kenya

Railway stations in Kenya

- Maps :* * * - Existing :* Mombasa - ocean port* Changamwe* Miritini* Mazeras* Mariakani* Maji ya Chumvi* Samburu* Taru* Mackinnon Road* Mwanatibu* Buchuma* Wangala* Maungu* Ndara* Voi - junction** Mwatate** Bura** Mashoti** Maktau** Murka...



External links