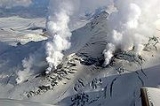 Fumarole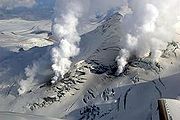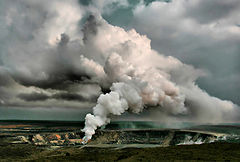 A
fumarole
is an opening in a planet's
crust
Crust (geology)
In geology, the crust is the outermost solid shell of a rocky planet or natural satellite, which is chemically distinct from the underlying mantle...
, often in the neighborhood of
volcano
Volcano
2. Bedrock3. Conduit 4. Base5. Sill6. Dike7. Layers of ash emitted by the volcano8. Flank| 9. Layers of lava emitted by the volcano10. Throat11. Parasitic cone12. Lava flow13. Vent14. Crater15...
es, which emits
steam
Steam
Steam is the technical term for water vapor, the gaseous phase of water, which is formed when water boils. In common language it is often used to refer to the visible mist of water droplets formed as this water vapor condenses in the presence of cooler air...
and
gas
Gas
Gas is one of the three classical states of matter . Near absolute zero, a substance exists as a solid. As heat is added to this substance it melts into a liquid at its melting point , boils into a gas at its boiling point, and if heated high enough would enter a plasma state in which the electrons...
es such as
carbon dioxide
Carbon dioxide
Carbon dioxide is a naturally occurring chemical compound composed of two oxygen atoms covalently bonded to a single carbon atom...
,
sulfur dioxide
Sulfur dioxide
Sulfur dioxide is the chemical compound with the formula . It is released by volcanoes and in various industrial processes. Since coal and petroleum often contain sulfur compounds, their combustion generates sulfur dioxide unless the sulfur compounds are removed before burning the fuel...
,
hydrochloric acid
Hydrochloric acid
Hydrochloric acid is a solution of hydrogen chloride in water, that is a highly corrosive, strong mineral acid with many industrial uses. It is found naturally in gastric acid....
, and
hydrogen sulfide
Hydrogen sulfide
Hydrogen sulfide is the chemical compound with the formula . It is a colorless, very poisonous, flammable gas with the characteristic foul odor of expired eggs perceptible at concentrations as low as 0.00047 parts per million...
. The steam is created when superheated water turns to steam as its pressure drops when it emerges from the ground. The name
solfatara
, from the
Italian
Italian language
Italian is a Romance language spoken mainly in Europe: Italy, Switzerland, San Marino, Vatican City, by minorities in Malta, Monaco, Croatia, Slovenia, France, Libya, Eritrea, and Somalia, and by immigrant communities in the Americas and Australia...
solfo
, sulfur (via the
Sicilian dialect
Sicilian language
Sicilian is a Romance language. Its dialects make up the Extreme-Southern Italian language group, which are spoken on the island of Sicily and its satellite islands; in southern and central Calabria ; in the southern parts of Apulia, the Salento ; and Campania, on the Italian mainland, where it is...
), is given to fumaroles that emit
sulfur
Sulfur
Sulfur or sulphur is the chemical element with atomic number 16. In the periodic table it is represented by the symbol S. It is an abundant, multivalent non-metal. Under normal conditions, sulfur atoms form cyclic octatomic molecules with chemical formula S8. Elemental sulfur is a bright yellow...
ous gases.
Fumaroles may occur along tiny cracks or long fissures, in chaotic clusters or fields, and on the surfaces of
lava
Lava
Lava refers both to molten rock expelled by a volcano during an eruption and the resulting rock after solidification and cooling. This molten rock is formed in the interior of some planets, including Earth, and some of their satellites. When first erupted from a volcanic vent, lava is a liquid at...
flows and thick deposits of
pyroclastic flow
Pyroclastic flow
A pyroclastic flow is a fast-moving current of superheated gas and rock , which reaches speeds moving away from a volcano of up to 700 km/h . The flows normally hug the ground and travel downhill, or spread laterally under gravity...
s. A
fumarole field
is an area of
thermal spring
Hot Springs
Hot Springs may refer to:* Hot Springs, Arkansas** Hot Springs National Park, Arkansas*Hot Springs, California**Hot Springs, Lassen County, California**Hot Springs, Modoc County, California**Hot Springs, Placer County, California...
s and gas vents where
magma
Magma
Magma is a mixture of molten rock, volatiles and solids that is found beneath the surface of the Earth, and is expected to exist on other terrestrial planets. Besides molten rock, magma may also contain suspended crystals and dissolved gas and sometimes also gas bubbles. Magma often collects in...
or hot
igneous rock
Igneous rock
Igneous rock is one of the three main rock types, the others being sedimentary and metamorphic rock. Igneous rock is formed through the cooling and solidification of magma or lava...
s at shallow depth are releasing gases or interacting with
groundwater
Groundwater
Groundwater is water located beneath the ground surface in soil pore spaces and in the fractures of rock formations. A unit of rock or an unconsolidated deposit is called an aquifer when it can yield a usable quantity of water. The depth at which soil pore spaces or fractures and voids in rock...
. From the perspective of groundwater, fumaroles could be described as a hot spring that boils off all its water before the water reaches the surface.
A good example of fumarole activity on Earth is the famous
Valley of Ten Thousand Smokes
Valley of Ten Thousand Smokes
The Valley of Ten Thousand Smokes is a valley within Katmai National Park and Preserve in Alaska which is filled with ash flow from the eruption of Novarupta on June 6–8, 1912. Following the eruption, thousands of fumaroles vented steam from the ash. Robert F...
, which was formed during the 1912 eruption of
Novarupta
Novarupta
Novarupta, meaning "new eruption", is a volcano located on the Alaska Peninsula in Katmai National Park and Preserve, about southwest of Anchorage. Formed in 1912 during the largest volcanic eruption of the 20th century, Novarupta released 30 times the volume of magma as the 1980 eruption of...
in
Alaska
Alaska
Alaska is the largest state in the United States by area. It is situated in the northwest extremity of the North American continent, with Canada to the east, the Arctic Ocean to the north, and the Pacific Ocean to the west and south, with Russia further west across the Bering Strait...
. Initially, there were thousands of fumaroles in the cooling
ash
Volcanic ash
Volcanic ash consists of small tephra, which are bits of pulverized rock and glass created by volcanic eruptions, less than in diameter. There are three mechanisms of volcanic ash formation: gas release under decompression causing magmatic eruptions; thermal contraction from chilling on contact...
from the eruption, but over time most of them have become extinct. Fumaroles may persist for decades or centuries if they are above a persistent heat source, or disappear within weeks to months if they occur atop a fresh volcanic deposit that quickly cools. There are also an estimated four thousand fumaroles within the boundaries of
Yellowstone National Park
Yellowstone National Park
Yellowstone National Park, established by the U.S. Congress and signed into law by President Ulysses S. Grant on March 1, 1872, is a national park located primarily in the U.S. state of Wyoming, although it also extends into Montana and Idaho...
. In April 2006, a fumarole opened up east of Chair 3 at
Mammoth Mountain Ski Area
Mammoth Mountain Ski Area
Mammoth Mountain Ski Area is a large ski resort located in Eastern California, along the east side of the Sierra Nevada mountain range in the Inyo National Forest.- Description :...
in California. Three ski patrol workers died while erecting a mesh fence and warning sign around the hole to warn skiers of the danger.
Another example is an array of fumaroles in the Valley of Desolation in
Morne Trois Pitons National Park
Morne Trois Pitons National Park
Morne Trois Pitons National Park is a World Heritage Site located in the Caribbean island of Dominica. This area was established as a national park by the Dominican government in July 1975, the first to be legally established in the country...
in
Dominica
Dominica
Dominica , officially the Commonwealth of Dominica, is an island nation in the Lesser Antilles region of the Caribbean Sea, south-southeast of Guadeloupe and northwest of Martinique. Its size is and the highest point in the country is Morne Diablotins, which has an elevation of . The Commonwealth...
. Fumaroles emitting sulfurous vapors form surface deposits of sulfur-rich minerals, which are mined in:
On Mars
The formation called
Home Plate
Home Plate (Mars)
Home Plate is a plateau roughly 90 m across within the Columbia Hills, Mars. It is informally named for its similarity in shape to a baseball home plate. Home Plate is a rocky outcrop that appears to show layered features....
at
Gusev Crater
Gusev crater
Gusev is a crater on the planet Mars and is located at . The crater is about 166 kilometers in diameter and formed approximately three to four billion years ago. It was named after Russian astronomer Matvei Gusev in 1976....
on Mars which was examined by the
Mars Exploration Rover
Mars Exploration Rover
NASA's Mars Exploration Rover Mission is an ongoing robotic space mission involving two rovers, Spirit and Opportunity, exploring the planet Mars...
(MER)
Spirit
is suspected to be the eroded remains of an ancient and extinct fumarole.
External links