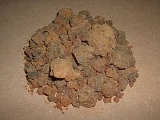 Myrrh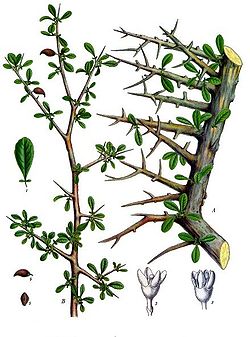 Myrrh
(ˈmɜr) is the aromatic oleoresin of a number of small, thorny tree species of the genus
Commiphora
Commiphora
Commiphora is a genus of flowering plants in the family Burseraceae. It includes about 185 species of trees and shrubs, often armed or thorny, native to Africa, Arabia, and the Indian subcontinent.-Uses:...
, which grow in dry, stony soil. An
oleoresin
is a natural blend of an
essential oil
Essential oil
An essential oil is a concentrated hydrophobic liquid containing volatile aroma compounds from plants. Essential oils are also known as volatile oils, ethereal oils or aetherolea, or simply as the "oil of" the plant from which they were extracted, such as oil of clove...
and a
resin
Resin
Resin in the most specific use of the term is a hydrocarbon secretion of many plants, particularly coniferous trees. Resins are valued for their chemical properties and associated uses, such as the production of varnishes, adhesives, and food glazing agents; as an important source of raw materials...
. Myrrh resin is a
natural gum
Natural gum
Natural gums are polysaccharides of natural origin, capable of causing a large viscosity increase in solution, even at small concentrations. In the food industry they are used as thickening agents, gelling agents, emulsifying agents, and stabilizers...
.
When a tree wound penetrates through the bark and into the
sapwood
Sapwood
Sapwood may refer to:* Sapwood, the part of living wood where sap flows, as distinct from the heartwood, where it doesn't* SS-6 Sapwood, the NATO reporting name for the R-7 Semyorka intercontinental ballistic missile...
, the tree bleeds a resin. Myrrh gum, like
frankincense
Frankincense
Frankincense, also called olibanum , is an aromatic resin obtained from trees of the genus Boswellia, particularly Boswellia sacra, B. carteri, B. thurifera, B. frereana, and B. bhaw-dajiana...
, is such a resin. When people harvest myrrh, they wound the trees repeatedly to bleed them of the gum. Myrrh gum is waxy, and coagulates quickly. After the harvest, the gum becomes hard and glossy. The gum is yellowish, and may be either clear or opaque. It darkens deeply as it ages, and white streaks emerge.
Myrrh gum is commonly harvested from the species
Commiphora myrrha
Commiphora myrrha
Common myrrh or gum myrrh is a tree in the Burseraceae family. It is one of the primary trees used in the production of myrrh, a resin made from dried tree sap...
, which is native to
Yemen
Yemen
The Republic of Yemen , commonly known as Yemen , is a country located in the Middle East, occupying the southwestern to southern end of the Arabian Peninsula. It is bordered by Saudi Arabia to the north, the Red Sea to the west, and Oman to the east....
,
Somalia
Somalia
Somalia , officially the Somali Republic and formerly known as the Somali Democratic Republic under Socialist rule, is a country located in the Horn of Africa. Since the outbreak of the Somali Civil War in 1991 there has been no central government control over most of the country's territory...
, and eastern
Ethiopia
Ethiopia
Ethiopia , officially known as the Federal Democratic Republic of Ethiopia, is a country located in the Horn of Africa. It is the second-most populous nation in Africa, with over 82 million inhabitants, and the tenth-largest by area, occupying 1,100,000 km2...
. Another farmed species is
C. momol
. The related
Commiphora gileadensis
, native to
Eastern Mediterranean
Eastern Mediterranean
The Eastern Mediterranean is a term that denotes the countries geographically to the east of the Mediterranean Sea. This region is also known as Greater Syria or the Levant....
and particularly the
Arabian Peninsula
Arabian Peninsula
The Arabian Peninsula is a land mass situated north-east of Africa. Also known as Arabia or the Arabian subcontinent, it is the world's largest peninsula and covers 3,237,500 km2...
, is the biblically referenced
Balm of Gilead
Balsam of Mecca
Balsam of Mecca is a resinous gum of the tree Commiphora gileadensis , native to southern Arabia and also naturalized, in ancient and again in modern times, in ancient Judea/Palestine/Israel. The most famous site of balsam production in the region was the Jewish town of Ein Gedi...
.
Several other species yield
bdellium
Bdellium
Bdellium is an aromatic gum like myrrh that is exuded from a tree. A medieval Arab writer first made the identification with gum guggul, the species Commiphora wightii, although "bdellium" has also been used to identify the African species C. africana and at least one other Indian species, C....
, and Indian myrrh.
The oleo gum resins of a number of other
Commiphora
and
Balsamodendron
species are also used as perfumes, medicines (such as aromatic wound dressings), and incense ingredients. A lesser quality myrrh is bled from the tree
Commiphora erythraea
.
Commiphora opobalsamum
oleo gum resin is known as Opopinax, a name it shares with the gum resin bled from a species of parsnip,
Pastincea opobalsamum
.
Fragrant "myrrh beads" are made from the crushed seeds of
Detarium microcarpum
, an unrelated West African tree. These beads are traditionally worn by married women in Mali as multiple strands around the hips.
The name "myrrh" is also applied to the potherb
Myrrhis odorata
, otherwise known as "
cicely
Cicely
Cicely or Sweet Cicely is a plant belonging to the family Apiaceae, native to Central Europe; it is the sole species in the genus Myrrhis. It is a tall herbaceous perennial plant, depending on circumstances growing to 2 m [6 ft 6 in] tall. The leaves are finely divided, feathery, up to 50 cm...
" or "
sweet cicely
Sweet cicely
Sweet cicely may refer to:* Cicely, a European herb also called "sweet cicely"* Osmorhiza, a genus of two American plants called "sweet cicely"...
".
Etymology
The word "myrrh" derives from the Aramaic
ܡܪܝܪܐ
(
murr
), meaning "was bitter". Its name entered the
English language
English language
English is a West Germanic language that arose in the Anglo-Saxon kingdoms of England and spread into what was to become south-east Scotland under the influence of the Anglian medieval kingdom of Northumbria...
from the
Hebrew Bible
Hebrew Bible
The Hebrew Bible is a term used by biblical scholars outside of Judaism to refer to the Tanakh , a canonical collection of Jewish texts, and the common textual antecedent of the several canonical editions of the Christian Old Testament...
, where it is called
mor
, מור, and later as a Semitic
loanword
Loanword
A loanword is a word borrowed from a donor language and incorporated into a recipient language. By contrast, a calque or loan translation is a related concept where the meaning or idiom is borrowed rather than the lexical item itself. The word loanword is itself a calque of the German Lehnwort,...
was used in the Greek myth of
Myrrha
Myrrha
Myrrha , also known as Smyrna , is the mother of Adonis in Greek mythology. She was transformed into a myrrh tree after having had intercourse with her father and gave birth to Adonis as a tree...
, and later in the
Septuagint
; in the
Greek language
Greek language
Greek is an independent branch of the Indo-European family of languages. Native to the southern Balkans, it has the longest documented history of any Indo-European language, spanning 34 centuries of written records. Its writing system has been the Greek alphabet for the majority of its history;...
, the related word μύρον became a general term for
perfume
Perfume
Perfume is a mixture of fragrant essential oils and/or aroma compounds, fixatives, and solvents used to give the human body, animals, objects, and living spaces "a pleasant scent"...
.
So valuable has it been at times in ancient history that it has been equal in weight value to
gold
Gold
Gold is a chemical element with the symbol Au and an atomic number of 79. Gold is a dense, soft, shiny, malleable and ductile metal. Pure gold has a bright yellow color and luster traditionally considered attractive, which it maintains without oxidizing in air or water. Chemically, gold is a...
. During times of scarcity, its value rose even higher than that. It has been used throughout history as a perfume, incense and medicine.
Attributed medicinal properties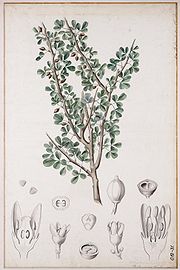 Traditional Chinese medicine
In
traditional Chinese medicine
Traditional Chinese medicine
Traditional Chinese Medicine refers to a broad range of medicine practices sharing common theoretical concepts which have been developed in China and are based on a tradition of more than 2,000 years, including various forms of herbal medicine, acupuncture, massage , exercise , and dietary therapy...
, myrrh is classified as bitter and spicy, with a neutral temperature. It is said to have special efficacy on the heart, liver, and spleen meridians, as well as "blood-moving" powers to purge
stagnant blood
Blood stasis
Blood stasis syndrome, or blood stagnation is an important underlying pathology of many disease processes according to traditional Chinese medicine...
from the
uterus
Uterus
The uterus or womb is a major female hormone-responsive reproductive sex organ of most mammals including humans. One end, the cervix, opens into the vagina, while the other is connected to one or both fallopian tubes, depending on the species...
. It is therefore recommended for
rheumatic
Rheumatism
Rheumatism or rheumatic disorder is a non-specific term for medical problems affecting the joints and connective tissue. The study of, and therapeutic interventions in, such disorders is called rheumatology.-Terminology:...
,
arthritic
Arthritis
Arthritis is a form of joint disorder that involves inflammation of one or more joints....
, and circulatory problems, and for amenorrhea,
dysmenorrhea
Dysmenorrhea
Dysmenorrhea is a gynecological medical condition of pain during menstruation that interferes with daily activities, as defined by ACOG and others. Still, dysmenorrhea is often defined simply as menstrual pain, or at least menstrual pain that is excessive...
,
menopause
Menopause
Menopause is a term used to describe the permanent cessation of the primary functions of the human ovaries: the ripening and release of ova and the release of hormones that cause both the creation of the uterine lining and the subsequent shedding of the uterine lining...
, and
uterine
Uterine
The word uterine can refer to different meanings:* relating to or near the uterus or womb* having the same mother, but different fathers, see matrilineality...
tumor
Tumor
A tumor or tumour is commonly used as a synonym for a neoplasm that appears enlarged in size. Tumor is not synonymous with cancer...
s.
Its uses are similar to those of frankincense, with which it is often combined in
decoction
Decoction
Decoction is a method of extraction, by boiling, of dissolved chemicals, or herbal or plant material, which may include stems, roots, bark and rhizomes. Decoction involves first mashing, and then boiling in water to extract oils, volatile organic compounds, and other chemical substances...
s,
liniment
Liniment
Liniment , from the Latin linere, to anoint, is a medicated topical preparation for application to the skin. Preparations of this type are also called balm...
s, and
incense
Incense
Incense is composed of aromatic biotic materials, which release fragrant smoke when burned. The term "incense" refers to the substance itself, rather than to the odor that it produces. It is used in religious ceremonies, ritual purification, aromatherapy, meditation, for creating a mood, and for...
. When used in concert, myrrh is "blood-moving" while frankincense moves the
Qi
Qi
In traditional Chinese culture, qì is an active principle forming part of any living thing. Qi is frequently translated as life energy, lifeforce, or energy flow. Qi is the central underlying principle in traditional Chinese medicine and martial arts...
, making it more useful for
arthritic
Rheumatoid arthritis
Rheumatoid arthritis is a chronic, systemic inflammatory disorder that may affect many tissues and organs, but principally attacks synovial joints. The process produces an inflammatory response of the synovium secondary to hyperplasia of synovial cells, excess synovial fluid, and the development...
conditions.
It is combined with such herbs as notoginseng,
safflower
Safflower
Safflower is a highly branched, herbaceous, thistle-like annual. It is commercially cultivated for vegetable oil extracted from the seeds. Plants are 30 to 150 cm tall with globular flower heads having yellow, orange or red flowers. Each branch will usually have from one to five flower heads...
stamens,
Angelica sinensis
Angelica sinensis
Angelica sinensis, commonly known as "dong quai" or "female ginseng" is a herb from the family Apiaceae, indigenous to China.-Chinese:...
,
cinnamon
Cinnamon
Cinnamon is a spice obtained from the inner bark of several trees from the genus Cinnamomum that is used in both sweet and savoury foods...
, and
Salvia miltiorrhiza
Salvia miltiorrhiza
Salvia miltiorrhiza , also known as red sage, Chinese sage, tan shen, or danshen, is a perennial plant in the genus Salvia, highly valued for its roots in traditional Chinese medicine. Native to China and Japan, it grows at elevation, preferring grassy places in forests, hillsides, and along...
, usually in alcohol, and used both internally and externally.
Ayurvedic medicine
Myrrh is used more frequently in
Ayurveda
Ayurveda
Ayurveda or ayurvedic medicine is a system of traditional medicine native to India and a form of alternative medicine. In Sanskrit, words , meaning "longevity", and , meaning "knowledge" or "science". The earliest literature on Indian medical practice appeared during the Vedic period in India,...
and
Unani
Unani
Unani-tibb or Unani Medicine also spelled Yunani Medicine means "Greek Medicine", and is a form of traditional medicine widely practiced in South Asia...
medicine, which ascribe tonic and rejuvenative properties to the resin.
Myrrh (
daindhava
) is used in many specially-processed
rasayana
Rasayana
Rasayan, a Sanskrit word , is used to describe chemistry and alchemy, and chemistry is generally called Rasayan Shastra in Sanskrit, Nepali, Marathi, Hindi, Kannada and several other languages.Ancient rasayan texts center around the use of prepared forms of mercury or cinnabar , as do...
formulas in Ayurveda. However, non-
rasayana
myrrh is contraindicated when kidney dysfunction or stomach pain is apparent, or for women who are pregnant or have excessive uterine bleeding.
A related species, called
guggul
Commiphora wightii
Commiphora wightii is a flowering plant in the family Burseraceae. The guggul plant may be found from northern Africa to central Asia, but is most common in northern India...
in Ayurvedic medicine, is considered one of the best substances for the treatment of circulatory problems, nervous system disorders and rheumatic complaints.
Western medicine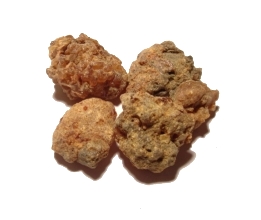 In
pharmacy
Pharmacy
Pharmacy is the health profession that links the health sciences with the chemical sciences and it is charged with ensuring the safe and effective use of pharmaceutical drugs...
, myrrh is used as an antiseptic in mouthwashes, gargles, and toothpastes for prevention and treatment of gum disease. Myrrh is currently used in some liniments and healing salves that may be applied to abrasions and other minor skin ailments. Myrrh has also been recommended as an analgesic for toothaches, and can be used in liniment for bruises, aches, and sprains.
Mechanisms of action
In an attempt to determine the cause of its effectiveness, researchers examined the individual ingredients of an herbal formula used traditionally by Kuwaiti diabetics to lower blood glucose. Myrrh and
aloe
Aloe
Aloe , also Aloë, is a genus containing about 500 species of flowering succulent plants. The most common and well known of these is Aloe vera, or "true aloe"....
gums effectively improved
glucose
Glucose
Glucose is a simple sugar and an important carbohydrate in biology. Cells use it as the primary source of energy and a metabolic intermediate...
tolerance in both normal and diabetic rats.
Myrrh was shown to produce
analgesic
Analgesic
An analgesic is any member of the group of drugs used to relieve pain . The word analgesic derives from Greek an- and algos ....
effects on mice which were subjected to pain. Researchers at the
University of Florence
University of Florence
The University of Florence is a higher study institute in Florence, central Italy. One of the largest and oldest universities in the country, it consists of 12 faculties...
showed that furanoeudesma-1,3-diene and another terpene in the myrrh affect opioid receptors in the mouse's brain which influence pain perception.
Mirazid, an
Egypt
Egypt
Egypt , officially the Arab Republic of Egypt, Arabic: , is a country mainly in North Africa, with the Sinai Peninsula forming a land bridge in Southwest Asia. Egypt is thus a transcontinental country, and a major power in Africa, the Mediterranean Basin, the Middle East and the Muslim world...
ian drug made from myrrh, has been investigated as an oral treatment of parasitic ailments, including
fascioliasis
Fascioliasis
Fasciolosis also known as Fascioliasis, Fasciolasis, distomatosis and liver rot, is an important helminth disease caused by two trematodes Fasciola hepatica and Fasciola gigantica. This disease belongs to the plant-borne trematode zoonoses. In Europe, the Americas and Oceania only F...
and
schistosomiasis
Schistosomiasis
Schistosomiasis is a parasitic disease caused by several species of trematodes , a parasitic worm of the genus Schistosoma. Snails often act as an intermediary agent for the infectious diseases until a new human host is found...
.
Myrrh has been shown to lower
cholesterol
Cholesterol
Cholesterol is a complex isoprenoid. Specifically, it is a waxy steroid of fat that is produced in the liver or intestines. It is used to produce hormones and cell membranes and is transported in the blood plasma of all mammals. It is an essential structural component of mammalian cell membranes...
LDL (bad cholesterol) levels, as well as to increase the HDL (good cholesterol) in various tests on humans done in the past few decades. One recent (2009) documented laboratory test showed this same effect on albino rats.
Religious ritual
Myrrh was used by the ancient Egyptians, along with
natron
Natron
Natron is a naturally occurring mixture of sodium carbonate decahydrate and about 17% sodium bicarbonate along with small quantities of household salt and sodium sulfate. Natron is white to colourless when pure, varying to gray or yellow with impurities...
, for the embalming of mummies.
Myrrh was a part of the
Ketoret
Ketoret
The use of incense in Judaism was related to perfumed offerings on the altar of incense in the time of the Tabernacle and the First and Second Temple period, and was an important component of priestly liturgy in the Temple in Jerusalem....
, which is used when referring to the consecrated
incense
Incense
Incense is composed of aromatic biotic materials, which release fragrant smoke when burned. The term "incense" refers to the substance itself, rather than to the odor that it produces. It is used in religious ceremonies, ritual purification, aromatherapy, meditation, for creating a mood, and for...
described in the
Hebrew Bible
Hebrew Bible
The Hebrew Bible is a term used by biblical scholars outside of Judaism to refer to the Tanakh , a canonical collection of Jewish texts, and the common textual antecedent of the several canonical editions of the Christian Old Testament...
and
Talmud
Talmud
The Talmud is a central text of mainstream Judaism. It takes the form of a record of rabbinic discussions pertaining to Jewish law, ethics, philosophy, customs and history....
. It is also referred to as the
HaKetoret
(the incense). It was offered on the specialized incense altar in the time when the
Tabernacle
Tabernacle
The Tabernacle , according to the Hebrew Torah/Old Testament, was the portable dwelling place for the divine presence from the time of the Exodus from Egypt through the conquering of the land of Canaan. Built to specifications revealed by God to Moses at Mount Sinai, it accompanied the Israelites...
was located in the
First
Solomon's Temple
Solomon's Temple, also known as the First Temple, was the main temple in ancient Jerusalem, on the Temple Mount , before its destruction by Nebuchadnezzar II after the Siege of Jerusalem of 587 BCE....
and
Second
Second Temple period
The Second Temple period , in Jewish history, is the period between 530 BCE and 70 CE, when the Second Temple of Jerusalem existed. It ended with the First Jewish–Roman War and the Temple's destruction....
Jerusalem Temples. The ketoret was an important component of the Temple service in
Jerusalem
.
It was traded by camel caravans overland from areas of production in southern Arabia by the
Nabataeans
Nabataeans
Thamudi3.jpgThe Nabataeans, also Nabateans , were ancient peoples of southern Canaan and the northern part of Arabia, whose oasis settlements in the time of Josephus , gave the name of Nabatene to the borderland between Syria and Arabia, from the Euphrates to the Red Sea...
to their capital city of
Petra
Petra
Petra is a historical and archaeological city in the Jordanian governorate of Ma'an that is famous for its rock cut architecture and water conduits system. Established sometime around the 6th century BC as the capital city of the Nabataeans, it is a symbol of Jordan as well as its most visited...
, from where it was distributed throughout the Mediterranean region.
According to the book of , gold,
frankincense
Frankincense
Frankincense, also called olibanum , is an aromatic resin obtained from trees of the genus Boswellia, particularly Boswellia sacra, B. carteri, B. thurifera, B. frereana, and B. bhaw-dajiana...
and myrrh were among the gifts to
Jesus
Jesus
Jesus of Nazareth , commonly referred to as Jesus Christ or simply as Jesus or Christ, is the central figure of Christianity...
by the
Biblical Magi
Biblical Magi
The Magi Greek: μάγοι, magoi), also referred to as the Wise Men, Kings, Astrologers, or Kings from the East, were a group of distinguished foreigners who were said to have visited Jesus after his birth, bearing gifts of gold, frankincense and myrrh...
"from the East."
"While burning incense was accepted as a practice in the later Roman Catholic church, the early church during Roman times forbade the use of incense in services resulting in a rapid decline in the incense trade."
Because of its
New Testament
New Testament
The New Testament is the second major division of the Christian biblical canon, the first such division being the much longer Old Testament....
significance, myrrh is a common ingredient in
incense
Incense
Incense is composed of aromatic biotic materials, which release fragrant smoke when burned. The term "incense" refers to the substance itself, rather than to the odor that it produces. It is used in religious ceremonies, ritual purification, aromatherapy, meditation, for creating a mood, and for...
offered during Christian
liturgical celebrations
Christian liturgy
A liturgy is a set form of ceremony or pattern of worship. Christian liturgy is a pattern for worship used by a Christian congregation or denomination on a regular basis....
(see
Thurible
Thurible
A thurible is a metal censer suspended from chains, in which incense is burned during worship services. It is used in the Catholic Church as well as in Anglican, Eastern Orthodox, Oriental Orthodox, Armenian Apostolic, some Lutheran, Old Catholic, and in various Gnostic Churches. It is also used...
).
In Roman Catholic liturgical tradition, pellets of myrrh are traditionally placed in the
Paschal candle
Paschal candle
The Paschal candle is a large, white candle used at liturgy in the Western Rites of Christianity . A new Paschal candle is blessed and lit every year at Easter, and is used throughout the Paschal season which is during Easter and then throughout the year on special occasions, such as baptisms and...
during the
Easter Vigil
Easter Vigil
The Easter Vigil, also called the Paschal Vigil or the Great Vigil of Easter, is a service held in many Christian churches as the first official celebration of the Resurrection of Jesus. Historically, it is during this service that people are baptized and that adult catechumens are received into...
.
Eastern Christianity
Eastern Christianity
Eastern Christianity comprises the Christian traditions and churches that developed in the Balkans, Eastern Europe, Asia Minor, the Middle East, Northeastern Africa, India and parts of the Far East over several centuries of religious antiquity. The term is generally used in Western Christianity to...
uses incense much more frequently, sometimes emphasizing its use at
Vespers
Vespers
Vespers is the evening prayer service in the Western Catholic, Eastern Catholic, and Eastern Orthodox, Anglican, and Lutheran liturgies of the canonical hours...
and
Matins
Matins
Matins is the early morning or night prayer service in the Roman Catholic, Anglican, Lutheran and Eastern Orthodox liturgies of the canonical hours. The term is also used in some Protestant denominations to describe morning services.The name "Matins" originally referred to the morning office also...
because of the
Old Testament
Old Testament
The Old Testament, of which Christians hold different views, is a Christian term for the religious writings of ancient Israel held sacred and inspired by Christians which overlaps with the 24-book canon of the Masoretic Text of Judaism...
exhortation of the evening and morning offerings of incense.
Myrrh is also used to prepare the
sacrament
Sacrament
A sacrament is a sacred rite recognized as of particular importance and significance. There are various views on the existence and meaning of such rites.-General definitions and terms:...
al
chrism
Chrism
Chrism , also called "Myrrh" , Holy anointing oil, or "Consecrated Oil", is a consecrated oil used in the Roman Catholic, Eastern Orthodox, Eastern Rite Catholic, Oriental Orthodox, in the Assyrian Church of the East, and in Old-Catholic churches, as well as Anglican churches in the administration...
used by many churches of both Eastern and Western rites. In the Middle East, the
Eastern Orthodox Church
Eastern Orthodox Church
The Orthodox Church, officially called the Orthodox Catholic Church and commonly referred to as the Eastern Orthodox Church, is the second largest Christian denomination in the world, with an estimated 300 million adherents mainly in the countries of Belarus, Bulgaria, Cyprus, Georgia, Greece,...
traditionally uses myrrh-scented oil to perform the
sacrament
Sacrament
A sacrament is a sacred rite recognized as of particular importance and significance. There are various views on the existence and meaning of such rites.-General definitions and terms:...
s of chrismation and unction, both of which are commonly referred to as "receiving the
Chrism
Holy anointing oil
The holy anointing oil , formed an integral part of the ordination of the priesthood and the high priest as well as in the consecration of the articles of the tabernacle and subsequent temples in Jerusalem...
".
Myrrh is also used in Neo-paganism and Ritual
Magick
Magick
Magick is an Early Modern English spelling for magic, used in works such as the 1651 translation of De Occulta Philosophia, Three Books of Occult Philosophy, or Of Magick...
.
Further reading
(US ISBN 0-520-22789-1), pp. 107–122., pp. 226–227, with
additions
Abyssine Myrrh
The One Earth Herbal Sourcebook: Everything You Need to Know About Chinese, Western, and Ayurvedic Herbal Treatments by Ph.D., A.H.G., D.Ay, Alan Keith Tillotson, O.M.D., L.Ac., Nai-shing Hu Tillotson, and M.D., Robert Abel Jr.
Abdul-Ghani RA, Loutfy N, Hassan A. Myrrh and trematodoses in Egypt: An overview of safety, efficacy and effectiveness profiles. Parasitol Int. 2009;58:210–214( A good review on its antiparasitic activities) .
External links