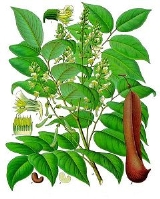 Myroxylon
Myroxylon J.R.Forst. & G.Forst
is a synonym of
Xylosma
Xylosma
Xylosma is a genus of flowering plants in the in the willow family, Salicaceae. It contains around 100 species of spiny evergreen shrubs and trees commonly known as brushhollies, xylosmas, or, more ambiguously, "logwoods"...
.

Myroxylon
is a genus of two species of
Central America
Central America
Central America is the central geographic region of the Americas. It is the southernmost, isthmian portion of the North American continent, which connects with South America on the southeast. When considered part of the unified continental model, it is considered a subcontinent...
n and
South America
South America
South America is a continent situated in the Western Hemisphere, mostly in the Southern Hemisphere, with a relatively small portion in the Northern Hemisphere. The continent is also considered a subcontinent of the Americas. It is bordered on the west by the Pacific Ocean and on the north and east...
n
tree
Tree
A tree is a perennial woody plant. It is most often defined as a woody plant that has many secondary branches supported clear of the ground on a single main stem or trunk with clear apical dominance. A minimum height specification at maturity is cited by some authors, varying from 3 m to...
s in the
Fabaceae
Fabaceae
The Fabaceae or Leguminosae, commonly known as the legume, pea, or bean family, is a large and economically important family of flowering plants. The group is the third largest land plant family, behind only the Orchidaceae and Asteraceae, with 730 genera and over 19,400 species...
(Leguminosae). The tree is well known in the western world as the source for Peru balsam and
Tolu balsam
Tolu balsam
Tolu balsam or balsam of Tolu is the resinous secretion of Myroxylon balsamum.The resin is still used in certain cough syrup formulas. However its main use in the modern era is in perfumery, where it is valued for its warm, mellow yet somewhat spicy scent. It is also used as a natural remedy for...
. The tree is often called
Quina
or Balsamo. Other names include
Tolu
in
Colombia
Colombia
Colombia, officially the Republic of Colombia , is a unitary constitutional republic comprising thirty-two departments. The country is located in northwestern South America, bordered to the east by Venezuela and Brazil; to the south by Ecuador and Peru; to the north by the Caribbean Sea; to the...
,
Quina quina
in
Argentina
Argentina
Argentina , officially the Argentine Republic , is the second largest country in South America by land area, after Brazil. It is constituted as a federation of 23 provinces and an autonomous city, Buenos Aires...
; in lumber trade, sometimes named
Santos Mahogany
.
Its sweetish scent, reminiscent of vanilla and green olives, has caused it to be used in the manufacture of
perfume
Perfume
Perfume is a mixture of fragrant essential oils and/or aroma compounds, fixatives, and solvents used to give the human body, animals, objects, and living spaces "a pleasant scent"...
s as a source for Balsam. Balsam of Peru is used as a flavoring and fragrance in many products and can cause allergic reactions.
They are large trees growing to 40 m tall, with
evergreen
Evergreen
In botany, an evergreen plant is a plant that has leaves in all seasons. This contrasts with deciduous plants, which completely lose their foliage during the winter or dry season.There are many different kinds of evergreen plants, both trees and shrubs...
pinnate
leaves
Leaf
A leaf is an organ of a vascular plant, as defined in botanical terms, and in particular in plant morphology. Foliage is a mass noun that refers to leaves as a feature of plants....
15 cm long with 5-13 leaflets. The
flower
Flower
A flower, sometimes known as a bloom or blossom, is the reproductive structure found in flowering plants . The biological function of a flower is to effect reproduction, usually by providing a mechanism for the union of sperm with eggs...
s are white with yellow stamens, produced in
raceme
Raceme
A raceme is a type of inflorescence that is unbranched and indeterminate and bears pedicellate flowers — flowers having short floral stalks called pedicels — along the axis. In botany, axis means a shoot, in this case one bearing the flowers. In a raceme, the oldest flowers are borne...
s. The
fruit
Fruit
In broad terms, a fruit is a structure of a plant that contains its seeds.The term has different meanings dependent on context. In non-technical usage, such as food preparation, fruit normally means the fleshy seed-associated structures of certain plants that are sweet and edible in the raw state,...
is a
pod
7–11 cm long, containing a single
seed
Seed
A seed is a small embryonic plant enclosed in a covering called the seed coat, usually with some stored food. It is the product of the ripened ovule of gymnosperm and angiosperm plants which occurs after fertilization and some growth within the mother plant...
.
The wood is dark brown with a deep red heartwood. Natural oils grant it excellent decay resistance. In fact, it is also resistant to preservative treatment. Its specific gravity is 0.74 to 0.81.
As regards woodworking, this tree is regarded as moderately difficult to work but can be finished with a high natural polish; some tool dulling.
Peru Balsam
Peru Balsam aromatic resin is extracted from the variant Myroxylon balsamum pereirae, native from Central America farther north. The name is a misinterpretation of its origin, since it was originally assembled and shipped to Europe from the ports of Callao and Lima, in Peru, even though the species is not indigenous to Peru. The indigenous use of Peru Balsam led to its export to Europe in the seventeenth century, where it was first documented in the German Pharmacopedia. Today
El Salvador
El Salvador
El Salvador or simply Salvador is the smallest and the most densely populated country in Central America. The country's capital city and largest city is San Salvador; Santa Ana and San Miguel are also important cultural and commercial centers in the country and in all of Central America...
is the main exporter of Peru Balsam where it is extracted under a plainly handicraft process
Peru balsam has uses in medicine, pharmaceutical, in the food industry and in perfumery. It has been used as a cough supressant, in the treatment of dry socket in dentistry, in suppositories for hemorrhoids, the plants have been reported to inhibit Mycobacterium tuberculosis as well as the common ulcer-causing bacteria, H. pylori in test-tube studies, so it is used topically as a treatment of wounds and ulcers, as an antiseptic and used as an anal muscle relaxant. Peru Balsam can be found in diaper rash ointments, hair tonics, antidandruff preparations, and feminine hygiene sprays and as a natural fragrance in soaps, detergents, creams, lotions, and perfumes.
Invasive Species
The balsam tree can become a highly invasive species when introduced into tropical countries where it is not native.
In Sri Lanka it has overgrown several hectares of the
Udawatta Kele Sanctuary
Udawatta Kele Sanctuary
Udawatta Kele Sanctuary, often spelled as Udawattakele, is a historic forest reserve on a hill-ridge in the city of Kandy. During the days of the Kandyan kingdom, Udawatta Kele was known as "Uda Wasala Watta" in Sinhalese meaning, "the garden situated above the royal palace". The sanctuary is...
and is rapidly spreading there. In this Sri Lankan rain forest, Myroxylon seeds sprout in very high numbers due to tolerating more diverse light conditions than native species and due to the absence of natural enemies such as diseases and insects. This has given rise to dense stands of young trees where no other vegetation can grow, causing severe ecological disruption, i.e., the disappearance of local, native plant species and consequently of the animals and insects that feed on these.
The tree has also been introduced to several Pacific islands such as Fiji and to Indonesia and is a potential ecological threat there.