 Mint mark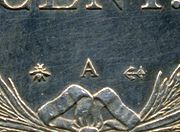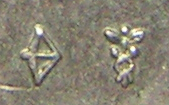 A
mint mark
is an inscription on a
coin
Coin
A coin is a piece of hard material that is standardized in weight, is produced in large quantities in order to facilitate trade, and primarily can be used as a legal tender token for commerce in the designated country, region, or territory....
indicating the
mint
Mint (coin)
A mint is an industrial facility which manufactures coins for currency.The history of mints correlates closely with the history of coins. One difference is that the history of the mint is usually closely tied to the political situation of an era...
where the coin was produced.
History
Mint marks were first developed to locate a problem. If a coin was underweight, or overweight, the mint mark would immediately tell where the coin was minted, and the problem could be located and fixed. Another problem which could occur would be a dishonest mint official
debasing
Debasement
Debasement is the practice of lowering the value of currency. It is particularly used in connection with commodity money such as gold or silver coins...
the coin, or putting less
precious metal
Precious metal
A precious metal is a rare, naturally occurring metallic chemical element of high economic value.Chemically, the precious metals are less reactive than most elements, have high lustre, are softer or more ductile, and have higher melting points than other metals...
in the coin than specified. The first mint marks, called "Magistrate Marks" were developed by the
Greeks
Ancient Greece
Ancient Greece is a civilization belonging to a period of Greek history that lasted from the Archaic period of the 8th to 6th centuries BC to the end of antiquity. Immediately following this period was the beginning of the Early Middle Ages and the Byzantine era. Included in Ancient Greece is the...
, and named the
Magistrate
Magistrate
A magistrate is an officer of the state; in modern usage the term usually refers to a judge or prosecutor. This was not always the case; in ancient Rome, a magistratus was one of the highest government officers and possessed both judicial and executive powers. Today, in common law systems, a...
in charge of producing that coin. Debasing a coin, or otherwise tampering with it, was a very serious crime, often punishable by death in many civilizations. For example, in 1649, the directors of the
Spanish
Spain
Spain , officially the Kingdom of Spain languages]] under the European Charter for Regional or Minority Languages. In each of these, Spain's official name is as follows:;;;;;;), is a country and member state of the European Union located in southwestern Europe on the Iberian Peninsula...
colonial American Mint at
Potosi
Potosí
Potosí is a city and the capital of the department of Potosí in Bolivia. It is one of the highest cities in the world by elevation at a nominal . and it was the location of the Spanish colonial mint, now the National Mint of Bolivia...
, in what is today
Bolivia
Bolivia
Bolivia officially known as Plurinational State of Bolivia , is a landlocked country in central South America. It is the poorest country in South America...
, were condemned to death for seriously debasing the coinage. The initials of the
assayer
Assayer
An assayer is a person who tests ores and minerals and analyzes them to determine their composition and value. They may use spectrographic analysis, chemical solutions, and chemical or laboratory equipment, such as furnaces, beakers, graduates, pipettes, and crucibles.An assayer separates metals...
as well as the mint mark were immediate identifiers when the coins were inspected.
Mint marks in Numismatics
In the 19th century, numismatists (coin collecters) did not generally collect coins according to mint mark; rather, they attempted to obtain date sets of coins. A turnaround began after 1893, when
A. G. Heaton
A. G. Heaton
Augustus Goodyear Heaton was an American artist, author and leading numismatist. He is best known for his painting The Recall of Columbus and among coin collectors for writing A Treatise on Coinage of the United States Branch Mints, which introduced numismatists to mint marks.-Personal...
's "A Treatise on Coinage of the United States Branch Mints" was published. Heaton cited example after example of mint-marked coins that were much scarcer than Philadelphia products and that should bring high premiums. When the
United States
United States
The United States of America is a federal constitutional republic comprising fifty states and a federal district...
abandoned
silver
Silver
Silver is a metallic chemical element with the chemical symbol Ag and atomic number 47. A soft, white, lustrous transition metal, it has the highest electrical conductivity of any element and the highest thermal conductivity of any metal...
coinage in 1964, mint marks were removed from the new
copper
Copper
Copper is a chemical element with the symbol Cu and atomic number 29. It is a ductile metal with very high thermal and electrical conductivity. Pure copper is soft and malleable; an exposed surface has a reddish-orange tarnish...
-
nickel
Nickel
Nickel is a chemical element with the chemical symbol Ni and atomic number 28. It is a silvery-white lustrous metal with a slight golden tinge. Nickel belongs to the transition metals and is hard and ductile...
coins in the belief that it would reduce the removal of coins from circulation by collectors. The silver coins quickly disappeared from circulation, and it was feared that if collectors saved too many of the new coins, there would be a serious shortage of coinage. Mint marks were returned to United States coins in 1968.
Examples
Examples of mint marks in
United States coinage
United States coinage
United States coinage was first minted by the new republic in 1792. New coins have been produced every year since then and they make up a valuable aspect of the United States currency system. Today circulating coins exist in denominations: $0.01, $0.05, $0.10, $0.25, $0.50, and $1.00. Also minted...
include P for the
Philadelphia Mint
Philadelphia Mint
The Philadelphia Mint was created from the need to establish a national identity and the needs of commerce in the United States. This led the Founding Fathers of the United States to make an establishment of a continental national mint a main priority after the ratification of the Constitution of...
, D for the
Denver Mint
Denver Mint
The Denver Mint is a branch of the United States Mint that struck its first coins on February 1, 1906. The mint is still operating and producing coins for circulation, as well as mint sets and commemorative coins. Coins produced at the Denver Mint bear a D mint mark...
, S for the
San Francisco Mint
San Francisco Mint
The San Francisco Mint is a branch of the United States Mint, and was opened in 1854 to serve the gold mines of the California Gold Rush. It quickly outgrew its first building and moved into a new one in 1874. This building, the Old United States Mint, also known affectionately as The Granite Lady,...
, and W for the
West Point Mint
West Point Mint
The West Point Mint Facility was erected in 1937 near the U.S. Military Academy in West Point, New York. Originally it was called the West Point Bullion Depository. At one point it had the highest concentration of silver of any U.S. mint facility, and for 35 years produced circulating pennies...
. In the past, CC for the
Carson City Mint
Carson City Mint
The Carson City Mint was a branch of the United States Mint in Carson City, Nevada. Built at the peak of the silver boom, 50 issues of silver coins and 57 issues of gold coins minted here between 1870 and 1893 bore the "CC" mint mark...
, C for the
Charlotte Mint
Charlotte Mint
The Charlotte Mint was a branch of the United States Mint that came into existence on March 3, 1835 during the Carolina Gold Rush. The first gold mine in the United States was established in North Carolina at the Reed Gold Mine...
, D for the
Dahlonega Mint
Dahlonega Mint
The Dahlonega Mint was a branch of the United States Mint. It was located at 34°31.8′N 83°59.2′W at Dahlonega, Lumpkin County, Georgia. Coins produced at the Dahlonega Mint bear the "D" mint mark. That mint mark is used today by the Denver Mint, which opened many years after the Dahlonega Mint...
, and O for the
New Orleans Mint
New Orleans Mint
The New Orleans Mint operated in New Orleans, Louisiana, as a branch mint of the United States Mint from 1838 to 1861 and from 1879 to 1909. During its years of operation, it produced over 427 million gold and silver coins of nearly every American denomination, with a total face value of over...
were used. Most coins of the Philadelphia Mint earlier than 1980 are unmarked, the notable exceptions being wartime nickels and the Susan B. Anthony Dollars starting 1979. Currently, the
Lincoln cent
Lincoln cent
Below are the mintage figures for the Lincoln penny-Mintage figures:Lincoln wheat cent, 1909-1958 Lincoln Memorial cent, 1959-1982 ...
is the only coin that does not always have a mint mark, using a "D" when struck in Denver but lacking a "P" when ostensibly struck at the Philadelphia mint; this practice allows additional minting of the coin at the San Francisco mint ("S") and West Point mint ("W") without the use of their respective mint marks to supplement coin production without the concern of creating scarce varieties. Generally modern "S" and "W" coins do not circulate, being mostly produced as bullion,
commemorative
Commemorative
Commemorative may refer to:*Commemorative coin*United States Commemorative Coin*Commemorative issue - a special edition of a book, magazine, or other item released around, or in memory of, a special event or occurrence.*Commemorative stamp...
, or
proof coinage
Proof coinage
Proof coinage means special early samples of a coin issue, historically made for checking the dies and for archival purposes, but nowadays often struck in greater numbers specially for coin collectors . Many countries now issue them....
.
Although the US and several other countries use the initial letter of the city for its mint marks, this practice is not universal. For instance, Germany used A for Berlin, D for Munich, E for Muldenhutten, F for Stuttgart, G for Karlsruhe and J for Hamburg.
Many mints of the world commonly use a
Privy mark
Privy mark
A privy mark was originally a small mark or differentiation in the design of a coin for the purpose of identifying the mint, moneyer, or some other aspect of the coin's production or origin, for control purposes. Nowadays it is mainly used as a design and marketing feature....
, which is a symbol unique to each mint. The
Royal Canadian Mint
Royal Canadian Mint
The Royal Canadian Mint produces all of Canada's circulation coins, and manufactures circulation coins on behalf of other nations. The Mint also designs and manufactures: precious and base metal collector coins; gold, silver, palladium, and platinum bullion coins; medals, as well as medallions and...
commonly uses a
maple leaf
Maple leaf
The maple leaf is the characteristic leaf of the maple tree, and is the most widely recognized national symbol of Canada.-Use in Canada:At the beginning of the eighteenth century, the settlements of New France had attained a population of about 18,000...
privy mark. The
Monnaie de Paris
Monnaie de Paris
The Monnaie de Paris or, more administratively speaking, the "Direction of Coins and Medals", is an administration of the French government charged with issuing coins as well as producing medals and other similar items. Many ancient coins are housed there...
uses many different privy marks to denote each branch mint, including a
torch
Torch
A torch is a fire source, usually a rod-shaped piece of wood with a rag soaked in pitch and/or some other flammable material wrapped around one end. Torches were often supported in sconces by brackets high up on walls, to throw light over corridors in stone structures such as castles or crypts...
,
cornucopia
Cornucopia
The cornucopia or horn of plenty is a symbol of abundance and nourishment, commonly a large horn-shaped container overflowing with produce, flowers, nuts, other edibles, or wealth in some form...
, or
thunderbolt
Thunderbolt
A thunderbolt is a discharge of lightning accompanied by a loud thunderclap or its symbolic representation. In its original usage the word may also have been a description of meteors, or, as Plato suggested in Timaeus, of the consequences of a close approach between two planetary cosmic bodies,...
.
Many Islamic coins bear an inscription telling which mint produced the coin. This inscription is often the name of the city where the coin was minted spelled out in Arabic script.
Several
Euro Coins
Euro coins
There are eight euro coin denominations, ranging from one cent to two euros . The coins first came into use in 2002. They have a common reverse, portraying a map of Europe, but each country in the eurozone has its own design on the obverse, which means that each coin has a variety of different...
have mint marks of their respective Mint. See
Identifying marks on euro coins
Identifying marks on euro coins
Before the introduction of the euro, the current eurozone members issued their own individual national coinage, most of which featured mint marks, privy marks and/or mint master marks. These marks have been continued as a part of the national designs of the euro coins, as well...
for more information.
External links