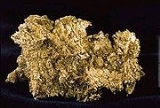 Precious metal
A
precious metal
is a rare, naturally occurring
metal
Metal
A metal , is an element, compound, or alloy that is a good conductor of both electricity and heat. Metals are usually malleable and shiny, that is they reflect most of incident light...
lic
chemical element
Chemical element
A chemical element is a pure chemical substance consisting of one type of atom distinguished by its atomic number, which is the number of protons in its nucleus. Familiar examples of elements include carbon, oxygen, aluminum, iron, copper, gold, mercury, and lead.As of November 2011, 118 elements...
of high
economic
Economics
Economics is the social science that analyzes the production, distribution, and consumption of goods and services. The term economics comes from the Ancient Greek from + , hence "rules of the house"...
value.
Chemically, the precious metals are less reactive than most elements, have high
lustre
Lustre (mineralogy)
Lustre is a description of the way light interacts with the surface of a crystal, rock, or mineral. The word lustre traces its origins back to the Latin word lux, meaning "light", and generally implies radiance, gloss, or brilliance....
, are softer or more
ductile
Ductility
In materials science, ductility is a solid material's ability to deform under tensile stress; this is often characterized by the material's ability to be stretched into a wire. Malleability, a similar property, is a material's ability to deform under compressive stress; this is often characterized...
, and have higher
melting point
Melting point
The melting point of a solid is the temperature at which it changes state from solid to liquid. At the melting point the solid and liquid phase exist in equilibrium. The melting point of a substance depends on pressure and is usually specified at standard atmospheric pressure...
s than other metals. Historically, precious metals were important as
currency
Currency
In economics, currency refers to a generally accepted medium of exchange. These are usually the coins and banknotes of a particular government, which comprise the physical aspects of a nation's money supply...
but are now regarded mainly as investment and industrial
commodities
Commodity
In economics, a commodity is the generic term for any marketable item produced to satisfy wants or needs. Economic commodities comprise goods and services....
.
Gold
Gold
Gold is a chemical element with the symbol Au and an atomic number of 79. Gold is a dense, soft, shiny, malleable and ductile metal. Pure gold has a bright yellow color and luster traditionally considered attractive, which it maintains without oxidizing in air or water. Chemically, gold is a...
,
silver
Silver
Silver is a metallic chemical element with the chemical symbol Ag and atomic number 47. A soft, white, lustrous transition metal, it has the highest electrical conductivity of any element and the highest thermal conductivity of any metal...
,
platinum
Platinum
Platinum is a chemical element with the chemical symbol Pt and an atomic number of 78. Its name is derived from the Spanish term platina del Pinto, which is literally translated into "little silver of the Pinto River." It is a dense, malleable, ductile, precious, gray-white transition metal...
, and
palladium
Palladium
Palladium is a chemical element with the chemical symbol Pd and an atomic number of 46. It is a rare and lustrous silvery-white metal discovered in 1803 by William Hyde Wollaston. He named it after the asteroid Pallas, which was itself named after the epithet of the Greek goddess Athena, acquired...
each have an
ISO 4217
ISO 4217
ISO 4217 is a standard published by the International Standards Organization, which delineates currency designators, country codes , and references to minor units in three tables:* Table A.1 – Current currency & funds code list...
currency code.
The best-known precious metals are the
coinage metals
Coinage metals
The coinage metals comprise, at minimum, those metallic chemical elements which have historically been used as components in alloys used to mint coins. The term is not perfectly defined, however, since a number of metals have been used to make "demonstration coins" which have never been used to...
gold and silver.