 Military aircraft
A
military aircraft
is any
fixed-wing
Fixed-wing aircraft
A fixed-wing aircraft is an aircraft capable of flight using wings that generate lift due to the vehicle's forward airspeed. Fixed-wing aircraft are distinct from rotary-wing aircraft in which wings rotate about a fixed mast and ornithopters in which lift is generated by flapping wings.A powered...
or
rotary-wing
Rotorcraft
A rotorcraft or rotary wing aircraft is a heavier-than-air flying machine that uses lift generated by wings, called rotor blades, that revolve around a mast. Several rotor blades mounted to a single mast are referred to as a rotor. The International Civil Aviation Organization defines a rotorcraft...
aircraft
Aircraft
An aircraft is a vehicle that is able to fly by gaining support from the air, or, in general, the atmosphere of a planet. An aircraft counters the force of gravity by using either static lift or by using the dynamic lift of an airfoil, or in a few cases the downward thrust from jet engines.Although...
that is operated by a legal or insurrectionary armed service of any type. Military aircraft can be either combat or non-combat:
Combat aircraft are aircraft designed to destroy enemy equipment using their own armament. Combat aircraft are normally developed and procured only by military forces.
Non-combat aircraft are aircraft not designed for combat as their primary function, but may carry weapons for self-defense. These mainly operate in support roles, and may be developed by either military forces or civilian organizations.
Combat aircraft
Combat aircraft (warplanes) divide broadly into
fighters
Fighter aircraft
A fighter aircraft is a military aircraft designed primarily for air-to-air combat with other aircraft, as opposed to a bomber, which is designed primarily to attack ground targets...
and
bomber
Bomber
A bomber is a military aircraft designed to attack ground and sea targets, by dropping bombs on them, or – in recent years – by launching cruise missiles at them.-Classifications of bombers:...
s.
There are several variations between the fighter and the bomber, including
fighter-bomber
Fighter-bomber
A fighter-bomber is a fixed-wing aircraft with an intended primary role of light tactical bombing and also incorporating certain performance characteristics of a fighter aircraft. This term, although still used, has less significance since the introduction of rockets and guided missiles into aerial...
s, such as the
MiG-23
Mikoyan-Gurevich MiG-23
The Mikoyan-Gurevich MiG-23 is a variable-geometry fighter aircraft, designed by the Mikoyan-Gurevich design bureau in the Soviet Union. It is considered to belong to the Soviet third generation jet fighter category, along with similarly aged Soviet fighters such as the MiG-25 "Foxbat"...
, ground-attack aircraft, such as the Soviet
Ilyushin Il-2
Ilyushin Il-2
The Ilyushin Il-2 was a ground-attack aircraft in the Second World War, produced by the Soviet Union in very large numbers...
Shturmovik. Also included among combat aircraft are long-range maritime patrol aircraft, such as the Hawker Siddeley Nimrod and the
S-3 Viking
S-3 Viking
The Lockheed S-3 Viking is a four-seat twin-engine jet aircraft that was used by the U.S. Navy to identify, track, and destroy enemy submarines. In the late 1990s, the S-3B's mission focus shifted to surface warfare and aerial refueling. The Viking also provided electronic warfare and surface...
that are often equipped to attack with
anti-ship missile
Anti-ship missile
Anti-ship missiles are guided missiles that are designed for use against ships and large boats. Most anti-ship missiles are of the sea-skimming type, many use a combination of inertial guidance and radar homing...
s and
anti-submarine weapons
Anti-submarine warfare
Anti-submarine warfare is a branch of naval warfare that uses surface warships, aircraft, or other submarines to find, track and deter, damage or destroy enemy submarines....
.
Fighters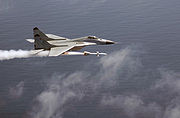 The main role of fighters is destroying enemy aircraft in air-to-air combat, offensive or defensive. Many are fast and highly maneuverable. Escorting bombers or other aircraft is also a common task. They are capable of carrying a variety of weapons, including machine guns, cannons,
rockets
Rocket (weapon)
A rocket is a self propelled, unguided weapon system powered by a rocket motor.- Categorisation :In military parlance, powered munitions are broadly categorised as follows:* A powered, unguided munition is known as a rocket....
and guided missiles. Many modern fighters can attack enemy fighters from a great distance, before the enemy even sees them. Examples of
air superiority fighter
Air superiority fighter
An air superiority fighter is a type of fighter aircraft intended to gain air superiority in a war, by entering and seizing control of enemy airspace. Air superiority fighters are designed to effectively engage enemy fighters, more than other types of aircraft...
s include the
F-22 Raptor
F-22 Raptor
The Lockheed Martin/Boeing F-22 Raptor is a single-seat, twin-engine fifth-generation supermaneuverable fighter aircraft that uses stealth technology. It was designed primarily as an air superiority fighter, but has additional capabilities that include ground attack, electronic warfare, and signals...
and the MiG-29. WWII fighters include the
Spitfire
Supermarine Spitfire
The Supermarine Spitfire is a British single-seat fighter aircraft that was used by the Royal Air Force and many other Allied countries throughout the Second World War. The Spitfire continued to be used as a front line fighter and in secondary roles into the 1950s...
, the
P-51 Mustang
P-51 Mustang
The North American Aviation P-51 Mustang was an American long-range, single-seat fighter and fighter-bomber used during World War II, the Korean War and in several other conflicts...
and Bf 109. An example of an
interceptor
Interceptor aircraft
An interceptor aircraft is a type of fighter aircraft designed specifically to prevent missions of enemy aircraft, particularly bombers and reconnaissance aircraft. Interceptors generally rely on high speed and powerful armament in order to complete their mission as quickly as possible and set up...
(a fighter designed to take-off and quickly intercept and shoot down enemy planes) would be the MiG-25. An example of a
heavy fighter
Heavy fighter
A heavy fighter is a fighter aircraft designed to carry heavier weapons or operate at longer ranges. To achieve acceptable performance, most heavy fighters were twin-engined, and many had multi-place crews....
is the
Messerschmitt Bf 110
Messerschmitt Bf 110
The Messerschmitt Bf 110, often called Me 110, was a twin-engine heavy fighter in the service of the Luftwaffe during World War II. Hermann Göring was a proponent of the Bf 110, and nicknamed it his Eisenseiten...
.
The term "fighter" is also sometimes applied to aircraft that have virtually no air-air capability – for example the
A-10
A-10 Thunderbolt II
The Fairchild Republic A-10 Thunderbolt II is an American single-seat, twin-engine, straight-wing jet aircraft developed by Fairchild-Republic in the early 1970s. The A-10 was designed for a United States Air Force requirement to provide close air support for ground forces by attacking tanks,...
ground-attack aircraft is operated by USAF "Fighter" squadrons.
Bombers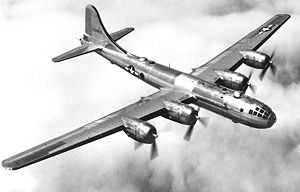 Bombers are normally larger, heavier, and less maneuverable than fighter aircraft. They are capable of carrying large payloads of bombs. Bombers are used almost exclusively for ground attacks and not fast or agile enough to take on enemy fighters head-to-head. A few have a single engine and require one pilot to operate and others have two or more engines and require crews of two or more. A limited number of bombers, such as the
B-2 Spirit
B-2 Spirit
The Northrop Grumman B-2 Spirit is an American heavy bomber with low observable stealth technology designed to penetrate dense anti-aircraft defenses and deploy both conventional and nuclear weapons. The bomber has a crew of two and can drop up to eighty -class JDAM GPS-guided bombs, or sixteen ...
, have
stealth
Stealth technology
Stealth technology also termed LO technology is a sub-discipline of military tactics and passive electronic countermeasures, which cover a range of techniques used with personnel, aircraft, ships, submarines, and missiles, to make them less visible to radar, infrared, sonar and other detection...
capabilities that keep them from being detected by enemy radar. An example of a conventional modern bomber would be the
B-52 Stratofortress
B-52 Stratofortress
The Boeing B-52 Stratofortress is a long-range, subsonic, jet-powered strategic bomber operated by the United States Air Force since the 1950s. The B-52 was designed and built by Boeing, who have continued to provide maintainence and upgrades to the aircraft in service...
. An example of a WWII bomber would be a
B-17 Flying Fortress
.
Bombers include
light bomber
Light bomber
A light bomber is a relatively small and fast class of military bomber aircraft which were primarily employed before the 1950s. Such aircraft would typically not carry more than one ton of ordnance....
s,
medium bomber
Medium bomber
A medium bomber is a bomber aircraft designed to operate with medium bombloads over medium distances; the name serves to distinguish them from the larger heavy bombers and smaller light bombers...
s,
heavy bomber
Heavy bomber
A heavy bomber is a bomber aircraft of the largest size and load carrying capacity, and usually the longest range.In New START, the term "heavy bomber" is used for two types of bombers:*one with a range greater than 8,000 kilometers...
s,
dive bomber
Dive bomber
A dive bomber is a bomber aircraft that dives directly at its targets in order to provide greater accuracy for the bomb it drops. Diving towards the target reduces the distance the bomb has to fall, which is the primary factor in determining the accuracy of the drop...
s, and
torpedo bomber
Torpedo bomber
A torpedo bomber is a bomber aircraft designed primarily to attack ships with aerial torpedoes which could also carry out conventional bombings. Torpedo bombers existed almost exclusively prior to and during World War II when they were an important element in many famous battles, notably the...
s.
The U.S. Navy and Marines have traditionally referred to their light and medium bombers as "attack aircraft".
Attack aircraft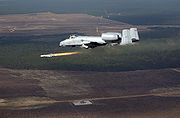 Attack aircraft can be used to provide support for friendly ground troops. Some are able to carry conventional or nuclear weapons far behind enemy lines to strike priority ground targets.
Attack helicopters
Attack helicopter
An attack helicopter is a military helicopter with the primary role of an attack aircraft, with the capability of engaging targets on the ground, such as enemy infantry and armored vehicles...
attack enemy armor and provide
close air support
Close air support
In military tactics, close air support is defined as air action by fixed or rotary winged aircraft against hostile targets that are close to friendly forces, and which requires detailed integration of each air mission with fire and movement of these forces.The determining factor for CAS is...
for ground troops.
An example ground-attack aircraft is the Soviet
Ilyushin Il-2
Ilyushin Il-2
The Ilyushin Il-2 was a ground-attack aircraft in the Second World War, produced by the Soviet Union in very large numbers...
Shturmovik.
Several types of transport airplanes have been armed with sideways firing weapons as
gunship
Gunship
The term "gunship" is used in several contexts, all sharing the general idea of a light craft armed with heavy guns.-In Navy:In the Navy, the term originally appeared in the mid-19th century as a less-common synonym for gunboat.-In military aviation:...
s for ground attack. These include the AC-47 and AC-130 aircraft.
In modern air forces, the distinction between bombers, fighter-bombers, and attack aircraft has become blurred. Many attack aircraft, even ones that
look
like fighters, are optimized to drop bombs, with very little ability to engage in aerial combat. Indeed, the design qualities that make an effective low-level attack aircraft make for a distinctly inferior air superiority fighter, and vice versa. Perhaps the most meaningful distinction is that a bomber is generally a long-range aircraft capable of striking targets deep within enemy territory, whereas fighter bombers and attack aircraft are limited to 'theater' missions in and around the immediate area of battlefield combat. Even that distinction is muddied by the availability of aerial refueling, which greatly increases the potential radius of combat operations.
Multirole combat aircraft
Many combat aircraft today have a multirole ability. Normally only applying to fixed-wing aircraft, this term signifies that the plane in question can be a fighter or a bomber, depending on what the mission calls for. An example of a multirole plane is the
F/A-18 Hornet
F/A-18 Hornet
The McDonnell Douglas F/A-18 Hornet is a supersonic, all-weather carrier-capable multirole fighter jet, designed to dogfight and attack ground targets . Designed by McDonnell Douglas and Northrop, the F/A-18 was derived from the latter's YF-17 in the 1970s for use by the United States Navy and...
. A WWII example would be the
P-38 Lightning
P-38 Lightning
The Lockheed P-38 Lightning was a World War II American fighter aircraft built by Lockheed. Developed to a United States Army Air Corps requirement, the P-38 had distinctive twin booms and a single, central nacelle containing the cockpit and armament...
.
Some fighter aircraft, such as the
F-16
F-16 Fighting Falcon
The General Dynamics F-16 Fighting Falcon is a multirole jet fighter aircraft originally developed by General Dynamics for the United States Air Force . Designed as an air superiority day fighter, it evolved into a successful all-weather multirole aircraft. Over 4,400 aircraft have been built since...
, are mostly used as 'bomb trucks', despite being designed for aerial combat.
Non-combat aircraft
Non-combat roles of military aircraft include
search and rescue
Search and rescue
Search and rescue is the search for and provision of aid to people who are in distress or imminent danger.The general field of search and rescue includes many specialty sub-fields, mostly based upon terrain considerations...
,
reconnaissance
Aerial reconnaissance
Aerial reconnaissance is reconnaissance that is conducted using unmanned aerial vehicles or reconnaissance aircraft. Their roles are to collect imagery intelligence, signals intelligence and measurement and signature intelligence...
,
observation/surveillance
Surveillance aircraft
A surveillance aircraft is an aircraft used for surveillance — collecting information over time. They are operated by military forces and other government agencies in roles such as intelligence gathering, battlefield surveillance, airspace surveillance, observation , border patrol and fishery...
,
transport
Military transport aircraft
Military transport aircraft are typically fixed and rotary wing cargo aircraft which are used to deliver troops, weapons and other military equipment by a variety of methods to any area of military operations around the surface of the planet, usually outside of the commercial flight routes in...
,
training
Trainer (aircraft)
A trainer is a class of aircraft designed specifically to facilitate in-flight training of pilots and aircrews. The use of a dedicated trainer aircraft with additional safety features—such as tandem flight controls, forgiving flight characteristics and a simplified cockpit arrangement—allows...
, and
aerial refueling
Aerial refueling
Aerial refueling, also called air refueling, in-flight refueling , air-to-air refueling or tanking, is the process of transferring fuel from one aircraft to another during flight....
.
Many civil aircraft, both fixed wing and rotary wing, have been produced in separate models for military use, such as the civilian
Douglas DC-3
Douglas DC-3
The Douglas DC-3 is an American fixed-wing propeller-driven aircraft whose speed and range revolutionized air transport in the 1930s and 1940s. Its lasting impact on the airline industry and World War II makes it one of the most significant transport aircraft ever made...
airliner, which became the military
C-47 Skytrain
C-47 Skytrain
The Douglas C-47 Skytrain or Dakota is a military transport aircraft that was developed from the Douglas DC-3 airliner. It was used extensively by the Allies during World War II and remained in front line operations through the 1950s with a few remaining in operation to this day.-Design and...
, and British "Dakota" transport planes, and decades later, the USAF's AC-47 aerial gunships. Even the fabric-covered two-seat
Piper J3 Cub
Piper J-3
The Piper J-3 Cub is a small, simple, light aircraft that was built between 1937 and 1947 by Piper Aircraft. With tandem seating, it was intended for flight training but became one of the most popular and best-known light aircraft of all time...
had a military version.
Glider
Military glider
Military gliders have been used by the military of various countries for carrying troops and heavy equipment to a combat zone, mainly during the Second World War. These engineless aircraft were towed into the air and most of the way to their target by military transport planes, e.g...
s and
balloon
Observation balloon
Observation balloons are balloons that are employed as aerial platforms for intelligence gathering and artillery spotting. Their use began during the French Revolutionary Wars, reaching their zenith during World War I, and they continue in limited use today....
s have also been used as military aircraft; for example, balloons were used for observation during the
American Civil War
American Civil War
The American Civil War was a civil war fought in the United States of America. In response to the election of Abraham Lincoln as President of the United States, 11 southern slave states declared their secession from the United States and formed the Confederate States of America ; the other 25...
and during
World War I
World War I
World War I , which was predominantly called the World War or the Great War from its occurrence until 1939, and the First World War or World War I thereafter, was a major war centred in Europe that began on 28 July 1914 and lasted until 11 November 1918...
, and
military glider
Military glider
Military gliders have been used by the military of various countries for carrying troops and heavy equipment to a combat zone, mainly during the Second World War. These engineless aircraft were towed into the air and most of the way to their target by military transport planes, e.g...
s were used during
World War II
World War II
World War II, or the Second World War , was a global conflict lasting from 1939 to 1945, involving most of the world's nations—including all of the great powers—eventually forming two opposing military alliances: the Allies and the Axis...
to deliver ground troops in
airborne assault
Airborne forces
Airborne forces are military units, usually light infantry, set up to be moved by aircraft and 'dropped' into battle. Thus they can be placed behind enemy lines, and have an ability to deploy almost anywhere with little warning...
s.
Military transport aircraft
Military transport (logistics) aircraft are primarily used to transport troops and war supplies. Cargo can be attached to pallets, which are easily loaded, secured for flight, and quickly unloaded for delivery. Cargo also may be discharged from flying aircraft on
parachute
Parachute
A parachute is a device used to slow the motion of an object through an atmosphere by creating drag, or in the case of ram-air parachutes, aerodynamic lift. Parachutes are usually made out of light, strong cloth, originally silk, now most commonly nylon...
s, eliminating the need for landing. Also included in this category are
aerial tankers
; these planes can refuel other aircraft while in flight. An example of a transport aircraft is the
C-17 Globemaster III
C-17 Globemaster III
The Boeing C-17 Globemaster III is a large military transport aircraft. Developed for the United States Air Force from the 1980s to the early 1990s by McDonnell Douglas, the C-17 is used for rapid strategic airlift of troops and cargo to main operating bases or forward operating bases throughout...
. A WWII example would be the C-47. An example of a tanker craft would be the
KC-135 Stratotanker
KC-135 Stratotanker
The Boeing KC-135 Stratotanker is an aerial refueling military aircraft. It and the Boeing 707 airliner were developed from the Boeing 367-80 prototype. The KC-135 was the US Air Force's first jet-powered refueling tanker and replaced the KC-97 Stratotanker...
.
Helicopters
Military helicopter
A military helicopter is a helicopter that is either specifically built or converted for use by military forces. A military helicopter's mission is a function of its design or conversion...
and
gliders
Military glider
Military gliders have been used by the military of various countries for carrying troops and heavy equipment to a combat zone, mainly during the Second World War. These engineless aircraft were towed into the air and most of the way to their target by military transport planes, e.g...
can transport troops and supplies to areas where other aircraft would be unable to land.
Calling a military aircraft a "cargo plane" is incorrect, because military
transport planes
also carry
paratrooper
Paratrooper
Paratroopers are soldiers trained in parachuting and generally operate as part of an airborne force.Paratroopers are used for tactical advantage as they can be inserted into the battlefield from the air, thereby allowing them to be positioned in areas not accessible by land...
s and other soldiers.
Reconnaissance and surveillance aircraft

Reconnaissance aircraft are primarily used to gather intelligence. They are equipped with cameras and other sensors. These aircraft may be specially designed or may be modified from a basic fighter or bomber type. This role is increasingly being filled by satellites and unmanned aerial vehicles (UAVs).
Surveillance and observation aircraft use radar and other sensors for battlefield surveillance,
airspace surveillance
Airborne Early Warning
An airborne early warning and control system is an airborne radar system designed to detect aircraft at long ranges and control and command the battle space in an air engagement by directing fighter and attack plane strikes...
, maritime patrol and artillery spotting. They include modified civil aircraft designs, moored balloons and UAVs.
Experimental Aircraft
Experimental aircraft are designed in order to test advanced aerodynamic, structural, avionic, or propulsion concepts. These are usually well instrumented, with performance data telemetered on radio-frequency data links to ground stations located at the test ranges where they are flown. An example of an experimental aircraft is the
XB-70 Valkyrie
XB-70 Valkyrie
The North American Aviation XB-70 Valkyrie was the prototype version of the proposed B-70 nuclear-armed deep-penetration strategic bomber for the United States Air Force's Strategic Air Command...
.
See also
Military aviation

Military aviation

Military aviation is the use of aircraft and other flying machines for the purposes of conducting or enabling warfare, including national airlift capacity to provide logistical supply to forces stationed in a theater or along a front. Air power includes the national means of conducting such...



Military aircraft insignia

Military aircraft insignia

Military aircraft insignia are insignia applied to military aircraft to identify the nation or branch of military service to which the aircraft belongs...