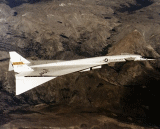 XB-70 Valkyrie
The
North American Aviation XB-70 Valkyrie
was the prototype version of the proposed
B-70
nuclear
Nuclear weapon
A nuclear weapon is an explosive device that derives its destructive force from nuclear reactions, either fission or a combination of fission and fusion. Both reactions release vast quantities of energy from relatively small amounts of matter. The first fission bomb test released the same amount...
-armed deep-penetration
strategic bomber
Strategic bomber
A strategic bomber is a heavy bomber aircraft designed to drop large amounts of ordnance onto a distant target for the purposes of debilitating an enemy's capacity to wage war. Unlike tactical bombers, which are used in the battle zone to attack troops and military equipment, strategic bombers are...
for the
United States Air Force
United States Air Force
The United States Air Force is the aerial warfare service branch of the United States Armed Forces and one of the American uniformed services. Initially part of the United States Army, the USAF was formed as a separate branch of the military on September 18, 1947 under the National Security Act of...
's (USAF)
Strategic Air Command
Strategic Air Command
The Strategic Air Command was both a Major Command of the United States Air Force and a "specified command" of the United States Department of Defense. SAC was the operational establishment in charge of America's land-based strategic bomber aircraft and land-based intercontinental ballistic...
. Designed by
North American Aviation
North American Aviation
North American Aviation was a major US aerospace manufacturer, responsible for a number of historic aircraft, including the T-6 Texan trainer, the P-51 Mustang fighter, the B-25 Mitchell bomber, the F-86 Sabre jet fighter, the X-15 rocket plane, and the XB-70, as well as Apollo Command and Service...
in the late 1950s, the Valkyrie was a large six-engined aircraft able to fly
Mach
Mach number
Mach number is the speed of an object moving through air, or any other fluid substance, divided by the speed of sound as it is in that substance for its particular physical conditions, including those of temperature and pressure...
3+ at an altitude of 70000 feet (21,336 m), which would have allowed it to avoid
interceptors
Interceptor aircraft
An interceptor aircraft is a type of fighter aircraft designed specifically to prevent missions of enemy aircraft, particularly bombers and reconnaissance aircraft. Interceptors generally rely on high speed and powerful armament in order to complete their mission as quickly as possible and set up...
, the only effective anti-bomber weapon at the time.
The introduction of effective high-altitude
surface-to-air missile
Surface-to-air missile
A surface-to-air missile or ground-to-air missile is a missile designed to be launched from the ground to destroy aircraft or other missiles...
s (SAMs), the program's high development costs, and changes in the technological environment with the introduction of
intercontinental ballistic missile
Intercontinental ballistic missile
An intercontinental ballistic missile is a ballistic missile with a long range typically designed for nuclear weapons delivery...
(ICBMs) led to the cancellation of the B-70 program in 1961.