 Medium bomber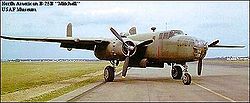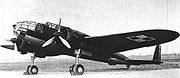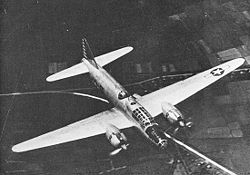 A
medium bomber
is a bomber aircraft designed to operate with medium
bomb
Aerial bomb
An aerial bomb is a type of explosive weapon intended to travel through the air with predictable trajectories, usually designed to be dropped from an aircraft...
loads over medium distances; the name serves to distinguish them from the larger
heavy bomber
Heavy bomber
A heavy bomber is a bomber aircraft of the largest size and load carrying capacity, and usually the longest range.In New START, the term "heavy bomber" is used for two types of bombers:*one with a range greater than 8,000 kilometers...
s and smaller
light bomber
Light bomber
A light bomber is a relatively small and fast class of military bomber aircraft which were primarily employed before the 1950s. Such aircraft would typically not carry more than one ton of ordnance....
s. The term was used prior to and during
World War II
World War II
World War II, or the Second World War , was a global conflict lasting from 1939 to 1945, involving most of the world's nations—including all of the great powers—eventually forming two opposing military alliances: the Allies and the Axis...
, when
engine
Reciprocating engine
A reciprocating engine, also often known as a piston engine, is a heat engine that uses one or more reciprocating pistons to convert pressure into a rotating motion. This article describes the common features of all types...
power was so meager that designs had to be carefully tailored to their missions.
The medium bomber was generally considered to be any
level bomber
Level bomber
High level bombing is a tactic of dropping bombs while in high altitude. The term is used as a counterpart to both World War II dive bombing and low-level bombing. Before the age of precision guided munitions , it was mostly used for strategic bombing, in other words to damage enemy's economy and...
design that delivered about 4000 pounds (1,814.4 kg) of
ordnance
Aircraft ordnance
Aircraft ordnance or ordnance is weapons used by aircraft. The term is often used when describing the weight of air-to-ground weaponry that can be carried by an aircraft or the weight that has been dropped...
over ranges of about 1500 to 2000 mi (2,414 to 3,218.7 km). Heavy bombers were those with a nominal load of 8000 pounds (3,628.7 kg) or more, and light bombers carried 2,000lb (907kg). These distinctions were beginning to disappear by the middle of World War II, when the average
fighter aircraft
Fighter aircraft
A fighter aircraft is a military aircraft designed primarily for air-to-air combat with other aircraft, as opposed to a bomber, which is designed primarily to attack ground targets...
could now carry a 2,000 lb (907 kg) load and ever more powerful engines allowed "light" bomber designs (and later
jet
Jet aircraft
A jet aircraft is an aircraft propelled by jet engines. Jet aircraft generally fly much faster than propeller-powered aircraft and at higher altitudes – as high as . At these altitudes, jet engines achieve maximum efficiency over long distances. The engines in propeller-powered aircraft...
fighter bombers) to largely take over the missions formerly filled by mediums.
After the war the term disappeared from use almost instantly; some of this was due to mass demobilization of the participant air forces' existing equipment, and the fact that several of the most-produced medium bomber types were now technologically obsolescent. Although a number of later aircraft were designed in this performance and load-carrying range, they were henceforth referred to as
tactical bomber
Tactical bomber
A tactical bomber is a bomber aircraft with an intended primary role of tactical bombing—attacking tactical targets, such as enemy's troops and military equipment. This implies that either aircraft's range or ordnance is insufficient to use it effectively as a strategic bomber.All light bombers,...
s instead. Examples of post-war mediums include the
English Electric Canberra
English Electric Canberra
The English Electric Canberra is a first-generation jet-powered light bomber manufactured in large numbers through the 1950s. The Canberra could fly at a higher altitude than any other bomber through the 1950s and set a world altitude record of 70,310 ft in 1957...
(along with its derived U.S. counterpart, the Martin B-57) and the Soviet
Ilyushin Il-28
Ilyushin Il-28
The Ilyushin Il-28 is a jet bomber aircraft of the immediate postwar period that was originally manufactured for the Soviet Air Force. It was the USSR's first such aircraft to enter large-scale production. It was also licence-built in China as the Harbin H-5. Total production in the USSR was 6,316...
"Beagle".
Examples
Introduced prior to WWII
World War II
Post war
See also