 Metropolitan Drinking Fountain and Cattle Trough Association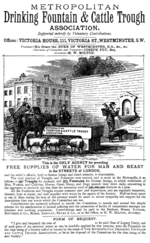 The Metropolitan Drinking Fountain and Cattle Trough Association
was an association set up in
London
London
London is the capital city of :England and the :United Kingdom, the largest metropolitan area in the United Kingdom, and the largest urban zone in the European Union by most measures. Located on the River Thames, London has been a major settlement for two millennia, its history going back to its...
by
Samuel Gurney
Samuel Gurney
Samuel Gurney was an English banker and philanthropist.He should not be confused with his second son, Samuel , also described as banker and philanthropist, and a Member of Parliament.-Early years and marriage:...
an
MP
Member of Parliament
A Member of Parliament is a representative of the voters to a :parliament. In many countries with bicameral parliaments, the term applies specifically to members of the lower house, as upper houses often have a different title, such as senate, and thus also have different titles for its members,...
and
philanthropist
Philanthropist
A philanthropist is someone who engages in philanthropy; that is, someone who donates his or her time, money, and/or reputation to charitable causes...
and Edward Thomas Wakefield, a barrister in 1859 to provide free drinking
water
Water
Water is a chemical substance with the chemical formula H2O. A water molecule contains one oxygen and two hydrogen atoms connected by covalent bonds. Water is a liquid at ambient conditions, but it often co-exists on Earth with its solid state, ice, and gaseous state . Water also exists in a...
. Originally called the
Metropolitan Free Drinking Fountain Association
it changed its name to include cattle troughs in 1867, to also support
animal welfare
Animal welfare
Animal welfare is the physical and psychological well-being of animals.The term animal welfare can also mean human concern for animal welfare or a position in a debate on animal ethics and animal rights...
.
Background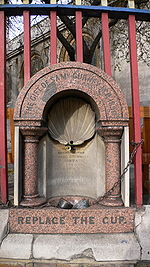 Water provision in the nineteenth century was from nine private water companies each with a geographic
monopoly
Monopoly
A monopoly exists when a specific person or enterprise is the only supplier of a particular commodity...
, which provided inadequate quantities of water which was often contaminated, as was famously discovered by
John Snow
John Snow (physician)
John Snow was an English physician and a leader in the adoption of anaesthesia and medical hygiene. He is considered to be one of the fathers of epidemiology, because of his work in tracing the source of a cholera outbreak in Soho, England, in 1854.-Early life and education:Snow was born 15 March...
during the 1854
cholera
Cholera
Cholera is an infection of the small intestine that is caused by the bacterium Vibrio cholerae. The main symptoms are profuse watery diarrhea and vomiting. Transmission occurs primarily by drinking or eating water or food that has been contaminated by the diarrhea of an infected person or the feces...
epidemic. Population growth in London had been very rapid (more than doubling between 1800 and 1850) without an increase in infrastructure investment. Legislation in the mid nineteenth century gradually improved the situation; the
Metropolitan Commission of Sewers
Metropolitan Commission of Sewers
The Metropolitan Commission of Sewers was one of London's first steps towards bringing its sewer and drainage infrastructure under the control of a single public body. It was a precursor of the Metropolitan Board of Works.-Formation:...
was formed, water filtration was made compulsory, and water intakes on the Thames were forced to be moved above the sewage outlets.
In this environment the public drinking fountain movement began, initially in
Liverpool
Liverpool
Liverpool is a city and metropolitan borough of Merseyside, England, along the eastern side of the Mersey Estuary. It was founded as a borough in 1207 and was granted city status in 1880...
where the local government was granted the ability to buy out the private water companies in 1847. It built the first public baths and then encouraged philanthropic public drinking water fountains. This was taken up by Samuel Gurney.
Early history
The Society was inaugurated in 1859 with the requirement "That no fountain be erected or promoted by the Association which shall not be so constructed as to ensure by filters, or other suitable means, the perfect purity and coldness of the water." The first fountain was built on Holborn Hill on the railings of Saint Sepulchre's church on Snow Hill, paid for by Samuel Gurney, and opened on 21 April 1859. It was moved in 1867 when the
Holborn Viaduct
Holborn Viaduct
Holborn Viaduct is a bridge in London and the name of the street which crosses it . It links Holborn, via Holborn Circus, with Newgate Street in the City of London, passing over Farringdon Street and the now subterranean River Fleet.It was built between 1863 and 1869, at a cost of over two million...
was built but reinstated in 1913 where it remains.
The fountain became immediately popular, used by 7000 people a day. In the next six years 85 fountains were built, but much of the funding came directly from the association; much of that money was provided directly by Samuel Gurney, as donations were not sufficient.
Gradually the association became more widely accepted, benefitting from its association with Evangelical Christianity and the
Temperance movement
Temperance movement
A temperance movement is a social movement urging reduced use of alcoholic beverages. Temperance movements may criticize excessive alcohol use, promote complete abstinence , or pressure the government to enact anti-alcohol legislation or complete prohibition of alcohol.-Temperance movement by...
.
Beer
Beer
Beer is the world's most widely consumed andprobably oldest alcoholic beverage; it is the third most popular drink overall, after water and tea. It is produced by the brewing and fermentation of sugars, mainly derived from malted cereal grains, most commonly malted barley and malted wheat...
was the main alternative to water, and generally safer. The temperance societies had no real alternative as
tea
Tea
Tea is an aromatic beverage prepared by adding cured leaves of the Camellia sinensis plant to hot water. The term also refers to the plant itself. After water, tea is the most widely consumed beverage in the world...
and
coffee
Coffee
Coffee is a brewed beverage with a dark,init brooo acidic flavor prepared from the roasted seeds of the coffee plant, colloquially called coffee beans. The beans are found in coffee cherries, which grow on trees cultivated in over 70 countries, primarily in equatorial Latin America, Southeast Asia,...
were too expensive, so drinking fountains were very attractive. Many were sited opposite
public house
Public house
A public house, informally known as a pub, is a drinking establishment fundamental to the culture of Britain, Ireland, Australia and New Zealand. There are approximately 53,500 public houses in the United Kingdom. This number has been declining every year, so that nearly half of the smaller...
s. The evangelical movement was encouraged to build fountains in churchyards to encourage the poor to see churches as supporting them. Many fountains have inscriptions such as "Jesus said whosoever drinketh of this water shall thirst again but whosoever drinketh of the water I shall give him shall never thirst". By 1877, the association was widely accepted and Queen Victoria donated money for a fountain in
Esher
Esher
Esher is a town in the Surrey borough of Elmbridge in South East England near the River Mole. It is a very prosperous part of the Greater London Urban Area, largely suburban in character, and is situated 14.1 miles south west of Charing Cross....
.
Charles Dickens, Jr
Charles Dickens, Jr
Charles Dickens, Jr, born Charles Culliford Boz Dickens , was the first child of the novelist Charles Dickens and his wife Catherine. A failed businessman, he became the editor of his father's magazine All the Year Round, and a successful writer of dictionaries...
's
Dickens's Dictionary of London
said in 1879, under "Drinking Fountains":
Until the last few years London was ill-provided with public drinking fountains and cattle troughs. This matter is now well looked after by the Metropolitan Drinking Fountain and Cattle Trough Association, which has erected and is now maintaining nearly 800 fountains and troughs, at which an enormous quantity of water is consumed daily. It is estimated that 300,000 people take advantage of the fountains on a summer's day, and a single trough has supplied the wants of 1,800 horses in one period of 24 hours. Several ornamental fountains have been provided by private munificence. Amongst these may be instanced the Baroness Burdett Coutts's beautiful fountains in Victoria-park

Victoria Park, East London

Victoria Park is 86.18 hectares of open space that stretches out across part of the East End of London, England bordering parts of Bethnal Green, Hackney, and Bow, such as along Old Ford Road, London E3 and Victoria Park Road E9. The park is entirely within the London Borough of Tower Hamlets...


and Regent's-park

Regent's Park

Regent's Park is one of the Royal Parks of London. It is in the north-western part of central London, partly in the City of Westminster and partly in the London Borough of Camden...


the Maharajah of Vizianagram

Vizianagaram

Vizianagaram is the main city of the Vizianagaram District of north-eastern Andhra Pradesh in southern India. Vizianagaram district was formed on 1 June 1979, with some parts carved from the neighbouring districts of Srikakulam and Visakhapatnam. It is, at present, the largest municipality of...


's in Hyde-park

Hyde Park, London

Hyde Park is one of the largest parks in central London, United Kingdom, and one of the Royal Parks of London, famous for its Speakers' Corner.The park is divided in two by the Serpentine...


; Mrs. Brown's, by Thornycroft, in Hamilton-place, Mr. Wheeler's at the north of Kew-bridge

Kew Bridge

Kew Bridge is a bridge in London over the River Thames. The present bridge was designed by John Wolfe-Barry and opened in 1903 by King Edward VII. The bridge was givenGrade II listed structure protection in 1983.- Location :...


; and Mr. Buxton's

Buxton Memorial Fountain

The Buxton Memorial Fountain is a memorial and drinking fountain in London, the United Kingdom, that commemorates the emancipation of slaves in the British Empire in 1834....


at Westminster

City of Westminster

The City of Westminster is a London borough occupying much of the central area of London, England, including most of the West End. It is located to the west of and adjoining the ancient City of London, directly to the east of the Royal Borough of Kensington and Chelsea, and its southern boundary...


.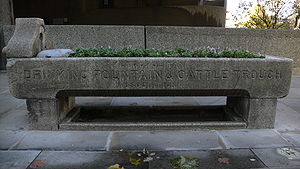 In collaboration with the
Royal Society for the Prevention of Cruelty to Animals
Royal Society for the Prevention of Cruelty to Animals
The Royal Society for the Prevention of Cruelty to Animals is a charity in England and Wales that promotes animal welfare. In 2009 the RSPCA investigated 141,280 cruelty complaints and collected and rescued 135,293 animals...
, troughs were built for horses, cattle and dogs. Live cattle were still brought to market (at
Smithfield
Smithfield, London
Smithfield is an area of the City of London, in the ward of Farringdon Without. It is located in the north-west part of the City, and is mostly known for its centuries-old meat market, today the last surviving historical wholesale market in Central London...
and the
Metropolitan Cattle Market
Metropolitan Cattle Market
The Metropolitan Cattle Market in Islington, north London was built by the City of London Corporation and opened in June 1855 by Prince Albert...
); horses were vital for transport. Previously troughs were provided for patrons of public houses or for a charge (one example was inscribed
All that water their horses here Must pay a penny or have some beer
), and free ones made a huge difference;
Hansom cab
Hansom cab
The hansom cab is a kind of horse-drawn cart designed and patented in 1834 by Joseph Hansom, an architect from York. The vehicle was developed and tested by Hansom in Hinckley, Leicestershire, England. Originally called the Hansom safety cab, it was designed to combine speed with safety, with a low...
s travelled with maps showing the new free troughs, and they have been described as Victorian
filling station
Filling station
A filling station, also known as a fueling station, garage, gasbar , gas station , petrol bunk , petrol pump , petrol garage, petrol kiosk , petrol station "'servo"' in Australia or service station, is a facility which sells fuel and lubricants...
s.
The surviving cattle troughs are mainly large
granite
Granite
Granite is a common and widely occurring type of intrusive, felsic, igneous rock. Granite usually has a medium- to coarse-grained texture. Occasionally some individual crystals are larger than the groundmass, in which case the texture is known as porphyritic. A granitic rock with a porphyritic...
ones, in many cases planted with flowers. Earlier designs were of
cast iron
Cast iron
Cast iron is derived from pig iron, and while it usually refers to gray iron, it also identifies a large group of ferrous alloys which solidify with a eutectic. The color of a fractured surface can be used to identify an alloy. White cast iron is named after its white surface when fractured, due...
or zinc lined timber, but both were too easily damaged.
Twentieth century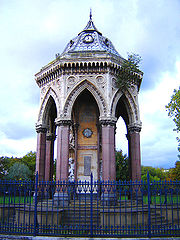 Gradually the association became less radical; having originally been one of the manifestations of Victorian private philanthropy recognising the limitations of the
free market
Free market
A free market is a competitive market where prices are determined by supply and demand. However, the term is also commonly used for markets in which economic intervention and regulation by the state is limited to tax collection, and enforcement of private ownership and contracts...
it became less important as local government began to provide more public services, and evangelical
Nonconformism
Nonconformism
Nonconformity is the refusal to "conform" to, or follow, the governance and usages of the Church of England by the Protestant Christians of England and Wales.- Origins and use:...
declined in importance. Wealthy patrons began to commission more elaborate fountains, designed by well known architects, as well as the simple granite standard patterns. The most elaborate were those built in 1862 by
Angela Burdett-Coutts
Angela Burdett-Coutts, 1st Baroness Burdett-Coutts
Angela Georgina Burdett-Coutts, 1st Baroness Burdett-Coutts , born Angela Georgina Burdett, was a nineteenth-century philanthropist, the daughter of Sir Francis Burdett, 5th Baronet and the former Sophia Coutts, daughter of banker Thomas Coutts...
in
Victoria Park
Victoria Park, East London
Victoria Park is 86.18 hectares of open space that stretches out across part of the East End of London, England bordering parts of Bethnal Green, Hackney, and Bow, such as along Old Ford Road, London E3 and Victoria Park Road E9. The park is entirely within the London Borough of Tower Hamlets...
which cost over £6000, and the
Buxton Memorial Fountain
Buxton Memorial Fountain
The Buxton Memorial Fountain is a memorial and drinking fountain in London, the United Kingdom, that commemorates the emancipation of slaves in the British Empire in 1834....
commemorating the
emancipation
Abolitionism
Abolitionism is a movement to end slavery.In western Europe and the Americas abolitionism was a movement to end the slave trade and set slaves free. At the behest of Dominican priest Bartolomé de las Casas who was shocked at the treatment of natives in the New World, Spain enacted the first...
of
slave
Slavery
Slavery is a system under which people are treated as property to be bought and sold, and are forced to work. Slaves can be held against their will from the time of their capture, purchase or birth, and deprived of the right to leave, to refuse to work, or to demand compensation...
s.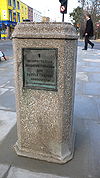 By 1936, the association stopped building troughs, as the
automobile
Automobile
An automobile, autocar, motor car or car is a wheeled motor vehicle used for transporting passengers, which also carries its own engine or motor...
was gradually replacing the horse. More drinking fountains were provided in schools and parks, and the old cups were replaced by jets of water as these were seen as more hygienic. The 1929 small standard design of fountain for parks and schools is still common.
The association survives as the
Drinking Fountain Association
and received a
National Lottery
National Lottery (United Kingdom)
The National Lottery is the state-franchised national lottery in the United Kingdom and the Isle of Man.It is operated by Camelot Group, to whom the licence was granted in 1994, 2001 and again in 2007. The lottery is regulated by the National Lottery Commission, and was established by the then...
grant to build more fountains in 2000, and to restore existing ones. It now builds drinking fountains in schools, restores existing fountains and provides wells and other water projects in developing countries. Much of the archival material is at the
Museum of London
Museum of London
The Museum of London documents the history of London from the Prehistoric to the present day. The museum is located close to the Barbican Centre, as part of the striking Barbican complex of buildings created in the 1960s and 70s as an innovative approach to re-development within a bomb damaged...
.
External links