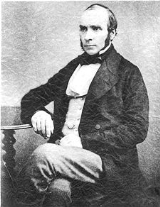 John Snow (physician)
John Snow
was an English physician and a leader in the adoption of anaesthesia and medical
hygiene
Hygiene
Hygiene refers to the set of practices perceived by a community to be associated with the preservation of health and healthy living. While in modern medical sciences there is a set of standards of hygiene recommended for different situations, what is considered hygienic or not can vary between...
. He is considered to be one of the fathers of
epidemiology
Epidemiology
Epidemiology is the study of health-event, health-characteristic, or health-determinant patterns in a population. It is the cornerstone method of public health research, and helps inform policy decisions and evidence-based medicine by identifying risk factors for disease and targets for preventive...
, because of his work in tracing the source of a
cholera outbreak in Soho, England, in 1854
1854 Broad Street cholera outbreak
The Broad Street cholera outbreak was a severe outbreak of cholera that occurred near Broad Street in Soho district of London, England in 1854...
.
Snow was born 15 March 1813 in
York
York
York is a walled city, situated at the confluence of the Rivers Ouse and Foss in North Yorkshire, England. The city has a rich heritage and has provided the backdrop to major political events throughout much of its two millennia of existence...
, England. He was the first of nine children born to William and Frances Snow in their North Street home. His neighbourhood was one of the poorest in the city and was always in danger of flooding because of its low proximity to the
River Ouse
River Ouse, Yorkshire
The River Ouse is a river in North Yorkshire, England. The river is formed from the River Ure at Cuddy Shaw Reach near Linton-on-Ouse, about 6 miles downstream of the confluence of the River Swale with the River Ure...
.