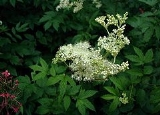 Meadowsweet
Filipendula ulmaria
, commonly known as
Meadowsweet
, is a
perennial
Perennial plant
A perennial plant or simply perennial is a plant that lives for more than two years. The term is often used to differentiate a plant from shorter lived annuals and biennials. The term is sometimes misused by commercial gardeners or horticulturalists to describe only herbaceous perennials...
herb
Herb
Except in botanical usage, an herb is "any plant with leaves, seeds, or flowers used for flavoring, food, medicine, or perfume" or "a part of such a plant as used in cooking"...
in the family
Rosaceae
Rosaceae
Rosaceae are a medium-sized family of flowering plants, including about 2830 species in 95 genera. The name is derived from the type genus Rosa. Among the largest genera are Alchemilla , Sorbus , Crataegus , Cotoneaster , and Rubus...
that grows in damp
meadow
Meadow
A meadow is a field vegetated primarily by grass and other non-woody plants . The term is from Old English mædwe. In agriculture a meadow is grassland which is not grazed by domestic livestock but rather allowed to grow unchecked in order to make hay...
s. It is native throughout most of
Europe
Europe
Europe is, by convention, one of the world's seven continents. Comprising the westernmost peninsula of Eurasia, Europe is generally 'divided' from Asia to its east by the watershed divides of the Ural and Caucasus Mountains, the Ural River, the Caspian and Black Seas, and the waterways connecting...
and Western Asia. It has been introduced and naturalised in North America.
Juncus subnodulosus-Cirsium palustre fen-meadow
Juncus subnodulosus-Cirsium palustre fen-meadow
The Juncus subnodulosus-Cirsium palustre fen-meadow is a plant association characteristically found on damp ground in portions of western Europe...
plant associations of Western Europe consistently include this plant.
Meadowsweet has also been referred to as
Queen of the Meadow
,
Pride of the Meadow
,
Meadow-Wort
,
Meadow Queen
,
Lady of the Meadow
,
Dollof
,
Meadsweet
, and
Bridewort
.
Description

The stems are 1–2 m (3–7 ft) tall, erect and furrowed, reddish to sometimes purple. The
leaves
Leaf
A leaf is an organ of a vascular plant, as defined in botanical terms, and in particular in plant morphology. Foliage is a mass noun that refers to leaves as a feature of plants....
are dark-green on the upper side and whitish and downy underneath, much divided, interruptedly pinnate, having a few large serrate leaflets and small intermediate ones. Terminal leaflets are large, 4–8 cm long, and three- to five-lobed.
Meadowsweet has delicate, graceful, creamy-white
flower
Flower
A flower, sometimes known as a bloom or blossom, is the reproductive structure found in flowering plants . The biological function of a flower is to effect reproduction, usually by providing a mechanism for the union of sperm with eggs...
s clustered close together in handsome irregularly-branched cymes, having a very strong, sweet smell. They flower from June to early September.
Meadowsweet leaves are commonly galled by the bright orange-rust fungus
Triphragmium ulmariae
Meadowsweet Rust gall
Triphragmium ulmariae is a species of fungus in the Sphaerophragmiaceae family. It causes meadowsweet rust gall, which develops as a chemically induced swelling, arising from the lower surface of the meadowsweet leaves.- Cause :...
, which creates swellings and distortions on the stalk and/or midrib.
Herbal and pharmacological
The whole herb possesses a pleasant taste and flavour, the green parts having a similar aromatic character to the flowers, leading to the use of the plant as a
strewing herb
Strewing herb
Strewing herbs are certain kinds of plants that are scattered over the floors of dwelling places and other buildings. Such plants usually have fragrant or astringent smells, and many also serve as insecticides or disinfectants...
, strewn on floors to give the rooms a pleasant aroma, and its use to flavour
wine
Wine
Wine is an alcoholic beverage, made of fermented fruit juice, usually from grapes. The natural chemical balance of grapes lets them ferment without the addition of sugars, acids, enzymes, or other nutrients. Grape wine is produced by fermenting crushed grapes using various types of yeast. Yeast...
,
beer
Beer
Beer is the world's most widely consumed andprobably oldest alcoholic beverage; it is the third most popular drink overall, after water and tea. It is produced by the brewing and fermentation of sugars, mainly derived from malted cereal grains, most commonly malted barley and malted wheat...
, and many vinegars. The flowers can be added to stewed fruit and jams, giving them a subtle almond flavor. It has many medicinal properties. The whole plant is a traditional remedy for an acidic stomach, and the fresh root is often used in infinitesimal quantities in homeopathic preparations. Dried, the flowers are used in pot pourri.
Chemical constituents include
salicylic acid
Salicylic acid
Salicylic acid is a monohydroxybenzoic acid, a type of phenolic acid and a beta hydroxy acid. This colorless crystalline organic acid is widely used in organic synthesis and functions as a plant hormone. It is derived from the metabolism of salicin...
, flavone
glycoside
Glycoside
In chemistry, a glycoside is a molecule in which a sugar is bound to a non-carbohydrate moiety, usually a small organic molecule. Glycosides play numerous important roles in living organisms. Many plants store chemicals in the form of inactive glycosides. These can be activated by enzyme...
s,
essential oil
Essential oil
An essential oil is a concentrated hydrophobic liquid containing volatile aroma compounds from plants. Essential oils are also known as volatile oils, ethereal oils or aetherolea, or simply as the "oil of" the plant from which they were extracted, such as oil of clove...
s, and
tannin
Tannin
A tannin is an astringent, bitter plant polyphenolic compound that binds to and precipitates proteins and various other organic compounds including amino acids and alkaloids.The term tannin refers to the use of...
s.
In 1897,
Felix Hoffmann
Felix Hoffmann
Felix Hoffmann was a German chemist, credited for the first synthesized medically useful forms of heroin and aspirin, though some sources maintain that Arthur Eichengrün was the real creator of the latter. Hoffmann was born in Ludwigsburg and studied Chemistry in Munich...
created a synthetically altered version of salicin, derived from the species, which caused less digestive upset than pure salicylic acid. The new drug, formally acetylsalicylic acid, was named
aspirin
Aspirin
Aspirin , also known as acetylsalicylic acid , is a salicylate drug, often used as an analgesic to relieve minor aches and pains, as an antipyretic to reduce fever, and as an anti-inflammatory medication. It was discovered by Arthur Eichengrun, a chemist with the German company Bayer...
by
Hoffman
Felix Hoffmann
Felix Hoffmann was a German chemist, credited for the first synthesized medically useful forms of heroin and aspirin, though some sources maintain that Arthur Eichengrün was the real creator of the latter. Hoffmann was born in Ludwigsburg and studied Chemistry in Munich...
's employer
Bayer AG
Bayer
Bayer AG is a chemical and pharmaceutical company founded in Barmen , Germany in 1863. It is headquartered in Leverkusen, North Rhine-Westphalia, Germany and well known for its original brand of aspirin.-History:...
after the old
botanical
Botany
Botany, plant science, or plant biology is a branch of biology that involves the scientific study of plant life. Traditionally, botany also included the study of fungi, algae and viruses...
name for meadowsweet,
Spiraea ulmaria
. This gave rise to the class of drugs known as
non-steroidal anti-inflammatory drug
Non-steroidal anti-inflammatory drug
Nonsteroidal anti-inflammatory drugs, usually abbreviated to NSAIDs or NAIDs, but also referred to as nonsteroidal anti-inflammatory agents/analgesics or nonsteroidal Anti-inflammatory medicines , are drugs with analgesic and antipyretic effects and which have, in higher doses, anti-inflammatory...
s (NSAIDs).
This plant contains the chemicals used to make aspirin, a small section of root, when peeled and crushed smells like
Germolene
Germolene
Germolene is a brand name used on a range of antiseptic products produced by the Bayer company, which in 1999 bought the brand from the then-Smithkline Beecham...
, and when chewed is a good natural remedy for relieving headaches. A
natural black dye
Natural dye
Natural dyes are dyes or colorants derived from plants, invertebrates, or minerals. The majority of natural dyes are vegetable dyes from plant sources – roots, berries, bark, leaves, and wood — and other organic sources such as fungi and lichens....
can be obtained from the roots by using a copper
mordant
Mordant
A mordant is a substance used to set dyes on fabrics or tissue sections by forming a coordination complex with the dye which then attaches to the fabric or tissue. It may be used for dyeing fabrics, or for intensifying stains in cell or tissue preparations. The term mordant comes from the Latin...
.
About one in five people with asthma has
Samter's triad
Samter's triad
Samter's triad is a medical condition consisting of asthma, aspirin sensitivity, and nasal/ethmoidal polyposis. It occurs in middle age and may not include any allergies.- Signs and symptoms :...
, in which aspirin induces asthma symptoms. Therefore, asthmatics should be aware of the possibility that meadowsweet, with its similar biochemistry, will also induce symptoms of asthma.

History and etymology
White-flowered meadowsweet has been found with the cremated remains of three people and at least one animal in a
Bronze Age
Bronze Age
The Bronze Age is a period characterized by the use of copper and its alloy bronze as the chief hard materials in the manufacture of some implements and weapons. Chronologically, it stands between the Stone Age and Iron Age...
cairn
Cairn
Cairn is a term used mainly in the English-speaking world for a man-made pile of stones. It comes from the or . Cairns are found all over the world in uplands, on moorland, on mountaintops, near waterways and on sea cliffs, and also in barren desert and tundra areas...
at Fan Foel,
Carmarthenshire
Carmarthenshire
Carmarthenshire is a unitary authority in the south west of Wales and one of thirteen historic counties. It is the 3rd largest in Wales. Its three largest towns are Llanelli, Carmarthen and Ammanford...
. Similar finds have also been found inside a Beaker from
Ashgrove
Ashgrove
Ashgrove can refer to:* Ashgrove, Queensland, Australia* Electoral district of Ashgrove - an electoral area for the unicameral Queensland Legislative Assembly* Ashgrove, Bath and North East Somerset, England...
,
Fife
Fife
Fife is a council area and former county of Scotland. It is situated between the Firth of Tay and the Firth of Forth, with inland boundaries to Perth and Kinross and Clackmannanshire...
, and a vessel from
North Mains
North Mains
North Mains is a henge in Strathearn on Strathallan Estate between Crieff and Auchterarder in Perthshire, Scotland . It was excavated in 1979 and the final report was published in 1983....
,
Strathallan
Strathallan
Strathallan is the strath of the Allan Water in Scotland. The strath stretches north and north-east from Stirling through Bridge of Allan, Dunblane and Blackford to Auchterarder in Perth and Kinross...
. These could indicate honey-based
mead
Mead
Mead , also called honey wine, is an alcoholic beverage that is produced by fermenting a solution of honey and water. It may also be produced by fermenting a solution of water and honey with grain mash, which is strained immediately after fermentation...
or flavoured ale, or might suggest the plant placed on the grave as a scented flower.
In Welsh Mythology,
Gwydion
Gwydion
Gwydion fab Dôn is a magician, hero and trickster of Welsh mythology, appearing most prominently in the Fourth Branch of the Mabinogi, which focuses largely on his relationship with his young nephew, Lleu Llaw Gyffes...
and Math created a woman out of
oak
Oak
An oak is a tree or shrub in the genus Quercus , of which about 600 species exist. "Oak" may also appear in the names of species in related genera, notably Lithocarpus...
blossom,
broom
Broom (shrub)
Brooms are a group of evergreen, semi-evergreen, and deciduous shrubs in the subfamily Faboideae of the legume family Fabaceae, mainly in the three genera Chamaecytisus, Cytisus and Genista, but also in many other small genera . All genera in this group are from the tribe Genisteae...
, and meadowsweet and named her
Blodeuwedd
Blodeuwedd
Blodeuwedd or Blodeuedd, , is the wife of Lleu Llaw Gyffes in Welsh mythology, made from the flowers of broom, meadowsweet and the oak by the magicians Math and Gwydion, and is a central figure in the fourth branch of the Mabinogi.-Role in Welsh tradition:The...
("flower face").
It is known by many other names, and in Chaucer's
The Knight's Tale
it is known as Meadwort and was one of the ingredients in a drink called "save." It was also known as Bridewort, because it was strewn in churches for festivals and weddings, and often made into bridal garlands. In Europe, it took its name "queen of the meadow" for the way it can dominate a low-lying, damp meadow. In the 16th century, when it was customary to strew floors with rushes and herbs (both to give warmth underfoot and to overcome smells and infections), it was a favorite of Queen Elizabeth I. She desired it above all other herbs in her chambers.
The name
ulmaria
means "elmlike", an odd epithet as it does not resemble the
elm
Elm
Elms are deciduous and semi-deciduous trees comprising the genus Ulmus in the plant family Ulmaceae. The dozens of species are found in temperate and tropical-montane regions of North America and Eurasia, ranging southward into Indonesia. Elms are components of many kinds of natural forests...
(
Ulmus
) in any way. However, like
slippery elm
Ulmus rubra
Ulmus rubra, the Slippery Elm, is a species of elm native to eastern North America...
bark, the plant contains salicylic acid, which has long been used as a painkiller, and this may be the source of the name. However, the generic name,
Filipendula
, comes from
filum
, meaning "thread" and
pendulus
, meaning "hanging." This is said to describe the root tubers that hang characteristically on the genus, on fibrous roots.
Popular culture
A 2007 episode of the TV Series Supernatural

Supernatural (TV series)

Supernatural is an American supernatural and horror television series created by Eric Kripke, which debuted on September 13, 2005 on The WB, and is now part of The CW's lineup. Starring Jared Padalecki as Sam Winchester and Jensen Ackles as Dean Winchester, the series follows the brothers as they...


("A Very Supernatural Christmas") featured Meadowsweet as a component of a pagan

Paganism

Paganism is a blanket term, typically used to refer to non-Abrahamic, indigenous polytheistic religious traditions....


ritual

Ritual

A ritual is a set of actions, performed mainly for their symbolic value. It may be prescribed by a religion or by the traditions of a community. The term usually excludes actions which are arbitrarily chosen by the performers....


.
External links