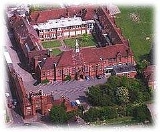 Maidstone Grammar School
Maidstone Grammar School
(
MGS
) is a
grammar school
Grammar school
A grammar school is one of several different types of school in the history of education in the United Kingdom and some other English-speaking countries, originally a school teaching classical languages but more recently an academically-oriented secondary school.The original purpose of mediaeval...
located in
Maidstone
Maidstone
Maidstone is the county town of Kent, England, south-east of London. The River Medway runs through the centre of the town linking Maidstone to Rochester and the Thames Estuary. Historically, the river was a source and route for much of the town's trade. Maidstone was the centre of the agricultural...
,
United Kingdom
United Kingdom
The United Kingdom of Great Britain and Northern IrelandIn the United Kingdom and Dependencies, other languages have been officially recognised as legitimate autochthonous languages under the European Charter for Regional or Minority Languages...
. It was founded in 1549.
Admissions
The school takes boys at the age of 11 and over by examination and boys and girls at 16+ on their GCSE results. The school currently has almost 1200 students and approximately 120 members of staff. The school holds both a Language College award and a Healthy School award. It is situated just off
Loose Road
(
A229
A229 road
The A229 is a major road running north-south through Kent.The road begins in the Medway town of Rochester at the foot of Star Hill forming a junction with the A2 road. It then climbs up through the built-up area of Chatham, passing Troy Town and Rochester Airport before descending the slope of the...
), west of
Mote Park
Mote Park
Mote Park is a 180 hectare multi-use public park in Maidstone, Kent. Previously a country estate it was converted to landscaped park land at the end of the 18th century before becoming a municipal park. It includes the former stately home Mote House together with a miniature railway, pitch and putt...
and the Mote Park
Leisure Centre
.
Buildings
The main school building is around a
Tudor-style
Tudor period
The Tudor period usually refers to the period between 1485 and 1603, specifically in relation to the history of England. This coincides with the rule of the Tudor dynasty in England whose first monarch was Henry VII...
quadrangle with a
cloister
Cloister
A cloister is a rectangular open space surrounded by covered walks or open galleries, with open arcades on the inner side, running along the walls of buildings and forming a quadrangle or garth...
on one side. A new block was added in the 1960s. A
sixth form
Sixth form
In the education systems of England, Wales, and Northern Ireland, and of Commonwealth West Indian countries such as Barbados, Trinidad and Tobago, Belize, Jamaica and Malta, the sixth form is the final two years of secondary education, where students, usually sixteen to eighteen years of age,...
and arts and crafts block was added in 1981. This newer building completes a second quadrangle. In 2005, a new
refectory
Refectory
A refectory is a dining room, especially in monasteries, boarding schools and academic institutions. One of the places the term is most often used today is in graduate seminaries...
and teaching block of 15 classrooms was built. As well as over 100 classrooms, there are twelve science laboratories, a language laboratory, seven computer centres, a set of music rooms, lecture theatre, gym and sports hall as well as a canteen. A new 'Applied Learning Centre' is also in use and houses several new editing suites, this was finished in the 2010/2011 school year, with a similarly styled 'Food Technology' and Sixth Form block having recently been opened (September 16th 2011).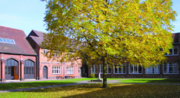 Houses
A house system was first inaugurated in 1899, with three houses, School, East Borough and West Borough. By circa 1900 these house were again revised this time based on geography with East House being for those boys east of the river, West House for those boys on the western riverside and School house for the townspeople and boarders.
In September 2007, the school saw the continuation of this tradition with the introduction of six School Houses. The six houses are named Challenger (purple),
Churchill
Churchill tank
The Tank, Infantry, Mk IV was a heavy British infantry tank used in the Second World War, best known for its heavy armour, large longitudinal chassis with all-around tracks with multiple bogies, and its use as the basis of many specialist vehicles. It was one of the heaviest Allied tanks of the war...
(yellow),
Endeavour
HMS Endeavour
HMS Endeavour may refer to one of the following ships:In the Royal Navy:, a 36-gun ship purchased in 1652 and sold in 1656, a 4-gun bomb vessel purchased in 1694 and sold in 1696, a fire ship purchased in 1694 and sold in 1696, a storeship hoy purchased in 1694 and sold in 1705, a storeship...
(red),
Hurricane
Hawker Hurricane
The Hawker Hurricane is a British single-seat fighter aircraft that was designed and predominantly built by Hawker Aircraft Ltd for the Royal Air Force...
(green),
Invincible
HMS Invincible (R05)
HMS Invincible was a British light aircraft carrier, the lead ship of three in her class in the Royal Navy. She was launched on 3 May 1977 and is the seventh ship to carry the name. She saw action in the Falklands War when she was deployed with , she took over as flagship of the British fleet when...
, (blue), and
Spitfire
Supermarine Spitfire
The Supermarine Spitfire is a British single-seat fighter aircraft that was used by the Royal Air Force and many other Allied countries throughout the Second World War. The Spitfire continued to be used as a front line fighter and in secondary roles into the 1950s...
(white). The winners of both the inaugural house and charities cup in 2007/2008 year were Churchill, and for the first time in the 2008/2009 year the winners of the house cup were Challenger.
Sixth form
The sixth form is one of the largest in the South-East. Each year the school takes up to 200 students into Year 12, including around thirty external students (mixed gender), accepting students from any school according to their GCSE results. The sixth form offers AS and A2 courses in a wide variety of combinations.
Sport
The school participates in multiple sports including
rugby
Rugby football
Rugby football is a style of football named after Rugby School in the United Kingdom. It is seen most prominently in two current sports, rugby league and rugby union.-History:...
, football,
field hockey
Field hockey
Field Hockey, or Hockey, is a team sport in which a team of players attempts to score goals by hitting, pushing or flicking a ball into an opposing team's goal using sticks...
,
cricket
Cricket
Cricket is a bat-and-ball game played between two teams of 11 players on an oval-shaped field, at the centre of which is a rectangular 22-yard long pitch. One team bats, trying to score as many runs as possible while the other team bowls and fields, trying to dismiss the batsmen and thus limit the...
,
athletics
Athletics (track and field)
Athletics is an exclusive collection of sporting events that involve competitive running, jumping, throwing, and walking. The most common types of athletics competitions are track and field, road running, cross country running, and race walking...
and basketball.
Combined Cadet Force
The school has a
Combined Cadet Force
Combined Cadet Force
The Combined Cadet Force is a Ministry of Defence sponsored youth organisation in the United Kingdom. Its aim is to "provide a disciplined organisation in a school so that pupils may develop powers of leadership by means of training to promote the qualities of responsibility, self reliance,...
. It has an
Navy
Navy
A navy is the branch of a nation's armed forces principally designated for naval and amphibious warfare; namely, lake- or ocean-borne combat operations and related functions...
,
Army
Army
An army An army An army (from Latin arma "arms, weapons" via Old French armée, "armed" (feminine), in the broadest sense, is the land-based military of a nation or state. It may also include other branches of the military such as the air force via means of aviation corps...
and
RAF
Royal Air Force
The Royal Air Force is the aerial warfare service branch of the British Armed Forces. Formed on 1 April 1918, it is the oldest independent air force in the world...
section and accepts students on a voluntary basis when they reach year nine.
School Song
The school song,
Gaudeamus
, was written in 1908 by music-master Dr HF Henniker, ARAM to Latin words by the Headmaster at the time, Rev F Mercury, MA. It continues to be sung today, at Speech Day and other occasions, and is well remembered by those who attended the school.
The Maidstonian
The Maidstonian
is the school's annual publication of reports, articles, news and original contributions. Originally simply a record of every member of staff, as well as each pupil and his form,
The Maidstonian
has evolved into a publication that is written by pupils, for pupils. Editions include information about any staff that left or joined the school that academic year, reports from the CCF, Music Department, sports teams as well as diaries from foreign trips. Original contributions, mainly poetry, prose and artwork, feature heavily. The "Quote-Unquote" section remains a firm favourite with students and staff alike, however, as of the 2010/2011 issue, this section has been discontinued.
Notable Maidstonians
Former pupils of the school are called Old Maidstonians and include:
Politics & Government
Media, Television & Film
James Burke

James Burke (science historian)

James Burke is a British broadcaster, science historian, author and television producer known amongst other things for his documentary television series Connections and its more philosophical oriented companion production, The Day the Universe Changed , focusing on the history of science and...


, the popular science TV presenter
Andrew Dilnot

Andrew Dilnot

Andrew Dilnot CBE is British economist and broadcaster. He has been Principal of St Hugh's College, Oxford since October 2002. He was for several years the presenter of BBC Radio 4's series on numbers, More or Less and of documentaries for British television. Dilnot was Director of the Institute...


CBE (briefly), Principal of St Hugh's College, Oxford

St Hugh's College, Oxford

St Hugh's College is one of the constituent colleges of the University of Oxford. It is located on a fourteen and a half acre site on St Margaret's Road, to the North of the city centre. It was founded in 1886 as a women's college, and accepted its first male students in its centenary year in 1986...


since 2002, and former presenter of BBC Radio 4

BBC Radio 4

BBC Radio 4 is a British domestic radio station, operated and owned by the BBC, that broadcasts a wide variety of spoken-word programmes, including news, drama, comedy, science and history. It replaced the BBC Home Service in 1967. The station controller is currently Gwyneth Williams, and the...


's More or Less

More or Less (radio programme)

More or Less is a BBC Radio 4 programme focusing on numbers and statistics.The programme was started by Andrew Dilnot as a one-off series of six programmes...



Tony Hart

Tony Hart

Norman Antony "Tony" Hart was an English artist and children's television presenter. He was famous for television shows such as Vision On, Playbox, Take Hart and Hartbeat.-Early life:...


, artist, children's TV presenter (Vision On/Smart)
James Hillier (actor)

James Hillier (actor)

James Hillier, is an English actor. In recent years he has played Sergeant Christian Young on the BBC police drama, HolbyBlue, and Damian, Roxy Mitchell's fiancé in BBC1 Soap Opera EastEnders.-Early life:...



Shaun McKenna

Shaun McKenna

Shaun McKenna is an English dramatist, lyricist and screenwriter.-Biography:Shaun studied at Maidstone Grammar School and the University of Bristol...


, screenwriter
Stuart Miles, Blue Peter

Blue Peter

Blue Peter is the world's longest-running children's television show, having first aired in 1958. It is shown on CBBC, both in its BBC One programming block and on the CBBC channel. During its history there have been many presenters, often consisting of two women and two men at a time...


presenter from 1994-9
Tom Mullarkey, Chief Executive since 2006 of RoSPA

Royal Society for the Prevention of Accidents

The Royal Society for the Prevention of Accidents is a British charity which aims to promote safety. It is particularly known for its vocal campaigns on issues of road safety, including Tufty the road crossing squirrel, the Cycling Proficiency Test and the Green Cross Code, as well as on issues of...



Tom Riley, film and television actor
Gavin Rowe, twice BAFTA nominated Director, BPG, MMA
Religion
Rt Rev David John Atkinson, Bishop of Thetford from 2001-9
Leo Avery

Leo Avery

Leo Avery, later to be the third Abbot of Quarr in modern times, was born 5 January 1938, in Wakefield, Yorkshire, England, and raised in Maidstone, Kent, England. After studies in Aeronautical Engineering at Southampton University, England, he entered the novitiate at Quarr Abbey, on the nearby...



Rt Rev Bob Evens, Bishop of Crediton

Bishop of Crediton

The Bishop of Crediton was originally a prelate who administered an Anglo-Saxon diocese in the 10th and 11th centuries, and is presently a suffragan bishop who assists the diocesan bishop.-Diocesan Bishops of Crediton:...


since 2004
George Harris (Unitarian)

George Harris (Unitarian)

George Harris was an English Unitarian minister, controversialist and editor.-Life:Born at Maidstone in Kent on 15 May 1794, he was son of Abraham Harris, Unitarian minister at Swansea for 40 years. George was at the age of fourteen placed in a Manchester warehouse in Cheapside, London, but,...



Very Rev Robert William Pope

Robert William Pope

The Very Rev Robert William Pope, OBE was an eminent Anglican Clergyman in the 20th century. He was born on 20 May 1916 and educated at Durham University. He was Ordained Deacon in 1939 and Priest in 1940 and began his career with curacies at Holy Trinity, Gravesend and St. Nicolas' Church,...


OBE
Martin Warner (bishop)

Martin Warner (bishop)

Martin Clive Warner is an Anglican bishop in England. He is currently the Bishop of Whitby.-Education and career:Warner studied at the University of Durham in the 1970s and then trained for ordination at St Stephen's House, Oxford...


, Bishop of Whitby

Bishop of Whitby

The Bishop of Whitby is an episcopal title used by a suffragan bishop of the Church of England Diocese of York, in the Province of York, England.The title takes its name after the town of Whitby in North Yorkshire...


since 2010
Sport
David Flatman

David Flatman

David Luke Flatman or 'Flats' is a prop for Bath and the England national rugby union team.He started playing rugby union at the age of eight at his local club, Maidstone FC, inspired by his father, who was a prop...


, Bath Rugby

Bath Rugby

Bath Rugby is an English professional rugby union club that is based in the city of Bath. They play in the Aviva Premiership league...


Union player
Tom Parsons, Kent and Hampshire county Cricketer

Cricketer

A cricketer is a person who plays the sport of cricket. Official and long-established cricket publications prefer the traditional word "cricketer" over the rarely used term "cricket player"....



Frank Sando

Frank Sando

Frank Dennis Sando is a retired British World Cross-Country Champion. Regarded as one of Britain's most accomplished athletes, Frank was a dominant force throughout the 1950s, winning the International Cross-Country Championship in 1955 and 1957, and representing Great Britain in two consecutive...


, Olympic athlete
Steven Haworth, professional wrestler also known as Nigel McGuinness and Desmond Wolfe
Science & Academia
Military
Art, Music & Literature
William Alexander (painter)

William Alexander (painter)

William Alexander . was an English painter, illustrator and engraver.-Life and works:William Alexander was born in Maidstone, Kent, the son of Harry Alexander, a coachmaker. He was educated at Maidstone Grammar School, but in 1782, at the age of 15, moved to London to study art - first under...



Daniel Blythe

Daniel Blythe

Daniel Blythe is a British author, who was born in Maidstone in 1969 and studied Modern Languages at St John's College, Oxford. After several years writing stories for the small press, Blythe began his professional career writing for the Virgin New Adventures series of Doctor Who novels, and very...


, the writer
James Butler (artist)

James Butler (artist)

James Walter Butler MBE RA is a British sculptor.Butler was educated at Maidstone Grammar School and studied art at St Martin's School of Art and the Royal College of Art. For 10 years he was a professional stone carver. He taught sculpture and drawing at the City and Guilds of London Art School...


MBE, sculptor
Philip Langridge

Philip Langridge

Philip Gordon Langridge CBE was an English tenor, considered to be among the foremost exponents of English opera and oratorio....


CBE, world-famous tenor
Matthew William Cooper, Broadway Actor, attended the school between 2002 and 2009.
Philip Moore

Philip Moore (organist)

Philip Moore is an English composer and organist.-Career:After studying at the Royal College of Music, he became Assistant Organist at Canterbury Cathedral in 1968. He was appointed Organist and Master of the Choristers at Guildford Cathedral in 1974...


, Organist of York Minster

York Minster

York Minster is a Gothic cathedral in York, England and is one of the largest of its kind in Northern Europe alongside Cologne Cathedral. The minster is the seat of the Archbishop of York, the second-highest office of the Church of England, and is the cathedral for the Diocese of York; it is run by...


from 1983–2008, Organist of Guildford Cathedral

Guildford Cathedral

The Cathedral Church of the Holy Spirit, Guildford is the Anglican cathedral at Guildford, Surrey, England.-Construction:Guildford was made a diocese in its own right in 1927, and work on its new cathedral, designed by Sir Edward Maufe, began nine years later, with the foundation stone being laid...


from 1974–83
Christopher Smart

Christopher Smart

Christopher Smart , also known as "Kit Smart", "Kitty Smart", and "Jack Smart", was an English poet. He was a major contributor to two popular magazines and a friend to influential cultural icons like Samuel Johnson and Henry Fielding. Smart, a high church Anglican, was widely known throughout...


, poet
Yeborobo

Yeborobo

Yeborobo are a noize band, now based in London. They are one of the most notable members of the Mentalist Association, a tribal unit of diverse personalities originating from Maidstone, Kent....


, musical group (members thereof)
Other
Notable people
William Golding

William Golding

Sir William Gerald Golding was a British novelist, poet, playwright and Nobel Prize for Literature laureate, best known for his novel Lord of the Flies...


, author of Lord of the Flies

Lord of the Flies

Lord of the Flies is a novel by Nobel Prize-winning author William Golding about a group of British boys stuck on a deserted island who try to govern themselves, with disastrous results...


, taught English and Music at the school between 1938 and 1940, when he met his wife Ann Brookfield.
External links
News items