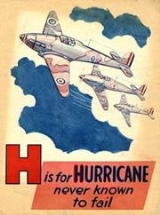 Hawker Hurricane
The
Hawker Hurricane
is a British single-seat
fighter aircraft
Fighter aircraft
A fighter aircraft is a military aircraft designed primarily for air-to-air combat with other aircraft, as opposed to a bomber, which is designed primarily to attack ground targets...
that was designed and predominantly built by
Hawker Aircraft Ltd
Hawker Aircraft
Hawker Aircraft Limited was a British aircraft manufacturer responsible for some of the most famous products in British aviation history.-History:...
for the
Royal Air Force
Royal Air Force
The Royal Air Force is the aerial warfare service branch of the British Armed Forces. Formed on 1 April 1918, it is the oldest independent air force in the world...
(RAF). Although largely overshadowed by the
Supermarine Spitfire
Supermarine Spitfire
The Supermarine Spitfire is a British single-seat fighter aircraft that was used by the Royal Air Force and many other Allied countries throughout the Second World War. The Spitfire continued to be used as a front line fighter and in secondary roles into the 1950s...
, the aircraft became renowned during the
Battle of Britain
Battle of Britain
The Battle of Britain is the name given to the World War II air campaign waged by the German Air Force against the United Kingdom during the summer and autumn of 1940...
, accounting for 60% of the RAF's air victories in the battle, and served in all the major theatres of the
Second World War
World War II
World War II, or the Second World War , was a global conflict lasting from 1939 to 1945, involving most of the world's nations—including all of the great powers—eventually forming two opposing military alliances: the Allies and the Axis...
.
The 1930s design evolved through several versions and adaptations, resulting in a series of aircraft which acted as interceptor-fighters, fighter-bombers (also called "Hurribombers"), and
ground support
Close air support
In military tactics, close air support is defined as air action by fixed or rotary winged aircraft against hostile targets that are close to friendly forces, and which requires detailed integration of each air mission with fire and movement of these forces.The determining factor for CAS is...
aircraft.