 Louis Paulhan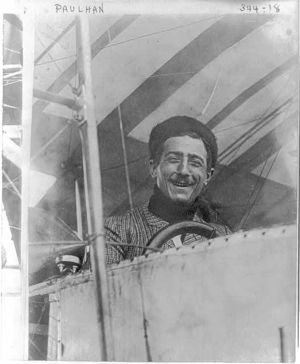 Isidore Auguste Marie Louis Paulhan
, known as
Louis Paulhan
, (19 July 1883
Pézenas
Pézenas
Pézenas is a commune in the Hérault département in Languedoc-Roussillon, southern France. At the 1999 census, its population was 7443.-Name:...
,
Hérault
Hérault
Hérault is a department in the south of France named after the Hérault river.-History:Hérault is one of the original 83 departments created during the French Revolution on 4 March 1790...
– 10 February 1963
Saint-Jean-de-Luz
Saint-Jean-de-Luz
Saint-Jean-de-Luz is a commune in the Pyrénées-Atlantiques department in south-western France.Saint-Jean-de-Luz is part of the province Basque of Labourd and the Basque Eurocity Bayonne - San Sebastian .-Geography:...
) was a pioneering French aviator who in 1910 flew "
Le Canard
Le Canard
|-See also:-References:* The Illustrated Encyclopedia of Aircraft , 1985, Orbis Publishing-External links:*...
", the world's first seaplane, designed by
Henri Fabre
Henri Fabre
Henri Fabre was a French aviator and the inventor of Le Canard, the first seaplane in history.Henri Fabre was born into a prominent family of shipowners in the city of Marseilles. He was educated in the Jesuit College of Marseilles, where he undertook advanced studies in sciences. He then studied...
.
Biography
Louis Paulhan's career began from making model aircraft. Stationed in
Paris
Paris
Paris is the capital and largest city in France, situated on the river Seine, in northern France, at the heart of the Île-de-France region...
as a balloon pilot during his military service, he won a competition in which the first prize was to be a full-size construction of the winning design. His model was so complex that instead he was given a
Voisin
Gabriel Voisin
Gabriel Voisin was an aviation pioneer and the creator of Europe's first manned, engine-powered, heavier-than-air aircraft capable of a sustained , circular, controlled flight, including take-off and landing. It was flown by Henry Farman on January 13, 1908 near Paris, France...
airframe. With the help of family and friends, he obtained an engine and taught himself to fly in 1908. He was issued with French pilot licence No.10. (The first batch of twenty licences were issued in alphabetical order of surname.)
Fairly quickly, he established himself as gifted aviator. Paulhan took part in many airshows, including
Douai
Douai
-Main sights:Douai's ornate Gothic style belfry was begun in 1380, on the site of an earlier tower. The 80 m high structure includes an impressive carillon, consisting of 62 bells spanning 5 octaves. The originals, some dating from 1391 were removed in 1917 during World War I by the occupying...
in July 1909, where he set new records for altitude (150m) and duration (1h 07m), covering 47 km, and Rheims, where he crashed. In
Lyon
Lyon
Lyon , is a city in east-central France in the Rhône-Alpes region, situated between Paris and Marseille. Lyon is located at from Paris, from Marseille, from Geneva, from Turin, and from Barcelona. The residents of the city are called Lyonnais....
, flying a Farman, he broke three records: Height (920 m), speed (20 km in 19 minutes) and weight carried (a 73 kilo/160 lb passenger).
Touring America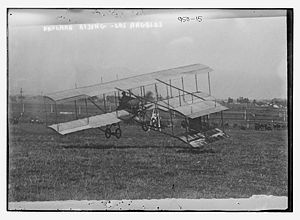 In January 1910, Paulhan was invited to America to take part in airshows and competitions, at the
Los Angeles International Air Meet
1910 Los Angeles International Air Meet at Dominguez Field
The Los Angeles International Air Meet was among the earliest airshows in the world and the first major airshow in the United States. It was held in Los Angeles County, California at Dominguez Field in present day Carson, California. Spectator turnout numbered approximately 254,000 over 11 days...
. He arrived with two
Blériot
Blériot Aéronautique
Blériot Aéronautique was a French aircraft manufacturer founded by Louis Blériot. It also made a few cyclecars from 1921 to 1922.After Louis Blériot became famous for being the first to fly over the English Channel in 1909, he established an aircraft manufacturing company. This company really took...
monoplanes and two Farman biplanes. The
Wright brothers
Wright brothers
The Wright brothers, Orville and Wilbur , were two Americans credited with inventing and building the world's first successful airplane and making the first controlled, powered and sustained heavier-than-air human flight, on December 17, 1903...
, though not taking part in the event, were there with their lawyers to prevent Paulhan and
Glenn Curtiss
Glenn Curtiss
Glenn Hammond Curtiss was an American aviation pioneer and a founder of the U.S. aircraft industry. He began his career as a bicycle then motorcycle builder and racer, later also manufacturing engines for airships as early as 1906...
flying. The Wrights claimed that the
aileron
Aileron
Ailerons are hinged flight control surfaces attached to the trailing edge of the wing of a fixed-wing aircraft. The ailerons are used to control the aircraft in roll, which results in a change in heading due to the tilting of the lift vector...
s on their aircraft infringed patents. Paulhan flew anyway, winning all of the prizes and $19,000. He set up a new altitude record (4164 ft), beating his own previous record (1,900 ft), and a new endurance record (1hr 49mn 40sec). He gave
William Randolph Hearst
William Randolph Hearst
William Randolph Hearst was an American business magnate and leading newspaper publisher. Hearst entered the publishing business in 1887, after taking control of The San Francisco Examiner from his father...
his first experience of flight. However, he seems to have let down
William Boeing
William Boeing
William Edward Boeing was an American aviation pioneer who founded The Boeing Company.-Biography:Boeing was born to a wealthy German mining engineer named Wilhelm Böing who had made a fortune and who had a sideline as a timber merchant...
, who had been enthused by the new invention of the aeroplane:
While attending the first American Air Meet in Los Angeles, Boeing asked nearly every aviator for a ride, but no one said yes except Louis Paulhan. For three days Boeing waited, but on the 4th day he discovered Paulhan had already left the meet. Possibly, one of the biggest missed opportunities in Paulhan's life was the ride he never gave Boeing.
From Los Angeles, Paulhan moved on to give exhibitions in Salt Lake City,
Utah
Utah
Utah is a state in the Western United States. It was the 45th state to join the Union, on January 4, 1896. Approximately 80% of Utah's 2,763,885 people live along the Wasatch Front, centering on Salt Lake City. This leaves vast expanses of the state nearly uninhabited, making the population the...
, where the
Deseret News
headline announced that the "Air King is Here to Fly." He also appeared in New Orleans and made the first ever aeroplane flight in
Texas
Texas
Texas is the second largest U.S. state by both area and population, and the largest state by area in the contiguous United States.The name, based on the Caddo word "Tejas" meaning "friends" or "allies", was applied by the Spanish to the Caddo themselves and to the region of their settlement in...
.
On 17 February, a Federal judge ordered Paulhan to pay $25,000 for every paid display. Furious, he cancelled his American tour and went to
New York
New York
New York is a state in the Northeastern region of the United States. It is the nation's third most populous state. New York is bordered by New Jersey and Pennsylvania to the south, and by Connecticut, Massachusetts and Vermont to the east...
to challenge the Wright brothers by giving public demonstration flights for free. The dispute rumbled on and in March an agreement was reached whereby he could continue to give flying exhibitions in his Farman biplane on condition that he pay a $6,000 a week bond, pending the outcome of the case. The affair threatened the planned international aviation meet to be hosted by the
Aero Club of America
Aero Club of America
The Aero Club of America was a social club formed in 1905 by Charles Glidden and others to promote aviation in America. It was the parent organization of numerous state chapters, the first being the Aero Club of New England. It thrived until 1923, when it transformed into the National Aeronautic...
for the
Gordon Bennett trophy
Gordon Bennett Cup in ballooning
The Gordon Bennett Cup is the world's oldest gas balloon race, and is "regarded as the premier event of world balloon racing" according to the Los Angeles Times. Referred to as the "Blue Ribbon" of aeronautics, the first race started from Paris, France, on September 30, 1906...
, won the previous year by Glenn Curtiss. According to Courtlandt Field Bishop, president of the Aero Club of America, all the leading foreign aviators had assured him that they would not appear in the country until the case was decided. If Paulhan won, they would compete; if he lost they did "not care to place themselves within the jurisdiction of American courts." Paulhan eventually left quietly for France.
The
Wrights' patent case
The Wright brothers patent war
The Wright brothers were two Americans who are widely credited with inventing and building the world's first successful airplane and making the first controlled, powered and sustained heavier-than-air human flight on December 17, 1903....
dragged on for many more years, involving Curtiss and many other pilots and manufacturers.
Back in Europe
Returning to Europe, Paulhan continued his flying exploits. In April 1910, he won the £10,000 prize offered for flying from
London
London
London is the capital city of :England and the :United Kingdom, the largest metropolitan area in the United Kingdom, and the largest urban zone in the European Union by most measures. Located on the River Thames, London has been a major settlement for two millennia, its history going back to its...
to
Manchester
Manchester
Manchester is a city and metropolitan borough in Greater Manchester, England. According to the Office for National Statistics, the 2010 mid-year population estimate for Manchester was 498,800. Manchester lies within one of the UK's largest metropolitan areas, the metropolitan county of Greater...
, a distance of 195miles/298 km. The prize had been offered in 1906 by the
Daily Mail
Daily Mail
The Daily Mail is a British daily middle-market tabloid newspaper owned by the Daily Mail and General Trust. First published in 1896 by Lord Northcliffe, it is the United Kingdom's second biggest-selling daily newspaper after The Sun. Its sister paper The Mail on Sunday was launched in 1982...
for the first pilot to fly from London to Manchester within 24 hours. The flight had to start and finish within five miles of the
Daily Mail
office in each city, with no more than two landings en route. In 1906 this would have seemed a safe bet — the best European fliers at that time could only stay aloft for seconds! Paulhan arrived in Manchester 12 hours after setting out from London, having spent 4 hours 12 minutes in the air and beating the British contender, Claude Grahame-White. There is a
blue plaque
Blue plaque
A blue plaque is a permanent sign installed in a public place to commemorate a link between that location and a famous person or event, serving as a historical marker....
on a house in Paulhan Road,
Burnage
Burnage
Burnage is a neighbourhood of the city of Manchester, England. Historically a part of Lancashire it was included in the county of Greater Manchester in 1974. It is about south of Manchester city centre, bisected by the busy dual carriageway of Kingsway, part of the A34...
, Manchester at the site of his winning landing.
Also in 1910, Paulhan was one of the first pilots to fly a seaplane, the Canard designed by Henri Fabre, and won £10,000 for the most flights taken in the year and helped to design triplanes for the French army.
In February 1912, he opened a seaplane flying school in
Villefranche-sur-Mer
Villefranche-sur-Mer
Villefranche-sur-Mer is a commune in the Alpes-Maritimes department in the Provence-Alpes-Côte d'Azur region on the French Riviera.-Geography:...
before moving to
Arcachon
Arcachon
Arcachon is a commune in the Gironde department in southwestern France.It is a popular bathing location on the Atlantic coast southwest of Bordeaux in the Landes forest...
with Léo Neveu to take the first aerial photographs.
First World War
In the First World War, Paulhan was mobilised as a fighter pilot with the rank of lieutenant on 15 September 1914, serving initially in northern France near to
Amiens
Amiens
Amiens is a city and commune in northern France, north of Paris and south-west of Lille. It is the capital of the Somme department in Picardy...
. He was transferred to the Serbian front in 1915., where he was not only the most experienced but also the oldest aviator. In Serbia, he commanded a squadron of 10
Maurice Farman
Maurice Farman
Maurice Alain Farman was a French Grand Prix motor racing champion, an aviator, and an aircraft manufacturer and designer.-Biography:...
aeroplanes. In flight he was sometimes accompanied by a machine gunner or, it seems, by a mechanic carrying out repairs in flight. The Serbian campaign was unsuccessful, but Paulhan is credited with the world's first "medevac" when he flew the seriously ill Milan Stefanik to safety. Decorated with the
croix de guerre
, he returned to France and flew no more missions, but returned to construction, notably of propellors, for the French military. After the war, he was made an Officer of the
Légion d'honneur
Légion d'honneur
The Legion of Honour, or in full the National Order of the Legion of Honour is a French order established by Napoleon Bonaparte, First Consul of the Consulat which succeeded to the First Republic, on 19 May 1802...
.
After 1918

On demobilisation, Paulhan became a seaplane builder, building machines under licence from Curtiss. He worked at the construction of metal seaplanes with the engineer Pillard until the day when his only son, Rene, died on 10 May 1937, at the presentation of a fighter plane. He contributed to the manufacture of
Dewoitine
Dewoitine
Constructions Aéronautiques Émile Dewoitine was a French aircraft manufacturer established by Émile Dewoitine at Toulouse in October 1920. The company's initial products were a range of metal parasol-wing fighters which were largely ignored by the French Air Force but purchased in large quantities...
planes, but retired to St-Jean-de-Luz, which he rarely left before his death. In 1960, Paulhan was invited by
Air France
Air France
Air France , stylised as AIRFRANCE, is the French flag carrier headquartered in Tremblay-en-France, , and is one of the world's largest airlines. It is a subsidiary of the Air France-KLM Group and a founding member of the SkyTeam global airline alliance...
to be one of the passengers on its inaugural non-stop flight from Paris to Los Angeles.
In 1927, Paulhan was a co-founder of the company Société Continentale Parker in France together with Robert Deté, Enea Bossi and Pierre Prier. The purpose was to transfer surface treatment technologies for the growing aerospace industry to Europe. They started with a licence from Parker Rust-Proof of Detroit (
Parkerizing
Parkerizing
Parkerizing is a method of protecting a steel surface from corrosion and increasing its resistance to wear through the application of an electrochemical phosphate conversion coating...
or phosphating) and in a later step with the distribution rights of Udylite Corp for specialty chemicals in
electroplating
Electroplating
Electroplating is a plating process in which metal ions in a solution are moved by an electric field to coat an electrode. The process uses electrical current to reduce cations of a desired material from a solution and coat a conductive object with a thin layer of the material, such as a metal...
. The company's successor organizations, Chemetall GmbH and
Coventya
Coventya
Coventya Group is a worldwide player in the specialty chemicals industry for electrolytic surface finishing, including the processes relating to metal deposits through chemical reduction plating...
GmbH, later became the European market leaders in surface treatment.
Louis Paulhan died on 10 February 1963. He is buried in his home town of Pézenas where a monument has been erected in commemoration.
External links