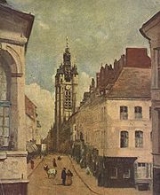 Douai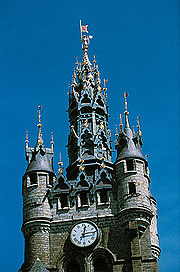 Main sights
Douai's ornate
Gothic
Gothic architecture
Gothic architecture is a style of architecture that flourished during the high and late medieval period. It evolved from Romanesque architecture and was succeeded by Renaissance architecture....
style belfry was begun in 1380, on the site of an earlier tower. The 80 m high structure includes an impressive
carillon
Carillon
A carillon is a musical instrument that is typically housed in a free-standing bell tower, or the belfry of a church or other municipal building. The instrument consists of at least 23 cast bronze, cup-shaped bells, which are played serially to play a melody, or sounded together to play a chord...
, consisting of 62
bell
Bell (instrument)
A bell is a simple sound-making device. The bell is a percussion instrument and an idiophone. Its form is usually a hollow, cup-shaped object, which resonates upon being struck...
s spanning 5 octaves. The originals, some dating from 1391 were removed in 1917 during World War I by the occupying German forces, who intended to melt them down for the metal. They were reinstalled after repairs in 1924, but 47 of them were replaced in 1954 to obtain a better sound. An additional larger bell in the summit, a
La
Solfege
In music, solfège is a pedagogical solmization technique for the teaching of sight-singing in which each note of the score is sung to a special syllable, called a solfège syllable...
called "Joyeuse", dates from 1471 and weighs 5.5 tonnes. The
chimes
Tubular bell
Tubular bells are musical instruments in the percussion family. Each bell is a metal tube, 30–38 mm in diameter, tuned by altering its length. Its standard range is from C4-F5, though many professional instruments reach G5 . Tubular bells are often replaced by studio chimes, which are a smaller...
are rung by a mechanism every quarter hour, but are also played via a
keyboard
Musical keyboard
A musical keyboard is the set of adjacent depressible levers or keys on a musical instrument, particularly the piano. Keyboards typically contain keys for playing the twelve notes of the Western musical scale, with a combination of larger, longer keys and smaller, shorter keys that repeats at the...
on Saturday mornings and at certain other times.
The substantial
Porte de Valenciennes
town gate, a reminder of the town's past military importance, was built in 1453. One face is built in Gothic style, while the other is of Classical design.
University of Douai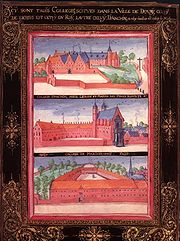 Catholic studies
The
University of Douai
University of Douai
The University of Douai is a former university in Douai, France. With a Middle Ages heritage of scholar activities in Douai, the university was established in 1559 and lectures started in 1562. It closed from 1795 to 1808...
was founded under the patronage of
Phillip II
Philip II of Spain
Philip II was King of Spain, Portugal, Naples, Sicily, and, while married to Mary I, King of England and Ireland. He was lord of the Seventeen Provinces from 1556 until 1581, holding various titles for the individual territories such as duke or count....
, when Douai belonged to the Spanish Netherlands.
It was prominent, from the 1560s until the
French Revolution
French Revolution
The French Revolution , sometimes distinguished as the 'Great French Revolution' , was a period of radical social and political upheaval in France and Europe. The absolute monarchy that had ruled France for centuries collapsed in three years...
, as a centre for the education of
English Catholics
Roman Catholicism in Great Britain
Roman Catholicism in the United Kingdom refers to the practice of Roman Catholicism in Great Britain and Ireland since the creation of the United Kingdom....
escaping the persecution in England. Connected with the University were not only the
English College, Douai
English College, Douai
The English College, Douai was a Catholic seminary associated with the University of Douai . It was established in about 1561, and was suppressed in 1793...
, founded by William Allen, but also the
Irish
Irish College, Douai
The Irish College was a seminary at Douai, France, for Irish Roman Catholics in exile on the continent to study for the priesthood, modelled on the English College there...
and
Scottish
Scottish College, Douai
The Scottish College or Scot's College at Douai was a seminary founded in Douai, France, for the training of Scottish Roman Catholic exiles for the priesthood...
colleges and the
Benedictine
Benedictine
Benedictine refers to the spirituality and consecrated life in accordance with the Rule of St Benedict, written by Benedict of Nursia in the sixth century for the cenobitic communities he founded in central Italy. The most notable of these is Monte Cassino, the first monastery founded by Benedict...
,
Franciscan
Franciscan
Most Franciscans are members of Roman Catholic religious orders founded by Saint Francis of Assisi. Besides Roman Catholic communities, there are also Old Catholic, Anglican, Lutheran, ecumenical and Non-denominational Franciscan communities....
and Jesuit houses.
The Benedictine
priory
Priory
A priory is a house of men or women under religious vows that is headed by a prior or prioress. Priories may be houses of mendicant friars or religious sisters , or monasteries of monks or nuns .The Benedictines and their offshoots , the Premonstratensians, and the...
of St Gregory the Great was founded by
Saint John Roberts
Saint John Roberts
Saint John Roberts was a Benedictine monk and priest, and was the first Prior of St. Gregory's, Douai, France...
at Douai in 1605, with a handful of exiled English Benedictines who had entered various monasteries in Spain, as the first house after the Reformation to begin conventual life. The community was established within the
English Benedictine Congregation
English Benedictine Congregation
The English Benedictine Congregation comprises autonomous Roman Catholic Benedictine communities of monks and nuns and is technically the oldest of the 21 congregations that are affiliated in the Benedictine Confederation....
and started a college for English Catholic boys who were unable to find a Catholic education at home, and pursued studies in the University of Douai. However, the community was expelled at the time of the
French Revolution
French Revolution
The French Revolution , sometimes distinguished as the 'Great French Revolution' , was a period of radical social and political upheaval in France and Europe. The absolute monarchy that had ruled France for centuries collapsed in three years...
in 1793 and, after some years of wandering, finally settled at
Downside Abbey
Downside Abbey
The Basilica of St Gregory the Great at Downside, commonly known as Downside Abbey, is a Roman Catholic Benedictine monastery and the Senior House of the English Benedictine Congregation. One of its main apostolates is a school for children aged nine to eighteen...
, Somerset, in 1814.
Another English Benedictine community, the Priory of St. Edmund, which had been formed in Paris in 1615 by Dom Gabriel Gifford, later Archbishop of Rheims and primate of France, was expelled from Paris during the Revolution, and eventually took over the vacant buildings of the community of St Gregory's in 1818. Later, following
Waldeck-Rousseau
René Waldeck-Rousseau
this gy was coolPierre Marie René Ernest Waldeck-Rousseau was a French Republican statesman.-Early life:Pierre Waldeck-Rousseau was born in Nantes, Loire-Atlantique...
's Law of Associations (1901), this community also returned to England in 1903, where it was established at
Douai Abbey
Douai Abbey
Douai Abbey is a Benedictine Abbey at Woolhampton, near Thatcham, in the English county of Berkshire, situated within the Roman Catholic Diocese of Portsmouth. Monks from the monastery of St. Edmund's, in Douai, France, came to Woolhampton in 1903 when the community left France as a result of...
, near Reading.
Douai School
Douai School
Douai School was the public school that was run by the Douai Abbey Benedictine community at Woolhampton, England, until it closed in 1999.- History :...
continued as an educational establishment for boys until 1999.
In 1609 the English College published a translation of the Old Testament, which, together with the New Testament published at Rheims 27 years earlier, was the Douay-Rheims Bible used by Anglophone Roman Catholics almost exclusively for more than 300 years.
For a time there was a
Carthusian
Carthusian
The Carthusian Order, also called the Order of St. Bruno, is a Roman Catholic religious order of enclosed monastics. The order was founded by Saint Bruno of Cologne in 1084 and includes both monks and nuns...
monastery
Monastery
Monastery denotes the building, or complex of buildings, that houses a room reserved for prayer as well as the domestic quarters and workplace of monastics, whether monks or nuns, and whether living in community or alone .Monasteries may vary greatly in size – a small dwelling accommodating only...
(charterhouse) in Douai, which is now the
Musée de la Chartreuse de Douai
Musée de la Chartreuse de Douai
The Musée de la Chartreuse is an art museum in a former Carthusian monastery in Douai. It is the 'musée des Beaux-Arts' for the city.- Building :...
.
Modern university
Founded as University of Douai in 1562, the state university in Northern France was renamed Université impériale de Douai-Lille in 1808, then as Université de Lille with faculty expansion from Douai to Lille from mid-19th century onwards.
Université Lille Nord de France

Université Lille Nord de France

The University of Lille -Nord de France , located in Lille, France, is a center for higher education, academic research and doctoral studies located over multiple campuses in the Academie de Lille....


-Artois University

Artois University

Artois University is a French university, based in Arras. It is under the umbrella of the Academy of Lille and is a member of the .-See also:* List of public universities in France by academy...



Douai Business School, established in 1991
École des Mines de Douai

École des Mines de Douai

The École des Mines de Douai also called "École Nationale Supérieure des Mines de Douai" is a French National Graduate School of Engineering located in the city of Douai, close to Lille, North of France....



Nurse School
Notable people
Douai was the birthplace of:
Twin towns
Douai is twinned with:
Harrow
Harrow, London
Harrow is an area in the London Borough of Harrow, northwest London, United Kingdom. It is a suburban area and is situated 12.2 miles northwest of Charing Cross...
, United Kingdom
Recklinghausen
Recklinghausen
Recklinghausen is the northernmost city in the Ruhr-Area and the capital of the Recklinghausen district. It borders the rural Münsterland and is characterized by large fields and farms in the north and industry in the south...
, Germany
Kenosha
Kenosha, Wisconsin
Kenosha is a city and the county seat of Kenosha County in the State of Wisconsin in United States. With a population of 99,218 as of May 2011, Kenosha is the fourth-largest city in Wisconsin. Kenosha is also the fourth-largest city on the western shore of Lake Michigan, following Chicago,...
, United States
Dédougou
Dédougou
Dédougou is a city located in western Burkina Faso. It is the capital city of Mouhoun Province and Boucle du Mouhoun Region. The main ethnic groups are the Marka and the Bwa. The population of Dédougou was 37,793 in 2006; 18,778 were male and 19,015 were female. It is the 9th largest city in...
, Burkina Faso Puławy, Poland
External links