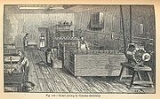 Electroplating
Electroplating
is a
plating
Plating
Plating is a surface covering in which a metal is deposited on a conductive surface. Plating has been done for hundreds of years, but it is also critical for modern technology...
process in which metal ions in a solution are moved by an electric field to coat an electrode. The process uses electrical
current
Direct current
Direct current is the unidirectional flow of electric charge. Direct current is produced by such sources as batteries, thermocouples, solar cells, and commutator-type electric machines of the dynamo type. Direct current may flow in a conductor such as a wire, but can also flow through...
to
reduce
Redox
Redox reactions describe all chemical reactions in which atoms have their oxidation state changed....
cations of a desired material from a solution and coat a conductive object with a thin layer of the material, such as a metal. Electroplating is primarily used for depositing a layer of material to bestow a desired property (e.g.,
abrasion
Abrasion (mechanical)
Abrasion is the process of scuffing, scratching, wearing down, marring, or rubbing away. It can be intentionally imposed in a controlled process using an abrasive...
and wear resistance,
corrosion
Corrosion
Corrosion is the disintegration of an engineered material into its constituent atoms due to chemical reactions with its surroundings. In the most common use of the word, this means electrochemical oxidation of metals in reaction with an oxidant such as oxygen...
protection,
lubricity
Lubrication
Lubrication is the process, or technique employed to reduce wear of one or both surfaces in close proximity, and moving relative to each another, by interposing a substance called lubricant between the surfaces to carry or to help carry the load between the opposing surfaces. The interposed...
, aesthetic qualities, etc.) to a surface that otherwise lacks that property.