 Literacy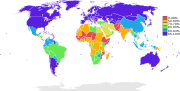 Literacy has traditionally been described as the ability to
read
Reading (process)
Reading is a complex cognitive process of decoding symbols for the intention of constructing or deriving meaning . It is a means of language acquisition, of communication, and of sharing information and ideas...
for knowledge,
write
Writing
Writing is the representation of language in a textual medium through the use of a set of signs or symbols . It is distinguished from illustration, such as cave drawing and painting, and non-symbolic preservation of language via non-textual media, such as magnetic tape audio.Writing most likely...
coherently and
think
Thought
"Thought" generally refers to any mental or intellectual activity involving an individual's subjective consciousness. It can refer either to the act of thinking or the resulting ideas or arrangements of ideas. Similar concepts include cognition, sentience, consciousness, and imagination...
critically about printed material.
Literacy represents the lifelong, intellectual process of gaining meaning from print. Key to all literacy is
reading
Reading (process)
Reading is a complex cognitive process of decoding symbols for the intention of constructing or deriving meaning . It is a means of language acquisition, of communication, and of sharing information and ideas...
development, which involves a progression of skills that begins with the ability to understand spoken words and decode written words, and culminates in the deep understanding of text. Reading development involves a range of complex language underpinnings including awareness of speech sounds (
phonology
Phonology
Phonology is, broadly speaking, the subdiscipline of linguistics concerned with the sounds of language. That is, it is the systematic use of sound to encode meaning in any spoken human language, or the field of linguistics studying this use...
), spelling patterns (
orthography
Orthography
The orthography of a language specifies a standardized way of using a specific writing system to write the language. Where more than one writing system is used for a language, for example Kurdish, Uyghur, Serbian or Inuktitut, there can be more than one orthography...
), word meaning (
semantics
Semantics
Semantics is the study of meaning. It focuses on the relation between signifiers, such as words, phrases, signs and symbols, and what they stand for, their denotata....
), grammar (
syntax
Syntax
In linguistics, syntax is the study of the principles and rules for constructing phrases and sentences in natural languages....
) and patterns of word formation (
morphology
Morphology (linguistics)
In linguistics, morphology is the identification, analysis and description, in a language, of the structure of morphemes and other linguistic units, such as words, affixes, parts of speech, intonation/stress, or implied context...
), all of which provide a necessary platform for reading fluency and comprehension. Once these skills are acquired the reader can attain full language literacy, which includes the abilities to approach printed material with critical analysis, inference and synthesis; to write with accuracy and coherence; and to use information and insights from text as the basis for informed decisions and creative thought.
The United Nations Educational, Scientific and Cultural Organization (
UNESCO
UNESCO
The United Nations Educational, Scientific and Cultural Organization is a specialized agency of the United Nations...
) defines literacy as the "ability to identify, understand, interpret, create, communicate and compute, using printed and written materials associated with varying contexts. Literacy involves a continuum of learning in enabling individuals to achieve their goals, to develop their knowledge and potential, and to participate fully in their community and wider society."
History
Literacy in Europe
In 12th and 13th century
England
England
England is a country that is part of the United Kingdom. It shares land borders with Scotland to the north and Wales to the west; the Irish Sea is to the north west, the Celtic Sea to the south west, with the North Sea to the east and the English Channel to the south separating it from continental...
, the ability to read a particular passage from the Bible entitled a
common law
Common law
Common law is law developed by judges through decisions of courts and similar tribunals rather than through legislative statutes or executive branch action...
defendant to the so-called
benefit of clergy
Benefit of clergy
In English law, the benefit of clergy was originally a provision by which clergymen could claim that they were outside the jurisdiction of the secular courts and be tried instead in an ecclesiastical court under canon law...
provision, which entitled a person to be tried before an
ecclesiastical court
Ecclesiastical court
An ecclesiastical court is any of certain courts having jurisdiction mainly in spiritual or religious matters. In the Middle Ages in many areas of Europe these courts had much wider powers than before the development of nation states...
, where sentences were more lenient, instead of a secular one, where hanging was a likely sentence. This opened the door to literate lay defendants also claiming the right to the benefit of clergy provision, and because the Biblical passage used for the literacy test was always
Psalm 51
Psalm 51
Psalm 51 , traditionally referred to as the Miserere, its Latin incipit, is one of the Penitential Psalms. It begins: Have mercy on me, O God....
(
Miserere mei, Deus...
- "O God, have mercy upon me...") - an illiterate person who had memorized the appropriate verse could also claim the benefit of clergy provision.
By the mid-18th century, the ability to read and comprehend translated scripture led to
Wales
Wales
Wales is a country that is part of the United Kingdom and the island of Great Britain, bordered by England to its east and the Atlantic Ocean and Irish Sea to its west. It has a population of three million, and a total area of 20,779 km²...
having one of the highest literacy rates. This was the result of a
Griffith Jones
Griffith Jones (Llanddowror)
Griffith Jones was a minister of the Church of England famous for his work in organising circulating schools in Wales. His name is usually associated with that of Llanddowror, Carmarthenshire....
's system of circulating schools, which aimed to enable everyone to read the
Bible
Bible
The Bible refers to any one of the collections of the primary religious texts of Judaism and Christianity. There is no common version of the Bible, as the individual books , their contents and their order vary among denominations...
in
Welsh
Welsh language
Welsh is a member of the Brythonic branch of the Celtic languages spoken natively in Wales, by some along the Welsh border in England, and in Y Wladfa...
. Similarly, at least half the population of 18th century
New England
New England
New England is a region in the northeastern corner of the United States consisting of the six states of Maine, New Hampshire, Vermont, Massachusetts, Rhode Island, and Connecticut...
was literate, perhaps as a consequence of the
Puritan
Puritan
The Puritans were a significant grouping of English Protestants in the 16th and 17th centuries. Puritanism in this sense was founded by some Marian exiles from the clergy shortly after the accession of Elizabeth I of England in 1558, as an activist movement within the Church of England...
belief in the importance of
Bible
Bible
The Bible refers to any one of the collections of the primary religious texts of Judaism and Christianity. There is no common version of the Bible, as the individual books , their contents and their order vary among denominations...
reading. By the time of the
American Revolution
American Revolution
The American Revolution was the political upheaval during the last half of the 18th century in which thirteen colonies in North America joined together to break free from the British Empire, combining to become the United States of America...
, literacy in New England is suggested to have been around 90%.
The ability to read did not necessarily imply the ability to write. The 1686 church law (
kyrkolagen
) of the Kingdom of
Sweden
Sweden
Sweden , officially the Kingdom of Sweden , is a Nordic country on the Scandinavian Peninsula in Northern Europe. Sweden borders with Norway and Finland and is connected to Denmark by a bridge-tunnel across the Öresund....
(which at the time included all of modern Sweden,
Finland
Finland
Finland , officially the Republic of Finland, is a Nordic country situated in the Fennoscandian region of Northern Europe. It is bordered by Sweden in the west, Norway in the north and Russia in the east, while Estonia lies to its south across the Gulf of Finland.Around 5.4 million people reside...
, and
Estonia
Estonia
Estonia , officially the Republic of Estonia , is a state in the Baltic region of Northern Europe. It is bordered to the north by the Gulf of Finland, to the west by the Baltic Sea, to the south by Latvia , and to the east by Lake Peipsi and the Russian Federation . Across the Baltic Sea lies...
) enforced literacy on the people and by the end of the 18th century, the ability to read was close to 100%. But as late as the 19th century, many Swedes, especially women, could not write. That said, the situation in England was far worse than in
Scandinavia
Scandinavia
Scandinavia is a cultural, historical and ethno-linguistic region in northern Europe that includes the three kingdoms of Denmark, Norway and Sweden, characterized by their common ethno-cultural heritage and language. Modern Norway and Sweden proper are situated on the Scandinavian Peninsula,...
,
France
France
The French Republic , The French Republic , The French Republic , (commonly known as France , is a unitary semi-presidential republic in Western Europe with several overseas territories and islands located on other continents and in the Indian, Pacific, and Atlantic oceans. Metropolitan France...
and
Prussia
Prussia
Prussia was a German kingdom and historic state originating out of the Duchy of Prussia and the Margraviate of Brandenburg. For centuries, the House of Hohenzollern ruled Prussia, successfully expanding its size by way of an unusually well-organized and effective army. Prussia shaped the history...
: as late as 1841, 33% of all Englishmen and 44% of Englishwomen signed marriage certificates with their mark as they were unable to write (government-financed public education was not available in England until 1870 and, even then, on a limited basis).
The historian Ernest Gellner argues that Continental European countries were far more successful in implementing educational reform precisely because those governments were more willing to invest in the population as a whole. The view that public education contributes to rising literacy levels is shared by the majority of historians.
Although the present-day concepts of literacy have much to do with the 15th century invention of the
movable type
Movable type
Movable type is the system of printing and typography that uses movable components to reproduce the elements of a document ....
printing press
Printing press
A printing press is a device for applying pressure to an inked surface resting upon a print medium , thereby transferring the ink...
, it was not until the
Industrial Revolution
Industrial Revolution
The Industrial Revolution was a period from the 18th to the 19th century where major changes in agriculture, manufacturing, mining, transportation, and technology had a profound effect on the social, economic and cultural conditions of the times...
of the mid-19th century that paper and books became financially affordable to all classes of industrialized society. Until then, only a small percentage of the population were literate as only wealthy individuals and institutions could afford the prohibitively expensive materials. Even , the dearth of cheap paper and books is a barrier to universal literacy in some less-industrialized nations.
From another perspective, the historian Harvey Graff has argued that the introduction of mass schooling was in part an effort to control the type of literacy that the
working class
Working class
Working class is a term used in the social sciences and in ordinary conversation to describe those employed in lower tier jobs , often extending to those in unemployment or otherwise possessing below-average incomes...
had access to. According to Graff, literacy learning was increasing outside of formal settings (such as schools) and this uncontrolled, potentially critical reading could lead to increased radicalization of the populace. In his view, mass schooling was meant to temper and control literacy, not spread it. Graff also points out, using the example of Sweden, that mass literacy can be achieved without formal schooling or instruction in writing.
Canada
The literacy rate of Canada, being almost 99% in 2003, has declined, and will be under world's average literacy rates for adults in the next two decades, depending on the rate of declining.
United States
In 1870, 20 percent of the entire adult population was illiterate, and 80 percent of the black population was illiterate. By 1900 the situation had improved somewhat, but still 44 percent of black people remained illiterate. The statistical data show significant improvements for black and other races in the early portion of the 20th century as the former slaves who had no educational opportunities in their youth were replaced by younger individuals who grew up in the post Civil War period and often had some chance to obtain a basic education. The gap in illiteracy between white and black adults continued to narrow through the 20th century, and in 1979 the rates were about the same.
Full prose proficiency, as measured by the ability to process complex and challenging material such as would be encountered in everyday life there, is achieved by about 13% of the general, 17% of the white, and 2% of the black population. However 86% of the general population had basic or higher prose proficiency as of 2003, with a decrease distributed across all groups in the full proficiency group vs. 1992 of more than 10%, consistent with a general decline.
Literacy in South America
In 1964 in Brazil,
Paulo Freire
Paulo Freire
Paulo Reglus Neves Freire was a Brazilian educator and influential theorist of critical pedagogy.-Biography:...
was arrested and exiled for teaching the Brazilian peasants to read.
Literacy in Africa
In
Sub-Saharan Africa
Sub-Saharan Africa
Sub-Saharan Africa as a geographical term refers to the area of the African continent which lies south of the Sahara. A political definition of Sub-Saharan Africa, instead, covers all African countries which are fully or partially located south of the Sahara...
, literacy is associated with colonialism, whereas orality is associated with native traditions.
In Ethiopia, a national literacy campaign introduced in 1975 increased literacy rates to between 37% (unofficial) and 63% (official) by 1984.
Chinese and Japanese
The PRC conducts standardized testing to assess proficiency in Putong Hua (Mandarin) but it is primarily for foreigners or those needing to demonstrate professional proficiency in Beijing dialect. Literacy in logographic languages like Chinese has been graded on the number of characters in the speakers lexicon with a few thousand considered the minimum for practical literacy. Similar tests exists in other countries where the Chinese language is an official language. Chinese can be expressed alphabetically but Chinese speakers prefer the Chinese logographic system. Japan has both logographic and alphabetic scripts.
Laos
Obstacles to literacy vary by country and culture. Writing systems, quality of education, availability of written material, competition from other sources (television, video games, cell phones, and family work obligations) and cultural influences all influence literacy levels.
In Laos, which has a phonetic alphabet, the mechanics of reading are relatively easy to learn. It is easier than in English, where spelling and pronunciation rules are filled with exceptions, and far easier than Chinese, with thousands of symbols to be memorized. But a lack of books and other written materials has hindered functional literacy. Many children and adults are able to read, but do it so haltingly that the skill is of no real benefit. For this and other reasons, Laos has the lowest level of adult literacy of any Southeast-Asian nation except for East Timor.
A literacy project in Laos addresses this by using what it calls "books that make literacy fun!" The project,
Big Brother Mouse
Big Brother Mouse
Big Brother Mouse is a publishing project in Laos. It focuses on publishing books that improve literacy and quality of life; and on making those books accessible, particularly in rural Lao villages. Books are scarce in Laos...
, publishes colorful, easy-to-read books, then delivers them by holding book parties at rural schools. Some of the books are modeled on successful western books by authors such as Dr. Seuss. The most popular titles, however, are traditional Lao fairy tales. Two popular collections of folktales were written by Siphone Vouthisakdee, who comes from a village where only five children finished primary school.
Big Brother Mouse has also created village reading rooms, and published books for adult readers about subjects such as Buddhism, health, and baby care.
Pakistan
In Pakistan, the National Commission for Human Development (NCHD) aims to bring literacy to adults, especially women.
Literacy in the 21st century
This idea has forever changed the landscape of information access, and is integral in an understanding of Literacy as a practice, in the 21st Century. It is no longer sufficient to consider whether a student can 'read' (decoding text, really) and 'write' (encoding text), and it is necessary to consider more meaningful aspects of literacy in education and in society as a whole, if we are to complete the transition we are in, from a society in which communication was never possible on the level of 'many to many', to one in which it is.
Economic impact
Many policy analysts consider literacy rates as a crucial measure to enhance a region's
human capital
Human capital
Human capitalis the stock of competencies, knowledge and personality attributes embodied in the ability to perform labor so as to produce economic value. It is the attributes gained by a worker through education and experience...
. This claim is made on the grounds that literate people can be trained less expensively than illiterate people, generally have a higher socio-economic status and enjoy better health and employment prospects. Policy makers also argue that literacy increases job opportunities and access to
higher education
Higher education
Higher, post-secondary, tertiary, or third level education refers to the stage of learning that occurs at universities, academies, colleges, seminaries, and institutes of technology...
.
In
Kerala
Kerala
or Keralam is an Indian state located on the Malabar coast of south-west India. It was created on 1 November 1956 by the States Reorganisation Act by combining various Malayalam speaking regions....
,
India
India
India , officially the Republic of India , is a country in South Asia. It is the seventh-largest country by geographical area, the second-most populous country with over 1.2 billion people, and the most populous democracy in the world...
, for example, female and child mortality rates declined dramatically in the 1960s, when girls schooled according to the
education reform
Education reform
Education reform is the process of improving public education. Small improvements in education theoretically have large social returns, in health, wealth and well-being. Historically, reforms have taken different forms because the motivations of reformers have differed.A continuing motivation has...
s after 1948 began to raise families. In addition to the potential for literacy to increase wealth, wealth may promote literacy, through cultural norms and easier access to schools and tutoring services.
In 2009, the National Adult Literacy agency (NALA) commissioned an economist to do a cost benefit analysis of adult literacy training in
Ireland
Ireland
Ireland is an island to the northwest of continental Europe. It is the third-largest island in Europe and the twentieth-largest island on Earth...
. He reported that there were economic gains for the individuals, the companies they worked for, the Exchequer, as well as the economy, for example, increased GDP, and society at large. The annual income gain per person per level increase on the Irish ten level National Qualifications Framework being €3,810 and the gain to the Exchequer, in terms of reduced social welfare transfers and increased tax payments, being €1,531 per annum.
Broader and complementary definitions
Traditionally considered the ability to use written language actively and passively, some definitions of literacy consider it the ability to "read, write, spell, listen, and speak." Since the 1980s, some have argued that literacy is ideological, which means that literacy always exists in a context, in tandem with the values associated with that context. Prior work viewed literacy as existing autonomously.
Some have argued that the definition of literacy should be expanded. For example, in the
United States
United States
The United States of America is a federal constitutional republic comprising fifty states and a federal district...
, the
National Council of Teachers of English
National Council of Teachers of English
The National Council of Teachers of English is an American professional organization dedicated to "improving the teaching and learning of English and the language arts at all levels of education...
and the
International Reading Association
International Reading Association
The International Reading Association is an international professional organization that was created in 1956 to improve reading instruction, facilitate dialogue about research on reading, and encourage the habit of reading....
have added "visually representing" to the traditional list of competencies. Similarly, in
Scotland
Scotland
Scotland is a country that is part of the United Kingdom. Occupying the northern third of the island of Great Britain, it shares a border with England to the south and is bounded by the North Sea to the east, the Atlantic Ocean to the north and west, and the North Channel and Irish Sea to the...
, literacy has been defined as: "The ability to read, write and use numeracy, to handle information, to express ideas and opinions, to make decisions and solve problems, as family members, workers, citizens and lifelong learners."
A basic literacy standard in many societies is the ability to read the newspaper. Increasingly, communication in commerce or society in general requires the ability to use computers and other digital technologies. Since the 1990s, when the
Internet
Internet
The Internet is a global system of interconnected computer networks that use the standard Internet protocol suite to serve billions of users worldwide...
came into wide use in the United States, some have asserted that the definition of literacy should include the ability to use tools such as
web browser
Web browser
A web browser is a software application for retrieving, presenting, and traversing information resources on the World Wide Web. An information resource is identified by a Uniform Resource Identifier and may be a web page, image, video, or other piece of content...
s,
word processing
Word processing
Word processing is the creation of documents using a word processor. It can also refer to advanced shorthand techniques, sometimes used in specialized contexts with a specially modified typewriter.-External links:...
programs, and text messages. Similar expanded skill sets have been called multimedia literacy,
computer literacy
Computer literacy
Computer literacy is defined as the knowledge and ability to use computers and related technology efficiently, with a range of skills covering levels from elementary use to programming and advanced problem solving. Computer literacy can also refer to the comfort level someone has with using...
,
information literacy
Information literacy
The National Forum on Information Literacy defines information literacy as "...the ability to know when there is a need for information, to be able to identify, locate, evaluate, and effectively use that information for the issue or problem at hand." This is the most common definition; however,...
, and technological literacy. Some scholars propose the idea multiliteracies which includes Functional Literacy,
Critical Literacy
Critical literacy
Critical Literacy is an instructional approach, stemming from Marxist Critical pedagogy, that advocates the adoption of "critical" perspectives toward text. Critical literacy encourages readers to actively analyze texts and offers strategies for what proponents describe as uncovering underlying...
, and Rhetorical Literacy.
"Arts literacy" programs exist in some places in the United States.
Other genres under study by academia include
critical literacy
Critical literacy
Critical Literacy is an instructional approach, stemming from Marxist Critical pedagogy, that advocates the adoption of "critical" perspectives toward text. Critical literacy encourages readers to actively analyze texts and offers strategies for what proponents describe as uncovering underlying...
,
media literacy
Media literacy
Media literacy is a repertoire of competences that enable people to analyze, evaluate, and create messages in a wide variety of media modes, genres, and forms.-Education:...
,
ecological literacy
Ecological literacy
Ecological literacy is the ability to understand the natural systems that make life on earth possible. To be ecoliterate means understanding the principles of organization of ecological communities and using those principles for creating sustainable human communities. The term was coined by...
and
health literacy
Health literacy
Health literacy is an individual's ability to read, understand and use healthcare information to make decisions and follow instructions for treatment...
With the increasing emphasis on evidence-based decision making, and the use of statistical graphics and information,
statistical literacy
Statistical literacy
Statistical literacy is a term used to describe an individual's or group's ability to understand statistics. Statistical literacy is necessary for citizens to understand material presented in publications such as newspapers, television, and the Internet. Numeracy is a prerequisite to being...
is becoming a very important aspect of literacy in general.
The International Statistical Literacy Project
is dedicated to the promotion of statistical literacy among all members of society.
It is argued that literacy includes the cultural, political, and historical contexts of the community in which communication takes place.
Taking account of the fact that a large part of the benefits of literacy obtain from having access to a literate person in the household, a recent literature in economics, starting with the work of Kaushik Basu and James Foster, distinguishes between a 'proximate illiterate' and an 'isolated illiterate'. The former refers to an illiterate person who lives in a household with other literates and the latter to an illiterate who lives in a household of all illiterates. What is of concern is that many people in poor nations are not just illiterates but isolated illiterates.
Teaching literacy
Teaching English literacy in the
United States
United States
The United States of America is a federal constitutional republic comprising fifty states and a federal district...
is dominated at present by a conception of literacy that focuses on a set of discrete decoding skills. From this perspective, literacy - or, rather, reading - comprises a number of subskills that can be taught to students. These skill sets include:
phonological awareness
Phonological awareness
Phonological awareness refers to an individual's awareness of the phonological structure, or sound structure, of spoken words. Phonological awareness is an important and reliable predictor of later reading ability and has, therefore, been the focus of much research.- Overview :Phonological...
,
phonics (decoding)
Phonics
Phonics refers to a method for teaching speakers of English to read and write that language. Phonics involves teaching how to connect the sounds of spoken English with letters or groups of letters and teaching them to blend the sounds of letters together to produce approximate pronunciations...
,
fluency
Fluency
Fluency is the property of a person or of a system that delivers information quickly and with expertise.-Speech:...
,
comprehension
Reading comprehension
Reading comprehension is defined as the level of understanding of a text. This understanding comes from the interaction between the words that are written and how they trigger knowledge outside the text. ....
, and
vocabulary
Vocabulary
A person's vocabulary is the set of words within a language that are familiar to that person. A vocabulary usually develops with age, and serves as a useful and fundamental tool for communication and acquiring knowledge...
. Mastering each of these sets of subskills is necessary for students to become proficient readers.
From this same perspective, readers of alphabetic languages must understand the
alphabetic principle
Alphabetic principle
According to the alphabetic principle, letters and combinations of letters are the symbols used to represent the speech sounds of a language based on systematic and predictable relationships between written letters, symbols, and spoken words...
in order to master basic reading skills. A writing system is said to be
alphabetic
if it uses symbols to represent
individual language sounds
Phoneme
In a language or dialect, a phoneme is the smallest segmental unit of sound employed to form meaningful contrasts between utterances....
, though the degree of correspondence between letters and sounds varies across alphabetic languages.
Syllabic writing systems
Syllabary
A syllabary is a set of written symbols that represent syllables, which make up words. In a syllabary, there is no systematic similarity between the symbols which represent syllables with the same consonant or vowel...
(such as
Japanese
Japanese writing system
The modern Japanese writing system uses three main scripts:*Kanji, adopted Chinese characters*Kana, a pair of syllabaries , consisting of:...
kana
Kana
Kana are the syllabic Japanese scripts, as opposed to the logographic Chinese characters known in Japan as kanji and the Roman alphabet known as rōmaji...
) use a symbol to represent a single syllable, and
logographic writing systems
Logogram
A logogram, or logograph, is a grapheme which represents a word or a morpheme . This stands in contrast to phonograms, which represent phonemes or combinations of phonemes, and determinatives, which mark semantic categories.Logograms are often commonly known also as "ideograms"...
(such as Chinese) use a symbol to represent a morpheme.
There are any number of approaches to teaching literacy; each is shaped by its informing assumptions about what literacy is and how it is best learned by students.
Phonics
Phonics
Phonics refers to a method for teaching speakers of English to read and write that language. Phonics involves teaching how to connect the sounds of spoken English with letters or groups of letters and teaching them to blend the sounds of letters together to produce approximate pronunciations...
instruction, for example, focuses on reading at the level of the word. It teaches readers to attend to the letters or groups of letters that make up words. A common method of teaching phonics is
synthetic phonics
Synthetic phonics
Synthetic phonics is a method of teaching reading which first teaches the letter sounds and then builds up to blending these sounds together to achieve full pronunciation of whole words...
, in which a novice reader pronounces each individual sound and "blends" them to pronounce the whole word. Another approach to phonics instruction is embedded phonics instruction, used more often in
whole language
Whole language
Whole language describes a literacy philosophy which emphasizes that children should focus on meaning and strategy instruction. It is often contrasted with phonics-based methods of teaching reading and writing which emphasize instruction for decoding and spelling. However, from whole language...
reading instruction, in which novice readers learn about the individual letters in words on a just-in-time, just-in-place basis that is tailored to meet each student's reading and writing learning needs. That is, teachers provide phonics instruction opportunistically, within the context of stories or student writing that feature many instances of a particular letter or group of letters. Embedded instruction combines letter-sound knowledge with the use of meaningful context to read new and difficult words. Techniques such as
directed listening and thinking activities
Directed listening and thinking activity
The directed listening and thinking activity is a strategy that was first identified by Stauffer . It is used with early childhood students or students who are not yet successful independent readers. Teachers use this strategy to establish a purpose for reading with their students...
can be used to aid children in learning how to read and
reading comprehension
Reading comprehension
Reading comprehension is defined as the level of understanding of a text. This understanding comes from the interaction between the words that are written and how they trigger knowledge outside the text. ....
.
Public library efforts to promote literacy
The public library has long been a proponent for literacy in its communities. The release of the National Assessment of Adult Literacy (NAAL) report in 2005 revealed that approximately 14 percent of adults function at the lowest level of literacy and 29 percent of adults function at the basic functional literacy level, meaning they are not able to help their children with homework beyond the first few grades The lack of reading skills hinders adults from reaching their full potential. They might have difficulty getting and maintaining a job, providing for their families, or even reading a story to their children. For adults across the country, the library might be the only source of a literacy program. Programs have been instituted in public libraries across the country in an attempt to improve the literacy rates in this country. Some example of various literacy programs across the country are listed below.
The READ/Orange County program, initiated in 1992 by the Orange County Public Library in California is an example of a flourishing community literacy program. The organization builds on what people have already learned through experiences as well as previous education, rather than trying to make up for what has not been learned. The organization then provides the student with the skills to continue learning in the future. The program operates on the belief that an adult who learns to read creates a ripple effect in the community. An adult who learns to read impacts not just himself but the whole community; he becomes an example to his children and grandchildren, and can then better serve his community. The mission of READ/Orange County is to "create a more literate community by providing diversified services of the highest quality to all who seek them." Potential tutors train during an extensive twenty-three hour Tutor Training Workshop in which they learn the philosophy, techniques and tools they will need to work with adult learns After completing the training, the tutors invest at least fifty hours a year to tutoring their student.
Another successful literacy program is the BoulderReads! program in Boulder, Colorado. The program recognized the difficulty that students had in obtaining child care while attending tutoring sessions, and joined with the University of Colorado to provide reading buddies to the children of students. Reading Buddies matches children of adult literacy students with college students who meet with them once a week throughout the semester for an hour and a half. The college students receive course credit, ensuring the quality and reliability of their time
Each Reading Buddies session focuses primarily on the college student reading aloud with the child. This helps the child gain interest in books and feel comfortable reading aloud. Time is also spent on word games, writing letters, or searching for books in the library. Throughout the semester the pair work on writing and illustrating a book together. The college student's grade is partly dependent on the completion of the book. Although Reading Buddies began primarily as an answer to the lack of child care for literacy students, it has evolved into another aspect of the literacy program. While the children are not participants in the tutoring program, they do show marked improvement in their reading and writing skills throughout the semester, due in part to the admiration and respect they gain for their college reading buddy.
The Hillsborough Literacy Council, operating under The Florida Literacy Coalition, a statewide literacy organization, strives to improve the literacy ability of adults in Hillsborough County, Florida. Working since 1986, the HLC is "committed to improving literacy by empowering adults through education" The HLC also provides tutoring for English-speakers of other languages (ESOL). Approximately 120,000 adults in Hillsborough County are considered illiterate, or read below the fourth grade level. Through one on one tutoring the organization works to help adult students reach at least the fifth grade level. 95,000 adults living in Hillsborough County do not speak English; volunteers in the organization typically work with small groups of non-English speaking students to help practice their English conversation skills.
Each volunteer must attend a five-hour training session before they are matched with their students. The tutor training objectives include recognizing the problem of illiteracy, performing the responsibilities of being an HLC tutor, exhibiting qualities of a good tutor, and identifying the difference between an adult learner and a child. Additionally, basic literacy tutors must be able to name the basic principles of teaching reading and become comfortable leading a tutoring session using the Laubach Way to Reading Series. Tutors are also encouraged to stay informed about literacy issues by reading online articles and visiting literacy websites. Once matched with a student, tutors contact the student to decide on a meeting place and time. Depending on each schedule, tutors and students might meet once or twice a week for one to two hours at a time. Tutors must document each meeting and maintain a portfolio of the student's intake, assessments, and goals. Throughout the year, tutors must attend two other supplemental resource workshops to further their tutor training.
External links