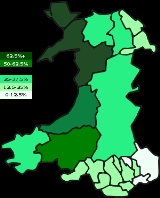 Welsh language
Welsh
is a member of the
Brythonic
Brythonic languages
The Brythonic or Brittonic languages form one of the two branches of the Insular Celtic language family, the other being Goidelic. The name Brythonic was derived by Welsh Celticist John Rhys from the Welsh word Brython, meaning an indigenous Briton as opposed to an Anglo-Saxon or Gael...
branch of the
Celtic languages
Celtic languages
The Celtic languages are descended from Proto-Celtic, or "Common Celtic"; a branch of the greater Indo-European language family...
spoken natively in
Wales
Wales
Wales is a country that is part of the United Kingdom and the island of Great Britain, bordered by England to its east and the Atlantic Ocean and Irish Sea to its west. It has a population of three million, and a total area of 20,779 km²...
, by some along the
Welsh border
Welsh Marches
The Welsh Marches is a term which, in modern usage, denotes an imprecisely defined area along and around the border between England and Wales in the United Kingdom. The precise meaning of the term has varied at different periods...
in
England
England
England is a country that is part of the United Kingdom. It shares land borders with Scotland to the north and Wales to the west; the Irish Sea is to the north west, the Celtic Sea to the south west, with the North Sea to the east and the English Channel to the south separating it from continental...
, and in
Y Wladfa
(the Welsh colony in
Chubut Province
Chubut Province
Chubut a province in the southern part of Argentina situated between the 42nd parallel south and the 46th parallel south , the Andes range separating Argentina from Chile, and the Atlantic ocean...
,
Argentina
Argentina
Argentina , officially the Argentine Republic , is the second largest country in South America by land area, after Brazil. It is constituted as a federation of 23 provinces and an autonomous city, Buenos Aires...
). Historically, it has also been known in English as "Cambrian", "Cambric" and "Cymric".
The
Welsh Language Board
Welsh Language Board
The Welsh Language Board is a statutory body set up by the UK Government as part of the Welsh Language Act 1993. It is now an Assembly Sponsored Public Body...
indicated in 2004 that 611,000 people (21.7% of the population of Wales in households or communal establishments) were able to speak Welsh.