 List of cities and towns in Finland
This is a
list of towns in Finland

Finland

Finland , officially the Republic of Finland, is a Nordic country situated in the Fennoscandian region of Northern Europe. It is bordered by Sweden in the west, Norway in the north and Russia in the east, while Estonia lies to its south across the Gulf of Finland.Around 5.4 million people reside...



. In the year 1977 the juridical difference between cities, towns and
municipalities
were removed. Today only municipalities are recognized, some of which are commonly referred to as
town
Town
A town is a human settlement larger than a village but smaller than a city. The size a settlement must be in order to be called a "town" varies considerably in different parts of the world, so that, for example, many American "small towns" seem to British people to be no more than villages, while...
s
(kaupunki
in Finnish,
stad
in
Swedish
Finland-Swedish
Finland Swedish is a general term for the closely related cluster of dialects of Swedish spoken in Finland by Swedish-speaking Finns as their mother tongue...
). A simple, independent decision in the municipal council is required to change the name of a rural "municipality" (
kunta
) into a "city" (
kaupunki
). For towns founded before the 1960s the list includes the year the town was
chartered
Royal Charter
A royal charter is a formal document issued by a monarch as letters patent, granting a right or power to an individual or a body corporate. They were, and are still, used to establish significant organizations such as cities or universities. Charters should be distinguished from warrants and...
.
The names used in the English Wikipedia are usually the Finnish or Swedish forms, depending on the majority language of the municipality, which is common practice where there is no independent English name.
Towns (founded)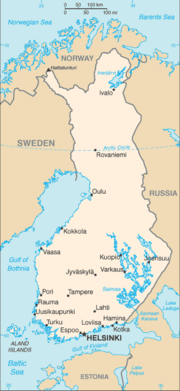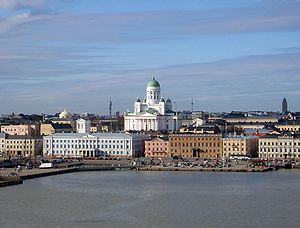 Common Name
Alternative Name
District
Year of foundation
Akaa

Akaa

Akaa is a town and a municipality in Pirkanmaa, Finland. It was created on January 1, 2007 when the town of Toijala and the municipality of Viiala were united into a single town. The municipality of Kylmäkoski was consolidated with Akaa on 1 January 2011....



2007
13995
Alajärvi

Alajärvi

Alajärvi is a town and municipality of Finland.It is located in the province of Western Finland and is part of the Southern Ostrobothnia region. The town has a population of and covers an area of of which is water...



1986
8839
Alavus

Alavus

Alavus is a municipality of Finland. It is located in the province of Western Finland and is part of the Southern Ostrobothnia region. The town has a population of and covers an area of of which is water. The population density is ....



Alavo
1977
9509
Anjalankoski

Anjalankoski

Anjalankoski is a former town and municipality of Finland. It had 17,301 inhabitants . About 4/5 of the people live in the vicinity of the Kymi River. The most densely populated communities are Myllykoski and Inkeroinen. In addition, there is plenty of countryside.The town's major industry is...



1977
16754
Ekenäs

Ekenäs

Ekenäs is a former town and municipality of Finland comprising the former municipalities Snappertuna and Tenala together with the town of Ekenäs. It was merged with Pohja and Karis to form the new municipality of Raseborg on January 1, 2009....



Tammisaari
1546
14724
Espoo

Espoo

Espoo is the second largest city and municipality in Finland. The population of the city of Espoo is . It is part of the Helsinki Metropolitan Area along with the cities of Helsinki, Vantaa, and Kauniainen. Espoo shares its eastern border with Helsinki and Vantaa, while enclosing Kauniainen....



Esbo
1972
235809
Forssa

Forssa

Forssa is a town and municipality of Finland.It is located almost in the centre of a triangle defined by the three largest major cities in Finland , in the province of Southern Finland and is part of the Tavastia Proper region. The town has a population of and covers an area of of which is water...



1964
17916
Haapajärvi

Haapajärvi

Haapajärvi is a town and municipality of Finland.It is located in the province of Oulu and is part of the Northern Ostrobothnia region. The town has a population of and covers an area of of which is water. The population density is ....



Aspsjö
1977
7845
Haapavesi

Haapavesi

Haapavesi is a town and a municipality of Finland.It is located in the province of Oulu and is part of the Northern Ostrobothnia region. The town has a population of and covers an area of of which is water...



1996
7547
Hämeenlinna

Hämeenlinna

Hämeenlinna is a city and municipality of about inhabitants in the heart of the historical province of Häme in the south of Finland and is the birthplace of composer Jean Sibelius. Today, it belongs to the region of Tavastia Proper, and until 2010 it was the residence city for the Governor of the...



Tavastehus
1639
47969
Hamina

Hamina

Hamina is a town and a municipality of Finland. It is located in the province of Southern Finland and is part of the Kymenlaakso region. The town has a population of and covers an area of ofwhich is water. The population density is...



Fredrikshamn
1653
21756
Hanko

Hanko, Finland

Hanko , is a bilingual port town and municipality on the south coast of Finland, west of Helsinki. Its current population is , with a majority being Finnish speakers and a strong minority being Swedish speakers.-Politics:...



Hangö
1874
9723
Harjavalta

Harjavalta

Harjavalta is a town and municipality of Finland.It is located in the province of Western Finland and is part of the Satakunta region. The town has a population of and covers an area of of which is water. The population density is ....



1977
7694
Heinola

Heinola

Heinola is a town and a municipality of inhabitants located in the Province of Southern Finland. Heinola is perhaps best known for its summer activities such as the Sauna-sitting World Championships.-History:...



1839
20583
Helsinki

Helsinki

Helsinki is the capital and largest city in Finland. It is in the region of Uusimaa, located in southern Finland, on the shore of the Gulf of Finland, an arm of the Baltic Sea. The population of the city of Helsinki is , making it by far the most populous municipality in Finland. Helsinki is...



Helsingfors
1550
565186
Huittinen

Huittinen

Huittinen is a town and municipality of Finland.It is located in the Satakunta region. The town has a population of and covers an area of of which is water...



Vittis
1977
9018
Hyvinkää

Hyvinkää

Hyvinkää is a town and municipality of Finland. It is located in Uusimaa region, approximately north of the capital Helsinki. The town was chartered in 1960. Hyvinkää belongs to the Province of Southern Finland. The population of Hyvinkää is ....



Hyvinge
1960
44463
Iisalmi

Iisalmi

Iisalmi is a town and municipality of Finland.It is located in the province of Eastern Finland and is part of the Northern Savonia region. The municipality has a population of and covers an area of of which is water. The population density is...



Idensalmi
1891
22353
Ikaalinen

Ikaalinen

Ikaalinen is a town and municipality of Finland.It is located in the province of Western Finland and is part of the Pirkanmaa region. The town has a population of and covers an area of ofwhich is water...



Ikalis
1977
7487
Imatra

Imatra

Imatra is a town and municipality in eastern Finland, founded in 1948 around three industrial settlements near the Finnish–Russian border. In the course of the last 50 years, this amorphous group of settlements has grown into a modern industrial town dominated by Lake Saimaa, the Vuoksi River and...



1971
29351
Jakobstad

Jakobstad

Jakobstad is a town and municipality in Ostrobothnia, Finland. The town has a population of and covers a land area of . The population density is .- History :...



Pietarsaari
1652
19561
Joensuu

Joensuu

Joensuu is a city and municipality in North Karelia in eastern Finland. It is located in the province of Eastern Finland and is part of North Karelia region. It was founded in 1848...



1848
57681
Joutseno

Joutseno

Joutseno is a former town and municipality of Finland. It is located in the province of Southern Finland and is part of the South Karelia region. Joutseno had a population of 10,821 and covers an area of 498,8 km² of which 187,7 km² is water. The region shares nine kilometers of...



2005
10829
Juankoski

Juankoski

Juankoski is a town and municipality of Finland.It is located in the province of Eastern Finland and is part of the Northern Savonia region. The town has a population of and covers an area of of which is water. The population density is...



Strömsdal
1998
5464
Jyväskylä

Jyväskylä

Jyväskylä is the capital of Central Finland and the largest city on the Finnish Lakeland, north-east of Tampere and north of Helsinki, on northern coast of lake Päijänne. The city has been continuously one of the most rapidly growing cities in Finland since World War II. The city is surrounded...



1837
128245
Jämsä

Jämsä

Jämsä is a town and municipality of Finland.It is located in the province of Western Finland and is part of the Central Finland region. The municipality has a population of and covers an area of of which is water. The population density is ....



1977
16165
Jämsänkoski

Jämsänkoski

Jämsänkoski is a former town and municipality in central Finland located near Lake Päijänne and the Jämsänjoki river. The town had population of 7,581 . It covered an area of 448.67 km² of which 48.02 km² is water...



1986
7423
Järvenpää

Järvenpää

Järvenpää is a town and municipality of Finland.-History:Järvenpää was separated from its parent community Tuusula in 1951. Järvenpää was granted the status of a market town after the separation. Neighbouring districts Kellokoski and Nummenkylä were not added to the municipality of Järvenpää and...



Träskända
1967
37730
Kaarina

Kaarina

Kaarina is a small city and municipality of Finland.It is located in the Finland Proper region and is a neighbouring town of Turku, which is the capital of Finland Proper, therefore Kaarina is a part of the Greater Turku region. The municipality has a population of and covers an area of of...



Sankt Karins
1993
22329
Kajaani

Kajaani

Kajaani is a town and municipality in Finland.It is the capital of the Kainuu region. It is located southeast of Oulujärvi , which drains to the Gulf of Bothnia along the Oulujoki . There are inhabitants and city surface area is of which is water. The population density is . The town is...



Kajana
1651
38091
Kankaanpää

Kankaanpää

-People born in Kankaanpää:*Toni Vilander , racing driver*Elwood , demoscene musician*Cristal Snow, musician-External links:* – Official website...



1972
12531
Kannus

Kannus

Kannus is a town and municipality and city of Finland.It is situated in the province of Western Finland and is part of the Central Ostrobothnia region. The municipality has a population of and covers an area of , of which is water. The population density is .The municipality is unilingually...



1986
5884
Karis

Karis

Karis is a former Finnish town and Finnish municipality in Finland. On January 1, 2009, it was consolidated with Ekenäs and Pohja that formed the new town of Raseborg....



Karjaa
1977
9020
Karkkila

Karkkila

- External links :*...



Högfors
1977
9005
Kaskinen

Kaskinen

Kaskinen is a town and municipality of Finland. It is located in the province of Western Finland and is part of the Ostrobothnia region. The population of Kaskinen is and the municipality covers an area of of which is inland water . The population density is...



Kaskö
1785
1486
Kauhajoki

Kauhajoki

Kauhajoki is a town and municipality of Finland. The city is unilingually Finnish.It is located in the province of Western Finland and is part of the Southern Ostrobothnia region. The population of Kauhajoki is and the municipality covers an area of of which is inland water...



2001
14441
Kauhava

Kauhava

Kauhava is a town and municipality of Finland.It is located in the province of Western Finland and is part of the Southern Ostrobothnia region, northwest of Helsinki and by the main railway from Helsinki to Oulu. The town has a population of and covers an area of of which is water...



1986
7956
Kauniainen

Kauniainen

Kauniainen is a small town and a municipality of inhabitants in the Helsinki Metropolitan Area, Finland. It is surrounded by the city of Espoo, in Greater Helsinki...



Grankulla
1972
8440
Kemi

Kemi

Kemi is a town and municipality of Finland. It is located very near the city of Tornio. It was founded in 1869 by royal decree, because of its proximity to a deep water harbour....



1869
22776
Kemijärvi

Kemijärvi

Kemijärvi is a municipality of Finland and the northern-most town in Finland. It is located in the province of Lapland. The municipality has a population of and covers an area of of which is water...



Kemiträsk
1973
9009
Kerava

Kerava

Kerava is a town and municipality in Finland.It is located in the province of Southern Finland and is part of the Uusimaa region. The town has a population of and covers an area of of which is water. The population density is...



Kervo
1970
32589
Keuruu

Keuruu

Keuruu is a town and municipality of Finland.It is located in the province of Western Finland and is part of the Central Finland region.The municipality has a population of and covers an area of of which is water...



Keuru
1986
11002
Kitee

Kitee

Kitee is a town and a municipality of Finland.It is located in the province of Eastern Finland and is part of the North Karelia region. The municipality has a population of and covers an area of of which is water...



Kides
1992
9650
Kiuruvesi

Kiuruvesi

Kiuruvesi is a town and municipality of Finland located in the former province of Eastern Finland and is part of the Northern Savonia region. The municipality has a population of and covers an area of ofwhich is water...



1993
9585
Kokemäki

Kokemäki

Kokemäki is a town and municipality of Finland.It is located in the province of Western Finland and is part of the Satakunta region. The town has a population of and covers an area of of which is water...



Kumo
1977
9257
Kokkola

Kokkola

Kokkola is a town and municipality of Finland.The town is located in the province of Western Finland and is part of the Central Ostrobothnia region. The town has a population of and covers an area of of which is water. The population density is...



Karleby
1620
36599
Kotka

Kotka

Kotka is a town and municipality of Finland. Its former name is Rochensalm.Kotka is located on the coast of the Gulf of Finland at the mouth of Kymi River and it is part of the Kymenlaakso region in southern Finland. The municipality has a population of and covers an area of of which is water....



1878
65629
Kouvola

Kouvola

Kouvola is a town and municipality in southeastern Finland. It is located northeast of the capital, Helsinki.The city has a population of and covers an area of of which is water. The population density is ....



1960
30767
Kristinestad

Kristinestad

Kristinestad is a town and a municipality in Finland. It is located in the western part of Finland on the shore of the Bothnian Sea. The population of Kristinestad is and the municipality covers an area of of which is inland water . The population density is . The population is bilingual...



Kristiinankaupunki
1649
7482
Kuhmo

Kuhmo

Kuhmo is a town and a municipality in Finland and is part of the Kainuu region. The municipality has a population of and covers an area of of which is water. The population density is . It has a borderline of with Russia....



1986
10019
Kuopio

Kuopio

Kuopio is a city and a municipality located in the region of Northern Savonia, Finland. A population of makes it the ninth biggest city in the country. The city has a total area of , of which is water and half forest...



1775
91039
Kurikka

Kurikka

Kurikka is a town and municipality of Finland. It is located in the province of Western Finland and is part of the Southern Ostrobothnia region. The population of Kurikka is and the municipality covers an area of of which is inland water . The population density is...



1977
10500
Kuusamo

Kuusamo

Kuusamo is a town and municipality in Finland. It is located in the Oulu province and is part of the Northern Ostrobothnia region. The municipality has a population of and covers an area of of which is water. The population density is ....



2000
17002
Kuusankoski

Kuusankoski

Kuusankoski is a former industrial town and municipality of Finland, located in the region of Kymenlaakso in the province of Southern Finland. The population of Kuusankoski was 20,392 and the total area was 129.5 km² of which 114 km² was land and 14.56 km² water. It is located some ...



1973
20065
Lahti

Lahti

Lahti is a city and municipality in Finland.Lahti is the capital of the Päijänne Tavastia region. It is situated on a bay at the southern end of lake Vesijärvi about north-east of the capital Helsinki...



Lahtis
1905
98861
Laitila

Laitila

Laitila is a town and a municipality of Finland.It is located in the province of Western Finland and is part of the Finland Proper region. The municipality has a population of and covers an area of ofwhich is water. The population density is...



Letala
1986
8537
Lappeenranta

Lappeenranta

Lappeenranta is a city and municipality that resides on the shore of the lake Saimaa in South-Eastern Finland, about from the Russian border. It belongs to the region of South Karelia. With approximately inhabitants Lappeenranta is the largest city in Finland...



Villmanstrand
1649
59092
Lapua

Lapua

Lapua is a town and municipality of Finland.It is located next to the Lapua River in the province of Western Finland and is part of the Southern Ostrobothnia region. The town has a population of and covers an area of ofwhich is water...



Lappo
1977
14113
Lieksa

Lieksa

Lieksa is a town and municipality of Finland.It is located in the province of Eastern Finland and is part of the North Karelia region. The municipality has a population of and covers an area of of which is water...



1973
13405
Lohja

Lohja

Lohja , is a town and municipality of Finland.It is located in the province of Southern Finland and is part of the Uusimaa region. The town has a population of and covers an area of ofwhich is water...



Lojo
1969
37153
Loimaa

Loimaa

Loimaa is a town and municipality of Finland.It is located in the province of Western Finland and is part of the Finland Proper region. The municipality has a population of and covers an area of of which is water...



1969
13094
Loviisa

Loviisa

Loviisa is a municipality and town of inhabitants on the southern coast of Finland. About 43 per cent of the population is Swedish-speaking.The municipality covers an area of of which is water...



Lovisa
1745
7403
Mänttä

Mänttä

Mänttä is a former town and municipality of Finland. It was merged with the municipality of Vilppula to form Mänttä-Vilppula on 1 January 2009....



1973
6473
Mariehamn

Mariehamn

Mariehamn is the capital of Åland, an autonomous territory under Finnish sovereignty. Mariehamn is the seat of the Government and Parliament of Åland, and 40% of the population of Åland live in the city...



Maarianhamina
1861
10922
Mikkeli

Mikkeli

Mikkeli is a town and municipality in Finland. It is located in what used to be the province of Eastern Finland and is part of the Southern Savonia region. The municipality has a population of and covers an area of of which is water...



Sankt Michel
1838
48647
Naantali

Naantali

Naantali is a city in south-western Finland, known as one of the most important tourist centres of the country. The municipality has a population of , and is located in the region of Finland Proper, west of Turku....



Nådendal
1443
14026
Närpes

Närpes

Närpes is a town and municipality of Finland.The municipality is located in the province of Western Finland and is part of the Ostrobothnia region. The town has a population of and covers an area of of which is water. The population density is ....



Närpiö
1993
9445
Nilsiä

Nilsiä

Nilsiä is a small town and a municipality of Finland.It is located in the province of Eastern Finland and is part of the Northern Savonia region. The town has a population of and covers an area of of which is water. The population density is ....



1998
6541
Nivala

Nivala

Nivala is a town and municipality of Finland.It is located in the province of Oulu and is part of the Northern Ostrobothnia region. The town has a population of and covers an area of ofwhich is water...



1992
10955
Nokia

Nokia, Finland

Nokia, Finland is a town and a municipality on the banks of the Nokianvirta River in the region of Pirkanmaa, some west of Tampere. As of it has a population of .-History:...



1977
30013
Nurmes

Nurmes

Nurmes is a town and municipality of Finland.It is located in the province of Eastern Finland and is part of the North Karelia region. The town has a population of and covers an area of of which is water. The population density is ....



1974
8916
Nykarleby

Nykarleby

Nykarleby is a town and municipality of Finland. It is located in the province of Western Finland and is part of the Ostrobothnia region. The municipality is bilingual, with the majority speaking Swedish and the minority Finnish ....



Uusikaarlepyy
1620
7406
Orimattila

Orimattila

Orimattila is a town and municipality of Finland.It is located in the Päijänne Tavastia region. The municipality has a population of and covers an area of of which is water. The population density is .The municipality is unilingually Finnish....



1992
14705
Orivesi

Orivesi

Orivesi is a town and a municipality of Finland. It was founded in 1865.It is located in the province of Western Finland and is part of the Pirkanmaa region. The municipality has a population of and covers an area of of which is water. The population density is .The municipality is unilingually...



1986
9448
Oulainen

Oulainen

Oulainen is a town and a municipality of Finland, founded in 1865. It received township rights in 1977.It is located in the province of Oulu and is part of the Northern Ostrobothnia region. The municipality has a population of and covers an area of of...



Oulais
1977
8092
Oulu

Oulu

Oulu is a city and municipality of inhabitants in the region of Northern Ostrobothnia, in Finland. It is the most populous city in Northern Finland and the sixth most populous city in the country. It is one of the northernmost larger cities in the world....



Uleåborg
1605
130526
Outokumpu

Outokumpu, Finland

Outokumpu is a town and municipality of Finland.It is located in the province of Eastern Finland and is part of the North Karelia region. The municipality has a population of and covers an area of of which is water. The population density is ....



1977
7717
Paimio

Paimio

Paimio is a town and a municipality of Finland.It is located in the province of Western Finland and is part of the Finland Proper region. The municipality has a population of and covers an area of of which is water. The population density is...



Pemar
1997
10027
Pargas

Pargas

Pargas is a former town and municipality in south-western Finland. On 1 January 2009, it was consolidated with Houtskär, Iniö, Korpo and Nagu to form the new town of Väståboland....



Parainen
1977
12129
Parkano

Parkano

Parkano is a town and municipality in Finland.It is located north of Tampere in the province of Western Finland, and is part of the Pirkanmaa region. The population of Parkano is and the municipality covers an area of of which is inland water...



1977
12129
Pieksämäki

Pieksämäki

Pieksämäki is a town and municipality of Finland. Its original name was Haukivuori .It is located in the province of Eastern Finland and is part of the Southern Savonia region.The town has a population of and covers an area of of which is water...



1962
20635
Pori

Pori

Pori is a city and municipality on the west coast of Finland. The city is located some from the Gulf of Bothnia, on the estuary of the Kokemäenjoki river, which is the largest in Finland. Pori is the most important town in the Satakunta region....



Björneborg
1558
76275
Porvoo

Porvoo

Porvoo is a city and a municipality situated on the southern coast of Finland approximately east of Helsinki. Porvoo is one of the six medieval towns in Finland, first mentioned as a city in texts from 14th century...



Borgå
1346
47553
Pudasjärvi

Pudasjärvi

Pudasjärvi is a town and a municipality of Finland.It is located in the province of Oulu and is part of the Northern Ostrobothnia region. The city has a population of and covers an area of of which is water. The population density is...



2004
9201
Pyhäjärvi

Pyhäjärvi

Pyhäjärvi is a town and municipality in the south of Northern Ostrobothnia region, Finland. Pyhäjärvi also borders the Northern Savonia and Central Finland regions. The town belongs to the subregion of Nivala–Haapajärvi...



1993
6213
Raahe

Raahe

Raahe is a town and municipality of Finland. Founded by Swedish statesman and Governor General of Finland Count Per Brahe the younger in 1649, it is one of 10 historic wooden towns remaining in Finland. Examples of other Finnish historic wooden towns are Kaskinen , Old Rauma, Porvoo , Jakobstad ,...



Brahestad
1649
22428
Rauma

Rauma, Finland

Rauma is a town and municipality of ca. inhabitants on the west coast of Finland, north of Turku, and south of Pori. Granted town privileges on May 17, 1442 , Rauma is known of its high quality lace , and of the old wooden architecture of its centre , which is a Unesco world heritage...



Raumo
1442
36944
Raisio

Raisio

Raisio is a town and municipality in south-western Finland and an important junction of major roads. The town has a population of and is located in the region of Finland Proper, neighbouring the region's capital, Turku...



1974
24012
Riihimäki

Riihimäki

Riihimäki is a town and municipality in the south of Finland, about north of Helsinki and southeast of Tampere. It is somewhat of a railway junction, since the railway tracks going from different parts of the nation to Helsinki merge there. Sako, Ltd...



1960
27614
Rovaniemi

Rovaniemi

Rovaniemi is a city and municipality of Finland. It is the administrative capital and commercial centre of Finland's northernmost province, Lapland. It is situated close to the Arctic Circle and is between the hills of Ounasvaara and Korkalovaara, at the confluence of the Kemijoki River and its...



1960
58206
Saarijärvi

Saarijärvi

Saarijärvi is a town and municipality of Finland. It is located in the province of Western Finland and is part of the Central Finland region. The municipality has a population of and covers an area of ofwhich is water. The population density is....



1986
9932
Salo

Salo, Finland

Salo is a town and municipality of Finland.It is located in the province of Western Finland and is part of the Finland Proper region. The municipality has a population of and covers an area of of which is water. The population density is ....



1960
55000
Savonlinna

Savonlinna

Savonlinna is a town and a municipality of inhabitants in the southeast of Finland, in the heart of the Saimaa lake region. The Finnish name of the town means "Castle of Savonia" and the Swedish name means "Newcastle".- History :...



Nyslott
1639
27079
Seinäjoki

Seinäjoki

Seinäjoki is a city located in Southern Ostrobothnia, Finland. Seinäjoki originated around the Östermyra bruk iron and gunpowder factories founded in 1798. Seinäjoki became a municipality in 1868, market town in 1931 and town in 1960...



1960
36900
Siuntio

Siuntio

Siuntio is a municipality of Finland.It is located in the province of Southern Finland and is part of the Uusimaa region. The municipality has a population of and covers an area of of which is water...



Sjundeå
1382
6012
Somero

Somero

Somero is a municipality of Finland, located in the province of Western Finland and part of the Finland Proper region. The municipality has a population of and covers an area of of which is water. The population density is . Somero is unilingually Finnish....



1993
9526
Suonenjoki

Suonenjoki

Suonenjoki is a town and municipality of Finland.Suonenjoki is located in the province of Eastern Finland and is part of the Northern Savonia region. The town has a population of and covers an area of ofwhich is water. The population density is....



1977
7698
Tampere

Tampere

Tampere is a city in southern Finland. It is the most populous inland city in any of the Nordic countries. The city has a population of , growing to approximately 300,000 people in the conurbation and over 340,000 in the metropolitan area. Tampere is the third most-populous municipality in...



Tammerfors
1779
206480
Tornio

Tornio

Tornio is a town and municipality in Lapland, Finland. The municipality covers an area of of which is water. The population density is , with a total population of . It borders to the Swedish municipality of Haparanda...



Torneå
1621
22331
Turku

Turku

Turku is a city situated on the southwest coast of Finland at the mouth of the Aura River. It is located in the region of Finland Proper. It is believed that Turku came into existence during the end of the 13th century which makes it the oldest city in Finland...



Åbo
1200–1300
175284
Ulvila

Ulvila

Ulvila is a town and municipality of Finland. It is one of the six medieval cities of Finland. Its position as city was taken over by Pori in the 16th century....



Ulvsby
1365 to 1558, later 2000
13693
Uusikaupunki

Uusikaupunki

Uusikaupunki , is a town and municipality of Finland.It is located in the Finland Proper region. The municipality has a population of and covers an area of of which is inland water. The population density is .The municipality is unilingually Finnish...



Nystad
1617
16021
Vaasa

Vaasa

Vaasa is a city on the west coast of Finland. It received its charter in 1606, during the reign of Charles IX of Sweden and is named after the Royal House of Vasa...



Vasa
1606
57695
Valkeakoski

Valkeakoski

Valkeakoski is a town and municipality in Finland.Valkeakoski is located south of Tampere and north of Helsinki in the province of Western Finland and is part of the Pirkanmaa region. The municipality has a population of...



1963
20338
Vammala

Vammala

Vammala is a former town and municipality of southwestern Finland, chartered in 1907.On 1 January 2009 Vammala was consolidated with the municipalities of Mouhijärvi and Äetsä, to form a new city named Sastamala.-Geography:...



1965
16653
Vantaa

Vantaa

Vantaa is a city and municipality in Finland. Helsinki, Vantaa, Espoo and Kauniainen make up the Helsinki Metropolitan Area.Vantaa, with its population of , is the fourth most populated city of Finland. The biggest airport in Finland, the Helsinki-Vantaa Airport, is located there...



Vanda
1974
190625
Varkaus

Varkaus

Varkaus is a Middle-Savonian industrial town and municipality of Finland.It is located in the province of Eastern Finland and is part of the Northern Savonia region. The municipality has a population of and covers an area of of which is water. The population density is .The municipality is...



1962
23585
Viitasaari

Viitasaari

Viitasaari is a town and municipality of Finland.It is located in the Central Finland region. The town has a population of and covers an area of ofwhich is water...



1996
7416
Virrat

Virrat

Virrat is a town and municipality of Finland.It is part of the Pirkanmaa region. The town has a population of and covers an area of ofwhich is water. The population density is.The municipality is unilingually Finnish...



Virdois
1977
7775
Ylivieska

Ylivieska

Ylivieska is a town and a municipality of Northern Ostrobothnia region, Finland. It has a population of , and it serves as the administrative centre for Kalajokilaakso and Pyhäjokilaakso, an area with about 90,000 inhabitants....



1971
14100
Ylöjärvi

Ylöjärvi

Ylöjärvi is a town and a municipality in Western Finland located west of Tampere.The town has a population of and covers an area of of which is water. The population density is . The population has increased rapidly in recent years, in 1990 it was slightly over 18,000.Ylöjärvi was founded as...



2004
25877
Äänekoski

Äänekoski

Äänekoski is a town and municipality of Finland.-Geography:It is located in the province of Western Finland and is part of the Central Finland region. It is neighboured by Kannonkoski, Konnevesi, Laukaa, Saarijärvi, Uurainen, Vesanto and Viitasaari. The town has a population of and covers an area...



1973
20377
Ähtäri

Ähtäri

Ähtäri is a town and municipality of Finland.It is located in the Southern Ostrobothnia region. The town has a population of and covers an area of of which is water. The population density is .The municipality is unilingual Finnish....



Etseri
1986
6859
External links