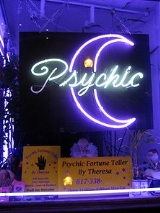 Psychic
A
psychic
is a person who professes an ability to
perceive
Perception
Perception is the process of attaining awareness or understanding of the environment by organizing and interpreting sensory information. All perception involves signals in the nervous system, which in turn result from physical stimulation of the sense organs...
information hidden from the normal senses through extrasensory perception (ESP), or is said by others to have such abilities. It is also used to describe theatrical performers who use techniques such as prestidigitation,
cold reading
Cold reading
Cold reading is a series of techniques used by mentalists, psychics, fortune-tellers, illusionists, and con artists to determine or express details about another person, often in order to convince them that the reader knows much more about a subject than they actually do...
, and
hot reading
Hot reading
Hot reading is the use of foreknowledge when giving a psychic reading in stage magic performances, or in other contexts. The reader can gain information about the person receiving the reading through a variety of means, such as background research or overhearing a conversation...
to produce the appearance of such abilities. It can also denote an ability of the mind to influence the world physically and to telekinetic powers such as those professed by
Uri Geller
Uri Geller
Uri Geller is a self-proclaimed psychic known for his trademark television performances of spoon bending and other supposed psychic effects. Throughout the years, Geller has been accused of using simple conjuring tricks to achieve the effects of psychokinesis and telepathy...
.
Psychics appear regularly in fantasy fiction, such as in the novel
The Dead Zone
The Dead Zone (novel)
The Dead Zone is a horror novel by Stephen King published in 1979. It concerns Johnny Smith, who is injured in an accident and enters a coma for nearly five years. When he emerges, he can see horrifying secrets but cannot identify all the details in his "dead zone", an area of his brain that...
by
Stephen King
Stephen King
Stephen Edwin King is an American author of contemporary horror, suspense, science fiction and fantasy fiction. His books have sold more than 350 million copies and have been adapted into a number of feature films, television movies and comic books...
, or the
Marvel Comics
Marvel Comics
Marvel Worldwide, Inc., commonly referred to as Marvel Comics and formerly Marvel Publishing, Inc. and Marvel Comics Group, is an American company that publishes comic books and related media...
telepath and psychic
Jean Grey
Jean Grey
Jean Grey-Summers is a fictional comic book superheroine appearing in comic books published by Marvel Comics. She has been known under the aliases Marvel Girl, Phoenix, and Dark Phoenix and is best known as one of five original members of the X-Men, for her relationship with Cyclops, and for her...
.