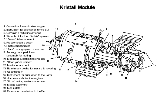 Kristall
style="margin-left: inherit; font-size: larger;" | Kristall Module (Mir

Mir

Mir was a space station operated in low Earth orbit from 1986 to 2001, at first by the Soviet Union and then by Russia. Assembled in orbit from 1986 to 1996, Mir was the first modular space station and had a greater mass than that of any previous spacecraft, holding the record for the...


)

Kristall in 1997
Module statistics
Mission name
Mir

Mir

Mir was a space station operated in low Earth orbit from 1986 to 2001, at first by the Soviet Union and then by Russia. Assembled in orbit from 1986 to 1996, Mir was the first modular space station and had a greater mass than that of any previous spacecraft, holding the record for the...



Launch
May 31, 1990
10:33:20 UTC

Coordinated Universal Time

Coordinated Universal Time is the primary time standard by which the world regulates clocks and time. It is one of several closely related successors to Greenwich Mean Time. Computer servers, online services and other entities that rely on having a universally accepted time use UTC for that purpose...



LC-200/39

Baikonur Cosmodrome Site 200

Site 200 at the Baikonur Cosmodrome is a launch site used by Proton rockets. It consists of two launch pads, areas 39 and 40. Area 39 is currently used for Proton-M launches, including commercial flights conducted by International Launch Services. Area 40 is currently inactive, as it was slated to...


, Baikonur Cosmodrome

Baikonur Cosmodrome

The Baikonur Cosmodrome , also called Tyuratam, is the world's first and largest operational space launch facility. It is located in the desert steppe of Kazakhstan, about east of the Aral Sea, north of the Syr Darya river, near Tyuratam railway station, at 90 meters above sea level...


, USSR
Launch vehicle
Proton-K

Proton rocket

Proton is an expendable launch system used for both commercial and Russian government space launches. The first Proton rocket was launched in 1965 and the launch system is still in use as of 2011, which makes it one of the most successful heavy boosters in the history of spaceflight...



Docked
June 10, 1990
10:47:22 UTC

Coordinated Universal Time

Coordinated Universal Time is the primary time standard by which the world regulates clocks and time. It is one of several closely related successors to Greenwich Mean Time. Computer servers, online services and other entities that rely on having a universally accepted time use UTC for that purpose...



Re-entry
March 23, 2001
05:50:00 UTC
Time in Orbit
3948 days, 19 hours http://space.kursknet.ru/cosmos/english/dos/spectr.sht
Length
11.9 m
Diameter
4.35 m
Mass
43,290 lb (19,640 kg)
Wingspan:
36 m
Habitiable volume:
60.8 m³
The
Kristall
(77KST, TsM-T, 11F77T) module was the fourth module and the third major addition to the
Mir space station
Mir
Mir was a space station operated in low Earth orbit from 1986 to 2001, at first by the Soviet Union and then by Russia. Assembled in orbit from 1986 to 1996, Mir was the first modular space station and had a greater mass than that of any previous spacecraft, holding the record for the...
. As with previous modules, its configuration was based on the 77K (TKS) module, and was originally named "Kvant 3". It was launched on May 31, 1990 on a Proton rocket. It docked to Mir autonomously on June 10, 1990.
Description

Kristall had several materials processing furnaces. They were called Krater 5, Optizon 1, Zona 2, and Zona 3. It also had a biotechnology experiment called the Aniur electrophoresis unit. These experiments were capable of generating 100 kg of raw materials for use on Earth. Located in the docking node was the Priroda 5 camera which was used for Earth resources experiments. Kristall also had several astronomy and astrophysics experiments which were designed to augment experiments that were already located in Kvant-1. Kristall's solar panels were also different from others on Mir. They were designed to be "collapsible" which means that they could be deployed and retracted several times. One of Kristall's solar panels was removed and re-deployed on Kvant-1 in 1995. That solar panel was later disposed of in November, 1997. Kristall also carried six
gyrodine
Gyroscope
A gyroscope is a device for measuring or maintaining orientation, based on the principles of angular momentum. In essence, a mechanical gyroscope is a spinning wheel or disk whose axle is free to take any orientation...
s for attitude control and to augment those already on the station. The control system of Kristall was developed by the
JSC "Khartron"
Khartron
JSC "Khartron" is a one of the leading design engineering bureaus of CIS , which develops and produces spacecraft control systems.- History and achievements :Khartron Corp...
(
Kharkiv
Kharkiv
Kharkiv or Kharkov is the second-largest city in Ukraine.The city was founded in 1654 and was a major centre of Ukrainian culture in the Russian Empire. Kharkiv became the first city in Ukraine where the Ukrainian Soviet Socialist Republic was proclaimed in December 1917 and Soviet government was...
,
Ukraine
Ukraine
Ukraine is a country in Eastern Europe. It has an area of 603,628 km², making it the second largest contiguous country on the European continent, after Russia...
).
List of experiments:
Ainur electrophoresis unit
Krater 5, Optizon 1, and CSK-1/Kristallizator semiconductor materials processing furnaces
Zona 2/3 materials processing furnaces
Buket gamma ray spectrometer
Glazar 2 UV telescope - cosmic radiation studies
Granar astrophysics spectrometer
Marina gamma ray telescope
Mariya magnetic spectrometer
Priroda 5 Earth resources camera system - consists of 2 KFA-1000 film cameras
Svet plant cultivation unit
Relation to Buran and Shuttle programs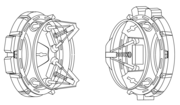 The most notable feature of Kristall was its relation to the Soviet Buran program. Kristall carried two APAS-89
Androgynous Peripheral Attach System
Androgynous Peripheral Attach System
The Androgynous Peripheral Attach System, or Androgynous Peripheral Assembly System, is a spacecraft docking mechanism used on the International Space Station. It is used to dock the Space Shuttle orbiter and to connect the Functional Cargo Block to Pressurized Mating Adapter-1...
designed to be compatible with the Buran shuttle. One unit was located axially and the other was located radially. After the cancellation of the Buran program in 1993, the lateral docking port found use for the
Shuttle-Mir Program
Shuttle-Mir Program
The Shuttle–Mir Program was a collaborative space program between Russia and the United States, which involved American Space Shuttles visiting the Russian space station Mir, Russian cosmonauts flying on the shuttle and an American astronaut flying aboard a Soyuz spacecraft to engage in...
. The radial port was never used. The axial port was tested by the modified
Soyuz TM-16
Soyuz TM-16
-Crew:-Mission highlights:16th expedition to Mir.First Soyuz without a probe and drogue docking system since 1976. It carriedan APAS-89 androgynous docking unit different from the APAS-75 unit used for ASTP in 1975, yet similar in general principles. Soyuz-TM 16 used it to dock with an androgynous...
spacecraft in 1993 in preparation for Shuttle dockings. On May 26, 1995, Kristall was moved from the -Y port on the Mir base block to the -X port. It was then moved on May 30 to -Z port in preparation for the arrival of the
Spektr
Spektr
Spektr was the fifth module of the Mir Space Station. The module was designed for remote observation of Earth's environment containing atmospheric and surface research equipment...
module. On June 10, Kristall was moved back to -X port to prepare for the upcoming Shuttle docking. The first Space Shuttle docking occurred in 1995 during
STS-71
STS-71
STS-71 was the third mission of the US/Russian Shuttle-Mir Program, which carried out the first Space Shuttle docking to Mir, a Russian space station. The mission used Space Shuttle Atlantis, which lifted off from launch pad 39A on 27 June 1995 from Kennedy Space Center, Florida...
by the
Space Shuttle Atlantis
Space Shuttle Atlantis
The Space Shuttle Atlantis is a retired Space Shuttle orbiter in the Space Shuttle fleet belonging to the National Aeronautics and Space Administration , the spaceflight and space exploration agency of the United States...
. On July 17, 1995, Kristall was moved one last time to its permanent position at the -Z port. For Buran dockings, the entire procedure of moving Kristall would have to be used.
On
STS-74
STS-74
STS-74 was a Space Shuttle Atlantis mission to the Mir space station. It was the fourth mission of the US/Russian Shuttle-Mir Program, and it carried out the second docking of a space shuttle to Mir. Atlantis lifted off for the mission on 12 November 1995 from Kennedy Space Center launch pad 39A,...
, the next Shuttle docking, Atlantis carried a
docking module
Mir Docking Module
The Stykovochnyy Otsek , GRAU index 316GK, otherwise known as the Mir docking module or SO, was the sixth module of the Russian space station Mir, launched in November 1995 aboard the...
that was attached to Kristall. This allowed future shuttle dockings to be carried out without the need to move Kristall.
External links
Gunter's Space Page - information on Kristall